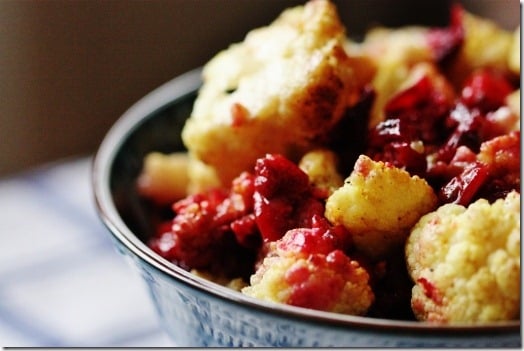 Greetings, all! I'm glad you liked the looks of my apple cinnamon raising graw-nola. As I mentioned in that post, lower fat recipes aren't really my "thing," but there's more of a demand for them lately, and comments like this are very encouraging: "I am diabetic and have found that if I eat low fat (such as Engine 2 or Fuhrman), I have normal blood sugars. You are so popular that perhaps if you spread the word, it might help more diabetics achieve normal blood sugar."
Not so sure about the popularity, friend, but I'm so delighted that I gave a recipe that suits your health needs!
Today, I'm actually focusing up on a veggie dish, after many days of edible giving. Of course, you can give vegetables to anyone on your Christmas list, too: I, for example, would be glad to receive any and all vegetable gifts you guys can think of! But this curried cauliflower and cranberry dish is so very tasty that you may not want to share much of it.
The inspiration for this dish is a curried cauliflower and raisin salad I had at Whole Foods recently, served cold and garnished with (ack) red onions. After peeling those onions off, I found the salad itself very tasty (obviously, it channels Aloo Gobi a little bit, too). I've wanted to re-create the dish for a while, but it occurred to me this week that it would be fun to give it a holiday themed twist: cranberries in place of raisins. And fresh cranberries in place of dried fruit. It all came together beautifully, and the dish was very easy to make. This is a great holiday side dish, and I may very well make it again for Christmas Day!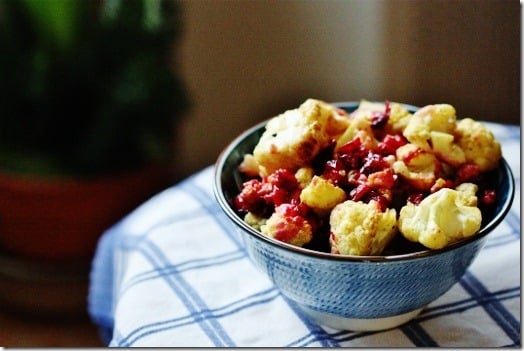 Curried Cauliflower and Cranberries (vegan, gluten free, soy free)
Serves 2-4, depending on appetite
4 cups cauliflower, cut into florets
3/4 cup fresh cranberries
1 clove garlic, minced
2 tbsp coconut oil (you can reduce to 1 if you wish)
1 tbsp curry powder
1 tbsp agave or maple syrup
Kosher salt
Black pepper
1) Set oven to 375 degrees. Line a large baking sheet with tinfoil.
2) On top of the foil, mix the cauliflower, cranberries, garlic, oil, curry, agave, and salt and pepper to taste.
3) Bake for 35-40 minutes, or until cauliflower is golden and cranberries are popping and turning dark.
Serve this dish warm, with any protein and/or grain of choice. Leftovers are also fabulous mixed into big salads; I should know! I enjoyed them that way today for lunch.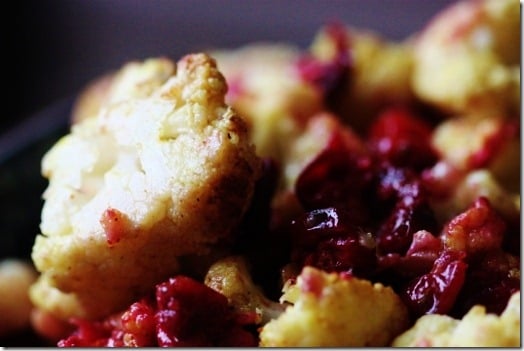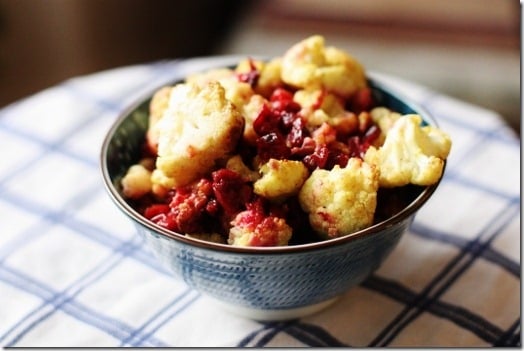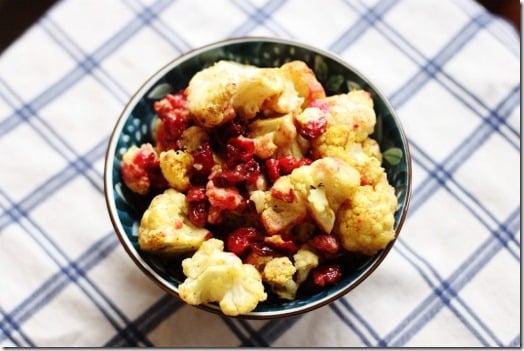 So now I'm on the train up to Hudson, where I'll soon be reunited with Chloe and her family. I'm so thrilled to be traveling to my proverbial happy place, and hopefully Chloe and I will come up with some fun recipes to collaborate on. We haven't really done any joint blogging since Chloe became a food blogger, and it's probably time for that to change!
Meanwhile, the fellow behind me is giving his poor neighbor a long lecture on what it means to be a luddite. As I attempt to tune that out, I'm catching up on the latest issue of Oprah Mag, with Dr. Oz on the cover: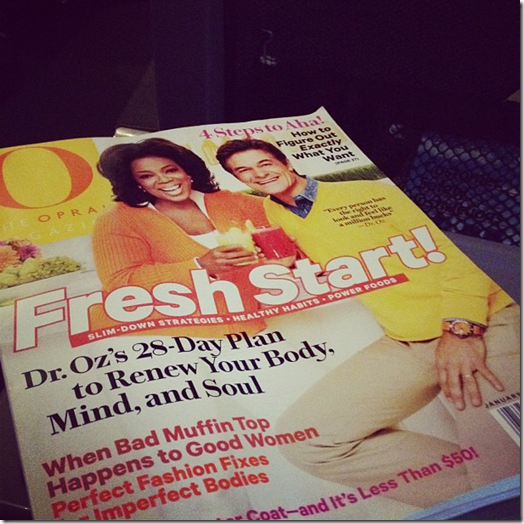 …AND feeling pretty honored that I'm featured in a short piece on raw foods, called "The Raw Deal!" Dr. Joel Fuhrman—a former post-bacc student—is also interviewed, and I could not be prouder to be in such esteemed company.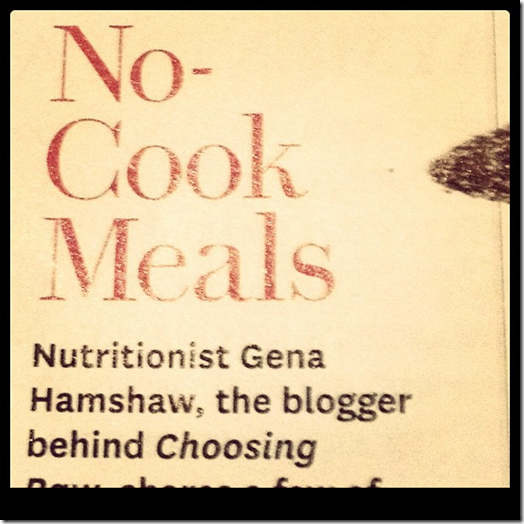 You can't tell from the truncated photo, but I was asked to share three of my favorite raw food ideas—one for breakfast, lunch, and dinner. Can you guys guess which three I would have chosen?? I bet you can. And if you can't, check out the issue, now on newsstands everywhere!
I'll write soon, from upstate NY…
xo