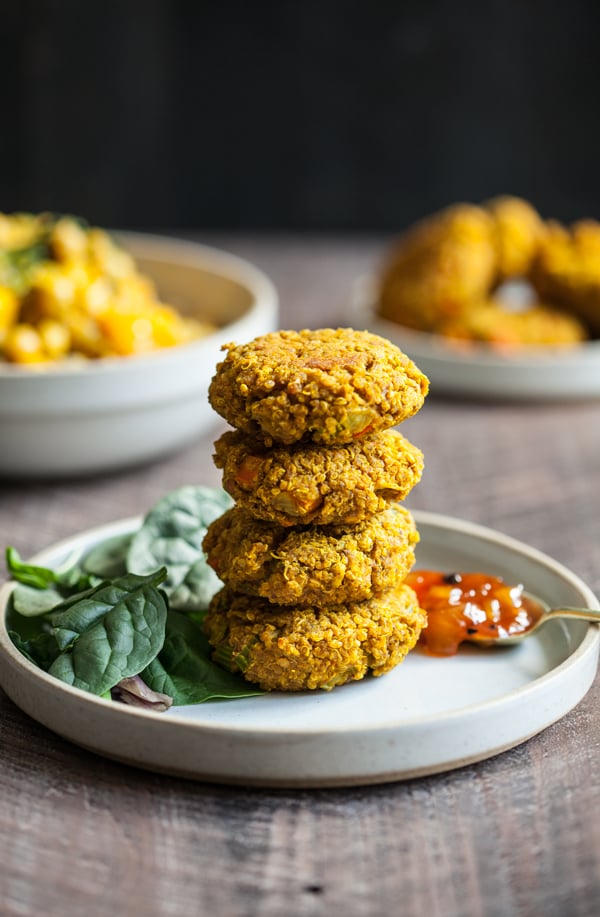 Some recipes are just more than the sum of their parts. They look and sound simple, but for whatever reason, there's more to them than meets the eye. Maybe this is because they happen to be exceptionally delicious in spite of a short ingredient list, or because they're the kind of meals that serve as great social equalizers–everyone you know will enjoy them, regardless of dietary preference. Maybe they're incredibly budget friendly, or they happen to yield something complex and flavorful in spite of being fast to cook.
I've come to see vegan cakes, balls, and burgers this way. On first inspection, they're all just different forms of a vegetable patty. But they're actually far more generous than that. A great vegan patty/ball/burger/falafel can be used to add protein and heft to salads. It can be quickly added to a grain bowl, folded into a sandwich or a wrap, turned into sliders, stuffed into lettuce cups. It can even be piled on top of pasta (one of my favorite ways to enjoy my savory chickpea oat oat balls).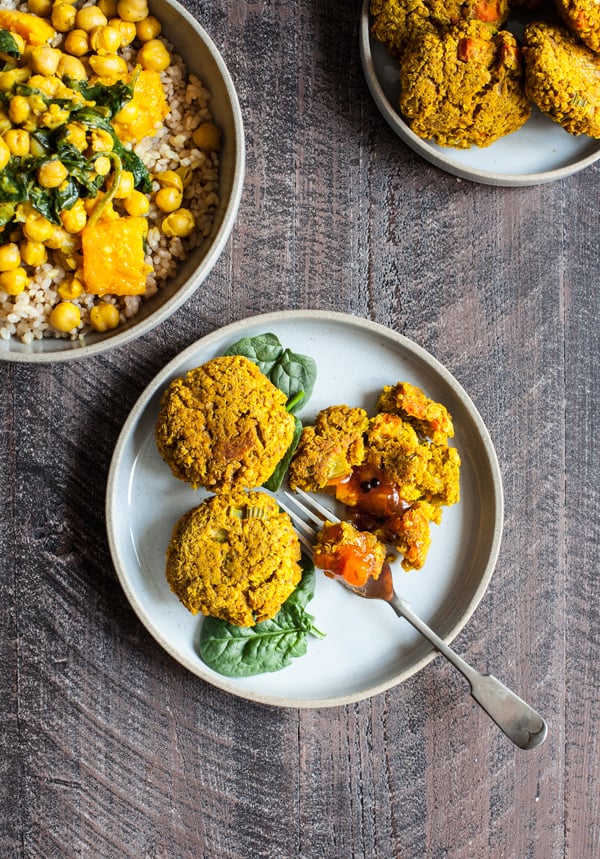 These vegan, gluten free curried lentil vegetable cakes are my latest riff on the theme. They're super flavorful, thanks to a mix of cumin, curry, turmeric, and plenty of garlic. They're packed with plant-protein, thanks to red lentils and quinoa. They're simple to make, in part because the lentils and quinoa each take only 15-20 minutes and can be simmered in the same pot. And they can serve as a vegan protein source with or in so many types of meals, from Indian-themed buffets to simple lunchtime pitas. With a dollop of chutney or some of my creamy cashew raita, they make for a terrific meal.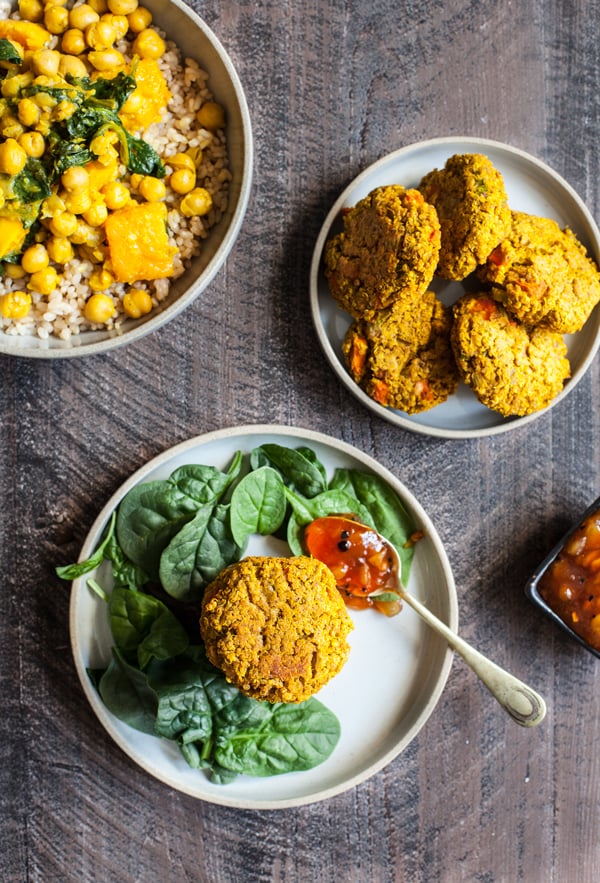 You can crumble up a couple of these cakes and throw them into a salad, pile them into your favorite vegan lunch bowl, or eat them as a nutrient dense snack. You can serve them with naan, pita, or rice. You can make a batch (you'll get twelve or so), freeze half, and keep them handy as a vegan protein source that can be defrosted at a moment's notice.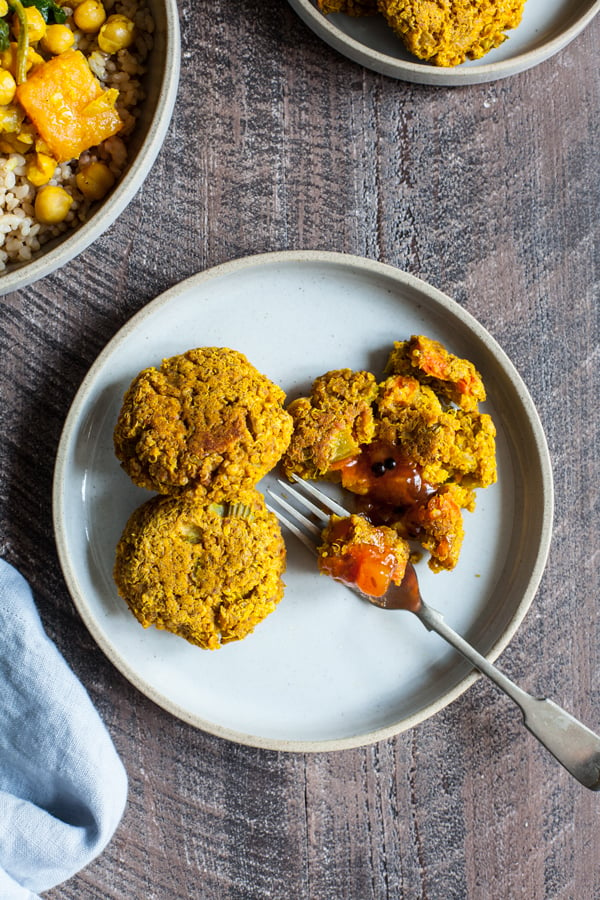 The cakes were made with plant-based staples from the folks at Nuts.com, who make it easy to stock a comprehensive, healthful vegan pantry.
Nuts.com is a family-owned, online storefront that's much beloved for high quality nuts, seeds, dried fruits, legumes, grains, spices, and more. The company was started in 1929 by Poppy Sol, and his son and grandson continue to manage the business. Nuts.com roasts its nuts on the day of shipping them out to ensure freshness, and all of its products arrive in brightly colored, biodegradable packaging.
I've been ordering nuts, fruit, legumes, grains and flours from Nuts.com since 2012, when a neighbor in DC introduced me to the site, and virtually every shipment I've ever gotten has been fresh and high quality–no shrunken legumes, no stale nuts or seeds. I love that the store offers such a huge variety of whole grains and grain products, vegan snacks, and pulses. And I love the fast shipping, the friendly customer service, and the occasional free sample that the company throws into its shipments!
This recipe features ingredients that are easy to find on the Nuts.com site, including quinoa, red lentils, chickpea flour, and spices. You can even find chutney to accompany the lentil vegetable cakes in the company's condiment section. If you're looking for other traditional Indian ingredients, like urud dal or toor dal, or if you'd like to pick up legumes that can be difficult to find (like pardina lentils, which are my favorite), the site offers a big selection of those as well.
Curried Lentil Vegetable Cakes
Author -
Total Time:
1
hour
10
minutes
3/4

cup

dry quinoa

rinsed through a fine sieve

1/2

cup

red lentils

substitute urud dal or moong dal

1

tablespoon

ground flax or chia meal

1

tablespoon

olive oil

1

small onion

finely chopped

2

carrots

peeled and finely chopped

2

stalks celery

finely chopped

3

cloves

garlic

minced

2

teaspoons

curry powder

1

teaspoon

cumin

1

teaspoon

turmeric

1

teaspoon

salt

Dash crushed red pepper flakes

3

tablespoons

chickpea flour

For serving: chutney vegan yogurt, creamy cashew raita, naan, cooked whole grains, pita, etc.
Place the quinoa and lentils in a medium sized pot and add 2 3/4 cups water. Bring the mixture to a boil, the reduce heat to low. Cover and simmer for 15-20 minutes, or until the quinoa and lentils have absorbed all of the water.

Preheat your oven to 350F. Mix the flax or chia meal with 3 tablespoons warm water and set it aside.

Heat the olive oil in a large skillet over medium heat. Add the onion, carrots, and celery. Cook, stirring now and then, for 5-7 minutes, or until the onion is clear and the carrots are tender. Add the garlic and cook, stirring constantly, for 2 minutes.

Add the cooked quinoa and lentils to the skillet along with the curry, cumin, turmeric, salt, and red pepper flakes. Taste the mixture and add salt and pepper as needed. Stir in the flax "egg" (from step 2) and the chickpea flour and mix everything well. Set the mixture aside to cool for 20-35 minutes (you can transfer it to the fridge or cover it and leave it out), until it has thickened somewhat and is cool enough to shape into cakes with your hands.

Brush a baking sheet lightly with oil. Shape the lentil and quinoa mixture into 12 cakes (about a half cup each; they'll be pretty soft as you shape them, but will firm up while baking) and place them on the baking sheet. Bake for 15 minutes and gently flip the cakes over. Continue baking for another 20 minutes, or until the cakes are gently browned on both sides. Serve with chutney of choice or my

creamy cashew raita

, as well as any other accompaniments you like.
Leftover cakes will keep in an airtight container in the fridge for up to 4 days. They can be individually wrapped and frozen for up to 1 month.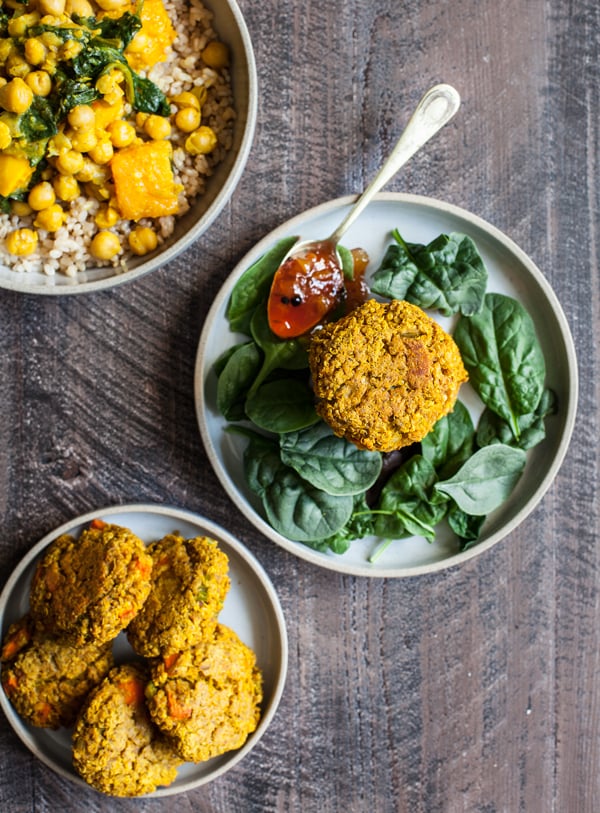 As you can see, I served these along with my golden butternut squash and chickpea curry for a curry-themed feast, but you can keep things much simpler; some naan and cashew raita or chutney will turn this into a perfect meal. You can also serve the patties over a bed of fresh or sautéed greens and smother them in raita. I imagine that quicker cooking dal varieties, like urud or moong dal, would be a perfect substitute for the red lentils. If you happen to try one or both, let me know!
And if you'd like to try some pantry staples from Nuts.com for yourself, the company is offering all Full Helping readers a chance to explore a bit–and to grab some free goods while you shop. With this special offer, you can add four free gifts to your Nuts.com cart when you spend $25 or more. There are truly so many wonderful grains, legumes, and specialty foods to savor on the site, and if you're interested, I hope you'll find some items that you love.
I'll be back later this week with a new vegan cookbook review and giveaway. Can't wait to share!
xo
This post is sponsored by Nuts.com. All opinions are my own. Thank you for your continued support!