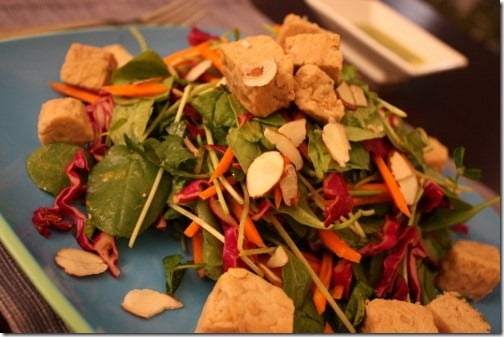 Ah, chia seeds. They never fail to elicit a reaction. Glad you guys are excited about Heathy's pudding.
I've spent a fair bit of time at the Whole Foods salad bar in the last few weeks, sometimes out of necessity (lunches with friends or other publishing folk) and sometimes out of laziness (or rather, a failure to pack lunch). And then came the Summit, and two large salad beasts in as many days. One dish I've noticed at both the NYC and the Chicago WF's is curried pineapple, cashew, and tempeh salad with quinoa. If I'm not mistaken, this is a whole lot like the pineapple-cashew-quinoa stirfry from Vegonomicon.
If you don't have that cookbook, or you haven't tried that dish, I suggest you remedy both oversights immediately. If you want to a dish that resembles Isa's original—a flavorful medley of cashews, quinoa, pineapple, and curry—go to Whole Foods, and try their curried pineapple, quinoa, and tempeh salad. And if you like the sound of that dish, but you wish it were just a little more RAW, well then, you can try out the salad below.
See, I tasted the Whole Foods salad a week or two ago, and I was very impressed. But the raw veggie fiend in me couldn't help but wish that it were more about the raw veggies, and less about the quinoa. (Not that I don't love quinoa. I think we know that I do.) I wondered whether or not I might steal the trio of curry, pineapple, and tempeh, but turn them into a dinner salad, rather than a pilaf.
Mission. Accomplished. This killed two birds with one stone fed two birds with one scone (thanks, Mama Pea and Bitt!): 1) I created yet another fruity salad dressing and 2) I did justice to the Whole Foods dish while all the while upping the veggie factor at least threefold. I love it when recipe development is this easy.
I don't much like pineapple, so at first I questioned whether or not to include it as an ingredient at all. But I couldn't deny that the pineapple chunks had added a nice flavor to the WF dish. Rather than chopping up fruit and throwing it in the salad, I figured I'd make a pineapple dressing for my veggies: pineapple flavor, but not too much of it. As it turns out, this is one of my favorite new dressings, and an added bonus is that I got to use some of the lovely Spice House curry powder that I got in my HLS swag bag.
The salad itself, while perfect for this dressing, is a fresh and healthy mix that would work with any old vinaigrette (it would be especially fun with my spicy Thai dressing!).
Curried Pineapple Salad with Tempeh (salad serves 1; dressing yields 2 cups)
For the dressing:
2 cups pineapple, chopped
5 tbsp apple cider vinegar
1/4 cup olive oil
2 tbsp nama shoyu
2 tsp curry
1/4 cup cilantro
Blend all ingredients in a blender till smooth.
For the salad:
1 cup watercress
1 cup baby arugula
1 grated carrot
1/2 cup grated red cabbage
small handful pea shoots, chopped
4 oz baked tempeh (instructions below)
1 tbsp almond slivers
1) Preheat oven to 375 degrees. Take 4 oz of raw, cubed tempeh, and toss it in 1 tbsp nama shoyu mixed with 1 tbsp apple cider vinegar and 1 tsp agave. Place tempeh in a baking dish and bake for 30 minutes, till cooked through.
2) Mix all salad ingredients, including hot tempeh, together. Dress with a few tablespoons of pineapple curry dressing, and serve.
See how full of green this salad is? Far more interesting than a uniformly beige sea of quinoa and tempeh:
This is a great example of a high-raw dinner: more focused on raw veggies than a typical dinner entree might be, but featuring one warm ingredient. If you'd like to make it all raw, you could simply add more almonds to the dish for density, or you could try crumbling a Larabar on top of the dressed salad. That sounds pretty amazing to me, and I think I'm going to try it out in the next few days! I always enjoy the challenge of taking an almost all cooked meal and making it just a little more raw. It's an easy way to get more of the crispy fruits and veggies I love into my diet, and also to impose some creativity on my kitchen routines.
Before I go, a survey: who's already tried my dehydrator-free energy bars, and found that they turn into crumbly granola, rather than bars? A lot of you, I know, from recent feedback. Has anyone tried them and had the same results (solid bars) that I did? I'm polling because I want to tweak the recipe this weekend so that it holds together better, but before I do that I want to get a sense of the your home results. (Note that, if you added more fruit to the recipe, it definitely will fall apart, so your results probably aren't representative if you did.) Lemme know, so that I can adjust things!
Have a restful evening, bloggies.
xo