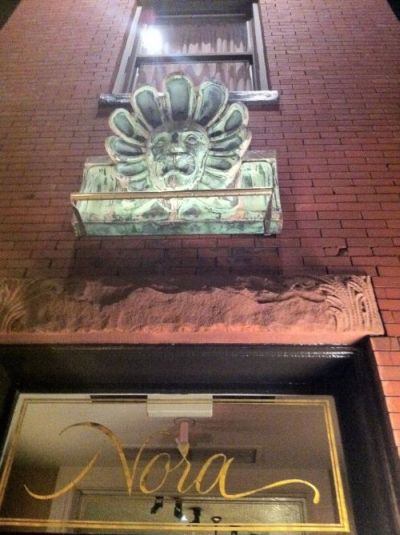 First of all, thank you all for the very sweet response to the last post. M.–who I can assure you is worthy of the excitement you all shared in your comments–actually mentioned last night that the feedback to that post made clear how caring my readers are. As a blogger, I often forget that I'm not only sharing recipes or thoughts about veganism: I'm offering you all the chronicle of a life. It's something I never set out to do, and yet it's become one of the most rewarding parts of blogging for me. Thank you for reading, caring, and watching as my life unfolds.
Aw. I think I just got choked up.
Let's switch topics, then, to food. One of my favorite pastimes in the world is to eat vegan in new cities. I may live in America's vegan capitol (my PDX and L.A. readers are protesting from afar, and to you all I proffer a loving "whatever!"), but nothing beats the fun of sampling vegan food that you can't get at home. My favorite dining excursions of the past year have been Karyn's on Green in Chicago and Millennium in San Fran (I am still drooling over that meal). Now I'm adding a few of D.C.'s green eateries to that elite list!
The fun began on Friday night, when M and I hit Restaurant Nora for a special dinner. This restaurant, as the website will tell you, was the country's first certified organic eatery. It's apparently well loved among environmentalists and politicians, and from the looks of the crowded entryway on Friday night, it's generally popular with local diners. M. and I were seated in a side room, which was nice and quiet (and what both of us wanted). We'd asked for a vegan meal, and weren't sure whether or not that would mean a prefix or ordering a la carte. In the end, it meant the latter, and our waitress was very patient in running through the vegan options. I was a little heartbroken that the autumn squash soup couldn't be veganized (I guess the cream topping was partly mixed into the soup), but quickly realized that orange vegetables are the last thing I need more of! Instead, we began by splitting the roast beet salad.
I'd called ahead and asked about bringing my camera to photograph the meal, but the staff at Nora's had said that food photography was a no-no. M., however, was happy to be a stealth photographer with his iPhone, and caught the photos in this post surreptitiously each time a course was served. It was a covert op triumph–thanks M!
The beets were perfectly cooked, and a great way to start dinner. Next up, we each had a salad. I went with local greens, smoked almonds, roast pears, and an orange vinaigrette. The original dish had cheese on it, which of course I asked them to omit. It was delicious! These smoked almonds were sort of supernaturally tasty.
Pardon the cleavage, kids.
M got the hearts of palm salad with mango and microgreens. I'm sorry to report that he was less impressed with his salad than I was. But it sure was pretty:
For our main course, we both ordered a vegan version of the restaurant's chanterelle risotto with leeks, fall squash, fennel, and tomato. We loved it, but there was a slight moment of panic when I began eating: I was sure I'd gotten a piece of chicken in the dish. M tasted it and was equally panicked at the thought. We decided it had to be a vegetable, and that we should stop freaking out: the restaurant, after all, is well known for veg*n accommodations, and wouldn't mark a dish inaccurately.
As it turns out, I've never eaten a chanterelle mushroom before. Some Google searching indicates that the texture is indeed dry and a little meaty. Mystery solved, anxiety abated. And here's the wonderful dish:
Finally, we decided to split a poached pear for dessert. Neither of us is a dessert person, but we loved it.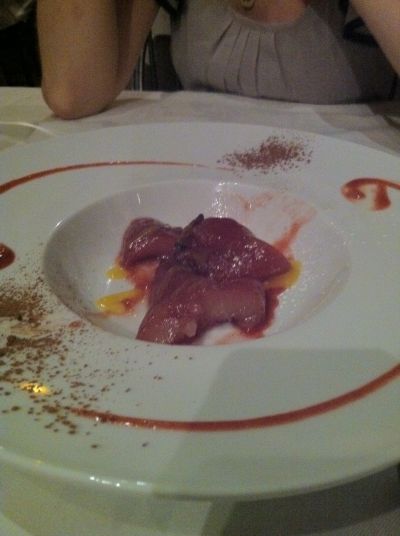 In all, this was a perfect first meal in D.C. I appreciated the local and seasonal thrust of the Nora's menu. As always when I eat at fine dining establishments, I wished that more of the menu items could be vegan without modification: why restaurants insist on putting cheese in each and every salad, for example, is a mystery that I'll truly never understand. Can we not wrest ourselves away from dairy, even as we enjoy our greens? On the whole, though, Nora's was an easy menu to navigate as vegans, and we both loved the food. Hopefully I'll come up with a risotto dish to equal Nora's at some point soon!
The rest of the weekend, as you know, involved pressure cooking. But on Sunday, M took me to Sticky Fingers Bakery for some vegan cookies. I'm spoiled by Babycakes, and was thus prepared to be a tough critic, but I knew I'd met my match as soon as I smelled the Sticky Fingers interior. Sugar, Earth Balance, and chocolate were in the air. Yum. Though we'd intended only on having a treat at the bakery, we were both hungry, so we split two sandwiches. The first was a tofu "eggless" salad on whole grain, which was light and delicious, and the other was a grilled Daiya cheese on whole grain with tomato and tempeh.
Holy yum! This was nearly as good as my mother's grilled cheese (I said nearly, Mom, don't worry), but totally cruelty free. We gobbled these down in an instant.
While I caught the sandwiches for you, I didn't manage to catch the sweet and salty cookies (a chocolate chip cookie spiked with something that tasted a lot like salted caramel). Why? Because we'd eaten them. Quickly. They were insane. This place is immediately on the agenda for my next D.C. visit!
Between home cooked meals, fine dining at Nora's, and comfort food at Sticky Fingers, I think I had the best of what D.C. had to offer. And I look forward to trying more vegan spots there–a reader yesterday mentioned Elizabeth's Gone Raw, which sounds pretty intriguing. Till then, I've been left with very fond foodie memories.
Any D.C. residents in the audience? What are your favorite spots to eat?
xo