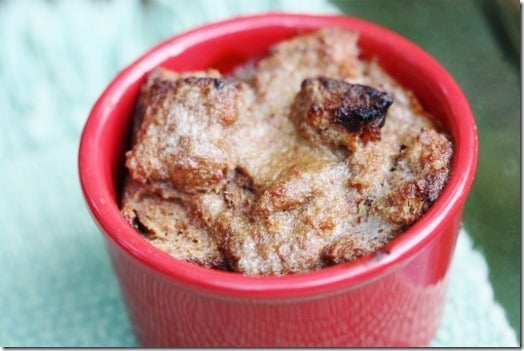 Happy Monday, folks. I'm glad you enjoyed my recap of Elizabeth's Gone Raw!
Switching from raw food to cooked, I thought I would share one of my favorite ingredients today: date paste, and the fabulous vegan banana caramel bread pudding I recently used it in.
There's so much to-do about sweeteners these days: first came the allegation that agave is identical to high fructose corn syrup (which I responded to over at Whole Living magazine). Nowadays, it seems as though many health experts are claiming that any type of sugar—regardless of the source—is akin to heroin.
I'm the first to say that most Americans consume sugar in a gross excess, and I agree with the basic claims (too much sugar cause blood sugar highs and lows that compel people to overeat, shift moods, lose energy, and so on). Additionally, I realize that some people have health conditions that demand a low-glycemic diet (ranging from diabetes to candida to cancer), and that some people find sugar so appetite-stimulating that it's best to avoid it for the most part. But I think alarmist to say that all sugar is devilish for all people. For many folks—athletes in particular—simple sugars from fruit, dates, and coconut water are vital "first source" of energy. And for nearly all of us, life is richer and fuller with the occasional sweet treat.
Naturally, if you eat enormous amounts of sugar without performing the activities that it is designed to fuel, you'll run into a problem. But no one's claiming that eating sugar immoderately and in the absence of movement is a good idea. Moderation matters. So, too, does the source of sugar. From a biological standpoint, there are good arguments to be made that a sugar is a sugar is a sugar—in other words, most sweeteners will have broadly similar effects on the bloodstream—but there are also legitimate nuances. Some studies indicate that glucose and fructose are metabolized differently, and that the latter has a higher impact on diabetes.
Beyond that, the simple fact of the matter is that white sugar (which isn't vegan) tends to pop up in foods that are problematic for a host of other reasons, such as the presence of highly refined flours and processed ingredients. And most of the processed snacks and drinks that contain white sugar and HFCS happen to contain them in staggeringly high quantities. Using agave syrup, maple syrup, and palm sugar (also known as coconut sugar, this stuff is a favorite of mine) will probably afford you at least some glycemic benefits, and more importantly, if you're eating a cereal, snack, or beverage that contains agave nectar instead of white sugar, chances are it's at least marginally healthier than the alternative. So, take heart: you needn't suddenly abandon the healthier sugars you've come to rely on. You simply have to remember that they're still sugars.
If you are particularly sensitive to sugar that has undergone any processing, I might have a solution for you. Date paste—a fairly standard ingredient in raw recipes—has long been one of my favorite ways to sweeten dressings, baked goods, smoothies, and other treats. I rarely post recipes with it, because it's a little more time-intensive than, say, agave and maple syrup. But the benefits are really worth it. What is troubling about so many sweeteners is that they offer blood sugar rises without any attendant nutritional benefits. Dates are rich in fiber (which can slow blood sugar spikes down), and they're also good sources of potassium, iron, numerous antioxidants, and Vitamin-A. Date paste is therefore not an "empty" sweetener: it's sweet, but it contains a lot of good stuff along with the sugar.
To make date paste, you simply have to pour 2/3 cup hot water over a cup of pitted medjool dates. Let them soak for about an hour, and then blend them well using a Vitamix or food processor. You'll end up with a thick, dark paste that's ready to be used in smoothies, snacks, and baking adventures of all kinds. The flavor will be distinctly "caramel-like," and so will the taste. You can store it in the fridge for at least a week.
So what better use for it than a banana caramel bread pudding—the healthier way?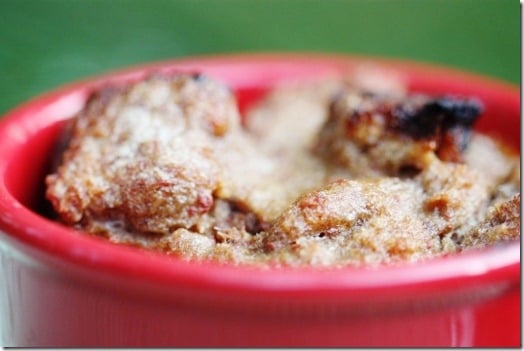 Banana Caramel Bread Pudding (vegan, can be GF, soy free)
Serves 4
2 large, ripe bananas (or 3 small)
1/2 cup date paste, packed
3/4 cup nut milk or law fat coconut milk
2 tsp cinnamon
8 slices Ezekiel cinnamon raisin bread, cubed
1/2 cup FULL fat coconut milk
4 ramekins for baking
1) Preheat oven to 375. Place bread cubes in large mixing bowl.
2) Blend bananas, date paste, milk, and cinnamon till smooth. Pour over bread and mix well.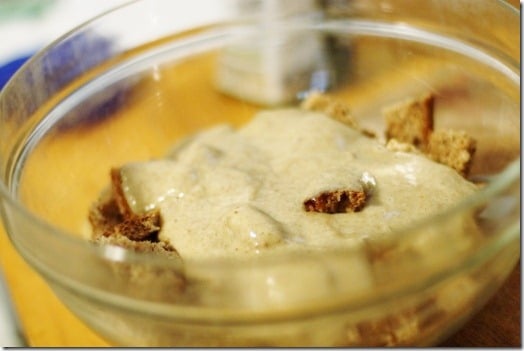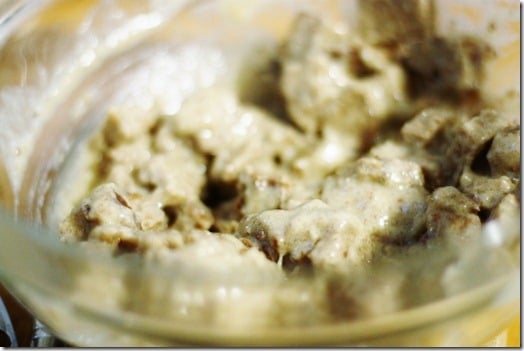 3) Divide the soaked bread evenly into four ramekins. Pour 2 tbsp of the full fat coconut milk over the top of each.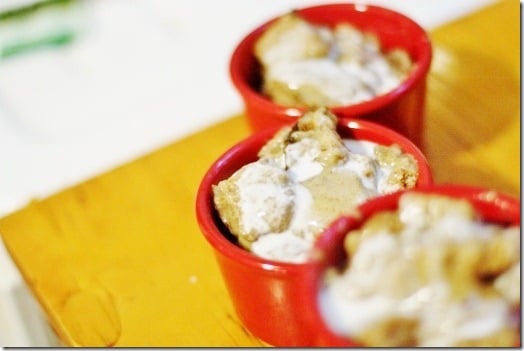 Bake for 30 minutes, or until the bread looks golden and caramelized. Like so.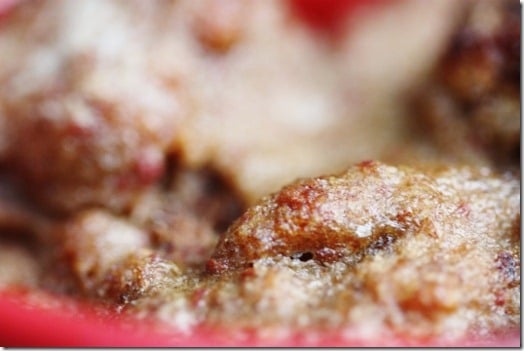 These make for a fantastic dessert, of course, but the Ezekiel bread is so packed with protein and fiber that I'd say you can turn them into breakfast on a very special occasion, too.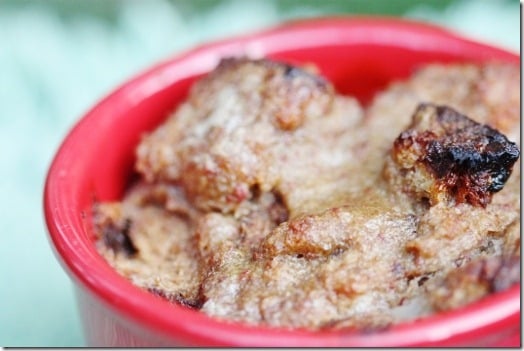 They are exceptionally delicious no matter what.
A word here about Ezekiel (aka Food for Life) breads: these are made only with sprouted whole grains—no refined flour—and they are therefore my wholesome bread of choice. (They also happen to taste fantastic, and come in tons of different flavors and shapes.) Feel free, though, to use a bread of your choosing—I'll try to help you all out with a GF version soon!
I hope this post is inspiration to try date paste as a sweetening alternative, and motivation to upgrade your bread pudding. I love making sweet things just a little more wholesome, and recipes like this showcase that love.
xo