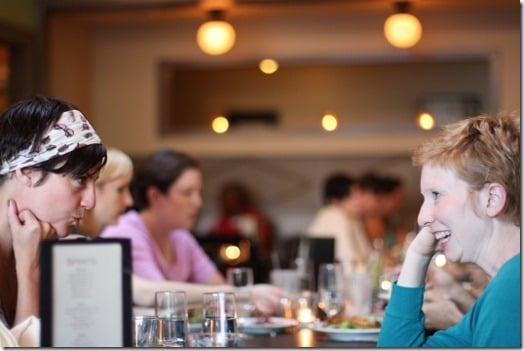 Where was I?
Oh right community. As I entered into day 3 of VVC, it was with a list of people I was stilly dying to meet in person or speak to a little more (Sayward of Bonzai Aphrodite, Joanna of Yellow Rose Recipes (or so it was previously called), Crissie of Run Crissie Run). Fortunately, I had a chance to speak with all of these ladies on Sunday, either over the VVC lunch or throughout the day. But first, there were panels.
The morning started with the activism panel, which was led by Jasmin and featured Isa Chandra Moskowitz, Sunny Subramanian from Peta2, my girl Leigh-Chantelle, Ryan Patey from T.O.F.U. Magazine, and Chelsea Lincoln, who writes the blog Flavor Vegan. I'm going to hold off on giving too many details from this panel, because I really want activism to be the focus of tomorrow's post. For now, I'll say that the major questions at hand were:
How can I be an activist in my home town/community?
How do I foster activism when there aren't many other vegans in my area?
What do I bring to the table as an activist?
How can I merge activism for animals with other issues I care about?
How can I be an activist without alienating others?
All fantastic issues to discuss. More on them soon.
The next panel I sat in on was led by Terry Hope Romero, the gorgeous, sassy, and whip smart author of Vegan Latina. Meeting Terry, who's work I've read for so long, was certainly a weekend highlight. Terry, who is, like me, a former publishing maven, spoke about food writing as a narrative craft, and blogging as its vehicle. Her speech was full of amusing anecdotes, and one of the major take-home lessons was that, as bloggers, we're empowered to take any and all life experience and craft it into something readable. Having spent so many years in the world of writers and editors, I don't always enjoy writing seminars, but this one was great fun.
JL and I really wanted to go hunt down some green juice, but given how little time we had before lunch, we opted to gossip by the pool for a few minutes instead. All that hard work allowed us to build up an appetite for the second #vidavegancon lunch spread!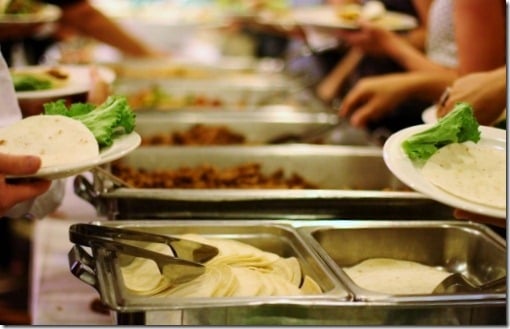 It was taco day. Well, taco and hummus, that is. Tortillas were laid out, along with giant lettuce leaves for the raw foods lovers in the group (hooray!). And I was tickled pink to see that Janessa had given my raw zucchini hummus recipe to the cook to copy! What a giant honor.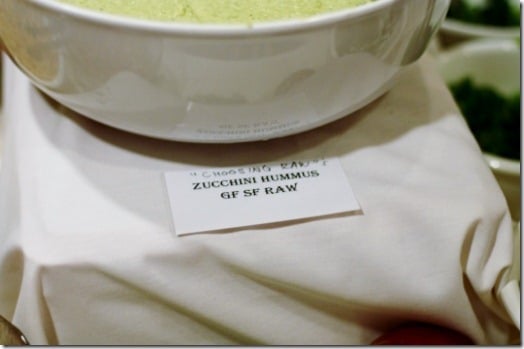 I was also really impressed with the giant tray of raw walnut "taco meat," which was spiced to perfection and made tangy and rich with sundried tomato. Great, great recipe: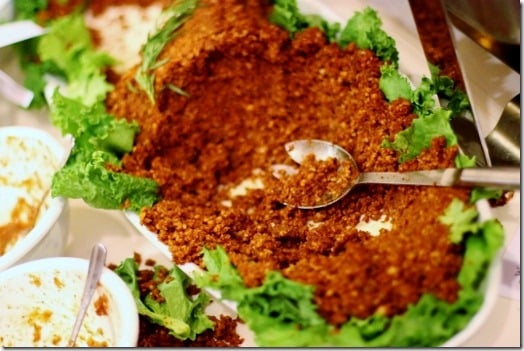 I made some raw tortillas with the taco meat, the hummus, guacamole, and salsa as my fillers. Each got a generous topping of nutritional yeast, which was left out by the bowl near our table. A conference with bowls of nooch sitting around for the taking? My kind of place.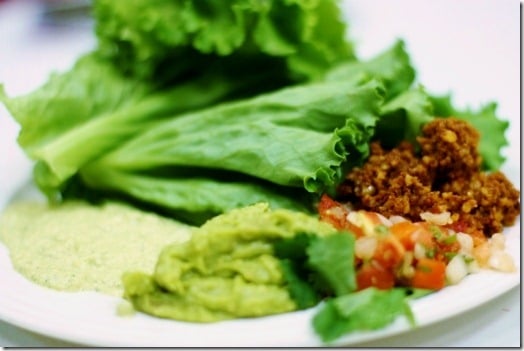 After lunch, I stole some time to work on the blog and respond to emails. Soon enough, it was time for my final panel/class: specialty diets.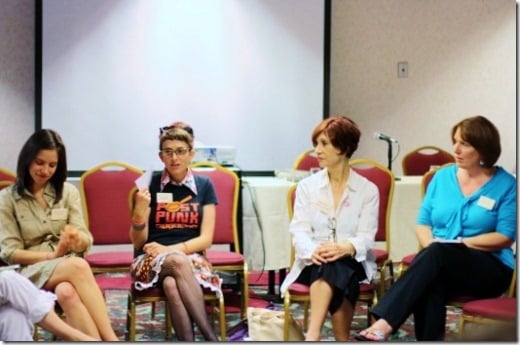 My co-panelists were Kittee Berns, author of the wonderful Cake Maker to the Stars blog and author of Papa Tofu Loves Ethiopian Food, Fran Costigan, the reigning queen of all things vegan dessert and chocolate, and Susan Voison, whose Fat Free Vegan blog is home to some of the best low-fat vegan recipes on the web.
Kittee eats gluten free: though she does not have celiac, she used to suffer from fibromyalgia, and eating gluten free helped her to manage/conquer her symptoms. Susan eats a low-fat and no-oil diet, though she does allow for some nuts and seeds in her recipes, along with avocado. She feels that avoiding added fat has helped her to lose and maintain a healthy weight, and is intuitively certain that it's the best way of eating for her body. Fran, meanwhile, subscribes to no specialty diet in particular, but takes a whole foods and local approach to everything.
There was a ton of curiosity about GF cooking in the room: Kittee passed around Authentic Foods' superfine brown rice flour, which she found to be a life-changing addition to her GF baking. Then we all shared our best "specialty diet" cooking tips. Susan mentioned that mixing non-dairy milk and vinegar creates a great, "buttermilk"-like texture for salad dressings that are oil free (good to know, as I'm one of those people who really struggles with salads that aren't dressed with a good amount of fat). For my part, I gave the same advice I usually give about starting off with raw food: don't think of a complex entrée you like and try to make a raw version in the dehydrator. Make every simple raw (soups, salads, veggie sides, dressings, dips) and cook the rest. At least at first. I also mentioned (in response to an audience question) that raw potatoes are not the place to start.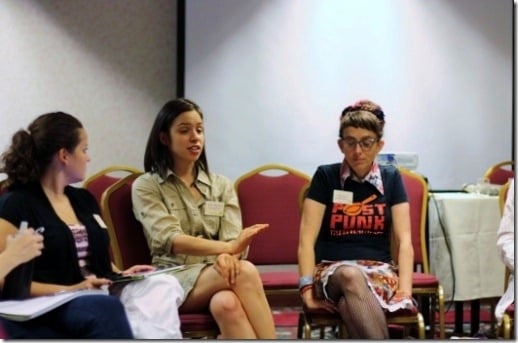 I believe my exact quote, elegantly phrased, was "raw potatoes are gross."
It was a really fun panel, especially since I got to see Fran (the ultimate hip NYC lady, and always a joy to be around) and Susan (whose blog I worship). I'd never met Kittee, but she and I have a friend in common, and it was really wonderful to connect with her after admiring her work for vegan MoFo and her blog for quite some years now. Incidentally, if you're a vegan who's just gotten a celiac diagnosis, or you're GF and wondering if you can be a vegan: fear not. It's absolutely possible to be both vegan and GF! Kittee's newest brainchild, XGFX, shows you how.
After that, it was time for closing remarks from Isa and from Terry. As these two beautiful and spicy women took to the stage to bid us farewell, I felt a little verklempt: it had been such a lovely weekend, and I was already feeling sad to say goodbye to Laura, JL, Lisa, and co. Isa and Terry mentioned what a joy it had been to celebrate a shared sense of purpose within the vegan blogging community, and noted that, even in this digital age, nothing compares to the power and pleasure of face-to-face conversation. I couldn't agree more. I love the internet, but sometimes a hug, a peal of laughter, or a shared glance is far more powerful.
I bid the wonderful conference organizers, Janessa, Jess, and Michele, a warm adieu:
They deserve heaps of credit for making such a huge conference run so smoothly. From food to event planning to the actual "flow" of the day's schedule, these ladies were totally on-point at every turn. I marvel at their organizing skills.
That night, it was time for one more dinner in Portland. To be honest, I'd loved my simple green goddess bowl at Blossoming Lotus so much the night before that I was hankering for a repeat.
For all of my love of socializing, and in spite of the fact that I consider good conversation a pleasure on par with great food and great sex, I have to admit that I get really exhausted from relentless group time. Maybe it's the only child in me, but I've always needed quite a bit of "me" time in addition to time with my friends. For this reason, I was grateful to have an intimate and quiet dinner planned: just me, JL, Lisa, and Nicole, whom I'd never met before, and who is lovely. We unwound with laughter and compared notes from the weekend. And we all dug into this:
A fabulous and generously sized bowl of white bean and pesto spread. This was fantastic; I've had (and made) many a white bean dip, but there was some herb in here (we couldn't ultimately place it) that elevated the dip to true originality. It was also steaming and warm and drizzled in fruity olive oil, and generally a pleasure.
As I ate, I sipped on this: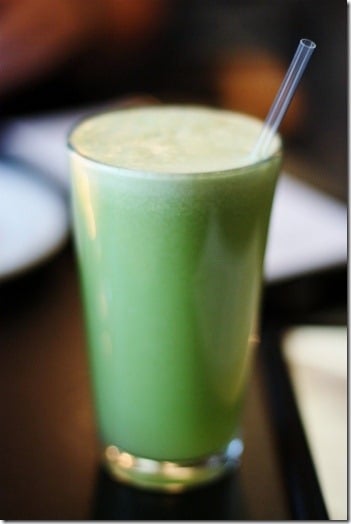 A "make your own" cocktail of celery, cucumber, kale, lemon, ginger, and apple. And for my entrée, as planned, I repeated the goddess bowl (raw and cooked greens with quinoa, avocado, and two dressings):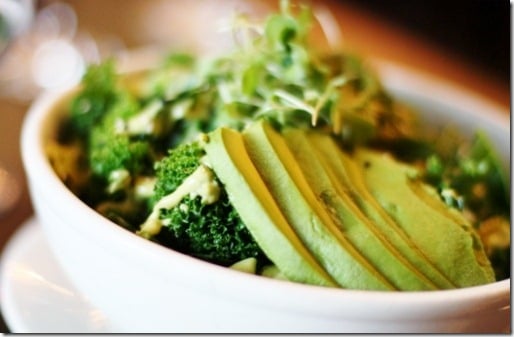 Once again, it was filling and delicious. Not so filling, however, that I couldn't polish off Nicole's bowl when she was too full to finish. JL and Lisa (who'd gotten lasagna and raw pizza, respectively) looked on with amusement.
After we parted ways, it was back to my hotel for some reading, blogging, and much-needed rest. The next morning, I woke up with the sun for a run in some gray and moody weather, taking time to enjoy riverbank sights as I went. Then, to my delight, I realized I had just enough time for a final Portland food outing. I found a bakery close to my hotel that featured a vegan menu, and hurried over there for some food.
The Black Sheep Bakery boasts not only a full display of vegan muffins, scones, and treats, but also some warm vegan breakfast items (such as vegan frittata, or toast with vegan cream cheese) and lunchtime sandwiches that are 100% animal free.
I was really impressed with the selection, the service (my server was so kind and helpful with recommendations), not to mention the cozy ambiance. Torn between granola and oats, I hesitated, until a shiver ran through me under my hoody and reminded me that it was a rainy day in the Pacific Northwest, and hot food would probably taste really good. Oats it was: or rather, the bakery's "fruited oatmeal." This is actually a big like warm muesli: they toast dried apricots, raisins, oats, and agave, and then they re-heat it for you with almond milk.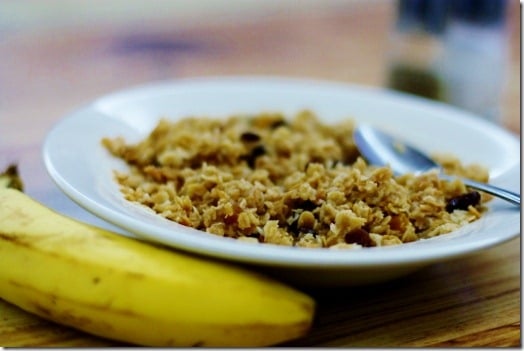 As usual, I BYOB'ed (brought my own banana'ed).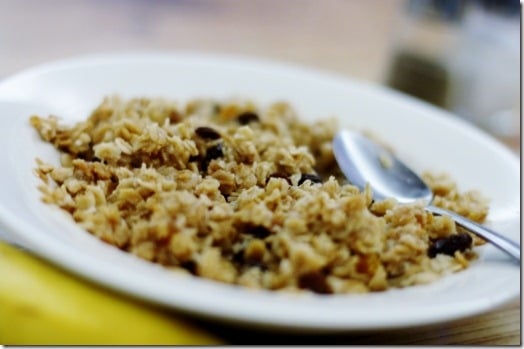 So, so, so good. Sweet, but not sugary, warm, dense, filling. Loved every bite. And for the road—knowing I'd have a long day in airplanes before me—I picked up a vegan multigrain cranberry muffin: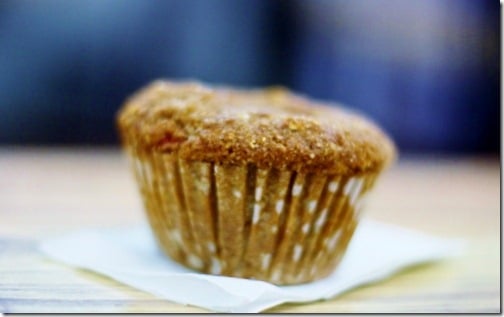 I was glad I did, though I did manage to find some good airport food. Among other things, a big salad, a cup of veggie crudites, a Pure Bar (mine) and even some hummus: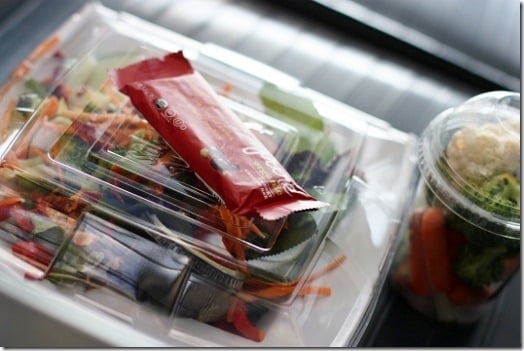 Not bad, given that my biggest complaint about flying is usually that I can't get enough green in.
And then, suddenly, I was back at the Hobbit House, where I found crickets mating and feasting on bug carcasses in my shower, and a few lady bugs throwing a party on my quilt. Home sweet home. Did I really just spend a week in NYC? Had I really gone all the way to Portland? Am I really going back to NYC this weekend for a lavish wedding? Yes. But right now, as I dig into some raw comfort food and start reading up on my biology, it feels almost as if it was all a dream.
An awesome dream. Thanks, VVC, for a fantastic three days. It gave me a lot to consider (expect a thought post on activism later this week), to cherish, and to remember. Can't wait for 2013.
Final announcement: today is your last chance to vote for me for best blog and best column in the 2013 Veggie Awards! The award is a huge honor in the vegan community and would mean the world to me. With that said? Any kind of competition after this weekend of vegan blog love seems in poor taste. So if you'd like to vote for another great blog–Our Hen House, for instance–rock on. And thanks.
xo
xo