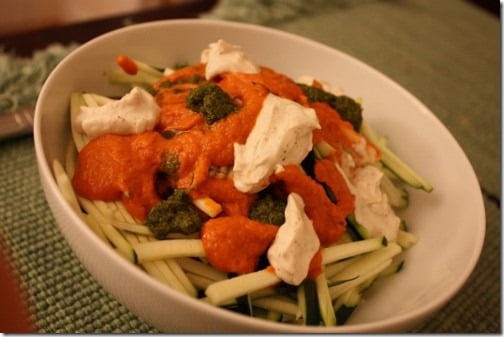 Great responses to yesterday's post! I've been meaning to talk about fasting for a while, and was hoping it would spark a discussion as thoughtful as that one.
One thing that kept coming up in the comments was the idea of lightness, and how raw foodism often serves to preserve that feeling while all the while providing nourishment. I think this is true, of course: it's the reason so many former ED sufferers find themselves attracted to eating raw (I include myself here). And in many ways, I think this is a very good thing indeed. Because it offers satiety without feelings of intense fullness or weightiness, raw foodism (or semi-raw foodism) does seem to have the power to free many people from lifetimes of food guilt and disordered eating.
It's also true that anyone who's ever pursued feelings of lightness in the extreme has to proceed with caution when getting interested in raw foods. I've seen many women move from healthy raw diets to raw diets with less and less density, ending up at greens and smoothies, and not much else. Raw foodism becomes yet another slippery slope down which they slide toward starvation. This is why I get so angry when I hear prominent raw foodists extolling the virtues of abstinence, fasting, and emptiness. To enjoy feelings of lightness is one thing; to enjoy feelings of emptiness is another. The distinction might be subtle sometimes, but the onus is on all men and women who explore raw to keep it alive.
If you can find a way to enjoy nutrient dense meals that are nevertheless unlikely to make you feel hot, tired, or hefty, that's pretty great. Take tonight's dinner. It was a spin on a raw fooder classic: raw lasagna with zucchini, pesto, cashew cheese, and raw tomato sauce. A famously incredible rendition is my friend Sarma's leading entree at Pure Food and Wine, and it's every bit as spectacular as the hype suggests. The thing about raw lasagna is that it's not always fun to make at home: I've done it (using Sarma's recipe from Raw Food, Real World), and it was awesome, but it involved a lot of moving parts and a lot of delicate slicing of zucchini and tomato.
Tonight, I was craving that very lasagna, and was fortunate enough to have most of what I'd need for it: zucchini, my raw "goat cheese," made with cashews; leftover red pepper marinara (which had gone in an entree earlier this week that I can't wait to blog about), and some pesto sauce. What I wasn't in the mood for was careful layering of anything. So I decided to deconstruct raw zucchini lasagna and turn it into zucchini pasta instead, slathering the dish with marinara, pesto, and cheese. Insta-lasagna, if you will, without any of the fuss. I even opted not to dirty my spiralizer, and gave the zucchini a quick shred on my mandolin. Proof that no one needs a spiralizer to make zucchini pasta at home!
The dish, then, is easy: spiralize or shred one zucchini, and top it with about 1/4 cup of my red pepper marinara sauce. Dot it with a tablespoon or two of cashew cheese (my raw "goat cheese" is great for this) and a drizzle of pesto, if you have it; if you don't, a few sprigs of basil will work equally well. In a few moments, you've got lasagna flavors in a (raw) spaghetti bowl:
So. Totally. Delicious. Check out all of the yummy sauces:
I balanced out my meal with a raw kale salad topped with hemp nuts—my favorite!
And dinner was served: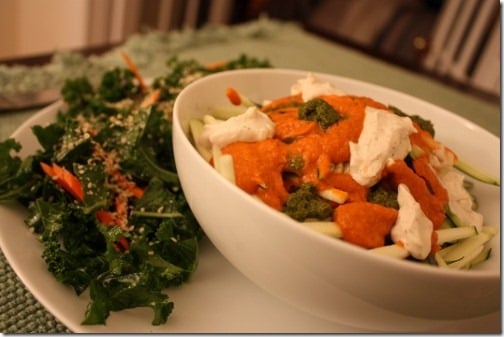 This meal was filling and comforting, but it left me feeling comfortable and energetic enough to focus on work and writing. That, I think, is where raw meals can be so extraordinary. Since leaving my own ED behind, I've actually come to savor the feel of a dense and grounding meal in my belly. In fact, I often don't like to eat all raw over the course of a day because I miss the heft of some whole grains or beans or other cooked foods. But I love raw foods for offering me meals like this—nutrient rich to the extreme, but easy on the body.
How do you feel about eating for groundedness vs. lightness (forgive the simplistic dichotomy, please)? Do you feel that you can enjoy the sensation of lightness after a raw meal without becoming overly fixated on it? How?
Happy weekend!
xo