Hey all!
As I mentioned in my last post, this is a nonstop week, and next week is looking exactly the same. What does this mean? Meals on the go!
With that in mind, I thought I'd share part of yesterday's desk lunch with you.
Some people hate to eat at their desks: I've never been among them! In fact, I count myself lucky when I have the chance to eat at my desk (as opposed to a mind-numbing business lunch, or lunch on the go between clients, etc.). Sure, I'd rather be eating at home, but if I can take thirty minutes to appreciate my meal, the New York Times, a blog or two, or even some email writing, I'm happy.
Yesterday, I got to appreciate a new recipe while playing a brief round of blog catch up. My raw zucchini wraps were part of Sunday's marathon of food prep. I've been searching for an easy raw wrap recipe for a long for a long time. Wraps are one of my favorite lunch foods, and while I often use sprouted grain wraps to make them, they get boring after a while! Given my general fondness for zucchini, I thought that the zucchini wraps I stumbled on in this book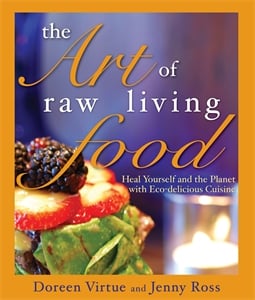 Would be a perfect template. A few tweaks, and my own raw zucchini wraps were born:
Raw Zucchini Wraps (yields 2-4)
1 large zucchini, chopped
1 cup water
3/4 cup flax seeds
1/3 tsp salt
Dash pepper
Blend all ingredients in a Vitamix, starting on the lowest setting and turning the dial up slowly. When the mix is smooth, spread it at about 1/4″ thickness onto two paraflex sheets and dehydrate at 110 degrees for at least four hours (I needed 5ish).
Using a knife, separate wraps from the paraflex sheet. Cut in half, and store them in an airtight container and in the fridge. They ought to keep for at least a week. The color ain't pretty, but they're quite tasty!
You can use these as wraps for avocado sandwiches, guac and veggies, hummus, nut pate, or any other filling you fancy! I kept it simple yesterday with julienned veggies and some creamy dressing (forgive the little tear in my wrap — I never said I was good at dehydrator recipes!):
Alongside a hefty salad, these were a tasty and fun meal.
A creative and enjoyable lunch is a lovely way to add some brightness to the start of the work week. May you all have at least a few lunches in the coming days that make you smile!
xo