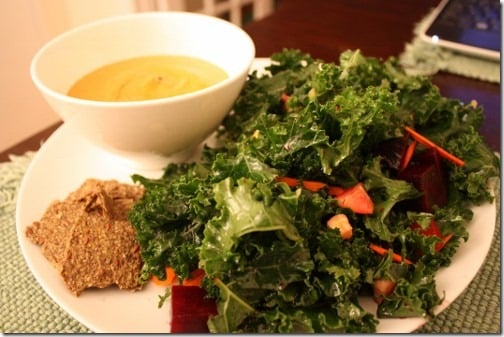 Delighted to see so many entries into my Choosing Raw counseling giveaway! (If you missed i I'm giving away a free, one-on-one phone counseling session in honor of 365 posts.) Keep them coming!
Vegan Mofo is all about sharing admiration for our fellow bloggers. It's like a big, virtual vegan group hug, executed through recipes and food photos. Ironically, the blogger I'd like to honor in tonight's post gets plenty of real life hugs from me, because she's a friend online and off. She's inspired me before, when I made her guacanara sauce, and she also wowed the CR audience with her raw, vegan thin mint recipe when I was in Chicago last year. You may also happen to know her as one of the funniest food bloggers around (I'd love to see her, Becks, and Mama Pea hold a contest to see who could induce the most ROTFLing in a ten minute span).
I'm talking, of course, about my girl Diana:
Let's all take a moment to talk about how adorable she is:
OK, I'm done.
As I may have mentioned, Diana and I have a sacred ritual: every two months or so, under the sneaky guise of wanting to "catch up," I show up on Diana's doorstep in Brooklyn and made her feed me. And she obliges with culinary talent galore. She's made me stuffed acorn squash, an adzuki bean and seaweed salad, two raw soups, and a raw brownie dessert, among other varieties of deliciousness. But the meal I most loved at Chez D was probably her simplest. It was a tomato tahini soup (or "tohini" soup, as Diana called it), and it was everything I love in a bowl: heirloom tomatoes, tahini, lemon, and a thick texture that could just as easily be dip as soup. YUM. (You can read about the original meal here.)
I've been scared to make this soup, mostly because it was so perfect when Diana made it for me. How could I tamper with this kitchen goddess's recipe? Last week, though, struck with the realization that a late heirloom tomato season was drawing to a definitive close, I decided to try my hand at Diana's creation. Thanks to no talent of my own, but merely her genius, it was spectacular:
I added a swirl of homemade pesto to the soup, and it worked beautifully! I also served it with some of the tasty raw veggie crackers that Ricki recently gave me (thanks Ricki!):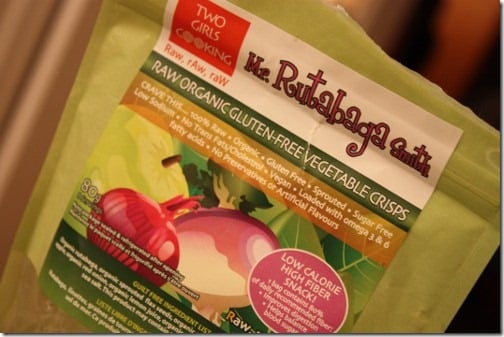 With my favorite massaged kale salad on the plate, it was a complete and totally satisfying meal. I even tweeted out, in my glee, that it was the best dinner I'd had in ages. I think people were surprised to hear that it was only soup and salad, but hey, I'm a simple girl with simple tastes.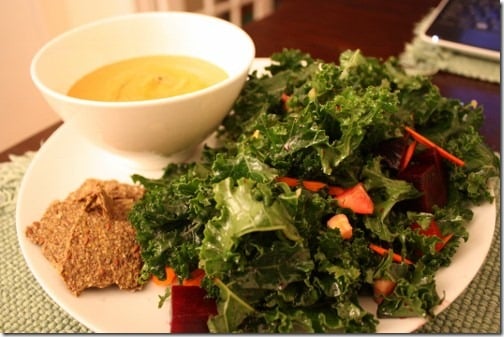 A few days later, I even made my own spinoff of the soup, using 3 tomatoes instead of 7 and adding 4 medium sized carrots. I left everything else the same as the original recipe, but also added 1/3 cup water. It turned out great!
A nice addition to a desk lunch:
As all home cooks know, it's lovely to get inspired once in a while. Blogging takes inspiration to another level: what we once had to seek out in family archives or cookbooks or the latest issue of Gourmet, we can now find in the work of bloggers who also inspire us with their words and humor. Diana inspires me in many ways—her tasty food is just one.
But it's a really big one. Thanks for the recipe, D!
What was the last recipe you made from a blog you love? And what other bloggers inspire you? (I feel like I've definitely asked that question in the recent past, but it doesn't get old.)
Happy Friday!
xo