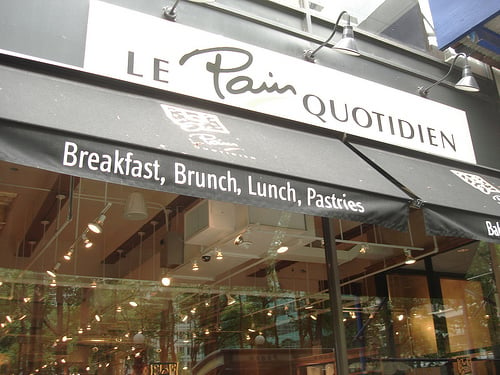 Hey guys!
Hope you're gearing up for a nice weekend ahead. On my agenda? Clients, the usual weekend lunch with Mom, some editing, some reading, and Shutter Island tonight.
Speaking of weekend lunches, my long weekend gave me a wonderful opportunity to indulge in a mix of dining out and dining in. As I've mentioned before, I'm one of the few NYC gals who doesn't relish restaurant dining. If anything, I spend most of my time these days moping and whining about how I never have time to cook anymore.
That said, it's hard not to love a wonderful restaurant meal, or–far better still–the chance to experience a friend's cooking. And that's precisely what I got to do last weekend.
Meal #1 was lunch with my Godmother at an Upper West Branch of Le Pain Quotidien. PQ is one of my very favorite chain restaurants. It's organic, health-conscious, totally vegan-friendly (hello, red quinoa salad!) and it's very easy to navigate the menu if you're eating raw. I'm forced to attend an unpleasantly high number of business lunches, and I'm always searching for casual, yet elegant spots with options for everyone. The PQ menu is familiar and hearty enough for omnivores–everyone seems to love the tuna and chicken salad tartines, along with the Mediterranean plate–and it features incredible salads and soups for vegans. I'm a great fan of their gazpacho, their split pea soup, the red quinoa salad, the shrimp salad prepared without shrimp, and the seaweed salad.
On this particular occasion, I opted to be picky and create my own salad dish: I requested a double order of the mesclun salad with a large side of avocado and nori and pesto dressing. This is what I got:
It was perfect! Gena heaven.
That night, I headed to my colleague and friend's home for dinner. Many of you have asked me about my lifestyle's social reception: how to friends and colleagues react to my diet? All I can say is that, with a very few exceptions, I'm fortunate to have friends and family who are more than supportive of my veganism. In fact, most of my friends respond to it with enthusiasm and curiosity, always offering to try vegan restaurants with me, and constantly asking to sample this or that vegan recipe. My coworkers have been no less supportive. Sure, I may hear the occasional joke about my giant salads or "vegan things" taking up space in the office fridge (so maybe avocado pudding and zucchini wraps are a little odd looking), but it's always done with intense good humor and sweetness.
Sweetness, in fact, that extends into hospitality. On Saturday, my colleague Sarah had me over for a vegan bite before we headed out to see Magnetic Fields perform at BAM (an awesome show, by the way). Considerate hostess she is, she prepared a giant salad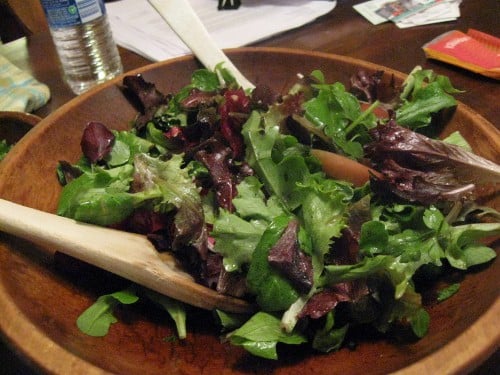 and a very seasonal vegan pumpkin stew with chickpeas and raisins: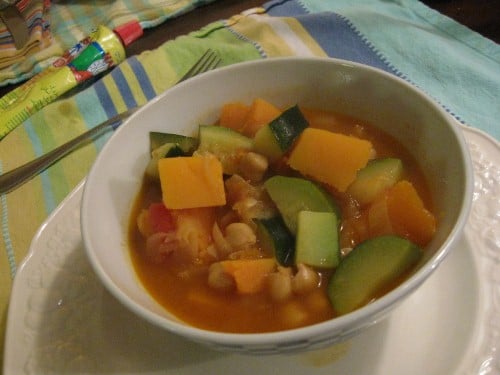 Both dishes were superb! The soup, incidentally, was adapted from a cookbook I've been lusting after for a long time: Madhur Jaffrey's World Vegetarian.
Lucky me to experience Sarah's hospitality and culinary talent! I hope that the raw vegan truffle balls I brought as a housewarming gift were somewhat demonstrative of my gratitude.
Finally, on Sunday, Mom and I met for a Valentine's Day lunch at one of the best things to happen to the Upper West Side in a long time: Peacefood Cafe.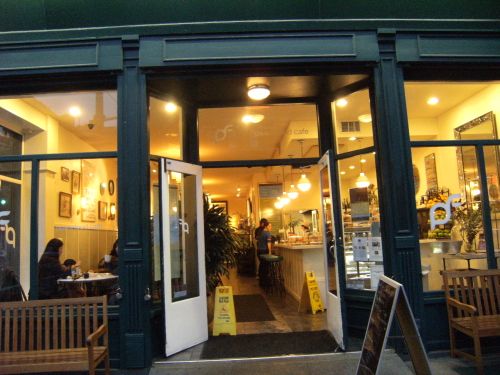 (Image courtesy ofI Can Has Cook)
You may already have heard about this gem on Dori or Elise's blogs — both of these ladies are big fans of the restaurant, and so am I! It's a sweet, welcoming, and casual dining spot that celebrates compassion. The owner, Eric, can nearly always be found greeting guests with a smile and saying a few words about his reverence for animals. The menu features both raw and cooked options, and it ranges from simple veggie sides to beautiful vegan pizzas. Best of all, the restaurant is warm and cozy — just the sort of place I might bring a manuscript on a lazy weekend afternoon!
Mom, who's slowly warming up to vegan dining, fell in love with the restaurant on first sight, and also with the roasted potato pizza, smothered in homemade pesto sauce and fresh arugula. It was delicious!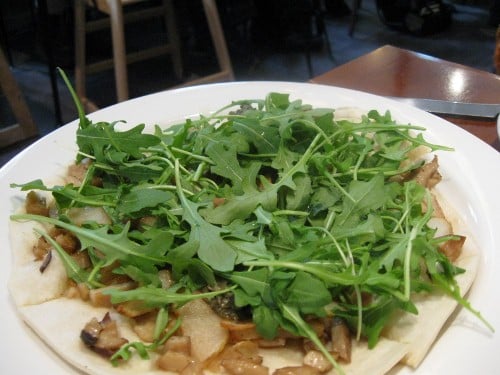 I ordered the Asian salad, sans tempeh and peanuts (I like tempeh, but I was hoping to replace it with some of the AMAZING raw crackers that Lori and Michelle sent me–more on those soon!), and a side of roast zucchini and broccoli. The dressing was an incredible lime/mustard vinaigrette:
It was a perfect lunch, which we capped off with some macaroons (so good, that we each bought a bunch to take home). Thanks for the Valentine's Day treat, Mom!
Of course, I'm always happiest when I've got plenty of time to spend cooking and uncooking in my kitchen. But there's great joy to be had in sampling food that's been lovingly and well prepared by others. I'm grateful to have had such a tasty weekend!
And if you were curious, here are some other NYC spots where I love to lunch, in no particular order (this list was inspired by Melissa's incredible recent post on veg-friendly NYC dining!):
Near Home
Near Work:
Have a great weekend, everyone!!!
xo