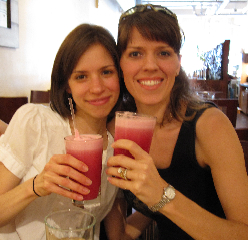 Happy Monday, all!
Last night I had the pleasure of dinner at Cafe Blossom with the very awesome Kristen and her husband, Greg. Kristen and Greg are in town for an extended visit (you can read all about their meals and adventures on Kristen's blog). As you know, I've been a fan of Kristen's blog, e-books, and writing for a very long time, and so it's of little surprise to me that she and I have become fast friends during her stay!
Cafe Blossom holds a special place in my heart for several reasons:
1) It's across the street from my apartment. Literally. When a vegan cafe with raw options opened across the street (two months after I moved in, no less), I chalked it up to the workings of divine providence.
2) The general manager, Craig, is a pretty cool dude (and a friend of mine).
3) The Pink Lady juice, which I blogged about here.
4) My favorite appetizer, the all-raw Autumn Sweet Potato Rolls
5) The generous salad portions! There is nothing that irks me more than the pitiful little mounds of mesclun greens to which most restaurants assign the name of a "salad." Even certain vegan restaurants (sorry, Candle 79) seem to think it's perfectly OK to serve bird-sized salads for $14.00. Sorry folks, but to me, a salad means a heaping mountain of greens and veggies. This is something that the good people at Cafe Blossom understand and honor: all of the salads are not only delicious, but generous enough to feed a woman with an appetite!
For dinner tonight, I ordered the sweet potato rolls (coconut noodles, jicama, carrot, red and yellow pepper, scallion and avocado with an almond ginger dipping sauce) and the spring greens salad (sweet cherry tomatoes, cucumber, jicama, carrot, tamari toasted pumpkin and sunflower seeds) with avocado instead of seeds and lemon and olive oil for dressing. Both dishes were delicious:
And since Kristen's birthday was on Saturday, the kind folks at Blossom treated us to a slice of their vegan chocolate cake, which we all sampled and agreed was delicious!
It was a lovely evening. I'm so glad that Kristen has extended her trip to NYC, so that I can spend a little more time with her before she heads home!
Speaking of friends in the blogosphere, I want to extend a special thank you to my friend Cory — AKA Zestycook — this morning. If you've never checked out Zesty's site, go explore: it's a passionate testament to his love of all things culinary and his incredible talent in the kitchen. But Zesty is far more than a great chef: he's also a tech wizard, and he's given his time and expertise to so many of us in the blog community by answering tech support questions, helping with WordPress emergencies, and the like. In the last week, he's helped me with a bunch of my own little "tech-challenged" inquiries, and I'm super grateful to him. Thanks, Zest!
Finally, I wanted to give all NYC kids a head's up about a fun party on Saturday night. My friend Vanessa, the owner of Gnosis Chocolate (an incredible raw chocolate company — product review soon!) is hosting a  raw chocolate and dance party on Saturday night, featuring chocolate elixirs, spring water, crudites, and other raw goodies. The party will follow on the heels of a two hour lecture from Daniel Vitalis on immunity and hormone production. I'm not a dancer, but I am a chocoholic, so I'll be there.
Tickets are available here if you're interested. Check it out!
OK, that's my news for the morning. Hope you're all getting a great start to your weeks!
xo