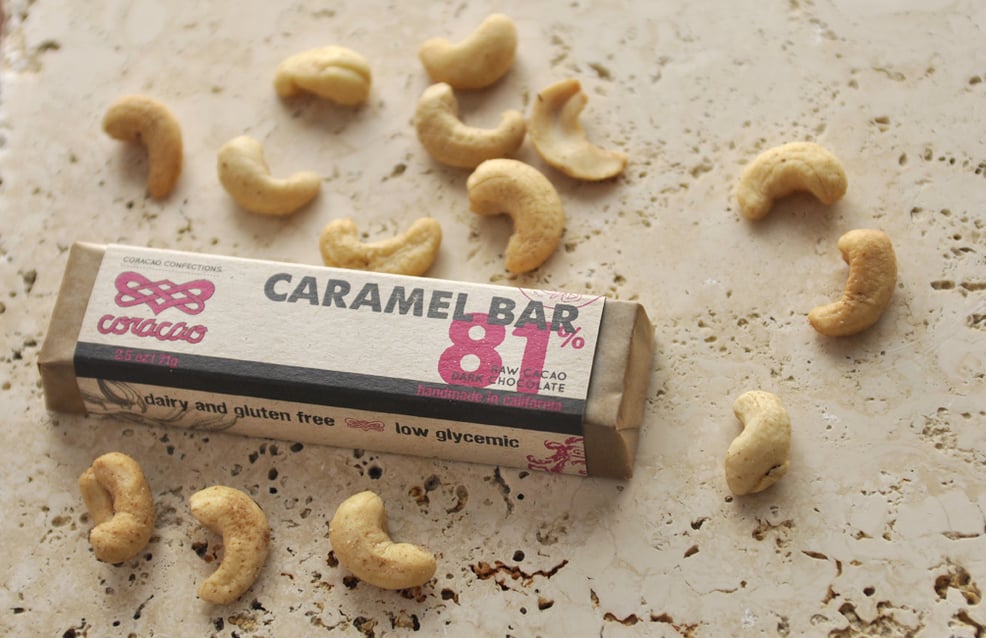 A while ago, the folks at Coracao Confections, a maker of raw, organic, gluten free chocolates, contacted me and asked me if I might be interested in reviewing a box of their yummy creations. Would I ever, I responded, and was blown away by the beautiful and generous gift box that arrived. Then my computer got stolen, and I lost the photos I was going to enthusiastically share with all of you. But no matter–I still want to tell you about this special brand of raw chocolate, and encourage you to check it out for yourself.
Coracao Confections was founded in the Bay Area of California in 2008 by pastry chefs and raw food enthusiasts Matthew Rogers and Daniel Korson, who set out to create incredibly healthy and delicious chocolate. Their mission is to replace cravings for junk-food chocolate with nutrient rich, decadent, raw cacao treats.
All of Coracao Confections' chocolates are made with raw cacao and contain no dairy, gluten, soy, or corn. Only low-glycemic sweeteners such as coconut sugar are used to sweeten the chocolate, which means that they're certainly sweet enough to be a treat, but not so sweet that you'll be nursing a sugar headache after you enjoy them!
Daniel and Matthew sent me the 22 piece deluxe box, which includes:
Caramel CupsRaw Fudge Truffles
Mayan Spice Truffle
Raspberry Fudge Truffle
Almond Coconut Dreams
Ginger Saffron Truffle
Hazelnut Mousse Truffles
Espresso Ganache Truffles
Peppermint Patty
Rawmond Butter Cups
Live Almond Heart
One 81% Dark Chocolate Baby Bar.
How lucky am I? They also sent me two of their ridiculously delicious blondie bars, made with Raw Cacao Paste, Raw Cacao Butter, Coconut Flakes, Coconut Butter, Lucuma, Agave, Coconut Sugar, Vanilla Bean, & Himalayan Crystal Salt. It didn't take me long to devour them.
In truth, these are some of the best raw, vegan chocolates I've ever had, and I've certainly had my fair share. I was so thrilled with how good the chocolates are that I asked Daniel if he had any interest in being a monthly CR sponsor (you can see the Coracao ad to the right, on my sidebar) and he said yes! From now on, I'll be partnering with more raw/vegan brands I respect, both to keep this blog going and also to champion their products to all of you. I'm happy to be sharing Coracao, both because the treats are exceptional, and also because I love Daniel and Matthew's enthusiasm and passion for what they're doing.
I really recommend checking out the Coracao Confections website to peruse their offerings for yourself! You can find retailers, an online catalog, and you can order their products online. Note that a very small number of the confections may contain honey. The vast majority are marked clearly as vegan (and ingredients listed), so you can pick and choose a what works for you.
For those of you who'd love to get your mom something raw and vegan friendly for Mother's Day, you might consider signing up for the Coracao chocolate of the month club! Each month, a chocolate box is automatically delivered to your doorstep. When you sign up for it, you get up to 37% off and free shipping, as well as a thirty day 100% money back guarantee. It's the best deal on the site, by far, and makes a great gift for a parent or special mother figure in your life–or for you!
Daniel and Matthew also wanted a chance to keep CR readers posted on their new products and goings on, and to give one of you a special reward for staying in touch. If you sign up for the Coracao Confections newsletter here, you'll be entered to win a complimentary deluxe box of raw, vegan chocolate goodies. All you have to do once you click through is to write "Gena" on the second signup page where it asks how you heard about the company. They'll choose a winner on May 14th.
In the meantime, check out the website (or just follow the ad to your right), and connect with the company by Facebook or Twitter to find out what's new. I hope you enjoy these marvelous treats!
Happy Saturday…
xo