Given how well rested and pampered I feel today, yesterday's brutal wakeup seems like a dream. But let me tell you, seated at JFK at 5:45 AM yesterday morning, I was a pitifully sleepy blogger: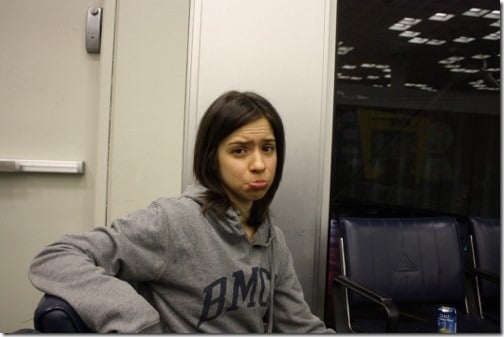 My self pity was mitigated, though, by a tasty airport breakfast. I'd packed a pumpkin chia pudding made with my favorite Vega powder – the vanilla chai whole foods optimizer. (1 cup pumpkin, 1 tbsp chia seeds, 1 scoop Vega, 3/4 cup water, vanilla, touch of agave). I was thrilled to get this through security! I needed a wholesome beverage, so I wandered over to an airport market in search of coconut water. And coconut water I found:
…along with a plethora of other healthy options! I LOVE how the options at major airports are expanding. I mean, I even found vegan soba noodles here (too bad it wasn't lunchtime). I feel so lucky to be a part of a world that's shifting towards more vegan consciousness: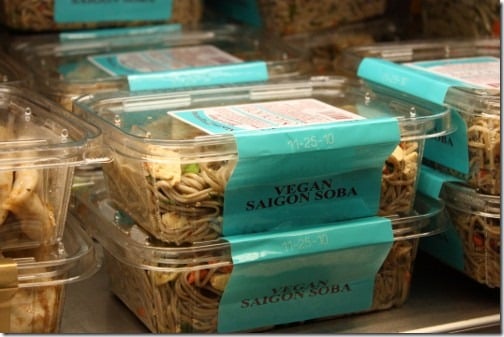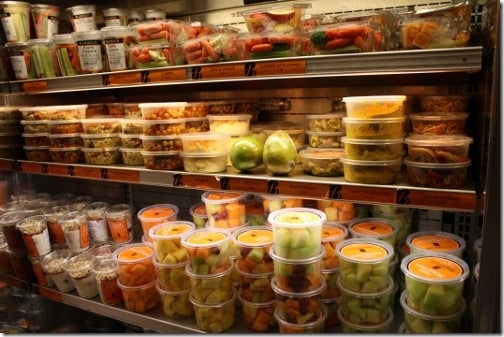 I picked up a coconut water and a pear to eat with my pudding. The pear turned out to be tasteless, but the coconut water was welcome before a long, dehydrating flight: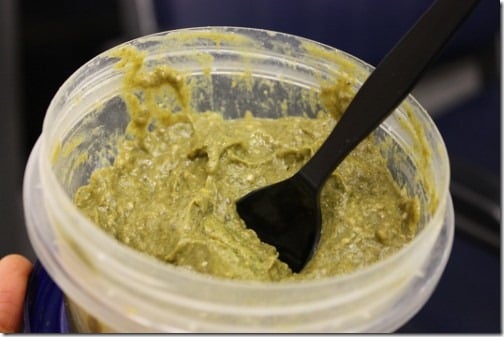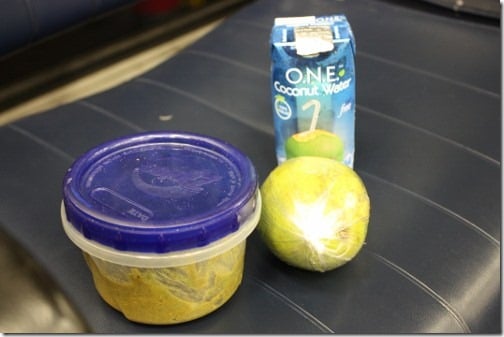 Of course, some coffee was involved too: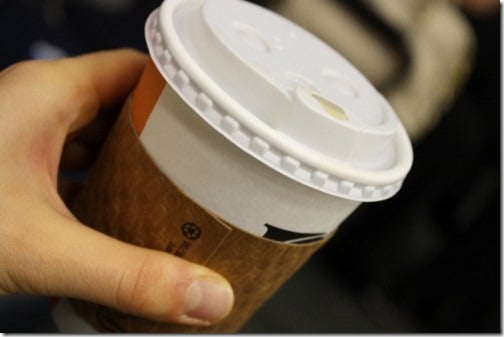 Hydrate, dehydrate 🙂
My flight was sleepless, but before too long I had landed in LA, and found Kathy. Kathy and I know of each other—we're both Manhattan vegans, and we both are devotees of One Lucky Duck. But I'd never met her before, so it was a treat to connect in person, finally! I also met Susan of Doughmesstic, who'd come all the way from the mountains of West Virginia. I immediately loved her understated humor and down to earth attitude. She on the other hand was intrigued by my veganism—turns out, a totally plant based diet was a new concept to her. So I enjoyed playing lecturer educator, natch. It was a fun intro to the vegan life, right Susan?
We arrived at the Four Seasons Westlake Village exhausted, but awestruck at the size and majesty of the place! It's a beautiful complex, as you can see: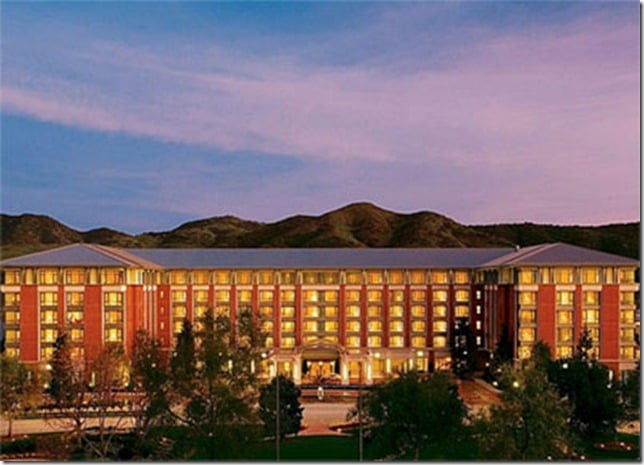 And this is by far the nicest (and largest) hotel room I've ever stayed in: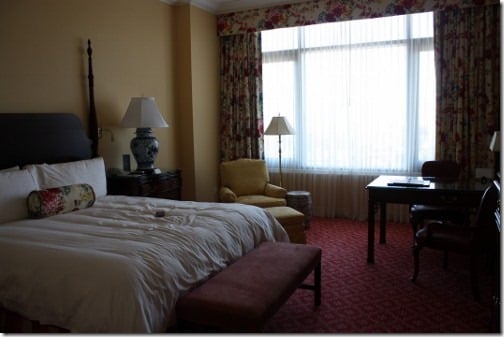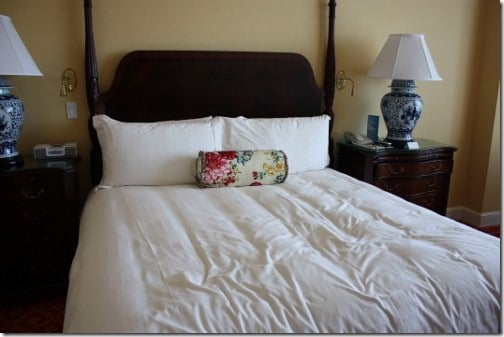 Heaven. That bed is like a cloud.
Starving, I ordered some room service for lunch. Yes, ROOM SERVICE. A luxury I've virtually never experienced. I was pretty excited, especially since the Four Seasons Westlake has a very vegan friendly room service menu. I went with a large spinach salad with farro, pine nuts, olives, cherry tomatoes, and a dressing on the side, and a vegan butternut squash soup. Both were absolutely delicious, especially the soup: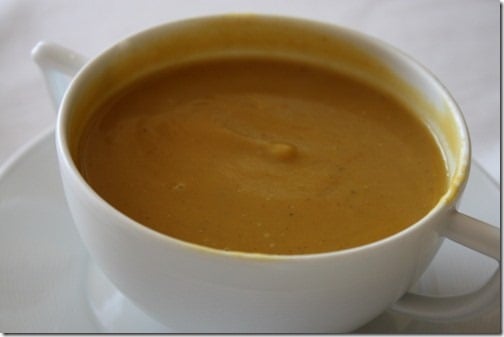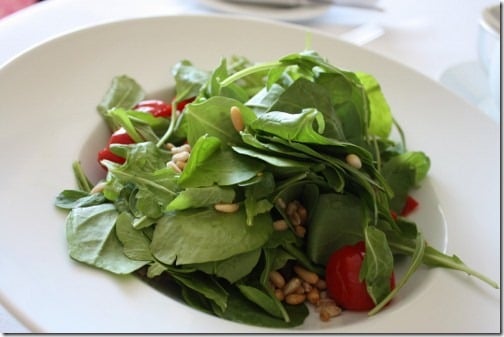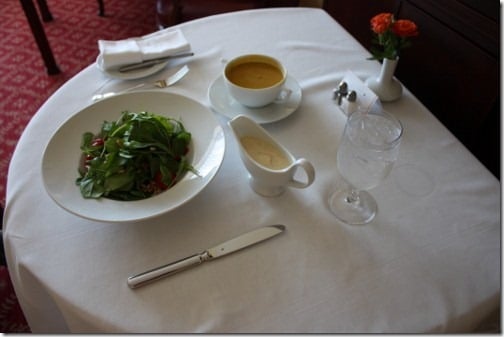 I felt like Christmas had come early. Also, I wished M were there to enjoy the luxury with me 🙁
A little while after lunch, I went downstairs for a quick workout at the Westlake gym. It's spectacular! Huge, and there's always a personal trainer on premises to help patrons with their workout routines. I was totally impressed: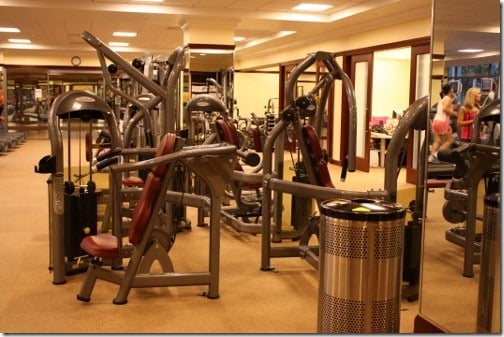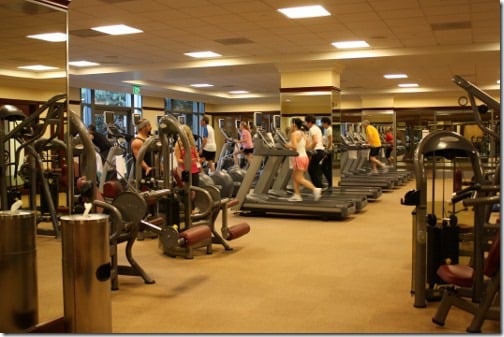 After my workout, I had a healthy exercise of a different sort: an exercise in not being Gena. See, of all the things I'm bad at in life—and there are many, believe me—I happen to be particularly lousy at relaxing. This isn't something I'm ashamed of, exactly: we're all hardwired in certain ways, and I'm hardwired to like busyness around the clock. Give me a spare hour, and I'll nearly always want to catch up on work, go to the gym, or do something with cultural value. Few things are more discomfiting to me than idleness. Yet idleness is a beloved human experience, savored by most normal people. Which is why I was very proud of myself for having taken my four spare hours yesterday not to work, and not to blog, and not even to read, but rather…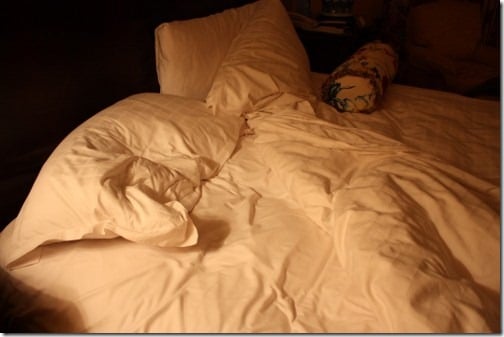 …to nap. For two. Solid. Hours. Go me.
I also took a bubble bath, watching TV as I did it: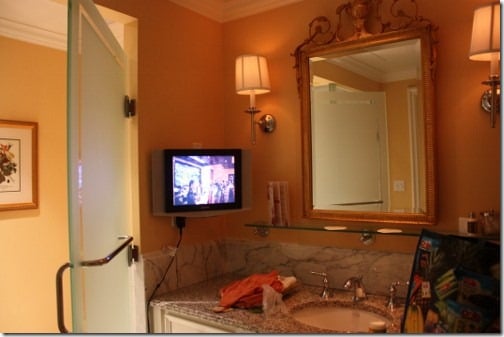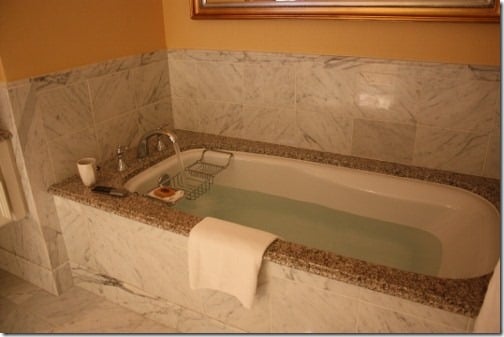 I have to say, it felt great.
After my downtime, it was time to attend the welcome cocktail party for the summit attendees. On my way downstairs, I picked up my hot date: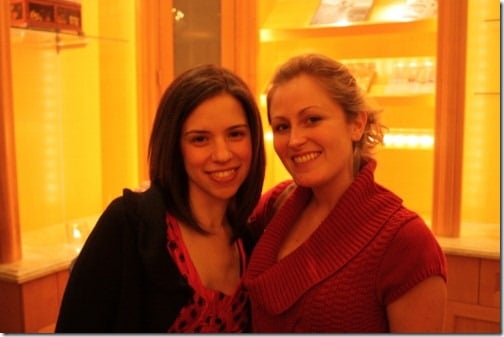 SO great to see my girl Anne!
The cocktail party was lovely: elegant, subdued, and all of the Dole representatives were proactive and friendly in introducing themselves to us. I was especially happy to meet Chris Yemma, the Dole account executive who'd been patiently answering my questions about the food options at the Summit (specifically, I'd been grilling him about how vegan-friendly it would be) for days. Chris, thanks for your help!
Soon, we all moved into the lovely Onyx restaurant for dinner.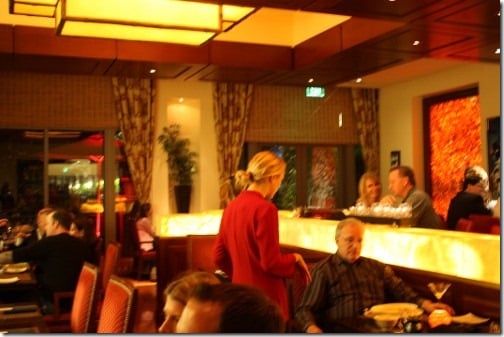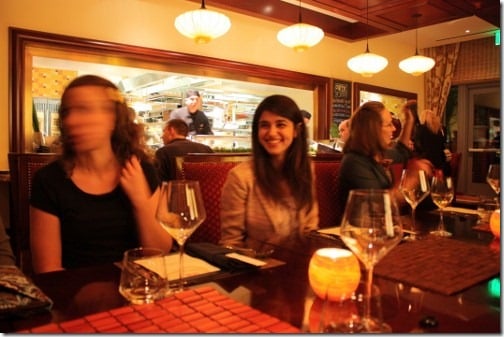 I was lucky enough to be seated next to Marty Ordman, the VP of Marketing Services for Dole. I was impressed, not only with his interest in plant based, less processed diets, but with his passion for food politics. I also appreciated the active interest he took in my veganism, in vegan nutrition, and in my experiences sharing plant-based eating with my clients.
There was a pre-fixe dinner planned, with some vegan options: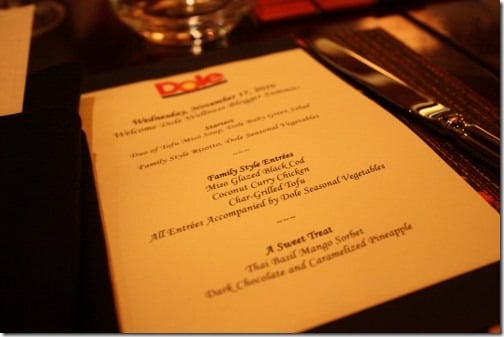 Including miso soup, a salad, and char-grilled tofu. In truth, though, this seemed a little soy-heavy to me. I was more in the mood for more veggies and some simple vegan sushi rolls, so I politely asked Mr. Ordman if I might order off the regular restaurant menu. He said that of course I could. Important lesson for healthy or specialized eaters: never be afraid to request the food you want, and the food you know makes you feel your best. There's no shame in it if you pose the question politely, and, most importantly, you'll take most joy in your meal if it's something you really want. I was also pleased to show other bloggers at the table—many of whom were quite unfamiliar with veganism—that vegan diets are not all tofu/soy.
To wit, I had a cucumber and wakame salad, and a regular green salad to start (pardon the flash photos—we were all moaning and groaning about the necessity of flash!):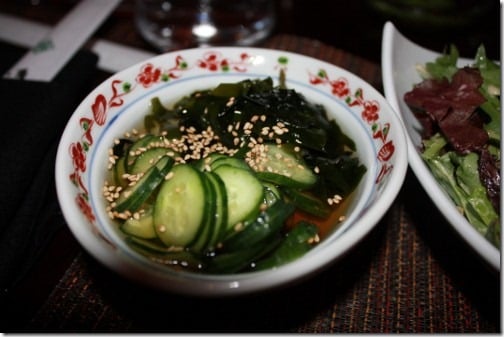 The fried wontons came off of this guy!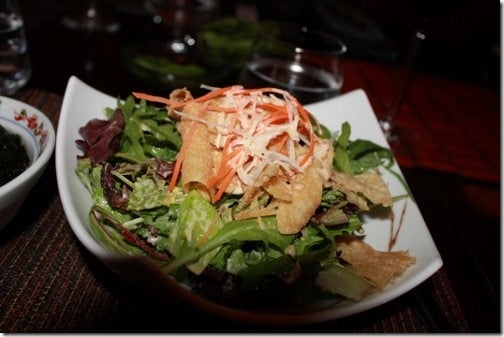 We also had some edamame at the table: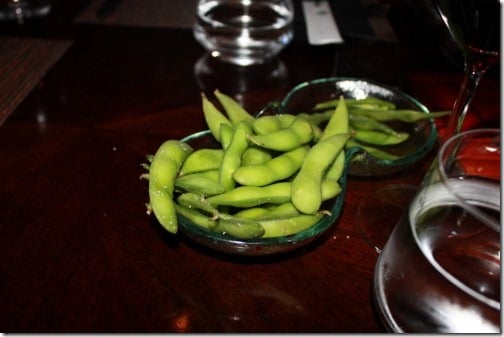 For my main course, I got a mixed veggie roll and a cucumber+avocado roll. Two thumbs up: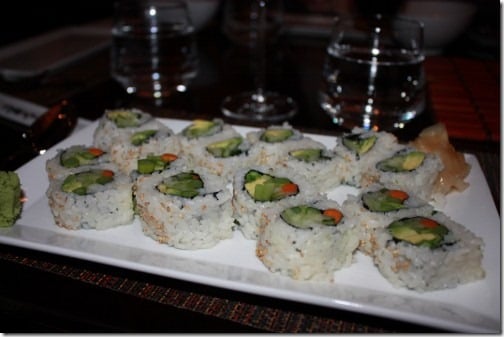 I also tasted the tofu, which was good, though I'm not a huge fan of terriyaki sauce, which was a part of the dish: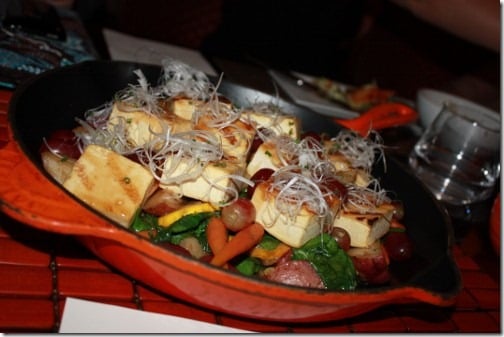 There was a lovely risotto dish at the table, too, but alas, it was made with fish stock. Bummer. For our dessert, there was sorbet with a chocolate "bowl" and a pineapple chip on top. Pretty!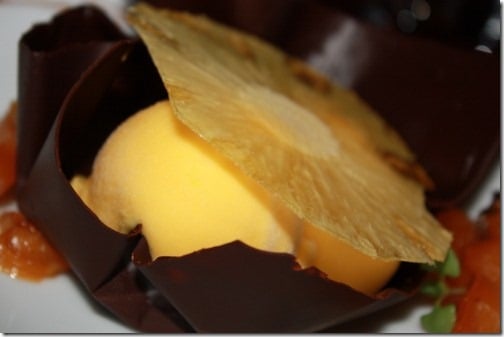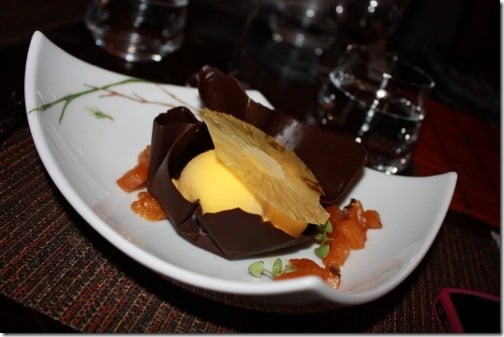 The pineapple chip was awesome! And I wish the chocolate had been vegan, but I appreciate the thought put into making a 90% vegan friendly dessert (the sorbet was totally vegan).
By 10:30, Anne and Kathy and I were just about catatonic—we were all on east coast time, and our conversational skills were fading fast. It was time for bed. On my way up to the room, I thought how lucky I was to be hanging out with Anne (it's a cruel twist of fate that, no sooner than I start spending nearly every weekend in DC, Anne moves to Raleigh) and to be a part of an event so obviously devoted to health and the celebration of fruits and vegetables.
The hotel bed? A nice added benefit.
I'll be back later tonight or tomorrow with my summary of day two at the summit—which, so far, is action packed. See you soon!
xo