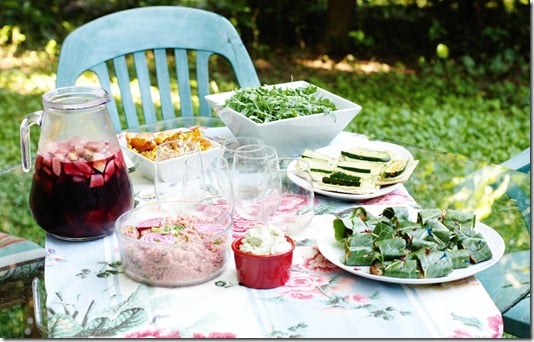 Leaving NYC after a longer vacation is always wistful, if only because I know it'll be months before my mother and I can enjoy quiet breakfasts together, rent silly movies, and obsess over HBO television. On Saturday, as a rode the train back down to the District, I consoled myself with the fact that I'd soon be gathering with a few of my friends in the DC area for an early summer dinner party/potluck. The occasion? Welcoming my dear friend Anne back to DC from Chapel Hill.
Anne, as you know, is one of the best friends I've made through blogging, and I was so bummed when I realized that she'd be leaving DC just as I was arriving for my post-bacc. Fortunately, she's now back to do her clinical internship (Anne's about to get her MPH/RD), and so we're reunited again. May the epic fun begin! I thought that a night with some of our mutual foodie acquaintances would be a perfect celebration of Anne's return.
Since all of yesterday night's guests share an interest in healthy, wholesome, fresh food, I knew it would be easy for us to potluck and share our favorite dishes. I prepared two appetizers, a kale salad, and a pitcher of fabulous kombucha sangria (recipe tomorrow!). Valerie arrived just as I was finishing up in the kitchen, and she brought a candy striped beet and quinoa salad with scallion cashew cheese. My friend Dasha brought roasted nectarines with balsamic vinegar and basil. Anne brought a barley salad with black beans and corn. My friend Andrea brought a scrumptious roasted strawberry and coconut ice cream, while Victoria brought a gluten free, vegan, and high raw peanut butter pie. What a feast!
As the guests arrived, Valerie and I snuck outside to get some early photos. Here's a shot of her lovely salad: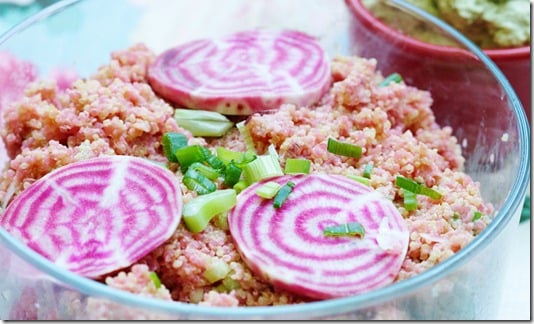 I caught some shots of appetizer #1: sweet pea hummus tartines on gluten-free crispbread, topped with grilled zucchini: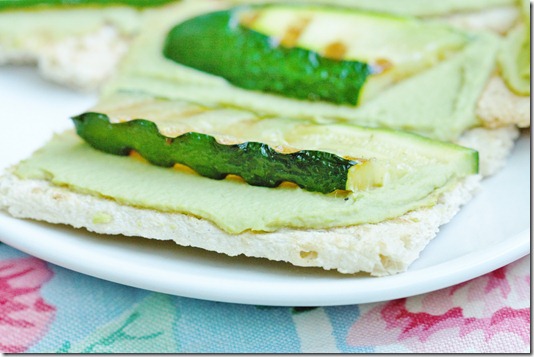 And #2: raw collard "sushi" with pumpkinseed, sundried tomato, and olive tapenade and roasted eggplant: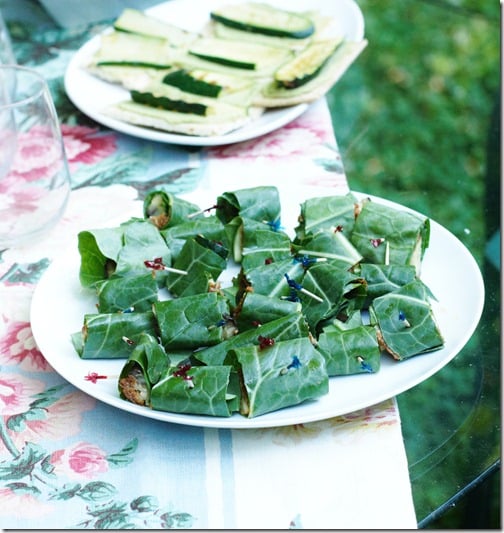 The kale salad was a simple mix of kale, carrots, avocado, lemon, and sea salt.
The sangria gets of a post of its own tomorrow night, along with a short primer on vegan wine hunting. But suffice is to say, it was fabulous!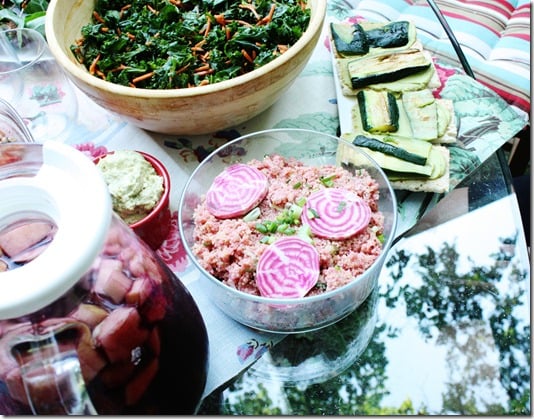 My friend Dasha's salad of grilled nectarines and corn was stupendous! Recipe below (and I'll certainly be making it on my own, possibly with other stone fruits as well). When Anne arrived, and presented her barley salad, it seemed so quintessentially Anne! She specializes in fast, healthy, wholesome, one dish meals, and this was no exception (nor was the wonderful taste).
We ate in the now blooming and firefly-lit Hobbit House backyard.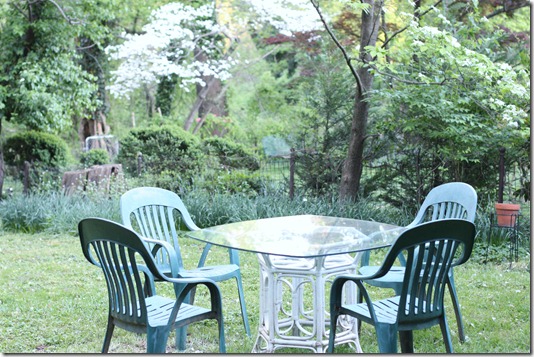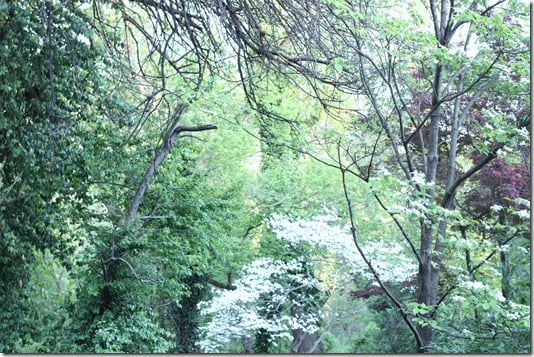 I love this time of year because it's warm enough to sit outside, but not yet so hot, muggy, or buggy that outdoor dining becomes uncomfortable. Here's a photo of my plate, which had a bit of everything:
And we chatted as the sun went down, sharing funny stories about life, love, work, and food. It's always a joy to connect with like minded friends. Then it was time for dessert: Andrea's incredible roasted strawberry and coconut ice cream, and Victoria's decadent, high-raw peanut butter pie. Both desserts were absolutely extraordinary: the ice cream rivaled the best strawberry ice cream I've ever tasted, while the pie was a glorious love child of raw date/cocoa/nut crust and a peanut butter soft serve + peanut flour filling. I was amazed at how well the soft serve held its shape: and now I'm tempted to get my hands on some peanut flour!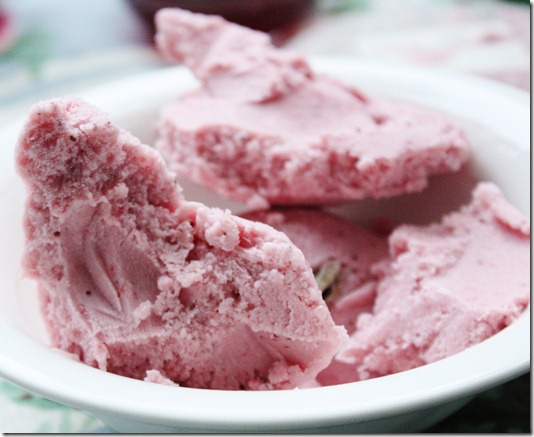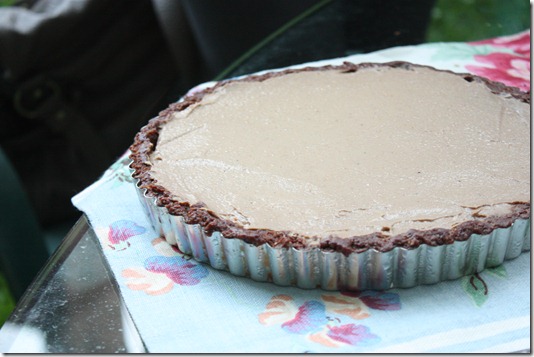 I don't want to say another word without sharing some of the recipes we enjoyed for you. Valerie's candy striped beet and quinoa salad with scallion cashew cheese is up on her blog today. Anne will almost certainly post her barley recipe later today or tomorrow, and Victoria has promised to post her pie tomorrow or so. Andrea's ice cream will be up soon. Dasha kindly shared her recipe with me this morning, so I'm sharing it with you now:
Nectarines and Corn Sauteed with Balsamic Vinegar and Fresh Basil (vegan, gluten free, soy free)
Serves 4
1 package arugula
3 ears fresh corn, removed from cob
3 not-too-ripe nectarines or peaches
1-2 TBSP balsamic vinegar (fig vinegar also works well)
1 handful fresh basil, chopped or chiffonade
2 TBSP toasted sliced almonds (optional)
Thinly slice nectarines. Place into pan (ungreased) over medium-high heat; cook until beginning to soften. Add 1 TBSP vinegar and continue to caramelize. Remove from heat and allow to cool. Put corn into pan, salt, and cook until softened and beginning to brown. Add .5-1 TBSP vinegar, stir. Add basil and allow to cook 1-2 more minutes. Remove from heat and allow to cool slightly. Toss nectarines and corn with arugula; add toasted almonds if desired.
The flavors get much better as the days pass, and I have been known to eat this combo by the spoonful from the fridge. For non-vegans, this recipe is also wonderful with seared scallops.
Thanks, Dasha!
And now, for my food. The tartines were similar to my asparagus and sweet pea hummus tartines, minus the lemon zest, subbing grilled zucchini for asparagus, and using gluten free crispbreads rather than sprouted bread (Valerie is a GF diner, so I wanted to switch things up for her). They turned out perfectly, and I liked the crispy flatbread!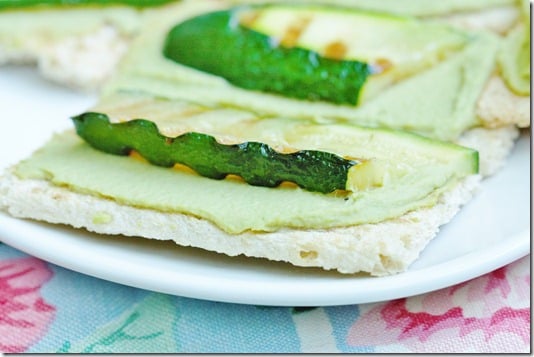 Sweet Pea Hummus Tartines with Grilled Zucchini (vegan, gluten free, soy free)
Serves 4-6
14 gluten free crispibread (I used this one from Orgran — two thumbs up)
2 large zucchini, sliced lengthwise into 1/4 inch strips
Coconut oil
1 batch sweet pea hummus
Salt and pepper
1. Coat zucchini with coconut oil spray and sprinkle with salt and pepper. Grill or roast (at 350) till tender.
2. Spread about 2 tablespoons hummus on each crispibread. Top with a zucchini slice and serve!
The sushi were my first attempt at collard-wrapped sushi. A couple of little wrapping challenges, but overall I loved the flavor, and will be working on getting the aesthetics perfect!
Collard "Sushi" with Pumpkinseed, Sundried Tomato, and Olive Tapenade and Roasted Eggplant
Serves 6
4 large collard leaves, washed and dried and sliced in half, spine removed
1 medium eggplant, sliced into 1/2 inch thick rounds
Coconut oil
Salt and pepper
Tapenade (recipe below)
Pumpkin Seed, Sundried Tomato, and Olive Tapenade (vegan, gluten free, soy free)
1 cup pumpkin seeds
8 sun-dried tomatoes (either oil soaked or dried and rehydrated with water)
1/2 cup pitted Kalamata olives
1 clove garlic, minced
1/4 tsp sea salt
Black pepper to taste
1/2 tsp dried coriander
1 tsp dried rosemary
2 tbsp olive oil or water
1. Coat eggplant with coconut oil spray and sprinkle with salt and pepper. Grill or roast (at 350) till tender.
2. To make tapenade: Grind pumpkin seeds in a food processor till smooth. Add tomatoes, olives, garlic, salt, pepper, and herbs, and pulse to combine well. Mixture should be a thick paste. With motor running, add olive oil or water till mixture is still quite thick, but spreadable. You may need to add a tiny bit more oil or water.
3. Spread a few tbsp of tapenade width-wise on the bottom 1/3 of each collard leaf half. Roll the leaf up from bottom to top, and slice into sushi-size pieces. Serve.
In all, this was a fabulous evening, full of fabulous food and conversation. Anne, welcome back!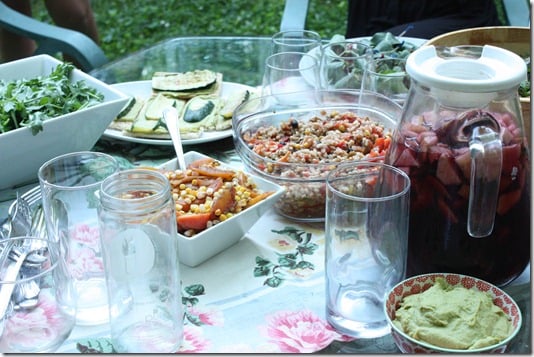 And may you all be inspired to get out and entertain this summer. See you tomorrow!
xo