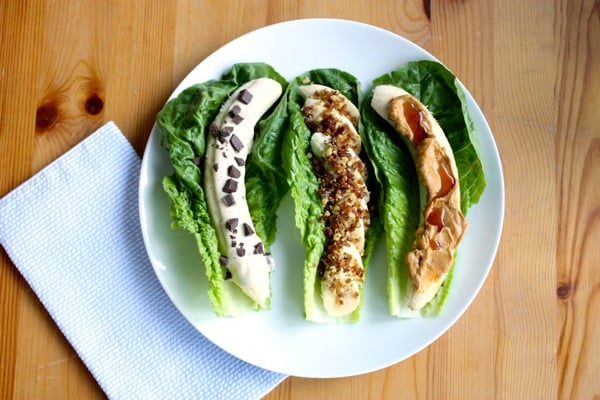 One of the recipes I was most excited to share in my book was my ultra-simple recipe for raw banana breakfast wraps. The idea couldn't be any more basic: you place a raw banana in any kind of leafy green as a "wrap," and then you top it off with whatever you like. I tend to prefer almond butter or peanut butter and agave/maple syrup, but you could come up with endless variations: granola, cereal, dried fruit or nuts, cinnamon…you get the idea.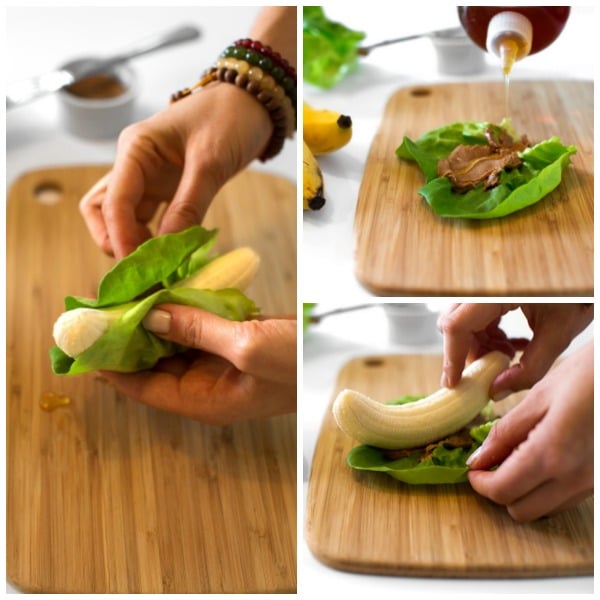 You can either spread your filling ingredients on the leaf and then top them with the banana (this is the method pictured above, from my book), or you can place the banana in your "wrap" and then top it with your toppings of choice. Given how basic this recipe is, there's plenty of room for you to take matters into your own hands.
I love banana wraps as a light breakfast in the summer, and lately I've also enjoyed having them as snacks. I've gotten a little tired of the almond butter + agave combo, though. It's officially time to mix up my toppings. Today, I have three new combinations to share for you. One is a "classic" — PB & maple syrup. Another is a take on a quick raw food "crumble" — just sliced bananas and a walnut/date/chia topping. Finally, I'm sharing a dessert spin on the recipe: a banana wrap with rich cashew coconut cream and dark chocolate. Yum.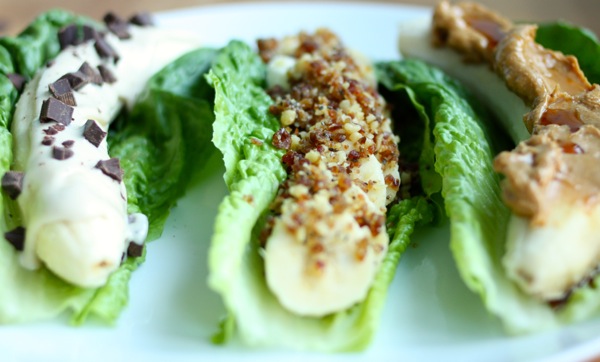 As you can see, they each have totally different texture. I was particularly taken with the "crumble" variation, because it's both easy and nutrient dense. My inspiration for the topping came from the crumble topping in my raw vegan cherry cobbler with walnut, date, and chia crumble topping. To make the wrap, you whip up that same topping, and then sprinkle it over a banana that's been sliced and nestled into some sort of leafy green. I really like romaine leaves because they're sturdy and mild tasting.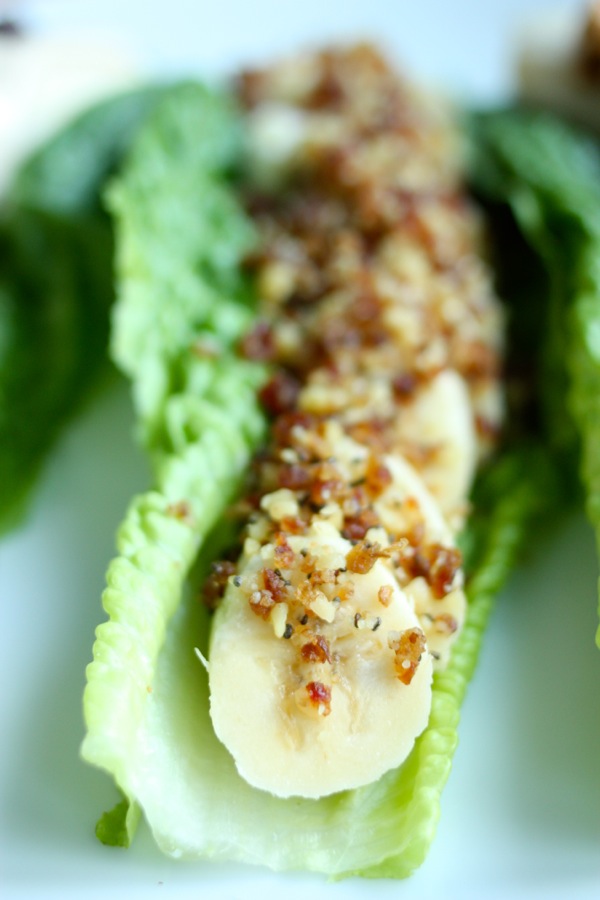 The dessert variation is also to die for. Basically, you start by making a batch of cashew dessert cream. You can use this recipe for raw whipped cream, or you can use this recipe for vanilla ginger cashew cream (recently published with peaches). Spread it over the banana and top with chopped dark chocolate (or cacao nibs, if that's what you have).
Finally, the classic: a nut butter + sweetener combo. I tend to use almond milk, so I decided to mix things up and use PB this time instead. Such a good decision. Topped with some maple syrup, it's a perfect marriage of salty and sweet.
All of these three wraps will make for delightful, energizing afternoon snacks or a convenient raw food breakfast on-the-go. Have fun, and get playful with them.
Before I go, there have been more wonderful stops on the CR book blog tour this week!! My wonderful friend and soul sista Kathy Patalsky reviewed the book on her blog yesterday, and shared my recipe for raw vegan bircher muesli (updated and improved from the blog for the book!). She's also giving a copy of the book away, so you should check her post out ASAP.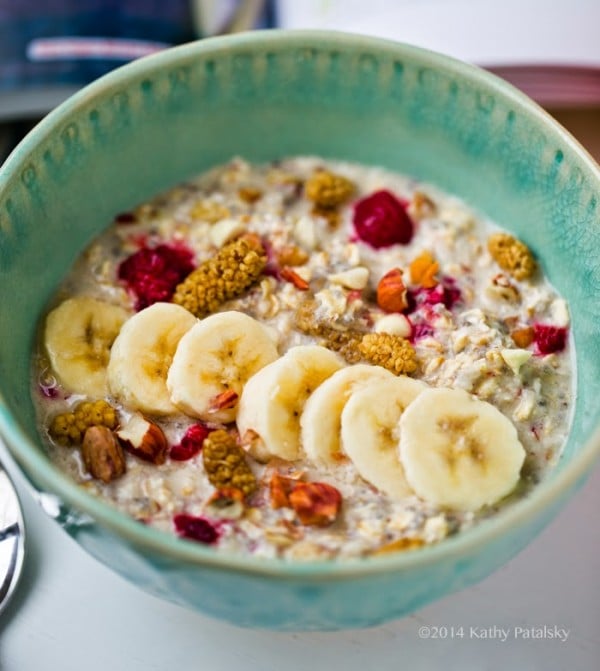 Next up, Jackie, the culinary genius behind Vegan Yack Attack, is also hosting a giveaway. And she's sharing my recipe for curried chickpea and carrot salad (another one that was inspired by a blog post, and then updated for the book). Check her post + giveaway out!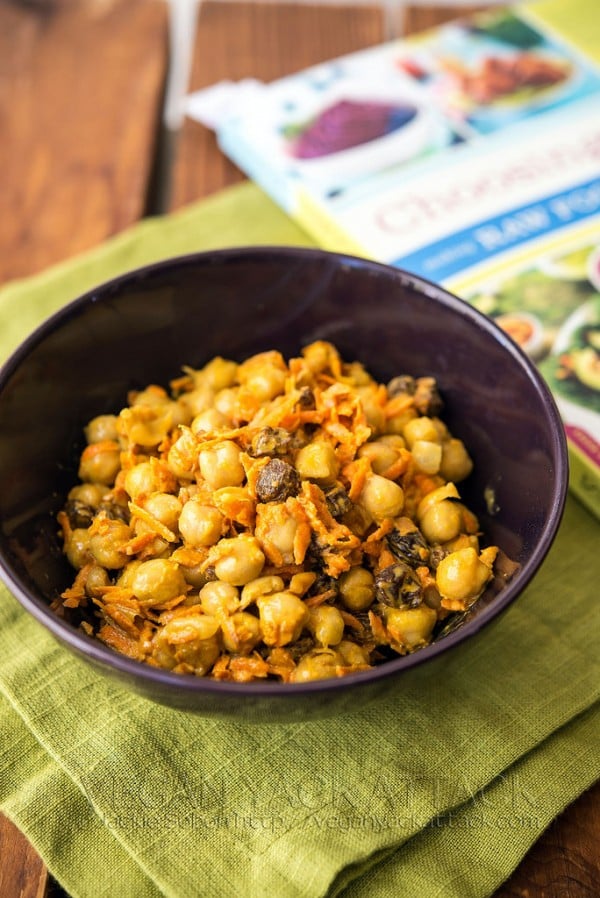 Yesterday Ricki Heller gave the book a wonderful review on her blog, and shared my recipe for raw key lime pie, along with a Q+A. You can read the post here.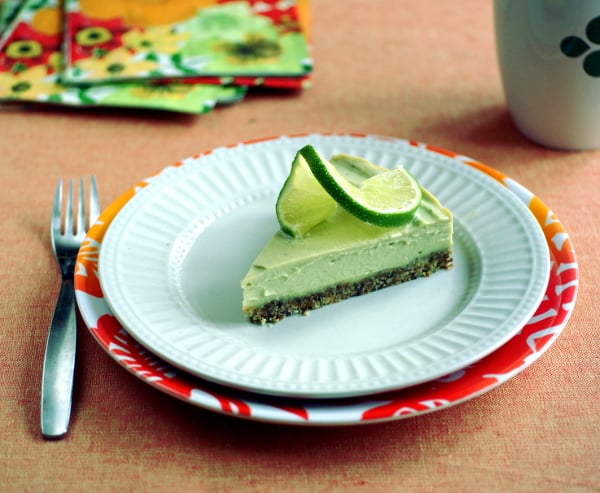 Ricki and I also did an awesome Google hangout yesterday! We chatted about raw foodism, health, our eating philosophies and how they have evolved, the cookbook writing process, and more. It was super duper fun, and I highly recommend you check it out!
Sorry I look as though I'm about to attack there. Jeez.
Last but certainly not least, my sweet friend Amanda, who writes the blog Pickles n' Honey, is also sharing a glowing review of the book and hosting a giveaway for you to win a free copy. She's posting my recipe for raw banana cashew yogurt, which I must confess is one of my absolutely favorites from the book. I'm so happy she likes it as much as I do. And what a great photo. I highly recommend grabbing the recipe and entering the giveaway today!
On that note, I will see you back here tomorrow, with a review of a wonderful plant-based protein powder that was new to me.
xo
This is a sponsored post for the Dole "Peel the Love" campaign. All opinions expressed are my own.