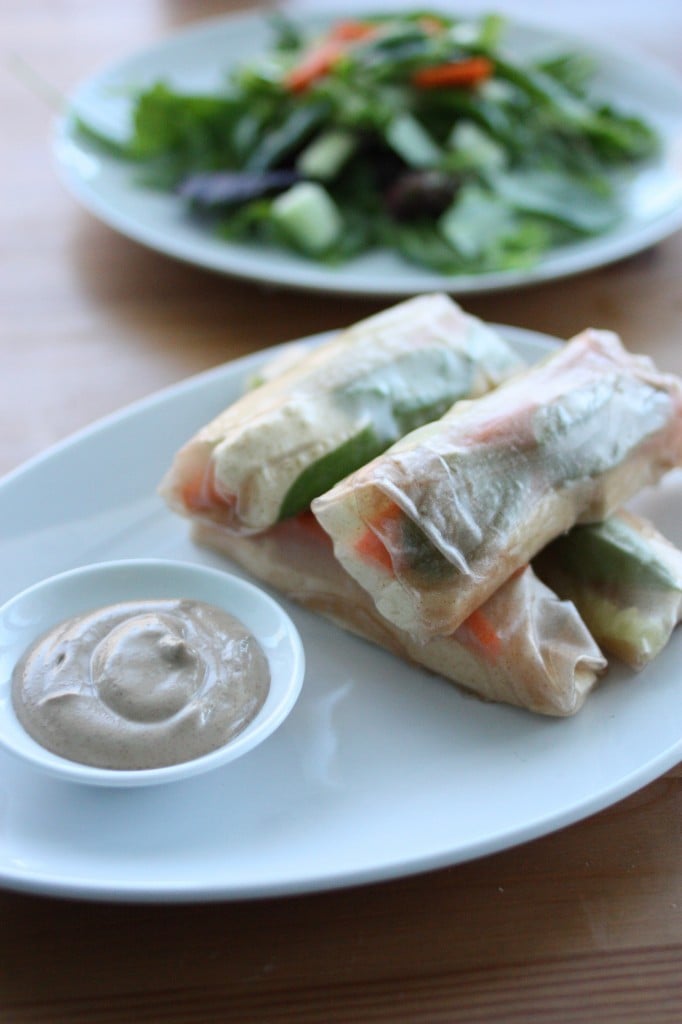 Well, well, well. This was quite the weekend of tech drama. A few of you may have noticed that my blog was down for most of Friday, stuck on an outdated post for most of Saturday, and spotty yesterday. I've recently switched servers because my blog wasn't loading for a lot of my readers (sorry, readers!), but there have been some glitches with the process. A very brilliant and patient friend has been helping me to get things up and running again, but I truly apologize for the down time. Big thanks to everyone who has been keeping me posted and alerting me of glitches and connection issues through comments, on Twitter, and on Facebook. I appreciate it!
So, we're back to business–or at least my fingers are crossed that we are. In a recent vegan lunch column for Food52, I showcased a recent lunchtime favorite: brown rice summer rolls. I served these fresh, crispy rolls up with an almond ginger dipping sauce and a fresh salad, and they were a total delight.
I love to order summer rolls in Thai and Vietnamese restaurants, but for whatever reason, I very rarely make them at home. This is silly, since it takes very little time to master the art of wrapping them, and they're incredibly versatile and fun. My recent summer roll adventure was inspired by this product find: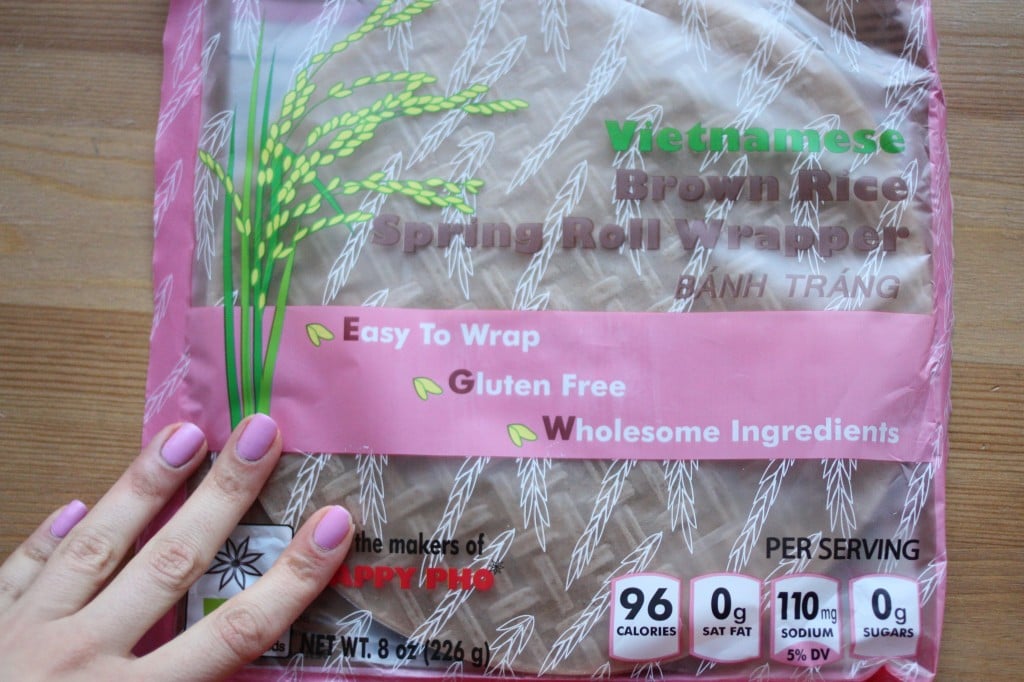 Brown rice spring roll wrappers from Star Anise Foods. I found these at my local Whole Foods. They're also available on Amazon (though apparently out of stock right now). Of course, regular rice paper wrappers will be totally fine, and can be found online or in ethnic markets.
To work with rice paper wrappers, you simply give them a quick dip in warm water, then lay them on a clean, dry surface.
You fill them with whatever fillings you like, tuck the top and bottom in, and then roll them right now (not unlike my process for collard wraps). Easy as can be! You can fill your rolls with whatever you like. I love a mixture of avocado and veggies, or shredded cabbage and carrot tossed with some of my outstanding miso sesame dressing. On this occasion, I used what I had: sprouted tofu, carrot matchsticks, cucumber matchsticks, and fresh basil from my basil plant! The basil gave it all a bright, summery flavor.
Summer rolls are infinitely more fun when you have a fun dipping sauce to serve them with. On this occasion, I whipped up a quick almond and sesame dressing. Here's the recipe: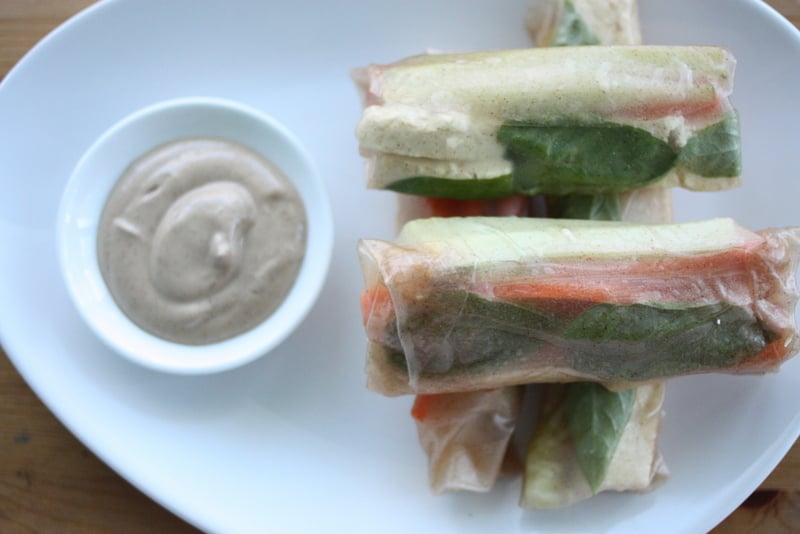 Almond Butter and Sesame Dressing
Author -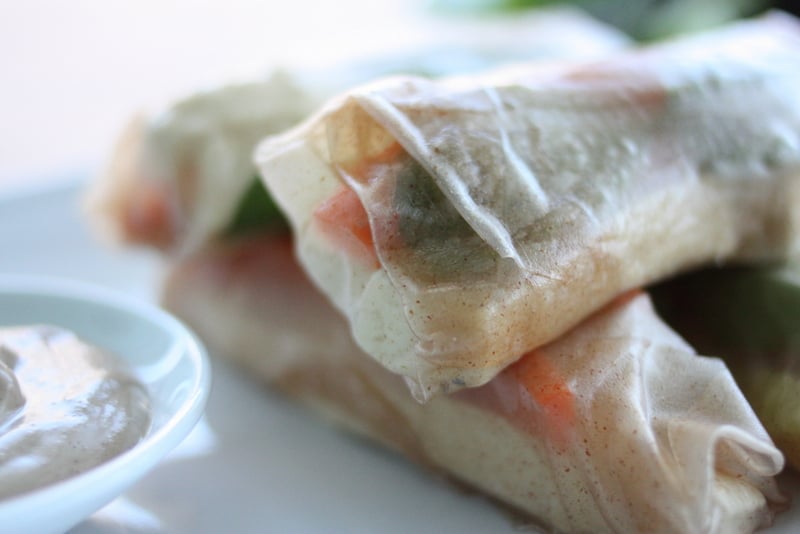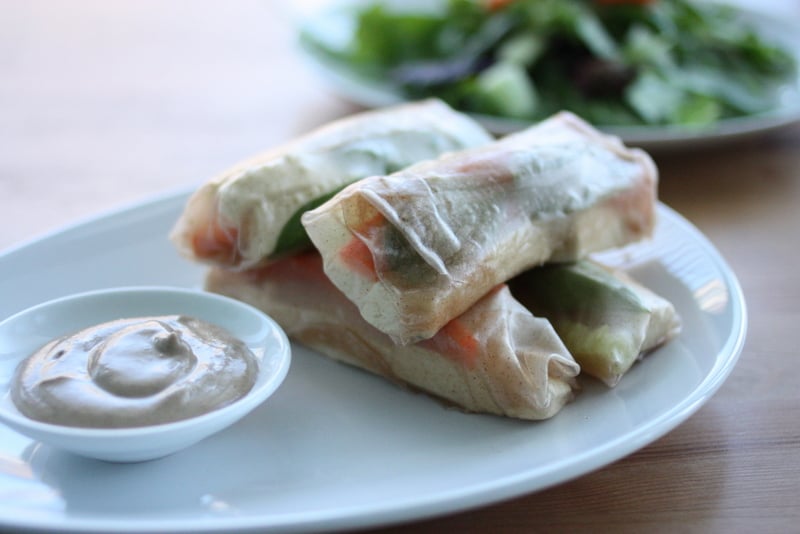 So easy, so fun. Summer rolls are equally great as appetizers and as meal components. I'm now inspired to try more recipes…which will be easy, since I've about twelve rice paper wrappers left!
And right now, I'm so thrilled that I was actually able to successfully publish a blog post that I'm going to go tap my heels. Or something. I've got lots of tasty recipes in store for the week, so I hope to see you soon.
xo