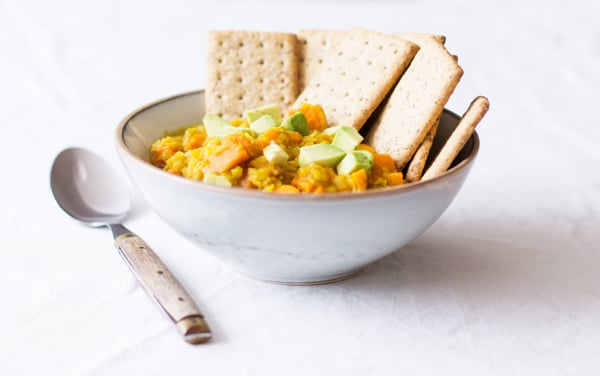 It might have been a little odd to post this recipe for easy curried yellow lentils, two days ago, when it was sixty degrees here in D.C., but now that it's a chilly morning again, it feels right. This is a super easy recipe, the kind of dish you can throw together in minutes on a weeknight, regardless of how busy you are. I used yellow lentils because they'd been gifted to me from the lovely folks at PNW Farmers' Co-op. Of course, you can substitute red lentils if that's what you have, or even yellow split peas if you double the cooking time.
A few days ago, I saw that Gabby had posted a recipe for split pea soup with rutabaga croutons. Rutabaga lover that I am, I was charmed by this idea. I suppose you can call anything cut into cubes and put on top of a soup a "crouton," technically. So the avocado I enjoyed over these lentils has been given the playful name of crouton, too. Thanks for the inspiration, Gabby!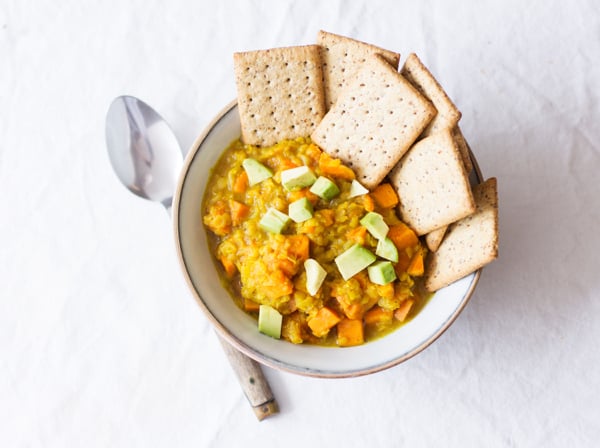 Easy Curried Yellow Lentils with Avocado "Croutons"
Recipe Type
:
soup, entree
Cuisine:
vegan, gluten free, soy free, tree nut free
Author:
Prep time:
Cook time:
Total time:
1 tablespoon olive oil
3/4 cup onion, diced
2 carrots, peeled and diced
2 cloves garlic
2 teaspoons grated or minced ginger
1 cup yellow lentils (substitute red lentils)
1 sweet potato, cut into 1 1/2 inch cubes
1 teaspoon turmeric
2 teaspoons mild curry powder
1/2 teaspoon sea salt (or to taste)
Black pepper to taste
4 cups low sodium vegetable broth or water
1 avocado, pitted and cubed
Heat oil in a large pot over medium heat. Add onion and carrots. Sauté until the onion is soft and clear, about 5 minutes. Add the garlic and ginger. Cook for 1 more miniute, stirring frequently. If the vegetables start to stick, add a tablespoon or two of water.
Add the lentils, potato, turmeric, curry, salt, pepper, and broth or water. Bring the mixture to a boil. Reduce to a simmer and cook for 25 minutes, or until the lentils and sweet potato are tender.
Allow lentils to cool a bit, then serve with fresh avocado cubes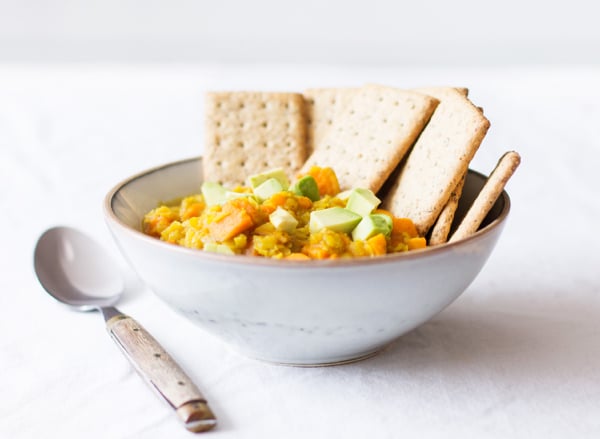 The lentils are also great served cold, especially with the avocado; I enjoyed them for breakfast this way. I love savory breakfasts, especially when it's getting cooler out.
In these hyper busy and tiring days, it's really tempting to just throw a meal-sized salad together every night. The idea of cooking always seems like such a drag. But dishes like this, which come together in no time and with minimal fuss, do remind me that cooking doesn't have to be a pain. I hope you enjoy the lentils as much as I did!
xo