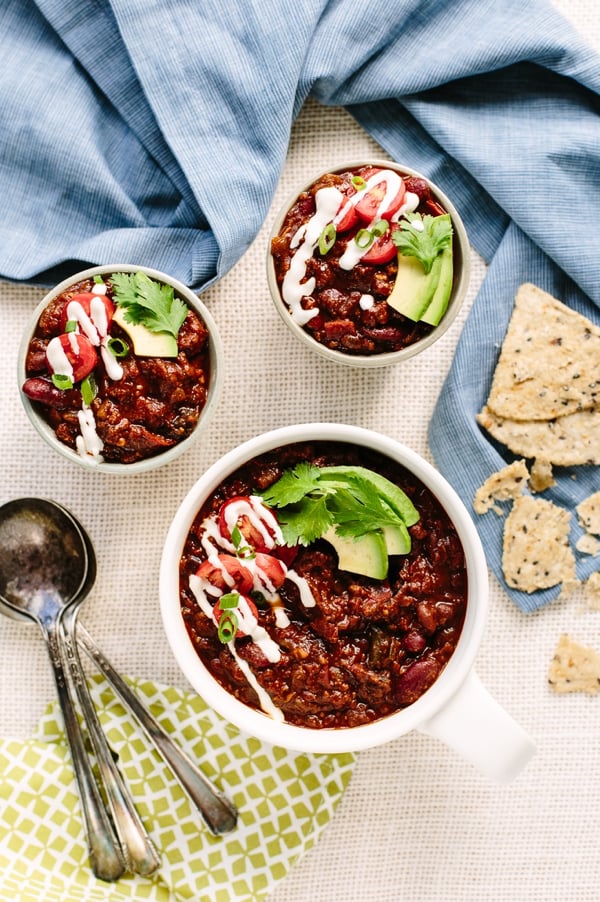 I started reading Blissful Basil, Ashley Melillo's vibrant food blog, a couple years ago. I was struck by Ashley's creativity and attention to detail: every recipe felt consciously crafted, with no ingredient or instruction out of place. I loved how colorful and bright Ashley's food was. And I admired her knack for turning whole, plant-based ingredients into dishes with major mainstream appeal. Now that I've read Ashley's new cookbook, titled in honor of the blog, I have a deeper appreciation of her story and what led her to cooking in the first place.
Blissful Basil begins with an account of Ashley's struggle with anxiety throughout her twenties. Ashley describes how she'd spent most of her teens "tending her facade," worrying about externals and appearances, while her foundation, her inner self, went uncared for. By her early and mid-twenties Ashley was plagued with mysterious health ailments and maladies, which she tried to resolve with frantic Googling and a whole lot of worrying. Health fears piled up inside while Ashley tried to maintain a calm and collected front. It was a breeding ground for anxiety.
Ashley's description of anxiety will resonate with anyone who's dealt with it firsthand:
Once I could no longer ignore my anxiety, I made the mistake of indulging it by believing its every word, giving it far more power than it should ever be given. If you've experienced debilitating anxiety, then you know that the moment you stop questioning its sanity, it runs frantically through your memories and current experiences posing "what if" questions and hypothetical catastrophes. Innocent moments become stomach-dropping roller coasters and heart-pounding nightmares.
Ashley details the events that compelled her to begin accumulating a new self-care toolkit. For her, this meant getting back into therapy, regular exercise, and adopting a vegan diet. Over time, the anxiety receded, and she was able to fully inhabit her life again. It's an inspiring story, but not a fairytale, and Ashley doesn't credit her process to any single change. Rather, she's grateful to an accumulation of choices that have helped her to feel better longterm:
There wasn't one surefire "cure" to make me happier or less anxious. Rather, the solution has been an ongoing, ever-evolving process. Each of the shifts I've made within my everyday choices and habits–facing my fears; regularly moving my body; swapping meat, dairy, and process foods for a vibrant rainbow of whole foods–has played an equally important role in fostering my well-being. And it's been the consistency of choosing those things over and over again (even when it's difficult) that's allowed me to maintain it.
I really like Ashley's well-rounded vision of health and wellness, her understanding that healing is a process that unfolds gradually and changes all the time. It's no surprise to me that her background is in psychology–she's currently a school psychologist by day and blogger by night, which is a pretty impressive juggling act, if you ask me!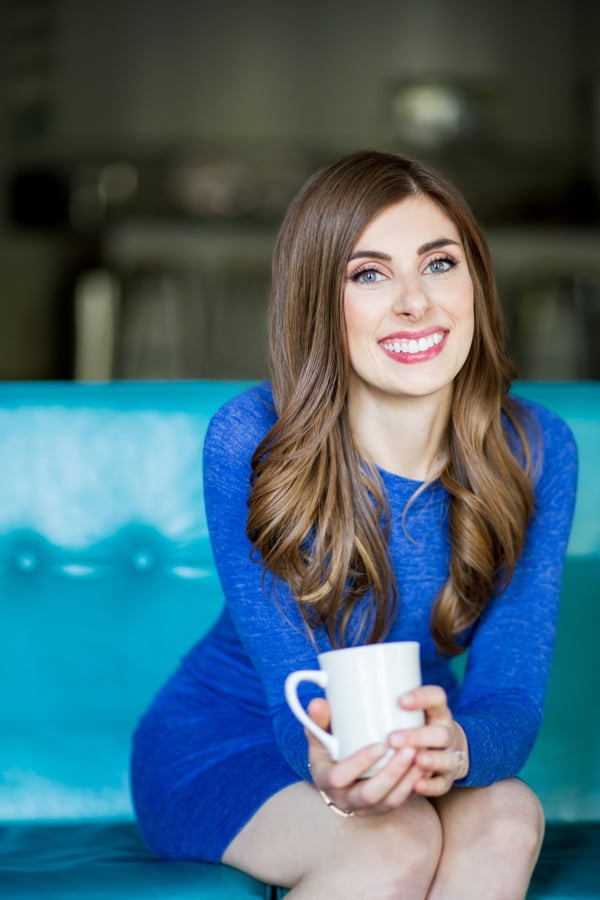 Ashley goes on to share the recipes that have helped her to thrive. Blissful Basil feels like more than a cookbook; it's a tribute to the dishes that Ashley found along her healing journey. These recipes are as bold and flavorful as the ones on her blog, but they're invested with a little extra heart and soul.
Nearly all of the recipes in the collection are gluten-free, all of them are vegan, and many others are appropriate for those with soy or nut allergies. I love Ashley's creative flavor combinations–for example, her lovely buckwheat, green apple, cranberry and avocado salad, below.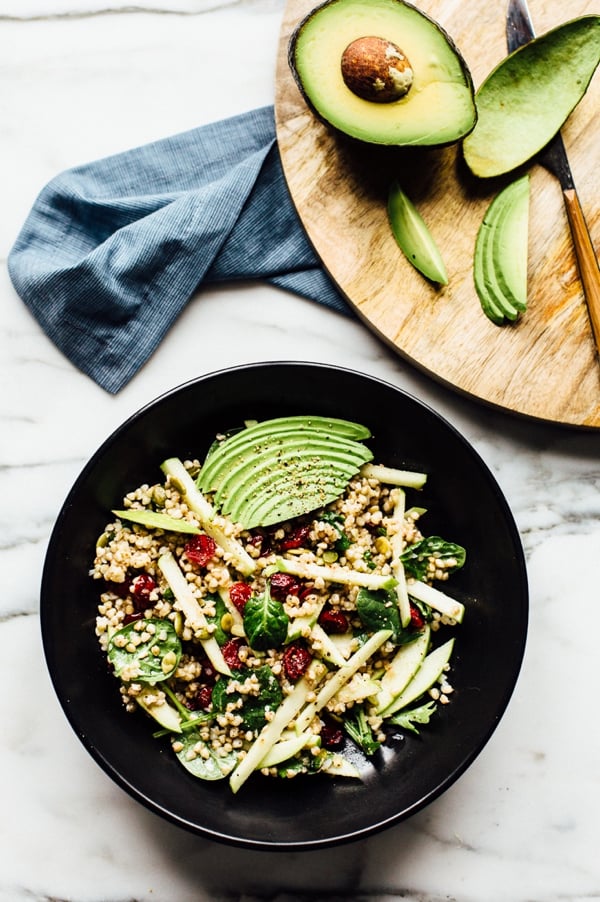 There are plenty of tasty nibbles and small plate recipes for entertaining, including an herbed cashew cheese plate with roasted tomato jam: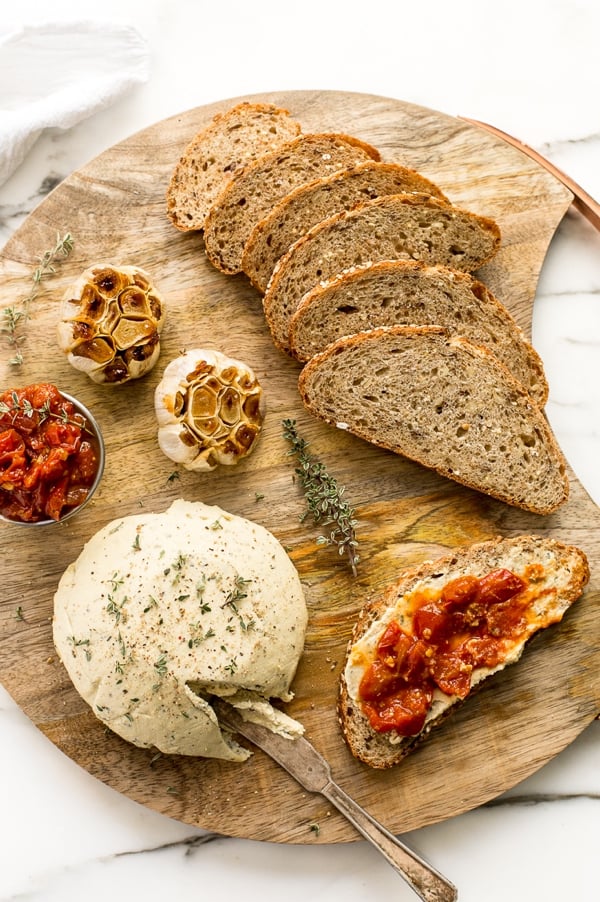 And Ashley has a real knack for sweets and treats that have a wholesome spin. My favorite dessert is her seasonal fruit crisp (there are two options, apple almond and blackberry sunflower). But I've also got my eye on her cacao-tahini brownies and raw cannoli bars!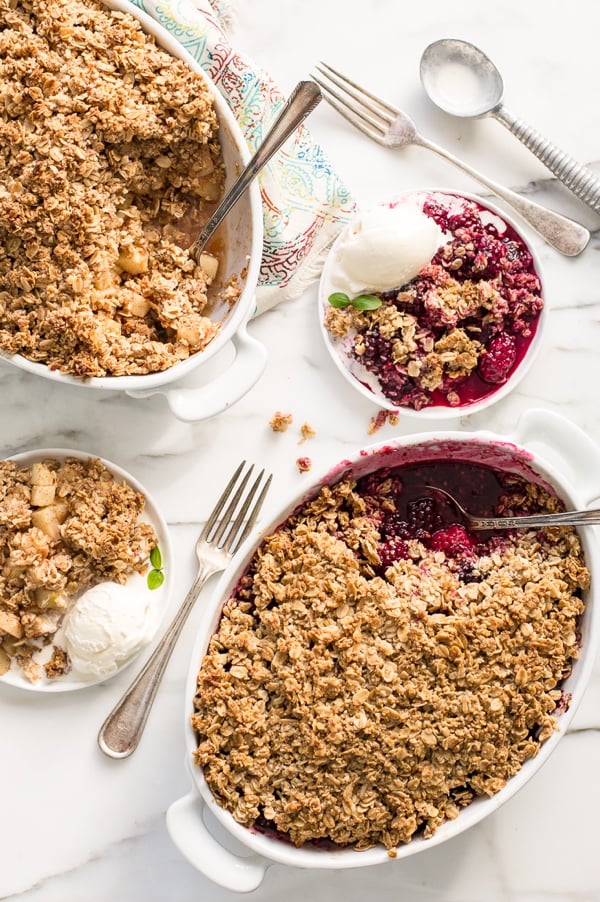 It's hard to pick a standout recipe from a collection that's so rich and playful: I'm really exited to try Ashley's cauliflower tacos and creamy garlic mushroom risotto, among others. But right now, the recipe that's calling to me most is Ashley's easy does it Sunday evening chili. It's a hearty mixture of legumes, walnuts, and tomatoes that can be simmered as you ease out of the weekend and prepare yourself for the week ahead. It's perfect for winter, perfect for feeding a crowd, and perfect for freezing, too. (Ashley notes that it's also perfect for a House of Cards binge.)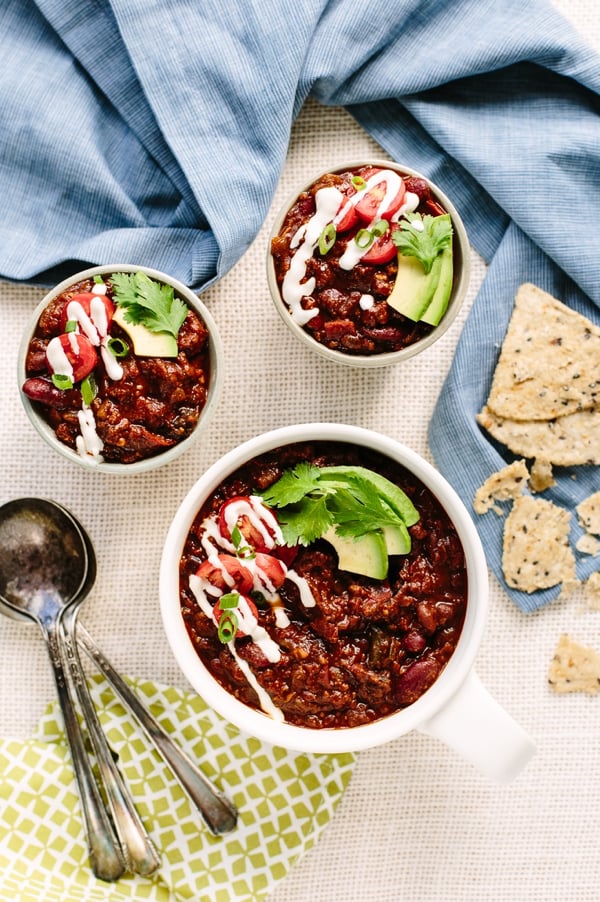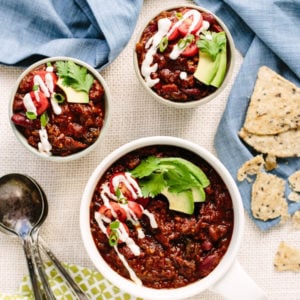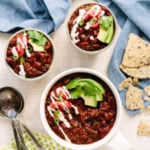 Easy Does It Sunday Evening Chili
Author -
For the chili:
2

tablespoons

cold-pressed olive oil

1

large yellow onion

diced

2

red bell peppers

cored, seeded, and diced

1

medium poblano pepper

cored, seeded, and diced

1

cup

raw walnut pieces

3

ounces

no-salt-added

dry-packed sun-dried tomatoes

3

cloves

garlic

minced

2

tablespoons

chili powder

1

tablespoon

smoked paprika

2

teaspoons

ground cumin

1

teaspoon

dried oregano

1

teaspoon

sea salt or to taste

1/2

teaspoon

ground coriander

2

28-ounce cans unsalted whole peeled tomatoes in juice

2

15-ounce cans kidney beans, drained and rinsed

1

15-ounce can black beans, drained and rinsed

1

cup

filtered water

1-2

tablespoons

balsamic vinegar

1 1/2

tablespoons

reduced-sodium tamari

1

tablespoon

pure maple syrup or coconut sugar
Recommended toppings:
Sliced avocado

Halved grape tomatoes

Thinly sliced scallions

Fresh cilantro

stemmed and chopped

Crushed tortilla chips
Heat the olive oil in a large stockpot over medium heat. Add the onion, red peppers, and poblano pepper, and saute for 6 minutes, or until the peppers are just beginning to soften and the onions are generously flecked with golden-brown edges, stirring occasionally.

Meanwhile, add the walnuts and sun-dried tomatoes to a food processor and pulse 30 times, or until roughly minced and crumbly. Transfer to the stockpot along with the garlic, chili powder, smoked paprika, cumin, oregano, sea salt, and coriander. Decrease the heat to medium-low and saute for 4 minutes, or until the spices are wafting a rich, toasted scent, stirring frequently.

Add the whole peeled tomatoes with juice and bring to a simmer, using a spoon to thoroughly crush them to the desired size as they heat. Add the kidney beans, black beans, and water, and continue to simmer for 5 minutes, stirring occasionally.

Then, stir in the balsamic vinegar, tamari, and maple syrup, and decrease the heat to medium-low. Partially cover, leaving the lid askew, and simmer for 30 minutes, stirring occasionally to prevent burning.

Cover completely and continue to simmer at least another 45 minutes, but preferably 1 hour or longer, stirring occasionally to prevent burning. Taste and season with more sea salt, if desired.

Ladle into bowls, layer on the toppings, and get cozy. Refrigerate leftovers up to 4 days or freeze for up to 1 month.
You can water saute vegetables to make oil free, replace walnuts with sunflower seeds to make tree nut free, or replace the tamari with coconut aminos to make recipe soy free.
The chili embodies what Ashley does so well: she makes food that everyone wants to eat, and she does it using ingredients that are wholesome and nutrient-dense.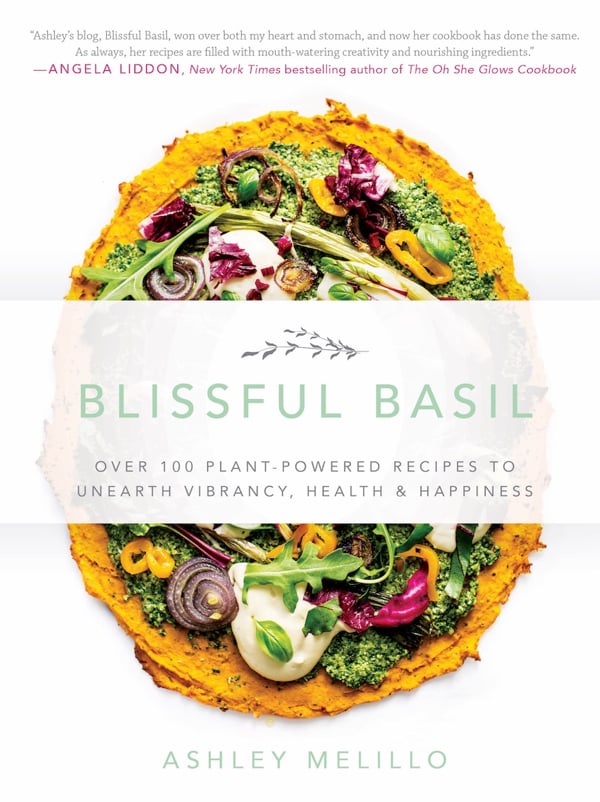 If you'd like to experience the cookbook for yourself, I'm happy to say that Ashley and her publisher are generously sharing a copy here today. Enter below to win — I'll post the winner a week from today!
Big thanks to Ashley for sharing with us–and also for putting so much of herself into this book. It's not easy to open up about anxiety or other struggles, but Ashley does it with a lot of humor and perspective. I've so enjoyed hearing her story–and I hope it'll strike a chord with you, too.
See you on Sunday for the weekly roundup!
xo