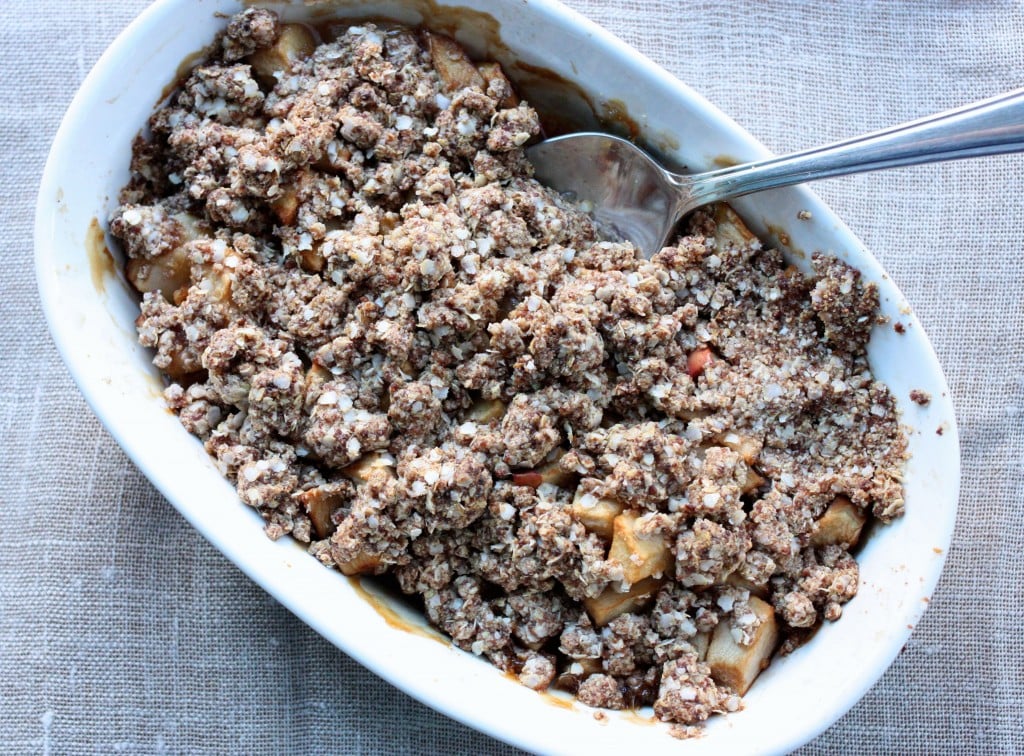 I actually created this easy apple crumble a couple of weeks ago and loved it, so I'm not sure why it's taken me so long to share! This is the kind of dessert I love making: simple ingredients, not too much prep work, no wrangling of pie crust or pastry dough. Even the baking process is relatively quick. Choose your favorite variety of seasonal, local apples, and sweeten them up with a little bit of sugar and a tasty, gluten free quinoa crumble crust.
I actually created this crumble to serve 2-3 people. For crumbles and bread puddings and such, I have a 23-oz CorningWare baking dish (about 3 cups) that works really for folks who live alone or with one other person. I love making desserts for crowd, but more often than not it's just me or me and a neighbor/friend or two, so it doesn't make sense to make 6-8 servings. That said, it's very easy to double the recipe and use a larger (1 1/2 quart) baking dish instead, in which case it'll easily serve 4-6.
For the crumble, you can use either quinoa flakes or rolled oats. I tried the recipe both ways, and enjoyed them both, though I thought the quinoa flakes had a wonderfully nutty flavor. That version is what's pictured above!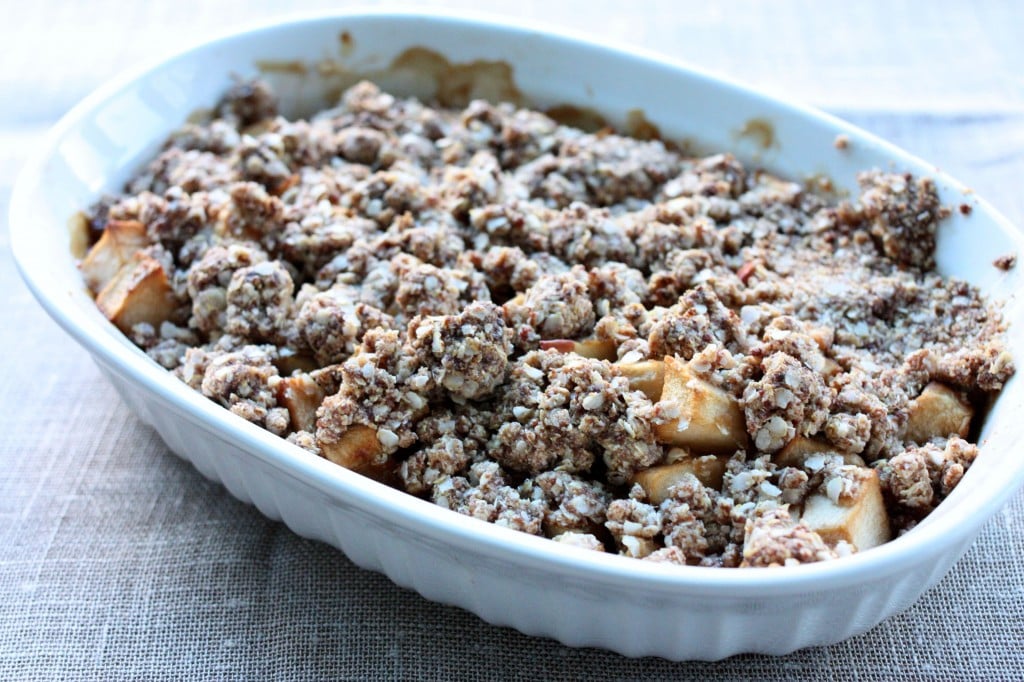 Easy Gluten Free Vegan Apple Crumble
Author -
3

heaping cups apple

cored, peeled, and chopped into

1

tablespoon

coconut sugar

demerara sugar, or evaporated cane juice

1/2

teaspoon

cinnamon

2

teaspoons

lemon juice

1

teaspoon

arrowroot

tapioca starch, or cornstarch

3/4

cup

quinoa flakes or gluten free rolled oats

1/4

cup

oat flour

almond flour, GF all purpose flour, or whole wheat pastry flour

3

tablespoons

coconut sugar

demerara sugar, or evaporated cane juice

1/2

teaspoon

cinnamon

Pinch

sea salt

1/4

cup

melted coconut oil
1. Preheat oven to 350ºF.

2. Toss the apples, the 1 tablespoon sugar, the starch, the cinnamon, and the lemon juice together in a mixing bowl.

3. Place the quinoa flakes or oats in a food processor fitted with the S blade, along with the flour, the 3 tablespoons of sugar, the cinnamon, and the sea salt. Pulse a few times (if you use oats, you want them to be a bit broken down). Drizzle in the coconut oil as you pulse a few times more, to form a crumbly topping. (If you need to add an extra tablespoon of coconut oil, feel free to do so.)

4. Transfer the apples to a 23-oz baking dish, and sprinkle them with the topping. Cover with foil and bake for 25 minutes. Uncover and allow to bake 10 minutes more, or until top is crispy. Serve.

Makes 2-3 servings. Recipe can easily be doubled.
I shared some of this crisp with Valerie, who called it "eight kinds of delicious." That's all I needed to hear. I hope some of you might find a place for it on your holiday spreads, or that it might brighten your day at some point this winter.
Tomorrow, a little weekend reading. But first, reader poll!
I've been looking for a chance to share informal reviews/product recommendations/recipes or items I'm loving on the blog — not full product reviews, but just informal mentions of stuff I've either been sent or have discovered on my own. Would you rather see me incorporate 5 of these into my weekly "weekend reading" roundup (so it'll be 5 recipes, 5 reads, and 5 recommendations, or 5 finds, or something like that)? Or would you rather I keep weekend reading focused on words and food, and do a monthly round up for finds/likes, a la "10 things I'm loving this month?"
Would love to hear your preferences 🙂 Thanks, friends. See you soon.
xo