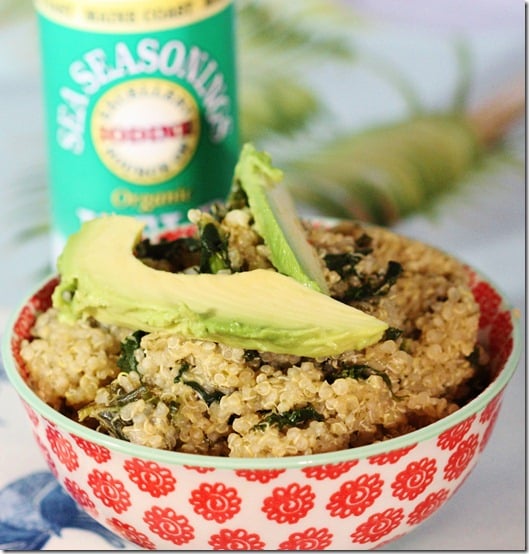 Yesterday, I gave you my top tips for managing a run-of-the-mill cold, virus, or other seasonal bug. And the whole point of that post seemed to be my telling you to follow intuition about what to eat, and what not to eat: I mentioned that it's really important not to force down foods that you're not ready for. By the time yesterday night rolled around, I wasn't quite yet ready for any sort of raw or even steamed green, but I did think I would be able to get a little green veg down if I could mix it into a comforting bowl of grains. This recipe—my easy green quinoa bowl—is the result. And in spite of the fact that it was ostensibly created as a way of getting over a little bug, I have a feeling it's going to be one of my go-to grain dishes at home, because of its simplicity and outstanding nutrition.
This isn't the first dish I've made that features finely chopped greens in grains: it's actually one of my favorite ways to prepare grains, and I'm pretty sure I should be sharing more of those recipes with you, my green-loving audience. It is, however, one of the more mild green/grain dishes I've prepared, as I went pretty easy on the kale (1 heaping, finely chopped cup). The dish was created to make you feel as though you're eating grains, not greens, but if you're eager to stuff more kale in here, it wouldn't be hard. Likewise for the kelp, of which I used only a tbsp (that's less than 1 tsp per serving): you can certainly increase the quantity. In spite of having not felt well in the last few days, the kelp didn't turn me off at all, and I could easily have added more. Keep in mind, though, that sea vegetables are a major comfort food for me, which isn't the case for everyone!
Let's talk nutrition! Not only is quinoa one of the higher protein grains, but it is also a complete protein, which simply means that it provides all of the essential amino acids we need from dietary sources in a single place. Nutritional yeast also adds protein (about 16 grams for the whole recipe), and the kelp provides iodine, an essential and oft-overlooked dietary nutrient that supports the thyroid, among other things. Many Americans have grown accustomed to getting iodine only through iodized salt (first created to help treat goiters, a symptom of iodine deficiency, in landlocked regions of the country). We forget that sea vegetables, in addition to being rich in countless vitamins and minerals, also provide rich stores of iodine. I try to add chopped sea veggies to as many salads as I can, and I've even been known to slip them into smoothies!
The kelp I used in this recipe was made by the great folks at Maine Coast Sea Vegetables, who sell kelp, dulse, nori, and other sea vegetables in granulated form. It's a wonderful way to replace sodium in your diet, first of all—sea vegetables are salty, but much lower in salt that sea salt or regular sodium chloride—and also a good way to add nutrition to your food. I can't recommend purchasing these little canisters enough!!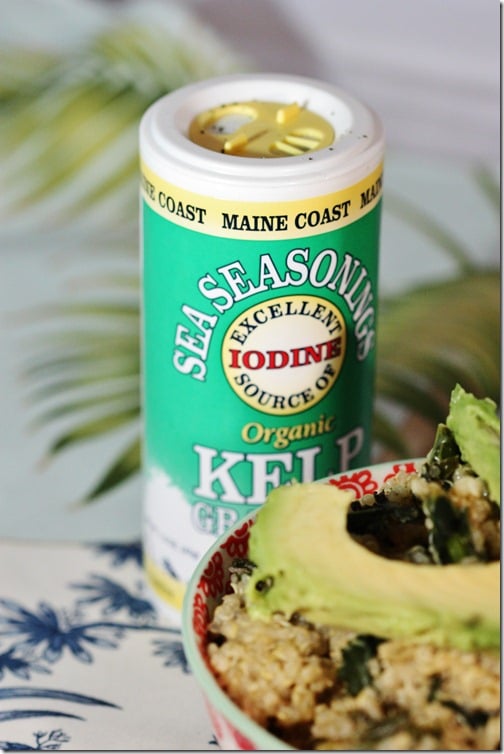 Gena's Easy Green Quinoa Bowl (vegan, gluten free, soy free)
Serves 4
1 cup quinoa, dry
2 1/4 cups + 2-3 tbsp water
1 heaping cup finely chopped kale
1 1/2 tbsp lemon juice
2 tbsp nutritional yeast
2 tbsp finely chopped basil OR fresh or frozen pesto (the pesto), which is what I used, will add some satiating PUFA's to the meal)
1 tbsp (or to taste) granulated or finely chopped kelp, dulse, nori, or other sea vegetable
Salt and pepper to taste
Optional: avocado slices for serving
1) Rinse your quinoa in a sieve. Set the quinoa and water in a stovetop to boil, or add the water and quinoa to a rice cooker to begin cooking.
2) When the water boils, reduce to a simmer. Cook at a simmer with a lid on the pot, but slightly ajar, so that some air can escape, for about 20 minutes, or until the liquid has evaporated and the quinoa is getting plump and fluffy. Quinoa cooking times can vary, but 15-25 minutes is average. You know it's done with the quinoa is nice and plump, and little "threads" have come loose in the grain.
3) Stir in the kale, lemon, nutritional yeast, basil, sea vegetables, and the extra 2-3 tbsp water (or more if your quinoa is dry). Season to taste with salt and pepper. Serve warm, topped with some avocado slices for healthy fat and creaminess.
This is the epitome of healthy comfort food:
And it's ready in no time.
Of course, this dish isn't only for the convalescing! It's great for anyone with a healthy palate who is hoping to squeeze in more green vegetables and sea vegetables. Or for anyone who appreciates the magical flavor combination of nutritional yeast, lemon, and basil.
With that, it's time to get back to the books. I'm hoping to take a restorative yoga class today as a study break at Yoga District—anyone a fan?
xo