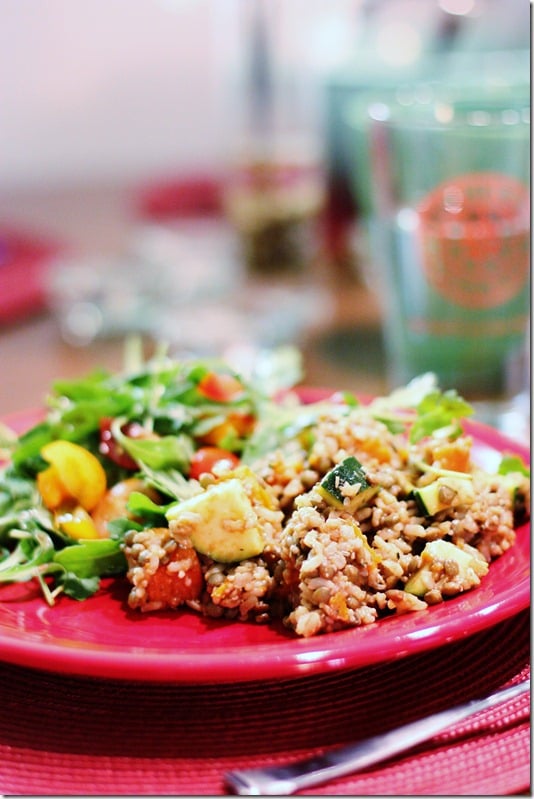 As you have probably noted, one of my favorite things about being in DC this year is having proximity to my friend Anne. I adore our dinners and chats for so many reasons: first, because we share so many interests (how many food bloggers do I know who also used to be editors?), second, because we can transition from goofy to serious within moments, and last, because we're both experiencing the crazy journey into healthcare: Anne, as a dietetics and public health student, and me, as a post-bacc, pre-med.
Anne and I love to try new restaurants together, but tonight, we really just wanted to cook. We live close to each other, we're both students (read: on a budget), and we love creating fast, easy recipes anyway. This morning, over email, we did a quick fridge inventory together.
Anne: mixed greens, spinach, string beans, tomatoes, salsa, canned beets, 2 sweet potatoes, dry lentils, brown rice, brown rice noodles, chia seeds, slivered almonds, nutritional yeast, coconut oil, hemp oil, olive oil, lemon juice, balsamic vinegar… etc etc.
Gena: greens, zucchini, cooked green lentils (probably 2 cups or so?), romaine lettuce, arugula, cherry tomatoes, nuts and seeds galore, leftover odds and ends, including red pepper, broccoli and snap peas, and fruit.
What would you have made?
We pondered it a bit, and decided to use my cooked lentils and Anne's sweet potatoes, and make a sweet potato, lentil dish, and brown rice dish with hemp seeds and gingery vinaigrette, along with some sort of beet, string bean, and arugula/spinach salad. Anne said she would start cooking the rice/potatoes whenever she got home from work, and I said I'd bring the lentils, arugula, and hemp seeds. And we agreed that if the rice was too much of a hassle, we'd still with a sweet potato and lentil salad instead. Healthy food, fuss free.
And so this hearty dish came together. Anne got home from work, and started cooking the rice and prepping the potatoes. I brought over my veggie odds and ends, hemp seeds, and arugula.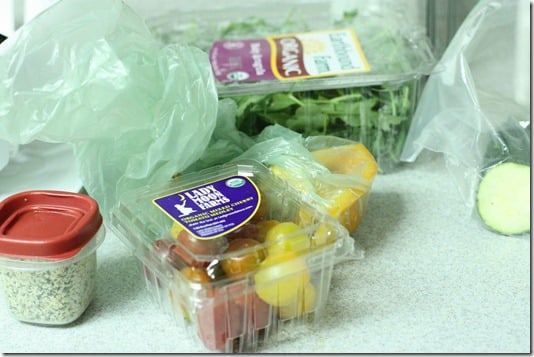 The element we needed to unite both dishes was a great dressing. In the interest of saving time, we decided to use the same dressing on both the salad and in the lentil/potato dish. We're both big fans of hemp oil (can't beat the healthy, Omega-3 rich profile), and so we decided that would be our fat source. Anne said she had a great recipe (which I share below, with her permission), and we went with it: balsamic, lemon, hemp oil, dijon mustard: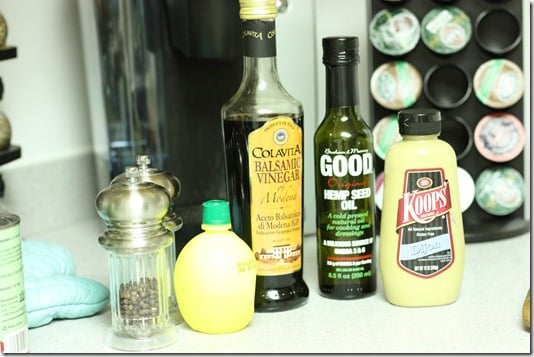 It was fantastic! I'll have to imitate it often.
For our salad, we did a simple mix of arugula, beets, cherry tomatoes, and bell pepper. I chopped. I cradled it fondly. I love me some salad. Just look at that smile.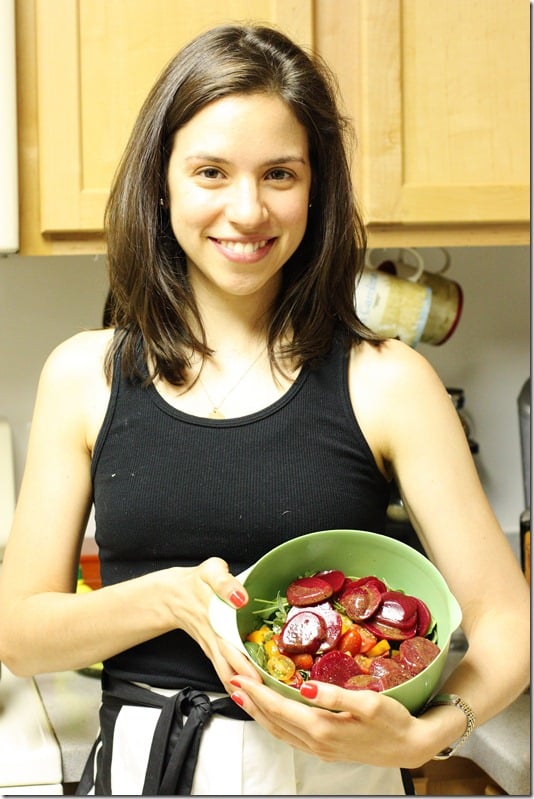 And here is Anne, brightly showing off our food (as well as her I <3 Kale shirt) !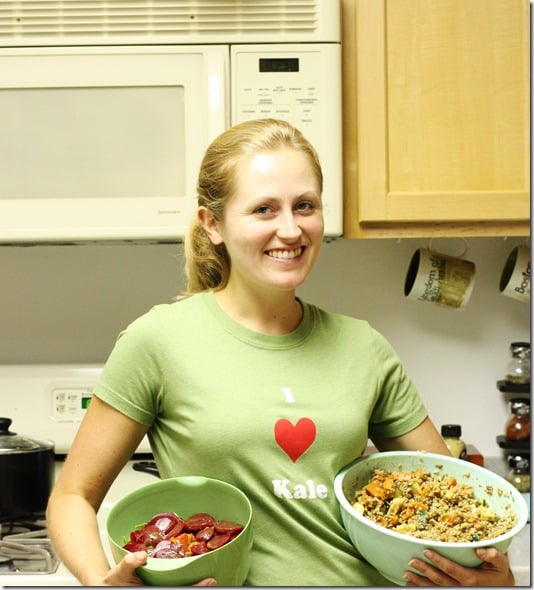 The dishes were both fantastic, but I'm mostly so happy the lentil, sweet potato, and rice dish turned out well. Hemp has a strong flavor, and I wasn't sure it would "marry" seamlessly with the rest of the dish. It did, and I'm so glad.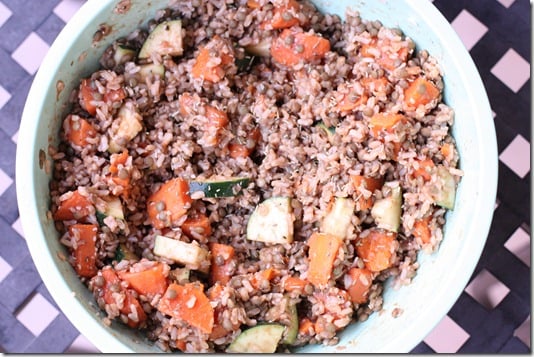 Look at all that good stuff! Here's Anne taking a photo (she caught a similar one of me—oh, the lives of food bloggers):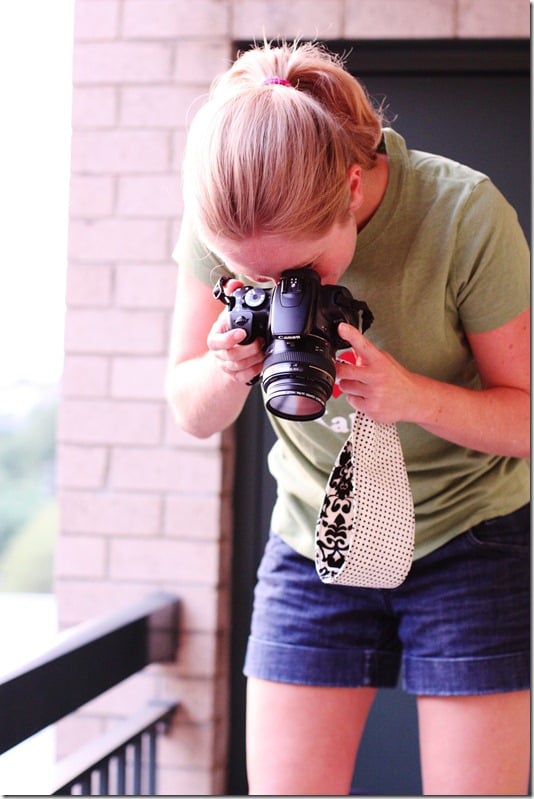 And here is how you, too, can make this meal.
Brown Rice, Sweet Potato, and Puy Lentils with Hemp Seeds and Vinaigrette (vegan, gluten free, soy free)
Serves 4
2 cups brown rice, cooked
2 sweet potatoes, cubed and steamed/boiled
2 cups puy lentils, cooked
1 1/2 tablespoons dried rosemary
1/2 large zucchini, steamed and chopped
For the vinaigrette:
1 part hemp oil
1 part balsamic vinegar
Squeeze of lemon
Dijon mustard (for about 4 tbsp each oil and vinegar, we used about 2 tbsp, give or take)
Sea salt and black pepper to taste
1. To make the vinaigrette, whisk it all together till it tastes good! Kitchen intuition.
2. Then, pour over the rice, potatoes, zucchini, lentils, and rosemary. You may not need all of the dressing, so use your intuition here, too. Anne and I are both pretty intuitive cooks 🙂
We also used the dressing on our salad, which was bright and lovely.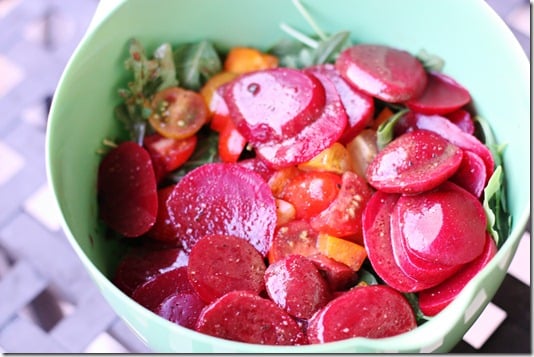 So tasty!
The trick to the dish, obviously, is having the cooked rice, beans, and lentils on hand. It feels tough if those aren't ready. I soak lentils and cook a big batch nearly every weekend (the cooking time is very short when you do this—about 20 minutes), and Anne whipped up her rice while she was waiting for me to arrive. If you're semi-organized about prepping, the meal itself is speedy as can be. Again, I can't say it enough: use any off time you have to make grains and legumes. They're relatively hands off while they cook, and you can use them for 3-4 days, or freeze them!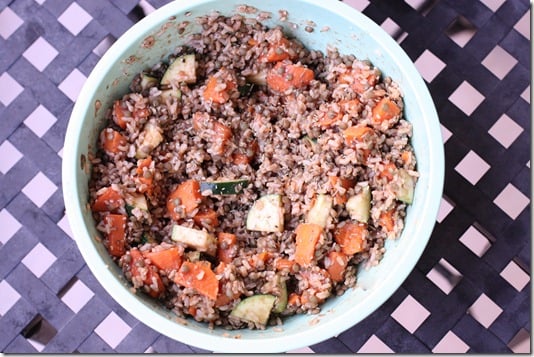 My plate. Love the color!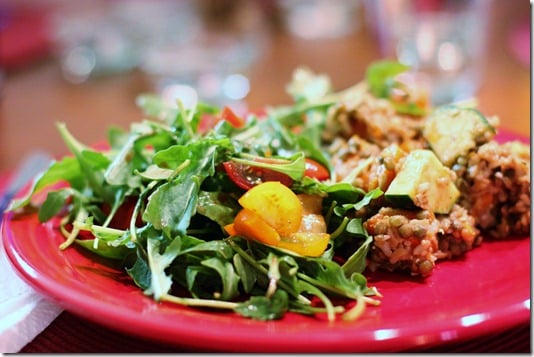 And Anne and I each have a packable lunch now; that'll come in handy when I'm on the train to Blogher 12 tomorrow!
Even when you're tired from a long day of physics and/or a dietetic internship, healthy food is within your reach. Hope you enjoy this recipe, which (for the record) is incredibly filling (in a good way) from the healthy fat and complex carbs.
And that's it for tonight! Tomorrow, the second my class ends, I'm off to Blogher's Health Minder Day in NYC, where I'm going to share my thoughts on dedication vs. obsession. A topic I think I know plenty about, and I can't wait to learn from my wonderful fellow panelists! I'll be sharing a full recap of the day, plus further thoughts surrounding this topic, next week. And (appropriately, I think), I'll have a Green Recovery post for you guys tomorrow.
Till then,
xo