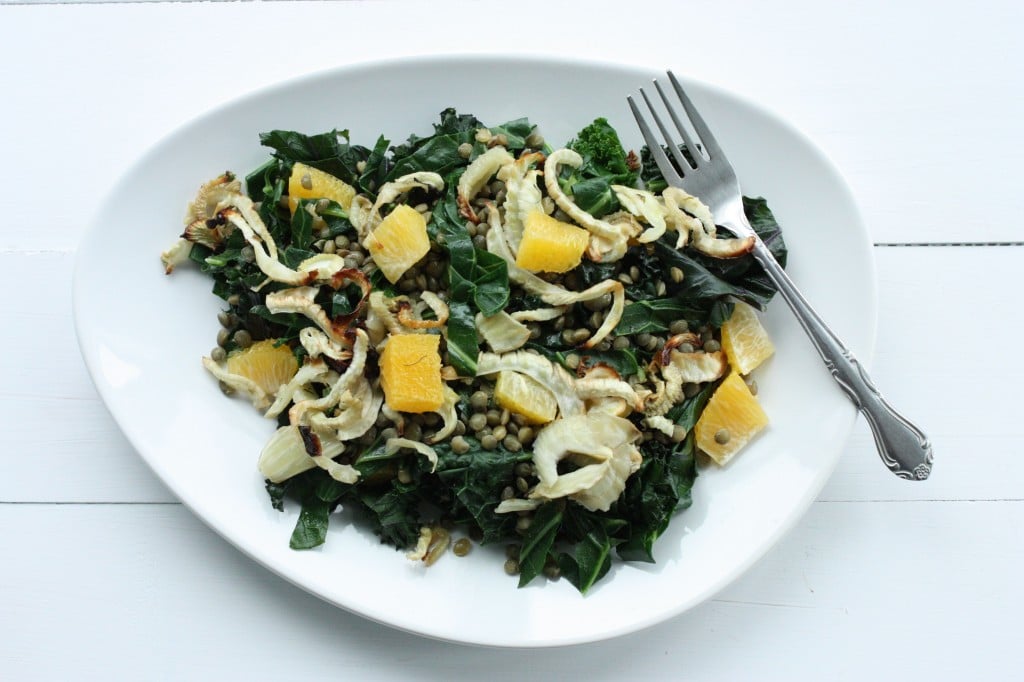 When I post a picture of salad on my Instagram account these days, I'm often asked how I manage to enjoy salad in the winter. I get it: when temperatures plummet, most of us crave hot, hearty, and starchy foods. I love salad year round, but I don't crave it quite as frequently as I do when it's warm outside.
So, how do we get our our greens in when it's freezing out? You can steam greens, of course, or saute them. But if you're craving the same sort of variety, color, and texture contrast that a salad affords, you can try a simple skillet. Start by sauteing whatever vegetables you like in a teaspoon or so of olive oil. Add some cooked legumes, grains, or potato, if desired. At the very end, add a few tablespoons of vegetable broth or water, and add a heaping portion of greens. Cover the skillet and allow the greens to wilt a bit, and then gently mix them around until they're cooked through.
If you're craving the crunch of salad, you don't have to saute the vegetables for very long. Even a minute or two in the pan will warm them up (and, later on, warm you up), but a short cooking time will allow them to retain some of their crispness. This delicious lentil, kale, and fennel skillet is only one example of the many delicious combinations you can whisk up.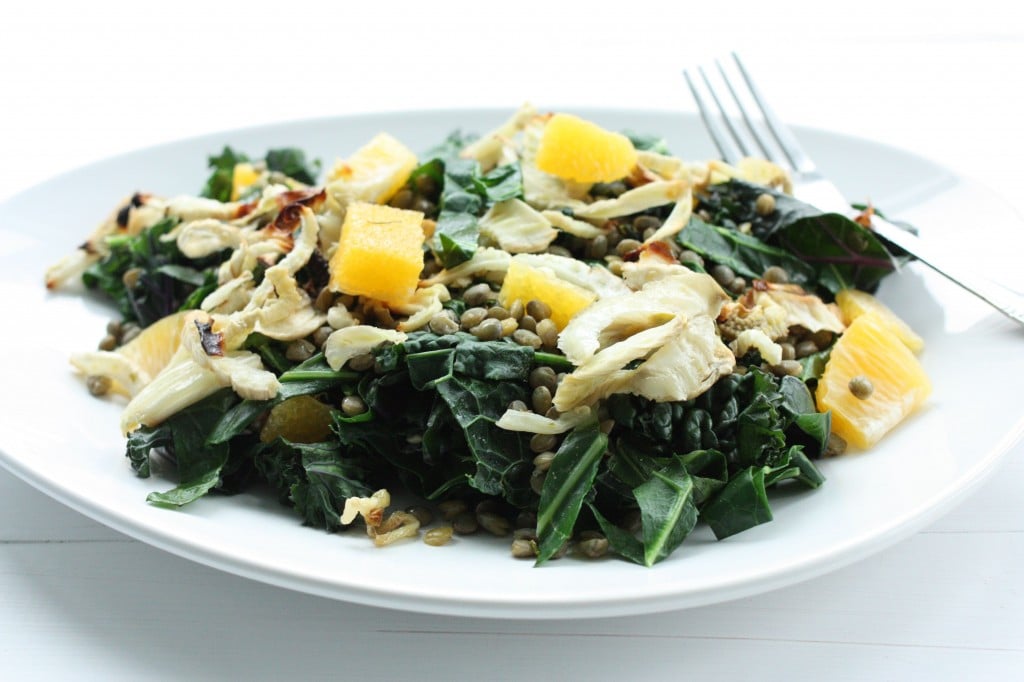 Easy Lentil, Kale, and Fennel Skillet with Kale
Author -
2

teaspoons

olive oil

1

bulb fennel

sliced very thinly

1

cup

cooked brown or green lentils

4

heaping cups finely chopped kale

chard, or collard greens

Water or vegetable broth

3/4

cup

orange segments

cut into small pieces

Sea salt and pepper to taste
1. Heat the olive oil in a large, nonstick skillet. Add the fennel, and give it a sprinkle of salt and pepper. Saute till the fennel is browning lightly and soft (about 8-10 minutes).

2. Add the lentils, and heat them through (about 2 minutes). Add a few tablespoons of water or vegetable broth, and then add the greens. Cover them with a lid and allow them to wilt down. Then stir them around in the pan until they're cooked through. Season to taste with salt and pepper. Feel free to add any herbs you like (thyme, rosemary, parsley, etc.).

3. Divide the skillet contents onto two plates. Sprinkle each with half of the orange, and serve. A little avocado would make a great topper, too!
There's so much wonderful texture to this dish:
And the orange, by the way, doesn't only add brightness and flavor. It also gives this dish a nutrient boost! Vitamin C, or ascorbic acid, can enhance absorption of non-heme iron (which is the type of iron found in plant foods). (1) Iron can be a tricky nutrient to source in a vegan diet, and non-heme iron is thought to be less easily absorbed than heme iron (found in animal foods). For this reason, it's a great idea to pair foods that are rich in Vitamin C, like the citrus and the fennel in this recipe, with iron rich foods (like dark leafy greens and legumes). I remember a time when I, lured in by the idea of food combining, religiously avoided pairing fruit with other kinds of food, including legumes. Little did I know that eating fruits along with other foods can be a kind of nutritional symbiosis–the foods are more valuable together than they are on their own!
I hope this recipe inspires you to test out some tasty skillets of your own. Think of these as a kind of wintertime salad–and know that they're every bit as easy to adapt to your tastes!
xo
1. Hallberg L, Brune M, Rossander L. The role of vitamin C in iron absorption. Int J Vitam Nutr Res Suppl. 1989;30:103-8.