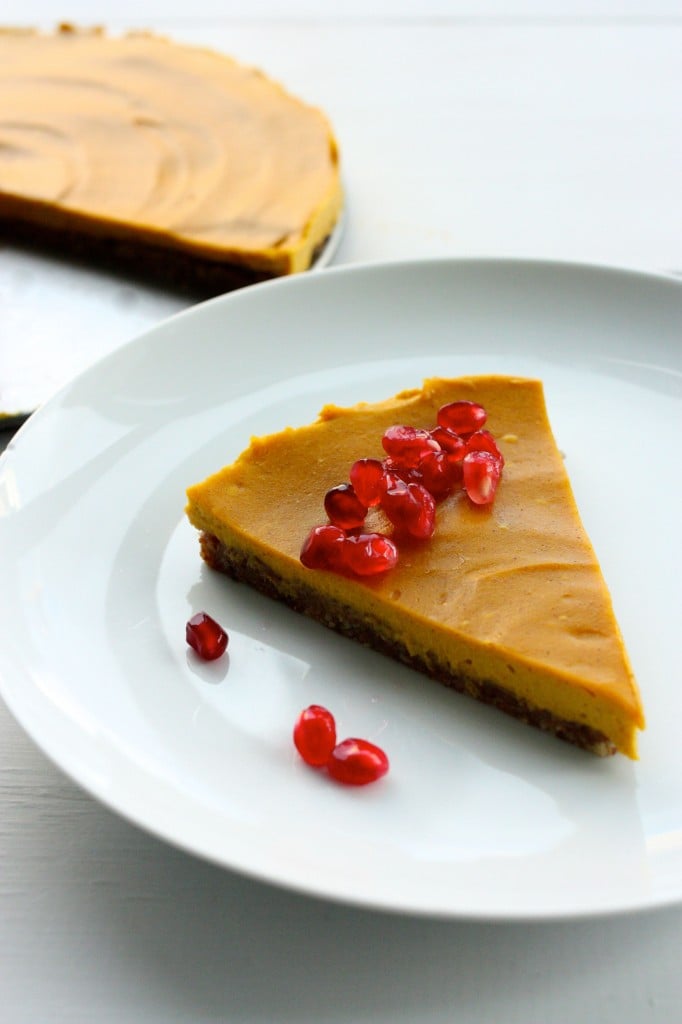 The fussier my recipes get, the worse off they are. Perhaps this is the case with most cooks, and most food, but in my case the correlation between longer ingredient lists and more inconsistent recipe outcomes is striking. The best food I've created for this blog is definitely what I'd call simple food (of course, this is all a little subjective), and the recipes I'd call flops nearly always involved overreaching.
So it has been with me and pumpkin pie. This version, from two years ago, tastes absolutely lovely. But the whole Irish moss thing…well. It's a nifty ingredient to play around with, but the honest truth is that it's also kind of a pain. And while my "you won't believe it's vegan pumpkin pie" for Food52 last year is delicious–and the pie I'd recommend if you're sharing with friends who have more traditional tastes–it involves making pie crust. Meh.
This year, I kept things super simple. And the result was a no bake, no fuss, high raw pumpkin pie with less ingredients than any other I've made. It was every bit as delicious, to me, as those versions, and it took less time. It's my new go-to, and I'm sure I won't need to use Thanksgiving, or any other holiday, as an excuse to make it often!
Easy No Bake Vegan Pumpkin Pie (Mostly Raw, Gluten Free, Soy Free)
Author -
2

cups

pecans

1 1/2

cups

pitted dates

1 1/2

cups

cashews

soaked in water for several hours, then drained

1/2

cup

coconut oil

melted

1 1/2

cups

cooked pumpkin puree

1

teaspoon

pumpkin pie spice

1/3

cup

+ 2 tbsp maple syrup or agave

Sea salt to taste
1. To make the crust: Place the pecans and dates in a food processor, along with a pinch of sea salt. Process until the mixture is thoroughly broken down and sticks together when you squeeze a bit in the palm of your hand. If you'd like it to be a little sweeter, add a few more dates. Press mixture evenly onto the bottom and sides of a pie plate or into a 9" springform pan--I did the latter.

2. Place the cashews, coconut oil, pumpkin, pumpkin pie spice, and maple syrup in a high speed blender or food processor, along with another pinch of sea salt. Blend till silky smooth (this may take a minute or two -- use the tamp attachment to keep things moving if you're working with a high speed blender). Once again, if the filling's not quite sweet enough for you, add some extra maple syrup or agave.

3. Pour the filling over the crust. Use an inverted spatula or a regular spatula to smooth everything over. Transfer it to the fridge, and let it set for about four hours, or overnight. Cut and serve!

Makes 8-12 slices.
In the spirit of simplicity and un-fussiness, I'll keep things short and sweet, and let images do the talking.
Yum!
I should note that this is not a traditional pumpkin pie–no flaky crust, no warm, lightly golden filling. The filling also isn't as firm as a baked pie is. But if you keep it cool, it'll hold its own. And the taste?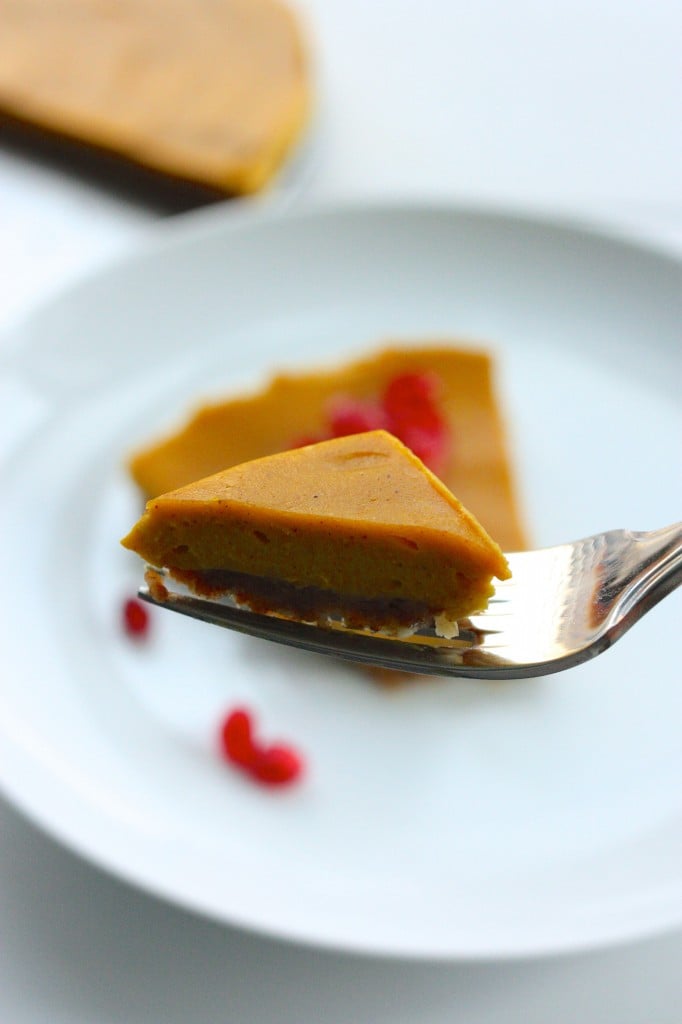 Just about perfect.
I hope you enjoy it. Tomorrow, I'll return with a vegan recipe round up for Thanksgiving!
xo