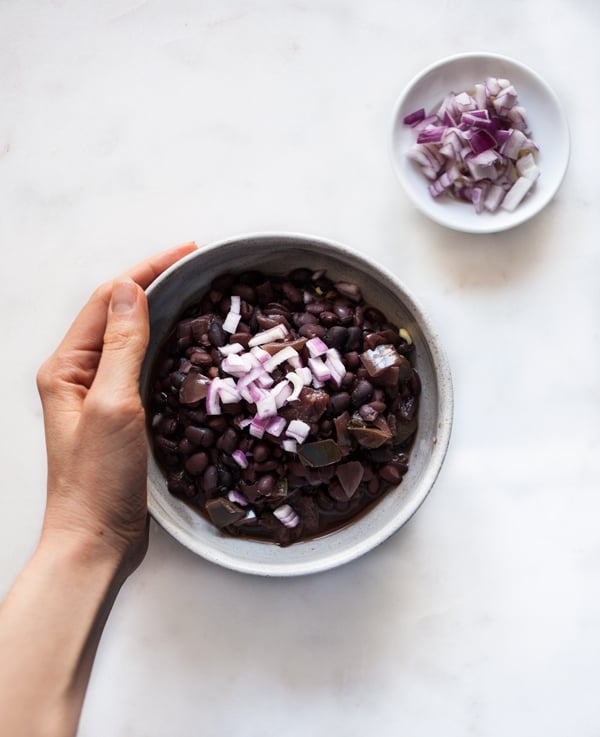 These easy slow cooker Cuban black beans don't look like much, I know. On first inspection, there's nothing very special about a bowl of cooked beans. But trust me when I say that these beans are everything.
OK, maybe not everything. But they are the quick and easy protein addition to your breakfast tostada or your lunch burrito. They're an easy and flavorful addition to your tofu scrambles. They're the easy topping that will make your first bowl of summer gazpacho sing. They're the protein and iron-dense side dish that will turn your next vegetable dinner into a complete meal. And they are the beating heart of your next bowl of rice and beans.
These beans were inspired by this awesome recipe from Lindsey at Cafe Johnsonia. I wanted to create something with a slightly more pronounced flavor, evoking the Cuban black beans that my ex-stepmother, who was Cuban by birth, used to prepare. I remember tasting those beans as a kid and being pleasantly surprised at how flavorful they were in spite of their humble appearance (I didn't eat a lot of legumes growing up, so the memory stands out).
I added bell pepper, jalapeno, cumin, and oregano to these slow cooker black beans, and I'm happy to say that the results are both authentic and delicious. If you'd like to keep the flavor of the beans more subtle, you can definitely leave out the cumin and oregano (I've marked both as optional), as well as the jalapeno. If, on the other hand, you'd like to kick the flavor up, feel free to add more of the spices, as well as some cayenne or chili powder, if you like.
One of the best things about making these beans is that the slow cooker makes them perfectly tender and ready to eat without any soaking time, and without your having to babysit them as they simmer. Simply throw your ingredients into the slow cooker before bed and wake up to a perfectly cooked batch of beans (and a really fragrant kitchen). If you don't have a slow cooker, I've given options for stovetop cooking in the recipe.
Print Recipe
Easy Slow Cooker Cuban Black Beans
Ingredients
1

pound

dried black beans

picked over and rinsed (about 2 1/2 cups)

1

white onion

diced

1

green bell pepper

diced

1

jalapeno pepper

finely diced (optional, see note)

5

cloves

garlic

peeled

2

bay leaves

2

teaspoons

salt

1/2

teaspoon

ground cumin

optional, see note

1

teaspoon

dry oregano

optional, see note

7

cups

water

2

tablespoons

lime juice

Optional toppings: chopped red onion

chopped cilantro, crushed red pepper, avocado slices, hot sauce, salsa
Instructions
Place all ingredients except for the lime juice in a slow cooker. Cook on low heat for 8 hours.

Remove the bay leaves and whole garlic cloves from the beans. Stir the lime juice into the cooked beans. Serve immediately, or allow the beans to cool before transferring them to an airtight container. They will keep in the fridge for up to 6 days and can be frozen for up to 2 months.
Notes
If you'd like to make the beans a bit plainer (especially if you'd like to use them in a stir fry or another dish that will be seasoned), simply omit the cumin, oregano, and jalapeno.
To prepare over the stovetop, begin by soaking the beans overnight after sorting and rinsing them. The following day, discard the soak water. Heat a bit of vegetable or olive oil in a large stock pot and add the onion and the pepper. Saute the onion and pepper for 5-7 minutes, or until the onion is clear. Add the beans, along with 6 cups of water, the garlic, bay leaves, cumin, and oregano. Bring the mixture to a boil. Reduce to a simmer and simmer for 1 hour, or until the beans are tender. Remove the bay leaves and garlic cloves, Stir in the salt and lime juice. Allow the beans to cool before storing as instructed.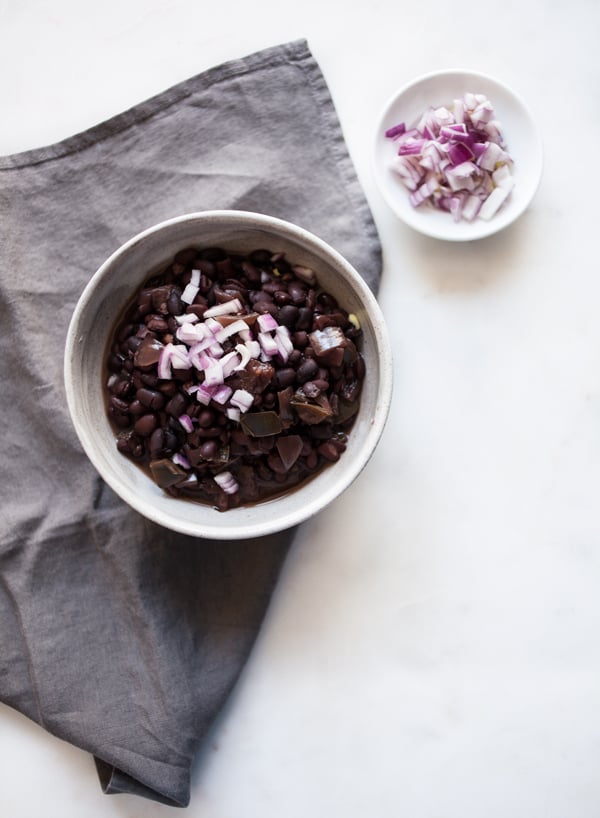 As you can see, the recipe yields a lot of beans. I think this makes it a perfect for batch cooking and then freezing (you can freeze the beans in cup-sized portions for quick and easy reheating on a busy day or night), but if you're curious about what to do with such a bounty of black beans, here are some ideas:
1. Stuff the beans, along with some rice, veggies, and other fixings into a burrito for a quick and easy lunch or dinner
2. Mash the beans lightly with a fork and use as a quick, homemade "refried bean" topping for breakfast tostadas
3. Sprinkle the beans over a cup of gazpacho or tortilla soup
4. Stir the beans into your next batch of tofu scramble or vegan fried rice
5. Make a simple bowl of rice n' beans and top with some avocado or some cashew queso sauce
6. Use them in your next batch of enchiladas
7. Throw some of the beans into an easy lunch salad, like my black bean and quinoa salad with quick cumin dressing
8. Make a batch of black bean and mango salsa
9. Use them in my black bean, butternut squash, and quinoa chili
10. Give them a starring role in your next lunch bowl
And if none of those ideas appeals, you can use the beans in these delicious bowls, which also feature easy roasted plantains and fragrant cilantro lime rice: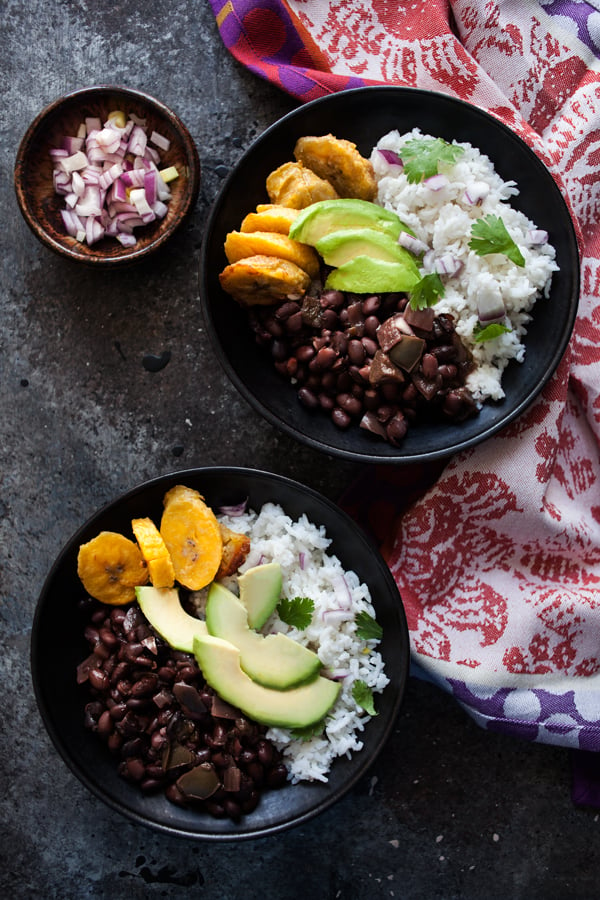 I'll be sharing the recipe on Thursday, and you don't want to miss it!
For now, I hope that these beans make your batch cooking a little easier, and that they can fuel some quick and versatile dinner ideas. Enjoy–and I'll see you soon.
xo