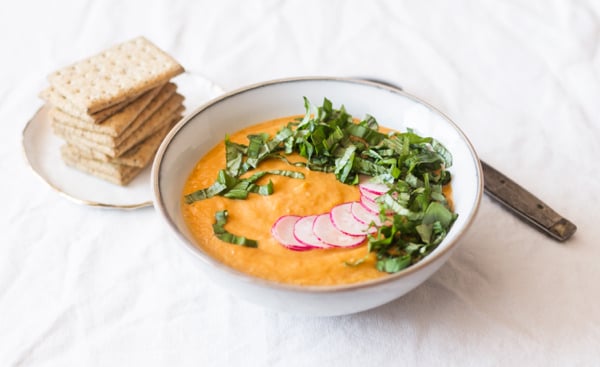 This is easy summer gazpacho is exactly what it sounds like. It's not the first gazpacho I've ever made, and I'm sure it won't be my last. Gazpacho is one of those recipes you can continue to tweak in small ways–an extra dash of salt here, a pinch of red pepper flakes there, different herbs–indefinitely. But this is the recipe that I'm hooked on this summer, and I suspect it'll be a favorite for a while. It's forgiving, it's simple, and it's so good for hot weather.
Such days are now well underway in DC, so I count myself lucky to have gotten quite a few tomatoes in my last two From the Farmer (if you're behind on posts and want to see what I've been eating lately, read my review of From the Farmer here!). I've been planning on gazpacho for a week or so, and today was the day. The last gazpacho recipe I shared on this blog was deemed, by me, to be "perfect," and while that's most definitely an exaggeration, it's a solid recipe. This gazpacho is a bit simpler (hence the "easy" bit), and it's also a little less sour (I tend to be heavy-handed with acid in my recipes; when I look back over early CR posts I'm amazed at how much lemon and vinegar I was using). Like its predecessor, it is delicious, quick to prepare, and super refreshing.
If you'd like to use different vegetables in this soup–zucchini, whatever–go for it. It's gazpacho, which means that it lends itself to creative interpretation!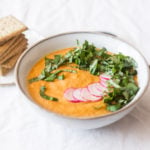 Easy Summer Gazpacho
Author -
4

cups

roughly chopped plum or beefsteak tomatoes

2

cups

cucumber

peeled and chopped

1

cup

bell pepper

chopped

1/4

avocado

about 30 grams

1/3

cup

water

3/4

tsp

sea salt

or to taste

2

teaspoons

lemon juice

1

teaspoon

sherry vinegar

substitute apple cider vinegar

2

tablespoons

olive oil

Optional: 1 clove garlic

roughly chopped

Toppings:

Fresh chopped herbs

basil, dill, parsley, cilantro

Radish slices

Raw corn

Chopped avocado

Chopped cucumber

Olive oil

Red pepper flakes
Place all of the ingredients except the oil in a blender and begin blending. Drizzle in the two tablespoons of olive oil. Try to blend for just long enough that you've got some texture left, but the soup is basically quite smooth.

Divide soup into four bowls. Top with whatever toppings you like, and serve.
 The gazpacho is a perfect appetizer or starter to a summer gathering. Or, if you'd like to turn it into a satisfying lunch, you can do as I did, and serve it with some quinoa and chickpeas. Tasty and filling.
Other gazpachos I have my eye on this summer:
yellow tomato gazpacho
avocado gazpacho
Stay tuned. And have a lovely evening.
xo
Images courtesy of Lighter.