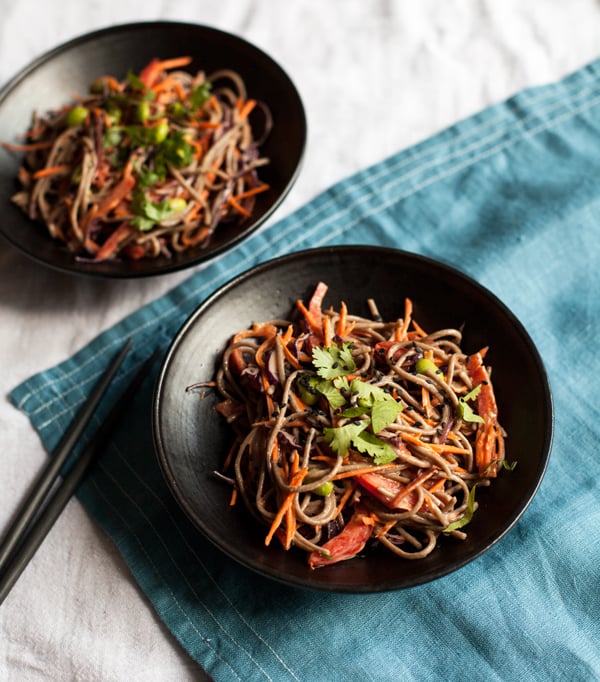 Soba noodle salads are one of those meals–like curries, grain salads, and tofu scrambles–that I've got on my list of super speedy dinner options for weeknights. They're light but satisfying, and they take so little time to prepare, especially if you've got a nice dressing at the ready (and even if you don't, because whisking a dressing together takes hardly any time). The range of toppings is endless, and you can make them as elaborate or as simple as you like.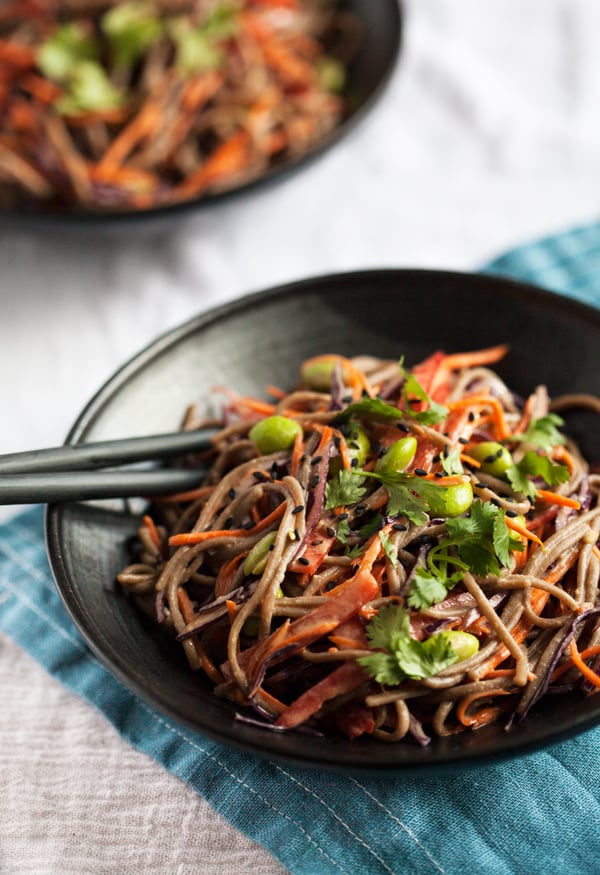 This soba salad is relatively simple, a mixture of cooked noodles, steamed edamame (which is optional, but nice for added protein), and raw carrots, cabbage, and red pepper slices. Nothing fancy, but the dressing is delicious, and the addition of fresh basil and cilantro make it particularly flavorful. It was ready in about 30 minutes, which is exactly what I needed dinner to be last night.
When you make it–and I sure hope you do–feel free to modify it a bit based on what you have. It's also worth saying that, while I love the earthy taste and soft texture of 100% buckwheat noodles, a buckwheat/wheat mixture, rice noodles, udon noodles, and pad thai noodles would all work here, too.
In the past, I've always made soba noodle salads with a rice vinegar/sesame oil vinaigrette or an almond/peanut butter sauce (similar to the one I used in these sweet potato noodles). Tahini was a nice change of pace–delicate, yet distinctively nutty.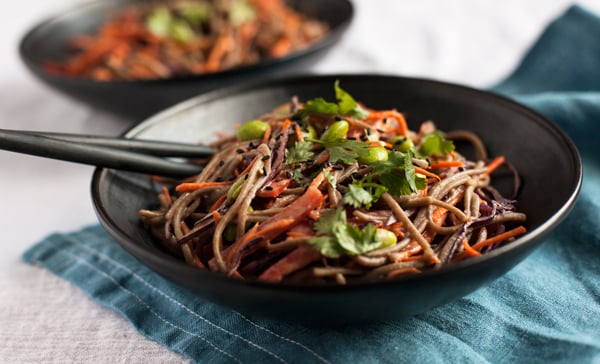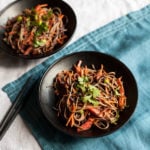 Easy Tahini and Soba Noodle Salad (gluten free)
Author -
For the salad:
1 8-

ounce

box 100% buckwheat soba noodles

substitute a wheat/buckwheat mixture, rice noodles, pad thai noodles, or udon noodles

1

red bell pepper

sliced into very thin strips (about 1 heaping cup)

2

cups

grated

julienned, or spiralized carrot

1

cup

finely shredded red cabbage

1

cup

shelled

steamed edamame

1/4

cup

basil

chopped

1/4

cup

cilantro

chopped

Black sesame seeds

for garnish (optional)
For the tahini dressing:
2

tablespoons

low sodium tamari

1

tablespoon

maple syrup

2

teaspoons

rice vinegar

2

teaspoons

toasted sesame oil

2

teaspoons

finely minced ginger

1

large clove garlic

crushed

1/4

cup

tahini

1/3

cup

warm water
Bring a pot of water to boil. Add the buckwheat noodles and cook according to package instructions. Drain the noodles and rinse them in cool water.

While the noodles are boiling, whisk together all of the dressing ingredients.

Combine the noodles and all of the remaining salad ingredients except for the sesame seeds. Top the salad with the dressing and mix very well. Top with sesame seeds and serve.
Leftover salad will keep for up to 3 days in an airtight container in the fridge.
This is a week full of 30 minute dinners–I whipped up a delicious curry tonight that falls into the same category! I look forward to sharing that soon, as well as a pumpkin skillet cornbread (yum) that's perfect for enjoying all through the fall.
Can you tell I'm just a *little bit* excited for the change of seasons?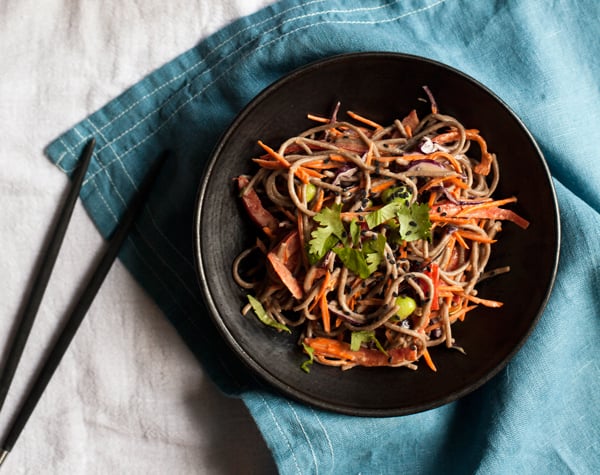 On that note, it's time to start reviewing for my advanced nutrition class tomorrow. We're moving from fiber to lipid metabolism, and even though much of it is review from biochem, I'm enjoying it. Even more enjoyable is my human development class; it's incredible to learn about the nine months of pregnancy, both from a nutritional and epigenetic perspective!
Before I go, a quick note that the lovely Ali of Inspiralized is hosting a giveaway of Food52 Vegan on her blog right now. If you're curious, she's also sharing my recipe for French lentil salad with arugula and herbed cashew cheese.
Till soon,
xo