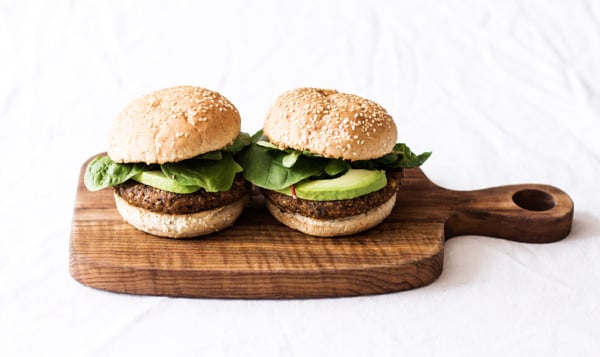 As I mentioned recently, I took an exam this morning. I wish I could say it went smoothly, but all I can say is that I came home and pretty immediately started baking a cake. That says it all.
In any case, enough grim exam talk. Instead, let's talk instead about the hurry up vegan meal I made on Monday night, T-3 nights before the big test. There wasn't much time to cook, given the laundry list of equations I was supposed to memorize. But this meal came together almost instantly, making it a perfect pre-exam recipe–and a keeper for busy times.
This dinner was easy for a few reasons. First, I made a few things beforehand, and I also used my pantry. The night before, I stuck some brown rice in my rice cooker and let the machine take over. The cooked rice was put in the fridge overnight. I had canned black beans and a ton of fresh corn on hand, both of which went into the burgers. In wintertime, having a giant bag of frozen corn, or even some organic cans, would work just as well for the whole meal.
On the menu:
●Summer corn and coconut soup
●Black bean and corn burgers
●Fresh garden salad with smoky red pepper mesquite dressing
The salad was self explanatory: just a big bowl of greens, sugar snap peas, tomatoes, cucumber, and my new red pepper dressing, which I love.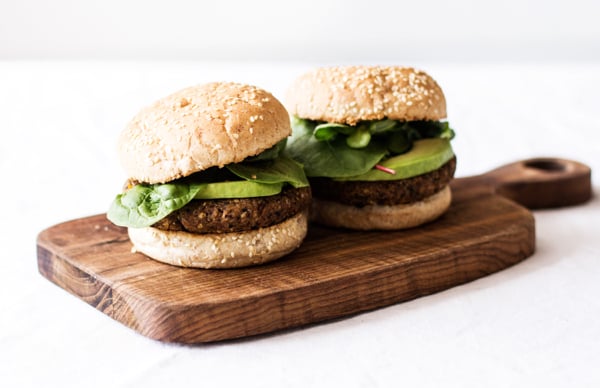 And here are the burgers, which are the latest in my eternal quest to make the perfect veggie burger. I've had some successes in this department, like my ridiculously healthy black bean, yam, and millet burgers: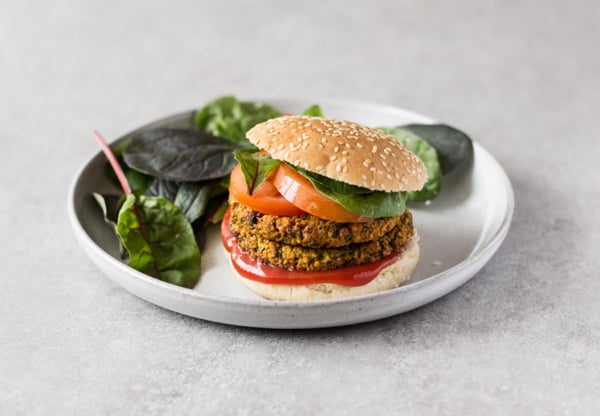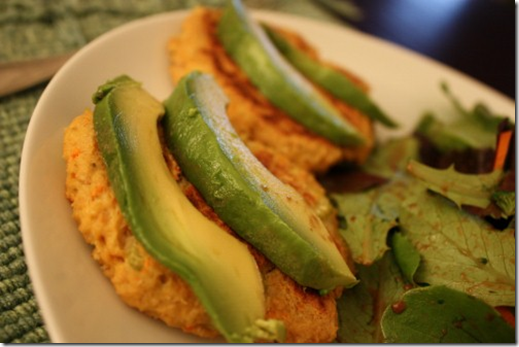 Or my ginger lime edamame sweet potato burgers: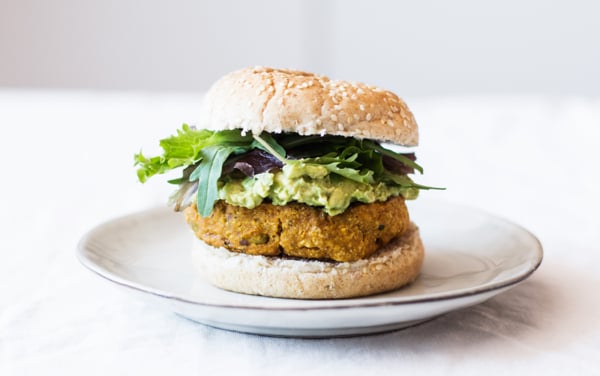 Or, in the raw department, my spinach burgers: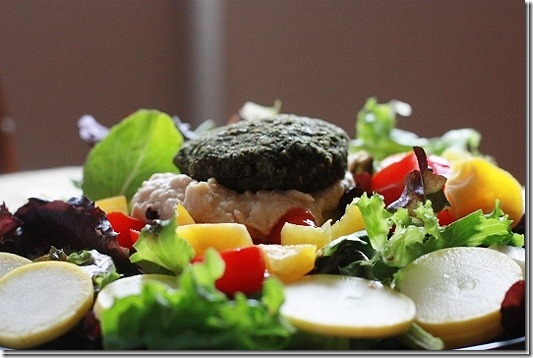 All personal favorites, except that they're usually preceded by some struggle! I have a really hard time getting the texture and flavor of veggie burgers right. Typically my MO is to add too little binding agent (oats, potato, grain, whatever), then too much, so I end up with a gummy burger and the spices get cut in half. The following black bean burgers took some adjusting (and I tweaked what I did vs. what I'm posting a little), but the final result was great, and the leftovers even better.
Easy Vegan Black Bean and Corn Burgers
Recipe Type
:
vegan, gluten free, soy free, nut free
Author:
Prep time:
Cook time:
Total time:
4 teaspoons olive oil
1 small white or yellow onion, chopped
1 cup fresh or frozen and thawed corn kernels
1 1/2 cups cooked black beans (or 1 can black beans, drained and rinsed)
1 cup cooked brown rice
1/4 cup oat flour (or finely ground, rolled oats)
1/3 cup tomato paste
1 teaspoon cumin powder
1/2 teaspoon smoked paprika
1 teaspoon chili powder
3/4 salt (or to taste; use less if your canned beans are salted)
Black pepper or red pepper flakes to taste
Heat 2 teaspoons of the olive oil in a large skillet over medium heat. Add the onions. Sauté onions for 7 minutes, or until clear, soft, and fragrant. Add the corn and sauté for another 2 minutes. Add beans and tomato sauce. Stir all of these ingredients together in the skillet until they're warmed through.
Place the rice into the bowl of a food processor fitted with the S blade. Add the skillet mixture and pulse a few times. Add spices, oat flour, and 2 tablespoons water. Continue pulsing until the ingredients are combined evenly but plenty of texture remains. If the mixture feels too dry to shape into patties, add another tablespoon water.
Shape mixture into 4-6 patties. Clean your skillet and place it back on the stovetop (or heat up a grill plan) over medium heat. Heat the remaining 2 teaspoons olive oil and pan fry the burgers for 2-3 minutes on each side, or until crispy.* Serve, topped with guacamole and any fixings of choice!
*If you prefer to bake the burgers, you can preheat the oven to 350 before step 1. Bake the burgers for 20-25 minutes, flipping once through cooking, or until they're crispy on the outside but tender-firm on the inside.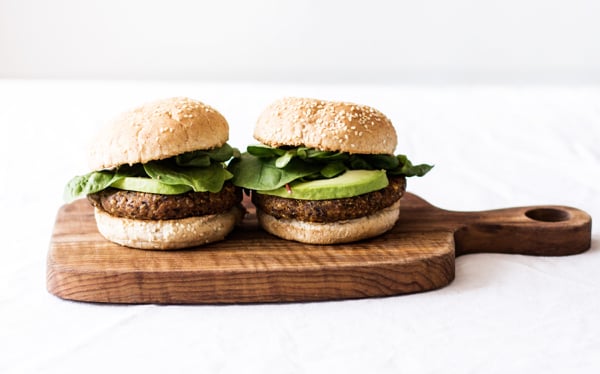 What a stupendous meal these turned into! Along with the soup and salad, a perfect dinner.
And right now is a perfect bedtime for this very tired lady. Night, friends.
xo
Photographs courtesy of Lighter.