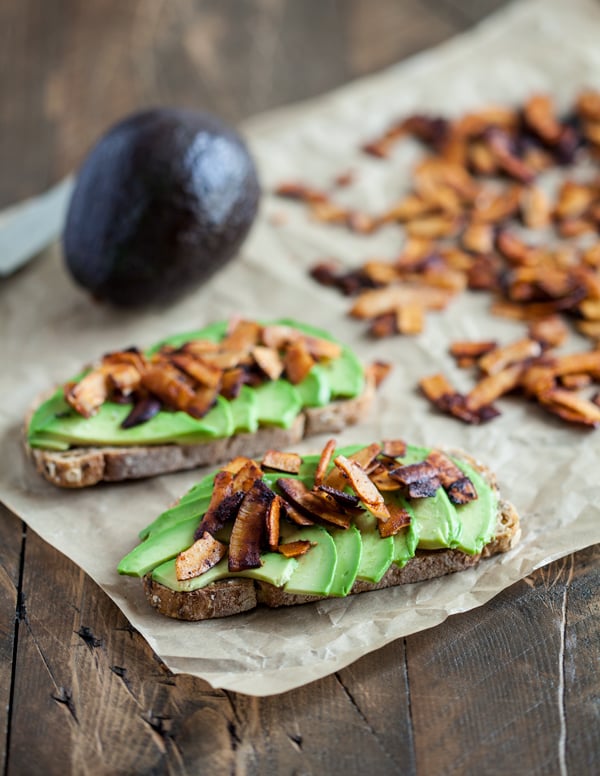 I know what you're thinking — coconut bacon?
I, too, used to assume that a vegan interpretation of bacon was pure folly. Few foods inspire the wholehearted adoration that bacon seems to receive, and few bacon lovers concede a substitute. I've even seen t-shirts reading "vegetarian…except for bacon." But, as with cashew cheese, banana ice cream, and so many other creative vegan dishes, there's a way to capture the smokiness, saltiness and flavor of bacon. I realized this when I first discovered eggplant bacon, and now I'm discovering it with this easy vegan coconut bacon, too.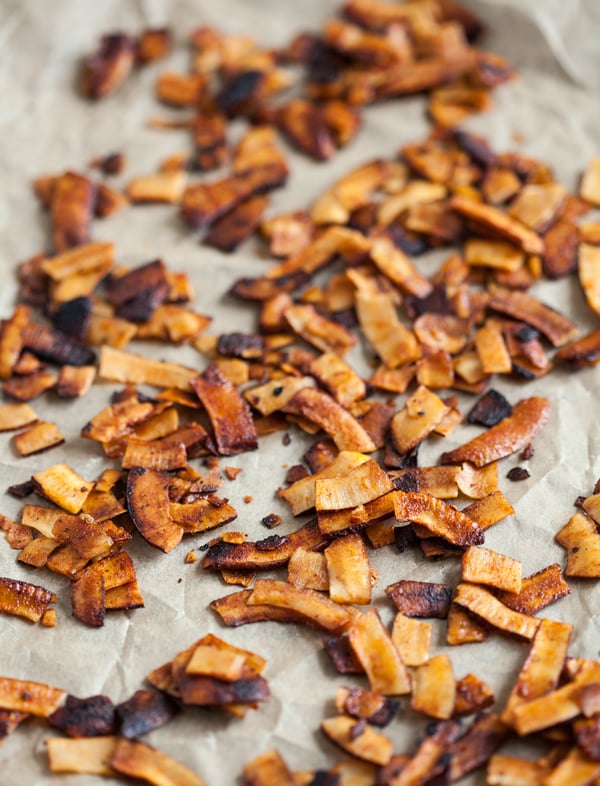 I've had coconut bacon at raw eateries before. The ones I've tried were made with young coconut meat, but to me, that's such a special and precious ingredient that I hated the idea of overpowering it with a marinade. I think the easiest way to make coconut bacon at home is to use either large flake coconut or coconut flakes. Both are a form of dried coconut, but the pieces are large and chewy (rather than shredded or desiccated, as with much of the dried coconut you find in supermarkets). The texture is awesome–perfect for sprinkling onto salads or atop baked potatoes.
If you're having a hard time finding coconut flakes or large flake coconut, you can definitely find it on Amazon, and you can probably find it at a local health food store, too.
You can make this recipe for coconut bacon in your oven, or you can prepare it with a food dehydrator. I love the oven version because it's so fast and easy, but the dehydrator will help you to keep the flakes from burning as they cook, which yields even results. Though I must confess that I love the slightly burnt edges!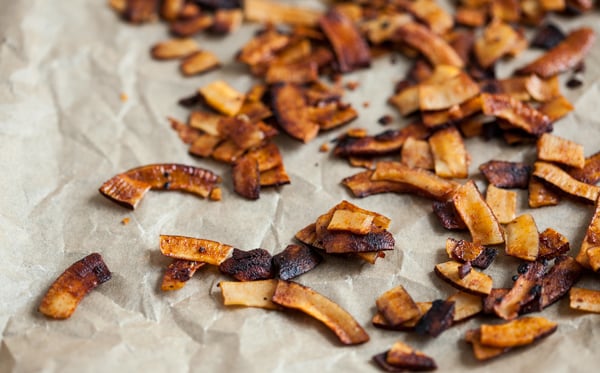 Coconut Bacon Recipe, Raw or Cooked
Author -
Whisk the tamari, oil, vinegar, syrup, and paprika in a medium sized mixing bowl. Add the coconut and mix it around until it's all evenly coated. Allow the coconut to sit for at least ten minutes, so that it soaks all of the marinade up.

Preheat the oven to 300F. Spread the coconut evenly over a foil or parchment lined baking sheet. Bake for 8-12 minutes, stirring halfway through to prevent burning (check the bacon at the five minute mark, because it cooks up quickly). Let cool completely before serving.
Coconut bacon can be stored in an airtight container in cool, dark place for up to two weeks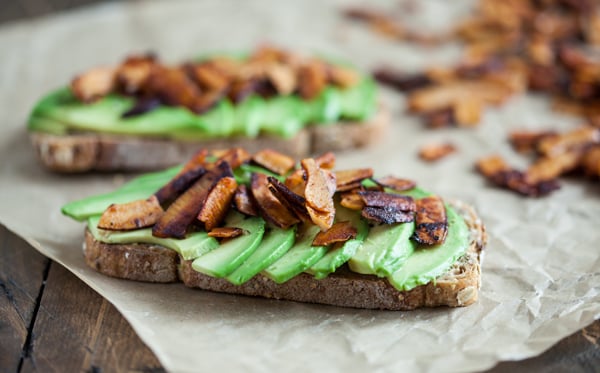 You can put coconut bacon on soups, stews, sandwiches, wraps, baked potatoes, salads…my gosh, the list goes on. Right now, as you can see, one of my favorite uses for coconut bacon is to add a little salty, smoky, sweet flavor to avocado toast or avocado lettuce wraps. It's divine, and the addition of freshly sliced tomato, if you have it, is even better.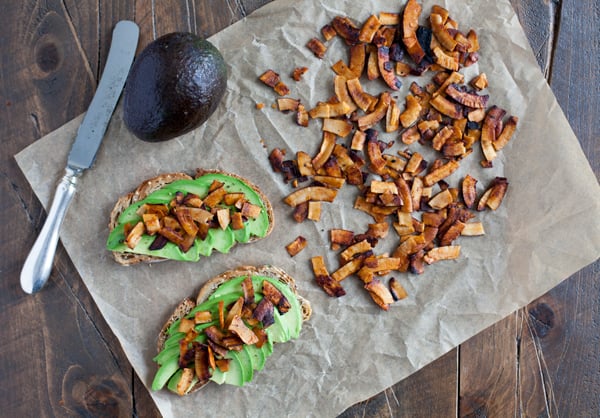 Hope you give this flavorful recipe a try. And I wish you a happy start to the week.
xo