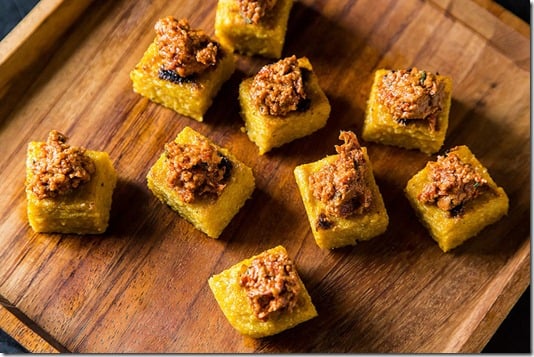 All images © James Ransom for Food52
This is a funny post to share, since it's been ages since I could even think about "entertaining." I love having people over, and I've hosted some dinners here in D.C. for my friends in the post-bacc program, but not for at least a year. I look forward to the moment when the academic clouds part a little, so that I can share scrumptious vegan food for them once again.
In the meantime, I can at least write about entertaining. And that's just what I've done in today's New Veganism post over at Food52. My focus is on vegan friendly appetizers, and I feature six crowd pleasing ideas!
The star of the post is this recipe for polenta squares with sundried tomato and walnut tapenade. The tapenade is based on the recipe featured in this pizza post, and the polenta recipe is tried and true in my kitchen, but new to my readers. Polenta is marvelously versatile and fun to work with. And, whether you choose to serve it soft or let it harden, you can use it as a base for fresh roasted vegetables, legumes, tomato sauce, or greens. If you're a gluten free eater, you can look for gluten free certified yellow cornmeal to make the recipe work for you.
These polenta bites are perfectly party-sized. The tapenade is a little salty and packed with flavor, and you can use any leftovers for wraps, sandwiches, or dipping crackers or veggies. Even if you're not planning on entertaining, you should still check the recipe out. I tested and devoured it all by my lonesome, and it was no less delicious for the lack of company.
Enjoy!
xo