Hear that? It's the sweet sound of Hump Day.
Last week, I gave you some of my tips for throwing together a nutritionally balanced vegan dinner: what macronutrients to consider, how to pair them, and what good sources were. Today, I'm sharing a dinner that meets all of the criteria I laid out, but also boasts speed. The meal—easy vegan tortillas—isn't raw, but it doesn't involve cooking, either, which means that it's an ideal way to get food on the table in a moment's notice. And because it's simply a mish mash of ezekiel tortillas and various fillings, it's hopelessly easy to modify. If you're serving someone who isn't big on guacamole (if you are, I advise you to give him or her a strongly worded pep talk), you can substitute salsa or simply pile on the beans. If you're serving a meat lover, throw in some seitan, tofu, or tempeh. If you're serving kids, be aware that the cashew sour cream is going to be popular. The sky's the limit.
My tortillas marry all of the macro groups. The black "refried" beans – which are really a black bean dip made with red pepper—provide protein, the Ezekiel tortillas provide protein and complex carbs, and the guac and sour cream add a nice healthy dose of fat. Of course, veggies are still the abundant star of the meal; aside from the beans and guac, I add grilled portobello and zucchini, and I serve the dish with a fresh salad. Tonight, it was a corn, tomato, cilantro slaw. Again, all of these components can be modified. But if you want to do it my way, here's how.
Gena's Easy Vegan Tortillas (serves 2-4)
For the tortillas:
4-8 small sized Ezekiel tortillas
For the fillings:
3 large marinated, cooked portobello mushrooms (I used the same marinade that I use in my steak and potatoes recipe, then baked the portobello in the oven for 25 minutes at 375 degrees)
Grilled zucchini (I sliced 2 large zucchini the long way and grilled them over the stove with a bit of coconut oil spray, salt, pepper, andd cumin)
"Refried" Beans with Red Pepper (serves 4-6)
2 cans organic black beans (use a BPA-free brand)
1 clove garlic, minced (NB: I don't use this, but most people will like the taste)
2-3 tbsp lime juice
1/2 tsp salt
2 tsps cumin
1 tsp coriander
1/2 tsp dried oregano
dash cayenne
1 tsp agave
1 large or two small roasted red pepper (you can also purchase a small bottle of roasted red pepper, but I like doing mine quickly in the broiler)
1/4 cup minced red onion (optional!)
1) Drain one can of the black beans. In a food processor, combine the beans with the lime juice, garlic, salt, cumin, coriander, oregano, agave, and cayenne. Blend till very smooth, adding a little stream of water if needed to get the mixture moving.
2) When the mix is uniform and blended, drain another can of black beans, and add it to the mix, along with the pepper and onion. Pulse until beans, pepper, and onion are still a little chunky, but well incorporated. Serve!
Raw Cashew Sour Cream (yields about 1 1/2 cups)
Note: this recipe is basically the same as my raw whipped cream, but a savory spin!
1 1/3 cup raw cashews, soaked 2 hrs
1/2 cup water
2 tbsp lemon juice
1/4 tsp salt
Blend all ingredients in your Vitamix until smooth and fluffy. To make this in a food processor, start by blending all ingredients, minus 1/4 cup water. Stop frequently to scrape the bowl. When the mixture is quite smooth, drizzle in the last 1/4 cup water till fluffy. If at any point you need more water (in either machine) just add it, but better to start with too little than too much.
Corn, Tomato, and Cilantro Slaw (serves 2-4):
2 large ears corn
1 large heirloom tomato, chopped
1/2 cup cilantro, chopped
1 tbsp olive oil
2 tbsp lime juice
1 tsp agave nectar
1 tsp dijon mustard
dash salt
dash pepper
1) Shave the corn off of the two ears with a large knife, and transfer it to a mixing bowl. Add the tomato and cilantro.
2) Whisk together the lime, oil, agave, mustard, and salt and pepper, and toss over the salad ingredients. Mix well and serve.
When everything's ready to go, all you have to do is layer! Take two tortillas and spread them with the vegetables, beans, guac, sour cream, and slaw. As you can see below, they make nice little packages: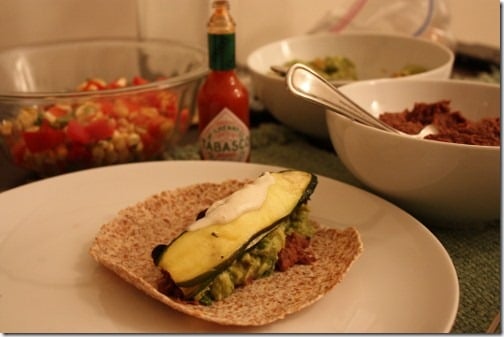 And in spite of how simple this dinner is — all it really involves is lots of mixing, and any of the components can be made a day or so in advance — M deemed it his favorite dinner I'd made for him to date. Shazam!
Before I go, did anyone else see this article? How about this one? The second one is especially scary. Both detail how hard it is to actually live a whole vegan life (outside of eating a vegan diet), given how few products and accessories are actually animal-free. Of course, it's easy to read these reports and just fall into a panic about how often you may be acting as a non-vegan consumer. My position on all of this is simply that I do my best. If I know that animal products are involved–if I see animal by products in a vitamin, for example, or if I don't know for sure that a certain shampoo is cruelty free, or if I suspect a hair brush is made with boar bristles–then I don't buy it. I try to be alert and savvy about what I'm spending money on.
If for whatever reason I purchase something without thinking to question its origins, or if I find out that something I was sure was vegan actually isn't, I try to relax and forgive myself. Veganism is an evolutionary process for me, and the only immaculate standard I'll hold myself to is a constant commitment to be conscious and do my very best. Over time, I know I'll be more of an expert on what products are and aren't vegan friendly. For now, I continue to educate myself, and show some sanity when I read about the myriad ways in which I might be tripped up. I'm curious to hear how other vegans or cruelty-conscious readers of mine feel about this — do you get easily overwhelmed by the difficulty of avoiding animal products?
xo