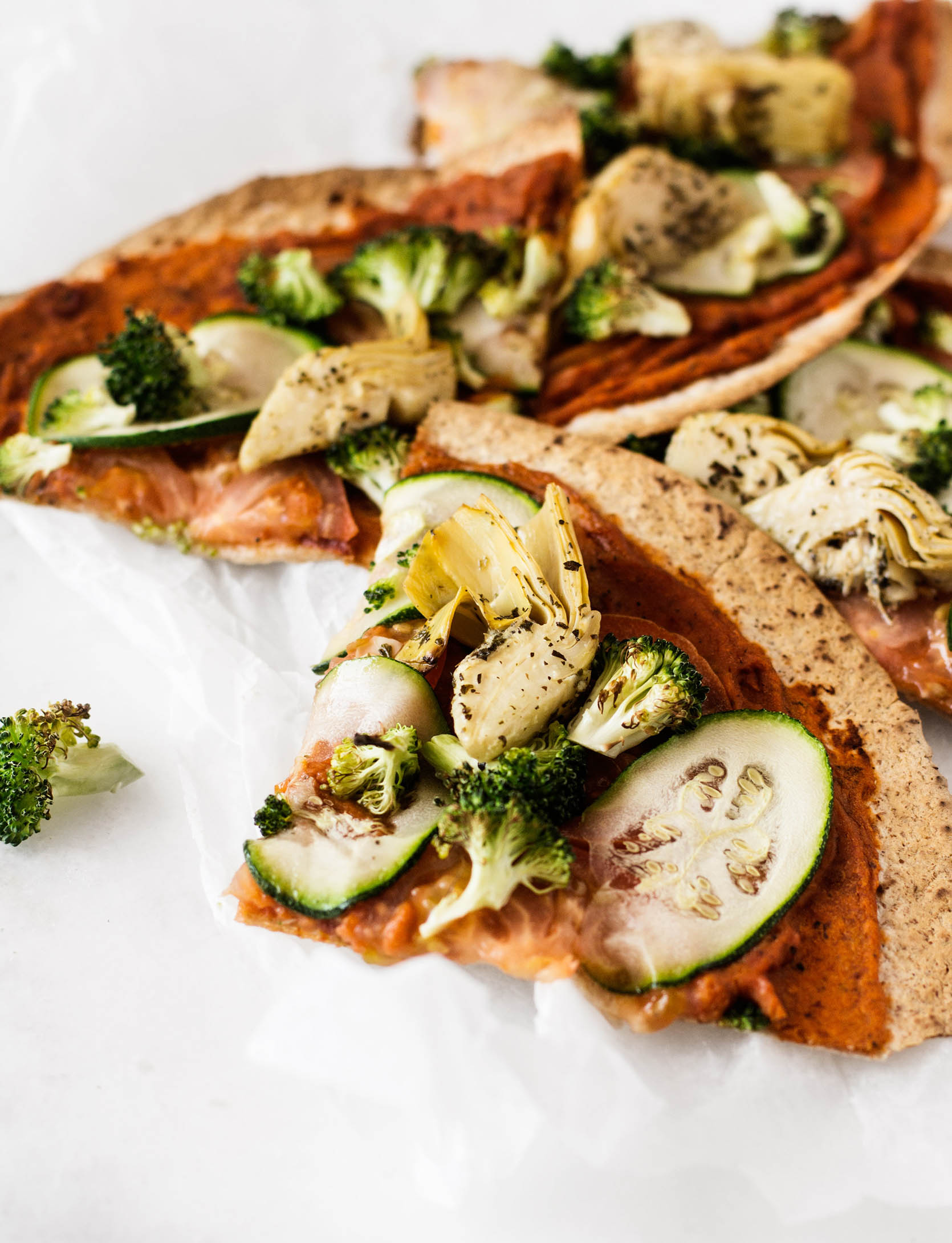 These easy vegan tortilla pizzas are proof of the old maxim that necessity is the mother of invention. I usually shop for groceries over the weekend, which means that by Friday, the fridge tends to be a little bare.
Last Friday, I found myself with the odds and ends of a few bunches of veggies (asparagus and broccolini included), some tortillas, a lunchtime appetite, and only a short window between nutrition clients. These pizzas were born. I whipped up a really tasty tomato base using white beans, sun-dried tomatoes, and tomato paste, and I added artichoke hearts for flavor and a seasonal touch (also to use up the jar I'd had in my pantry for a while). The result was a quick, flavorful homemade tortilla pizza that could be adapted in so many ways, for either a speedy lunch or a speedy dinner.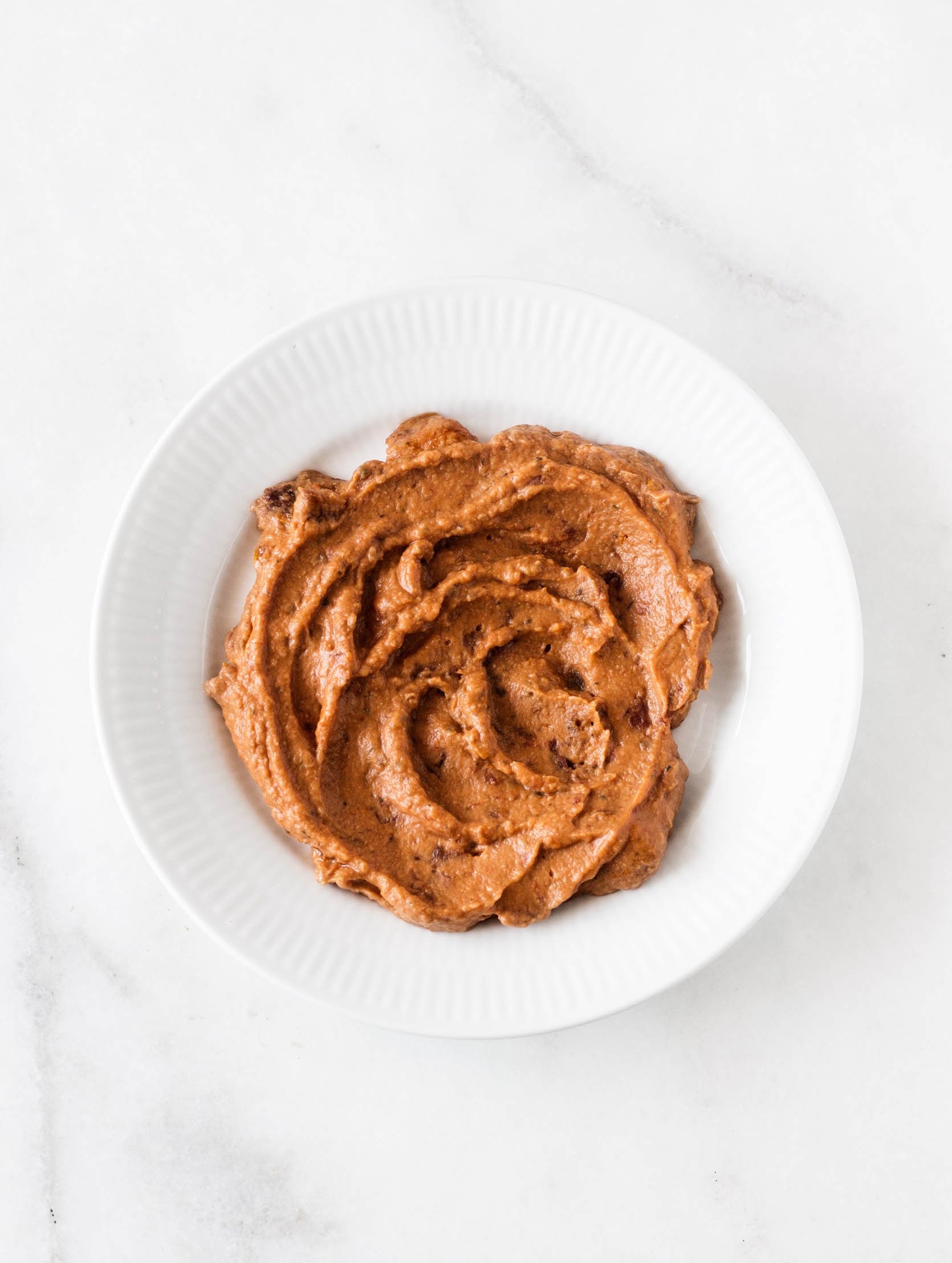 Originally I was just going to slap some tomato paste on the tortilla as a base and call it a day, but when I saw a can of cannellini beans, I thought they presented me with a nice excuse to create a slightly more nutritious base–one with a little plant protein and the umami/saltiness of sun-dried tomatoes. I'm glad I did this. The base is great for these pizzas, but it would also be a tasty dip, spread, or appetizer. You can use either the oil-packed, sun-dried tomatoes, or you can quickly rehydrate some of the dried ones before you make the dip.
Of course, the pizzas can and should be modified to use up whatever vegetable scraps or miscellaneous bunches of produce you have at home. Asparagus tips and pieces work really nicely, but I'd also love to try mushrooms, bell pepper strips or slices, zucchini rounds in the summer, or sliced eggplant. Cauliflower would be a nice addition, too. Here's the super speedy, super simple recipe.
Easy Vegan Tortilla Pizzas
Author -
Pizzas:
4

large 9 or 10 inch whole grain or gluten-free tortilla wraps

3

cups

(heaping) chopped vegetables of choice (1 used: 1 cup asparagus pieces, 1 cup halved artichoke hearts, and 1 cup chopped broccolini pieces)
For the White Bean and Sun-dried Tomato Spread:
8

sun-dried tomato halves (you can dry or oil-packed; if using dry, follow instructions in step 1)

1 1/2

cups

cooked cannellini, navy, or great northern beans (1 can white beans, drained and rinsed)

1/4

cup

tomato paste

1

clove

garlic, crushed

1/4

teaspoon

salt

1/8

teaspoon

freshly ground black pepper

3

tablespoons

water or olive oil

1

teaspoon

fresh rosemary (or 1/2 teaspoon dried rosemary)
If using dry sun-dried tomato halves (the type that come in a bag, rather than the oil-packed ones in a jar), pour a cup of very hot water over the tomatoes. Allow them to soften for at least 30 minutes, drain them, and then chop them roughly. If using oil-packed sun-dried tomatoes, you can skip the soaking and simply chop them up.

Place the beans into a food processor fitted with the S blade. Add the tomato paste, garlic, salt, pepper, water or olive oil, and rosemary. Blend for about 30 seconds, or until mostly smooth. Add the sun-dried tomatoes. Pulse a few times to incorporate, then blend for about a minute, stopping if needed to scrape the bowl of the processor down. The mixture should have a few small tomato pieces in it, but it should be mostly smooth. Add an extra tablespoon of oil or water if desired to thin the spread.

Preheat your oven to 400F.

Spread each of 4 brown rice or whole wheat tortilla wraps with about 1/3 cup of the white bean spread. Top with vegetables of choice (I used broccolini pieces, asparagus pieces, and halved artichoke hearts). Place two tortillas on each of two baking sheets and transfer to the oven (if your oven is small, like mine, you may only be able to do one tortilla per sheet, and simply bake two at a time). Bake for 10-12 minutes, or until each tortilla is crispy. Cut each tortilla into four wedges and serve.
You can make all four pizzas at once and store one or two of them overnight.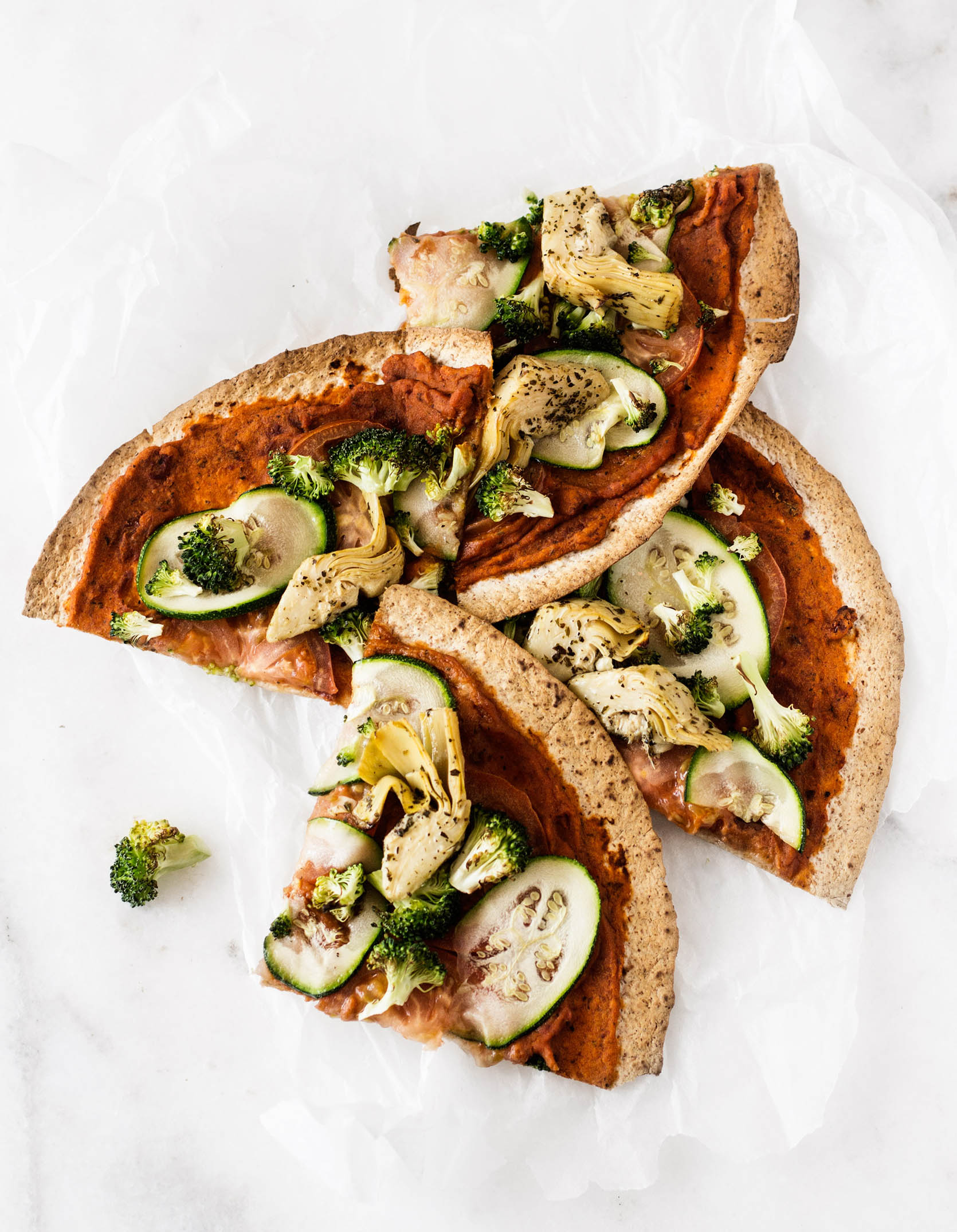 Serve the tortilla pizza wedges with a cup of soup, a green salad, or just pack them up for lunch on the go with some fruit. They're neither the most authentic nor the fanciest homemade pizzas you'll ever eat–simplicity and ease is what they're all about–but they are adaptable, fun to prepare, and, most importantly, quite tasty.
Maybe these will be a lunch or dinnertime hit in your own home soon. If you make them, I'd love to hear about what toppings you try!
It's the start of another busy week, and I'm grateful to have this recipe as a lunchtime option, since I've still got some of the dip and tortillas in my fridge (which reminds me to mention that you can easily prepare the white bean spread for the pizzas and then assemble them individually, day by day, rather than baking them all at once).
I've also got a wonderful, springtime overnight oat recipe planned for Thursday, which I hope you'll all stay tuned for. In the meantime, I'm gearing up for my finals next week, and doing my best to stay on top of easy meals for me and Steven as I go. I'm wishing you all a happy start to a new week. Till soon,
xo