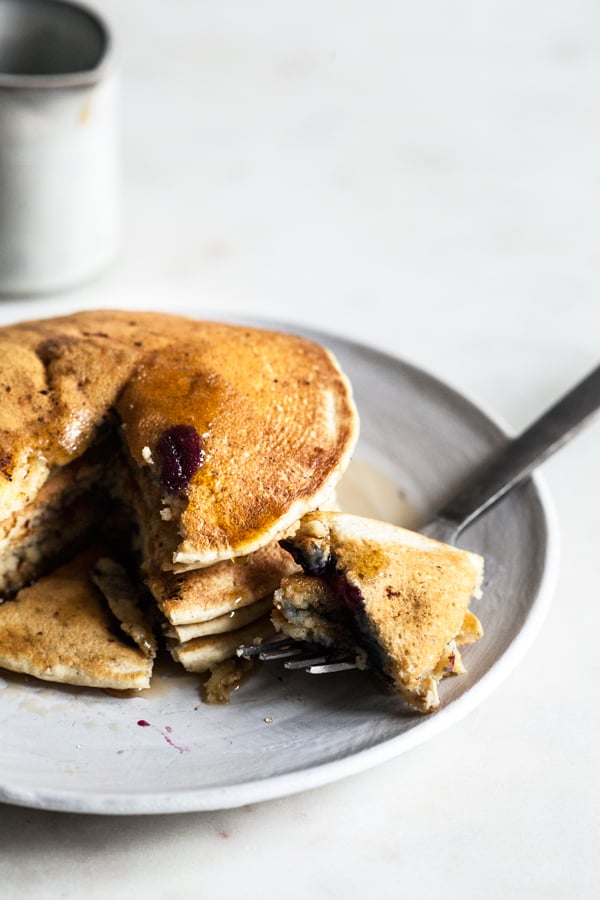 Never invite me over to cook for you. I will take over your kitchen. I will bombard you with grocery bags full of dark, leafy greens and whole grain breads. I will spill nutritional yeast on your countertops and stock the cupboard with vegan dark chocolate. All in a day's work.
This is basically what I've been up to for the last couple days at my mom's apartment. We're enjoying a little staycation together this August, a chance to catch up and be lazy and spend hours sipping coffee and chatting. It's slow and sleepy and sweet. And what makes it all the nicer, at least for me, is an opportunity to share some of my favorite vegan recipes with my mom, including these easy vegan whole wheat blueberry pancakes.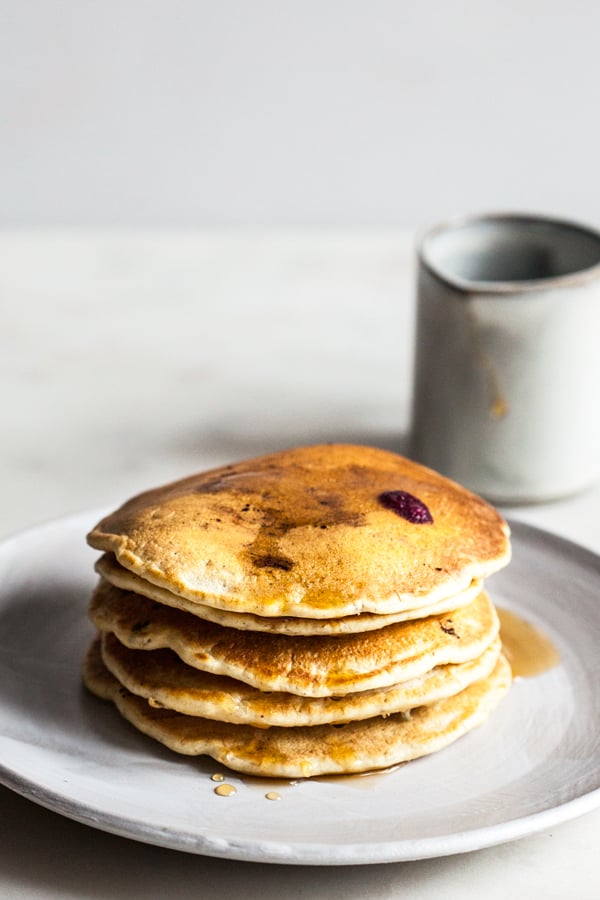 This is my basic vegan pancake recipe. It goes through various kinds of modifications; sometimes I'll use regular, all-purpose flour in place of the whole wheat pastry flour. Sometimes I'll add chocolate chips or chopped banana in place of blueberries. Sometimes I use soy milk, and sometimes I use almond. But the basic proportions and ratios stay the same.
The resulting pancakes are light and fluffy, but they've got enough heft to keep me nicely full as the morning goes on. My mom hadn't tried vegan pancakes before I made her these, and she's a pancake lover, so I was so happy when she dug into a stack and gave me the wide-eyed, head-nodding signal that she liked what she tasted.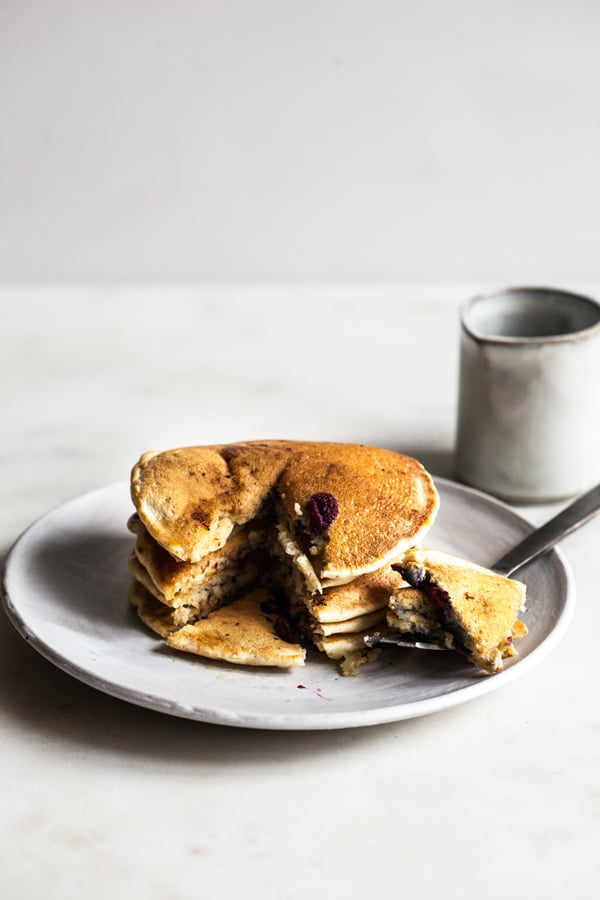 Easy Vegan Whole Wheat Blueberry Pancakes
Recipe Type
:
vegan, gluten free optional, soy free optional, tree nut free
Author:
Prep time:
Cook time:
Total time:
Serves:
12 pancakes (4 servings)
1 tablespoon ground flax meal + 3 tablespoons warm water
1 1/2 cups whole wheat pastry flour*
2 teaspoons baking powder
1/2 teaspoon baking soda
1/4 teaspoon fine salt
1 1/3 cups soy or almond milk
1 teaspoon apple cider or white vinegar
1 tablespoon maple syrup
1 tablespoon vegetable oil
1/2 cup blueberries (substitute chocolate chips, chopped walnuts, or another chopped fruit of choice)
Preheat your oven to 200F (this is for keeping pancakes warm as you cook). Whisk together the flax meal and warm water. Set it aside.
In a large mixing bowl, whisk together the flour, baking powder, baking soda, and salt.
Heat a large nonstick griddle over medium heat (or lightly oil a cast iron skillet). Whisk together the non-dairy milk and the vinegar. Add the maple syrup, oil, and the flax/water mixture. Stir to combine. Make a well in the center of the flour mixture and add the wet ingredients. Mix until the pancakes are just combined (a few small lumps are OK!).
Add the pancake batter in 1/3 cup amounts to your griddle or skillet. Plop about 3-4 berries on top of the pancake. When there are bubbles appearing on the top of each pancake (2-3 minutes), flip them and allow them to cook for another 1-2 minutes, or until firm and fluffy throughout. Repeat the process with all remaining batter. Transfer them to a platter, wrap them in foil or cloth, and keep cooked pancakes warm in the oven as you work.
Serve pancakes with maple syrup and vegan butter, if desired!
*In place of whole wheat pastry flour, you can use regular, all-purpose flour, light spelt flour, all-purpose, gluten free flour, or a combination.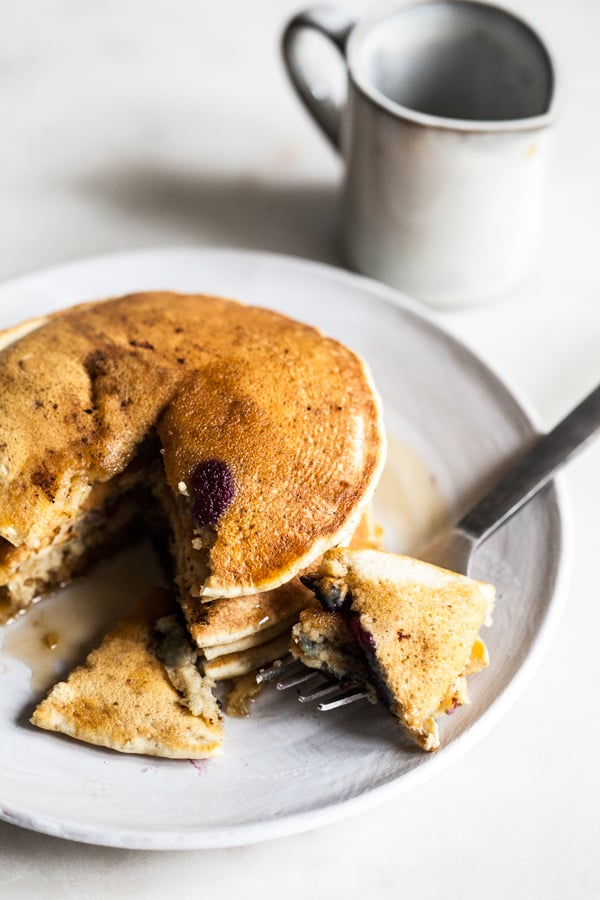 I really like to add my toppings to each pancake once it's on the griddle or in the skillet; this helps to prevent fruit or add-ins from sinking to the bottom of a bowl or batter, and it ensures that I only add as much as is necessary (it's easy to load batter up with too many fillings). If you've got another surefire method that works for you, by all means, go for it!
This is a perfect recipe for enjoying over a casual weekend brunch or for sharing. You can celebrate the fact that it's whole grain and plant-based, but the pancakes still taste traditional, fluffy, and ever so slightly sweet. I'm so glad to have shared this with my little family—perhaps you'll have a chance to share it with yours soon.
xo
Recipe and photos were updated in March of 2017