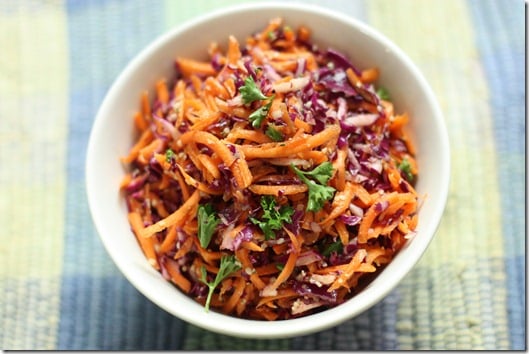 Months ago, my friend Doug McNish, a talented raw foods chef who resides in Toronto, sent me a copy of his new book to review. I'm pitifully behind on book reviews, so I hope you don't mind that it's taken me so long! I've made quite a few recipes now, and believe me, it was worth the wait.
Eat Raw, Eat Well is the title of this book, and I love it. Why? Because it implies both an enthusiasm for raw foods and a gastronome's excitement about great cuisine. I'm a raw foods lover, yes, but I'm also a foodie, and I've never felt that I need to compromise one priority for the other's sake. Raw food is good food, period, and Doug's recipes are proof. Doug himself is classically trained, so he brings a keen palate and sense of sophistication to his food, but never at the expense of health or simplicity.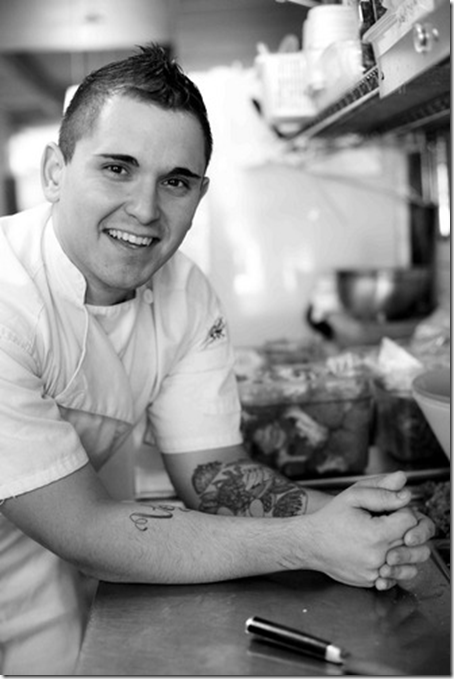 A few things make Doug stand out from some other raw food chefs:
1. He's not zealous about RAW. He's passionate about raw food, yes, but he still makes room for cooked foods (in his book, his language, and his own life), and he doesn't feel the need to put cooked food down in order to praise raw food.
2. He cares about animals as much as he cares about health. When I first started going raw, I noticed—to my dismay—that lots of the people writing about animal rights didn't seem interested in raw food, and weren't particularly interested with healthy eating in general. By contrast, most of the raw foodists I was reading seemed highly concerned with their own health (and sometimes the environment), but they didn't have much to say about animal rights.
Nowadays, the distinctions between these two categories have blurred. Lots of raw foods lovers are also outspoken friends of animals, and lots of vegan activists are talking about health. It's a wonderful development, and Doug embodies both priorities: a serious interest in healthy living, and a serious commitment to helping animals.
3. His recipes are not exclusively nut-based. Doug is also really into legumes and grains (yay! legumes & grains!), which means that his recipes contain sources of protein that are varied and lower in fat than nuts and seeds. Sure, the nuts, seeds, and avocado are in there, but they're not the only source of caloric density. Doug usually calls for sprouted or soaked grains and legumes; I personally find these very hard to digest, so I'd cook mine instead, but either way, it's great to see some variety and inclusiveness in this recipe book.
I wish I'd had time in the recent weeks to make a giant sampling of recipes from the book; instead, I've made only a few, but everything has turned out wonderfully. I made Doug's amazing carrot and parsnip fettuccine with pesto. The publisher's photo is better than mine, so, with credit to Robert Rose publishers and photographer Colin Ericcson, here it is: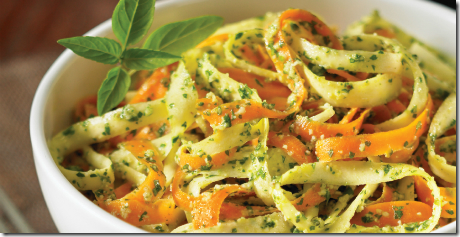 The recipe has been reprinted online, so I will share here for you guys
Pesto-Coated Carrot and Parsnip Fettuccini
This dish is a great way to get as many healthy ingredients into your body as possible without having to sacrifice any of the things you love. The softness of the root vegetables makes it reminiscent of traditional al dente pasta.
Makes: 2 servings

Ingredients
3 large carrots, peeled
3 large parsnips, peeled
1 tbsp cold-pressed (extra virgin) olive oil
1⁄4 cup freshly squeezed lemon juice, divided
11⁄2 tbsp fine sea salt, divided
3⁄4 cup cold-pressed hemp oil
1⁄2 cup raw shelled hemp seeds
3 cloves garlic
3 cups chopped fresh cilantro leaves
Directions
1. Using a vegetable peeler, peel carrots and parsnips into long, thin strips, dropping into a bowl as completed (see Tips, left.) Add olive oil, 1 tsp (5 mL) lemon juice and 1⁄4 tsp (1 mL) salt and toss until vegetables are well coated. Set aside for 10 minutes, until softened.
2. In a food processor fitted with the metal blade, process hemp oil and seeds, garlic and remaining lemon juice and salt, until somewhat smooth but the hemp seeds retain some texture. Add cilantro and process until chopped and blended, stopping the motor once to scrape down the sides of the work bowl. Add pesto to fettuccine, toss well and serve.
Author's Variations
Substitute an equal quantity of parsley leaves for the cilantro.
Tips
Peeling the

vegetables lengthwise produces the long, thin strips required for this recipe. For best results use a Y-shaped (slingshot) vegetable peeler. When using a regular peeler, you can glide down the length of the vegetable to make one long, thin strip.

If you prefer, combine the ingredients for the marinade in a small bowl before tossing with the vegetables, to ensure even integration.
Absolutely delicious! And totally the sort of recipe I'd make for myself. I love Doug's simple, accessible raw foods style.
I'm a giant fan of carrots, so I also made the carrot hemp slaw. Carrots and hemp seeds? These are two of my favorite things.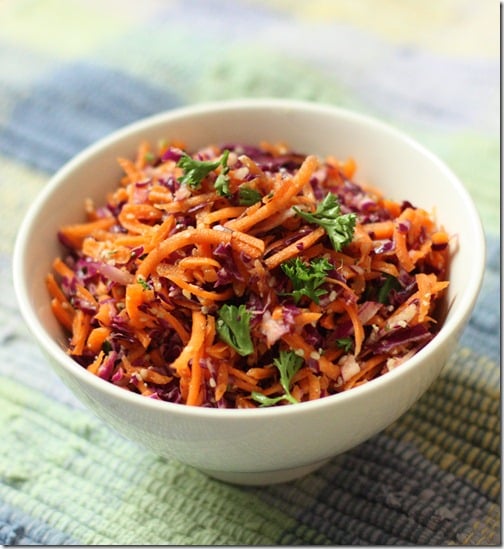 So simple, yet stunningly flavorful. I could eat this kind of food all day long. And I love the idea to add hemp seeds to a slaw.
Doug is full of such ingenious ideas. It was he who gave me the idea to blend banana and kombucha in a smoothie (his "Blue Sunset" smoothie). And he also inspired me to combine two of my favorite ingredients—lemon and banana—in a creamy smoothie. I've made lemon chiffon pudding with avocado, but never thought to blend banana and lemon before. It really works (the "lemon meringue" smoothie), and is a delightful sweet breakfast or anytime dessert!
And last, but not least, I had to give Doug's desserts a try. I went with banana and goji berry cookies. These are great! I love the idea of adding banana and cinnamon to a raw cookie. It's a cashew base, and the cookies are very easy to make. They do call for dehydration, but to be honest, you could cut back on the moisture in the recipe and eat them as "balls." Or just eat the dough with a spoon.
Yummy.
I love Doug's super outspoken and passionate approach to this lifestyle; he always seems to be glimmering with enthusiasm for his work. And I hope you'll all be tempted to invest in this book. The recipes are all relatively simple—not much waiting for stuff to sprout or dehydrate—and there are tons of little sidenotes about recipe swaps, substitutions, and health benefits. Doug has done his homework, and he's a highly informed nutrition guide as well as a great chef. Best of all, the book is a good investment: with 400 recipes, it's downright encyclopedic, and it will give you lots to experiment with.
You can check out Eat Raw, Eat Well on Amazon. And feel free to say hi to Doug on social media: he's always responsive and happy to share more about his work!
Twitter: @dougmcnish
For what it's worth, Doug also has a powerful story of weight loss and improved health, which he details through his recipes and writing. It's all very inspiring stuff. I hope you enjoy!
Before I take off for more studying: tomorrow is Cinco de Mayo. I'll be in the library all day. Ole! But that's no reason you all shouldn't make a vegan recipe or two for me. If you need some inspiration, here's a small gathering of recipes, which I shared a month or two ago. Nothing like vegan and raw fare to spice up the day!
Chili-Rubbed Sweet Potato Rounds with Guacamole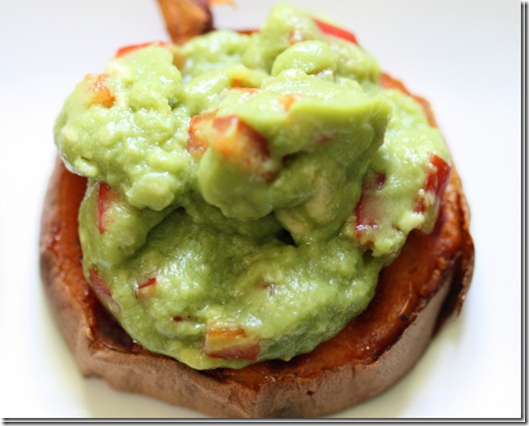 Mexican Rice Pilaf with Spicy "Cheese" Topping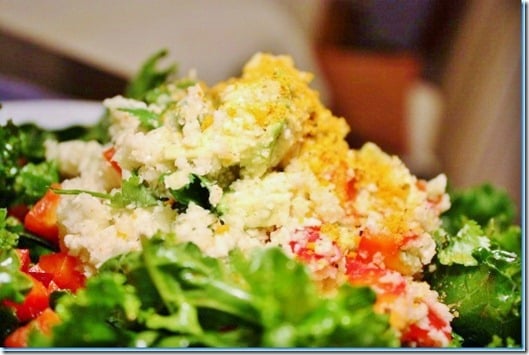 Smoky Avocado and Cumin Dressing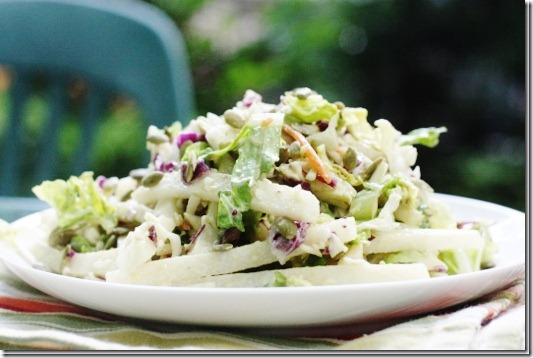 Mexican "Chocomole" (chocolate avocado pudding with cinnamon and spice)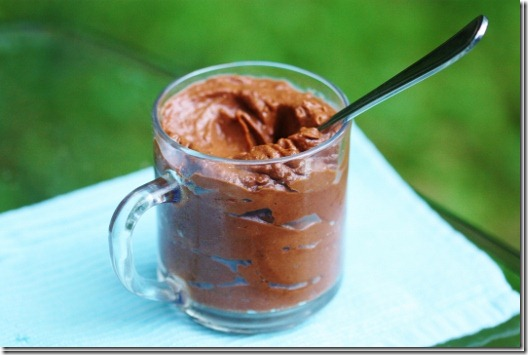 And don't forget to check out my soft, all raw summer corn tortillas at VegNews online!
Happy May 5th. And thanks to Doug McNish for being such an inspiring vegan and raw advocate. Please check the book out, and look for upcoming CR book reviews of work by Mizpah Matus, Amber Shea Ford, Allyson Kramer, Dreena Burton, Sayward Rebhal, and Chloe Coscarelli!
xo
Recipe xcerpted from EAT RAW, EAT WELL by Douglas McNish © 2012 Robert Rose Inc. www.robertrose.ca. All rights reserved.