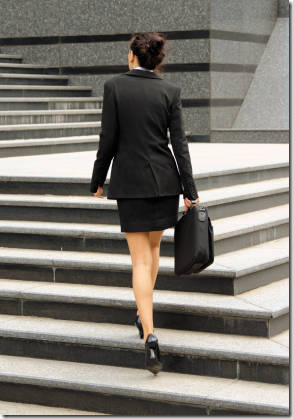 The other day, Valerie sent me a link to this article, entitled "Eating Disorders and the Executive Woman." She sent it to me because we're both fascinated by the fact that so many overachieving and type A women—some of the same women Val went to law school with, and I'm doing my post-bacc with–are also prone to ED behaviors, if not full blown disorders. This particular article details what happens when those high-achieving grad students continue to harbor ED habits well into adulthood and professional life. I found it harrowing to read.
Because eating disorders tend to develop in the pre-teen or teen years, and sometimes the early twenties, we tend to speak of them as if they're teenage illnesses that one inevitably recovers from or grows out of (or both). In fairness, many women (and men) do recover from their EDs by the time they reach their early thirties, which is why we make the assumption. But—as anyone who has ever had a disordered adult coworker, boss, aunt, mother, or friend knows—many disorders remain untreated until adulthood. These disorders may have been mild enough to escape intervention in the past, but that does not mean they won't erupt into clinical and life-threatening conditions later in life.
This article tells the story of two women who nearly died due to the escalation of their disorders. Neither were college students or sweet sixteens; they were grown women with successful and high powered careers, families, and loads of adult responsibility. The disorders that had begun earlier in life were triggered and intensified by career demands and the ups and downs of mature life, and the consequences were devastating.
The lesson here is obvious: eating disorders strike at all ages. And because adults who suffer aren't likely to be confronted by parents, teachers, or guardians as quickly as will a teenager, the disorders can often persist under the radar for far longer. Sooner or later, the behaviors will take a toll.
The other theme here is the ongoing link between "over-achieving" and EDs. I usually put the phrase "over-acheiver" in quotes because I dislike the implication that an appetite for achievement is somehow out of keeping with a set norm, but I know as well as anyone that there is a level of professional zeal that is probably unhealthy. And it seems to occasionally overlap with ED tendencies.
It's funny: people always talk about how thin women in New York are, and that's true, but one of the first things I noticed when I got to DC was how many thin and obviously very muscled women there were here. In truth, many of the women I see around town strike me as hauntingly thin. I don't assume that all thin people have EDs, but I wouldn't be surprised if you told me that there is a link between DC's culture of hyper-achievement and Type A tendencies and the fact that many of its professionals are very slender and very into fitness.
Both women profiled in the article are on their way to recovery, which is heartening. But I think that the take home message for all of us is to be aware of the fact that ED behaviors are not confined to adolescence or young adulthood. If you have an adult friend who seems to be showing signals of disordered behavior—a parent, a colleague, a friend—don't hesitate to express concern. And for those of us who have recovered from adolescent disorders, this a sobering reminder that recovery is a lifelong process, and it demands constant vigilance. Recovery in one's teen years does not mean that the stresses of adult working life, parenthood, and financial independence might not trigger you once again. As a person who has had two relapses since the first onset of her disordered eating, I know all too well how fragile recovery is—even when it has been triumphant.
I'd love to hear everyone's thoughts on the article. Have you known any adults with serious EDs? Do you know anyone whose professional life tends to fuel his or her disorder? Have you yourself suffered from such a pattern?
xo