It's been about half a year now since I left the world of publishing. In the weeks before my official departure, I kept getting asked one question more than any other: will you miss it?
It was hard to say. On the one hand, of course I would. Editing isn't just something I did for a year or two, to bide my time. It was a career I took seriously, and it was only at the very end that I realized my heart was being tugged in another direction. Even then, any friend of mine would have told you that they expected me to be an editor forever: I'd been saying I would be one since college, and I'd gone after every advancement at FSG with tenacity.
By the time left, I was ready to go. In fact, I felt pretty happy about the timing of my decision. I didn't put it off long enough to feel as though I'd wasted time, but I also worked in publishing for enough years to feel that I'd had a rich and fulfilling experience. I knew there would be no "what ifs." My heart had been wrapped up in health care since I started counseling, and I was excited—if daunted—by the choice to pursue a post-bacc.
So in the months after I quit, I actually felt at peace with it all, and didn't find myself missing my old life, or the old work, too badly. Anyway, calculus and editing have things in common: both involve solving puzzles, which is a game I like.
By April, though, I realized that leaving FSG was a little bit like a breakup. It took a few months for me to realize just how much I missed it. Not the work, but the people. I always tell aspiring young editors that publishing offers many gifts—intellectual stimulation, the chance to connect with beloved authors, the chance to live and breathe books—but the best thing it offers are its people. The men and women who work in publishing are, in my experience, some of the smartest and funniest around. The publishing community is a joy to be a part of, and now that I'm resting on its periphery, I miss it very much.
Lucky for me, I got to enjoy a special "au revoir" (French for "don't stay in DC forever, Gena," according to one friend) dinner. And the table was populated by some of my favorite faces from the world of letters, including my friend Jon-Jon, whose new memoir publishes this week (as a sidenote, his book talks quite a bit about men and eating disorders, which is a topic that needs to be written of more).
The setting was Le Cercle Rouge, a French café downtown: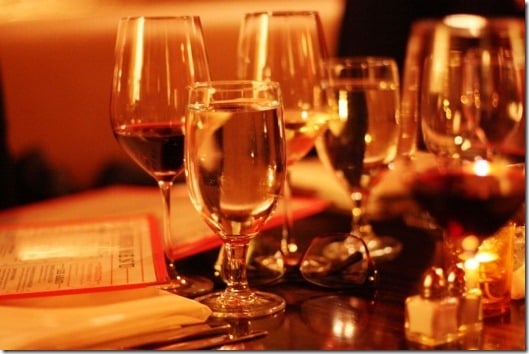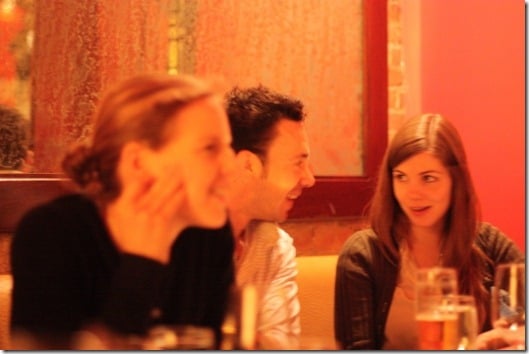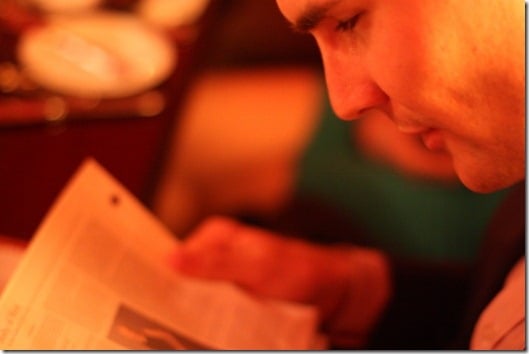 I was pretty thrilled to be surrounded by such great people: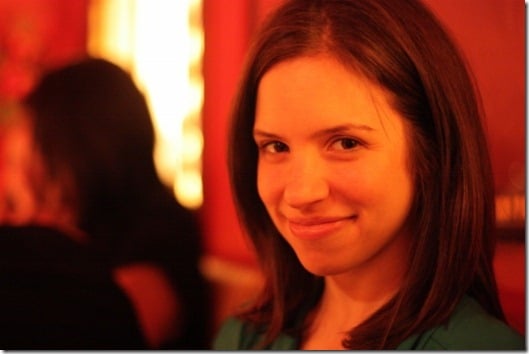 Now, I'll admit it: I thought that, because I was dining at a French spot, this would turn into a nice long post about how sometimes life as a vegan means eating a plate of frisee for dinner, and realizing that life is about more than just food. As my friend Lorin warned me, "It could be like trying to order a martini in a French restaurant. You're always like, 'Thanks for making the effort!' and in your heart you're like: 'You people make the greatest cheeses in the world–what don't you understand about cold gin?'"
But in spite of the fact that I had to call ahead and explain that beurre is not vegan, I actually had a terrific meal. Our waitress was gracious and accommodating, and she brought me a heaping plate (big portions! yes!) of mesclun salad and sautéed haricots verts, mushrooms, broccolini, and carrots. Not too garlicky, not too oily, fresh, crispy, and basically delicious: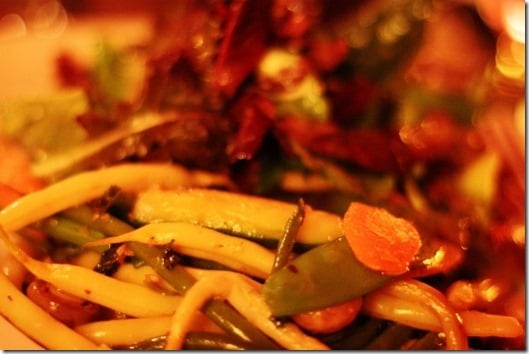 Our waitress apologized for the simplicity, but I quickly told her that, mais non, this is precisely how I love to eat! The whole thing was a reminder that vegan dining at even the most traditional of restaurants is getting easier and easier.
Had my meal been paltry, it still would have been true that nights like this one are about good company, good conversation, and good spirits; if food is stellar, that's great, but if it's not, it doesn't dampen the experience. But fortunately for me, the food was great, and I'm thankful to Cercle Rouge for being so open to a herbivorous diner.
This morning, my friend Jim emailed me and asked, "Was it a nice experience to see some of your
favorite publishing people sitting near you, eating Frenchly?"
It sure was.
xo