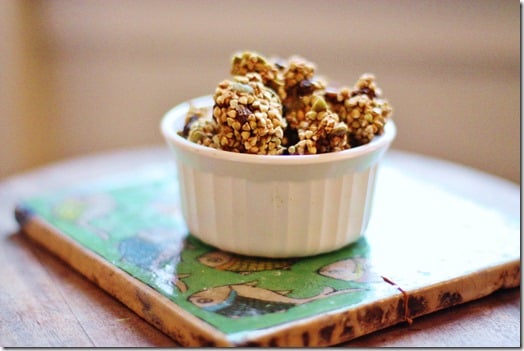 First of all: I am so sorry that you guys have not seen a raw green veggie on the front of this blog in a week. Who AM I? It's just that I'm darn proud of my assembly of edible gifts this holiday season, and I've wanted to share them all with you. So bear with me for a few more days of treats, sweets, and cereals, starting now, with my newest buckwheat granola—buckwheat apple cinnamon raisin granola, that is!
This recipe started with a couple of reader emails. I have two main buckwheat granola recipes: my classic raw granola recipe, my sunflower oat granola (technically a bar recipe, but convertible) and, more recently, my cocoa crunch buckwheat granola. All are fabulous, but the latter two are not low in fat: most of my granola recipes call for a fairly liberal application of nut butter or oil. Personally? I like my granola that way. But I also respect that many of my readers are mindful of fats in their diets, for a variety of reasons. I remain committed to showcasing the value of healthy fats on this blog, but I'm also committed to inclusivity.
So, when I got not one, but four emails to my Choosing Raw address asking if I could come up with a buckwheat granola that would hold together well but also be lower in fat, I was committed to rising to the occasion. I think I did.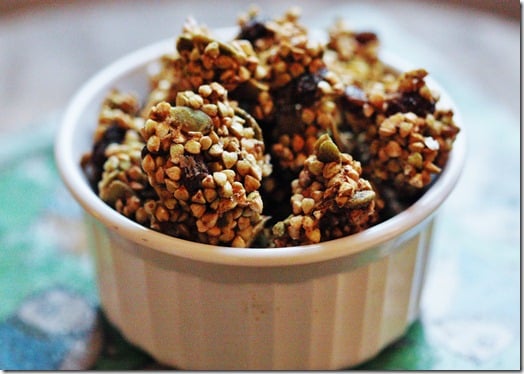 The magic in this recipe is the use of date paste, which helps to bind the granola together without too much fat, and is also a good alternative to agave. For instructions on using date paste, please check out this post! It's an easy, delicious, healthy sweetener, and it tastes like caramel. I also blended fresh apple with the date paste, and I ended up with a pretty ideal level of sweetness (for me, that is: I like my granola sweet, but not sugary).
You have the option of adding 1 tbsp of nut butter to the mix for this recipe, but if you are following a truly lower fat way of eating, you can omit it, and pumpkin seeds will be the only fat source in the recipe.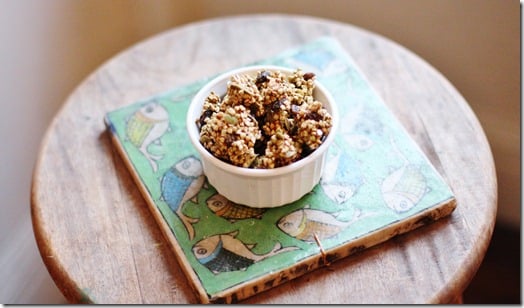 Raw, Vegan Buckwheat Apple Cinnamon Granola or Cereal (raw, vegan, gluten free, soy free)
Makes about 4-5 heaping cups of granola
3 cups dehydrated buckwheat crispies (instructions here)
1 cup raisins
1/2 cup pumpkin seeds
2 tsps cinnamon
1 tsp ginger powder
Dash salt
1 cup date paste (make this batch on the thinner side; alternately, you can also substitute 3/4 cup maple syrup or agave)
1 apple, chopped
1 tbsp cashew or almond butter (optional)
1) Place all the dry ingredients in a large mixing bowl and toss to combine.
2) Blend the date paste, apple, and almond butter (if using) in a blender. Pour wet ingredients over dry, and mix well to combine.
3) Place mixture onto a Teflex-lined dehydrator sheet and dehydrate overnight, or 8-10 hours. Stir once or twice. You may also bake at 250 degrees for about 1 hour.
The nice thing about this granola is that it's so unbelievably crunchy! In fact, it solved one of my food dilemmas, which is that I love dumping granola in a thick smoothie and eating it with a spoon, but I feel bad wasting a very rich or chocolate-y granola by submerging it in smoothie. This granola is nice on its own or with almond milk, but it's also dry and crunchy enough to be a perfect topper.
Most of all, you'll fall in love with the fresh cinnamon taste! So ideal for this time of year.
If you have a healthy eater on your holiday gift list—or simply anyone who's eager for an intro to raw, vegan granola—this is it.
So: I'm back in NYC. Hooray! Thanks for the kind funeral well-wishes: it was a lovely service. And now, I get to actually be on vacation for a little while. I haven't yet had a chance to empty my bank account in NYC restaurants, but I was walking around the Flatiron area today, and stopped into one of my favorite spots, Terri, for some juice.
Terri was founded by my friend Craig, a longtime vegan who has tremendous commitment and passion, not to mention business savvy! He's turned it into NYC's best vegan lunch stop. The juices, sandwiches, and salads at Terri are reasonably priced, freshly prepared, and easy to take to work or on a picnic in Madison Square Park. The food also covers a spectrum of health freak fare to normal vegan dining: you can opt for tempeh bacon OR kale chips. That's my kind of lunch spot.
I opted for a large green lemonade. And kale chips. Which I inhaled before I got to the 1 train.
I look forward to stopping into Terri again over this break to experience the high quality and budget-friendly lunch options! New Yorkers, I give it a thumbs up.
And now, the NYC streets are telling me to get off my computer and get walking. Tomorrow, I'll be posting en route upstate, where I'll be spending a blissful three days with myChloe. Can't. Wait.
Night!
xo