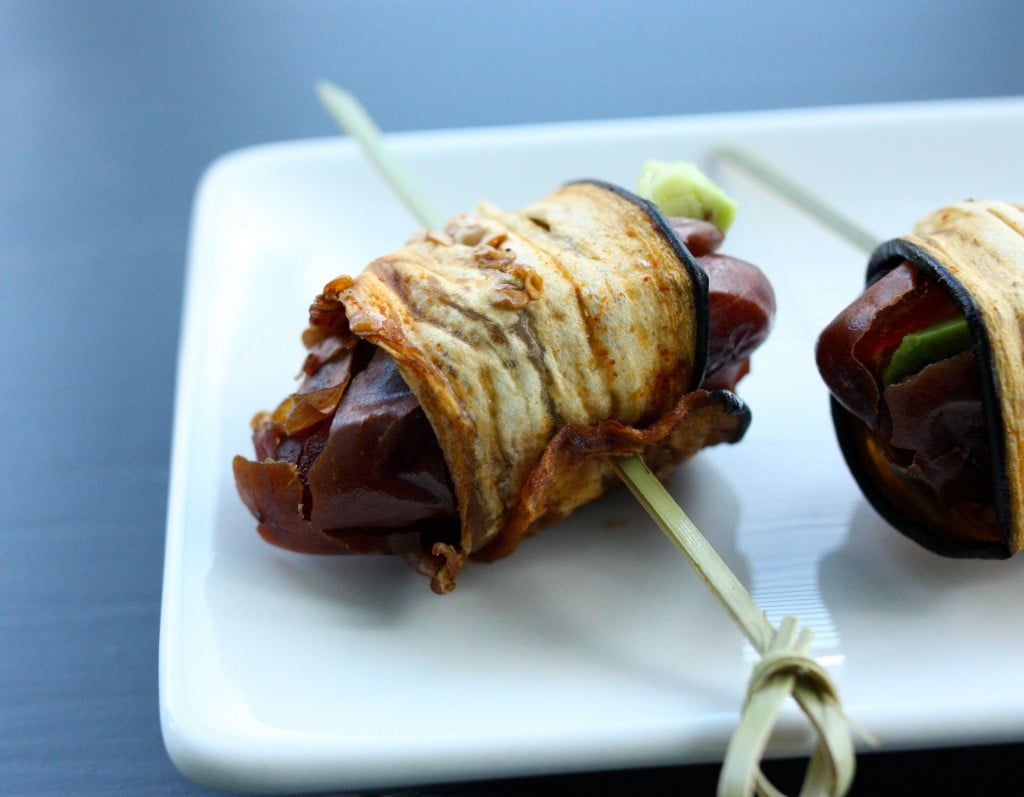 As you may have guessed already, this recipe is a raw, vegan spin on bacon-wrapped, stuffed dates, a popular appetizer/hors d'oeuvre on tapas menus.. We might also call it a creative interpretation of devils on horseback, which is an English pub snack consisting of dates that have been stuffed with chutney or cheese, wrapped in bacon, baked, and sometimes served on toast.
Either way, you get the idea here: eggplant bacon is standing in for the real deal, while creamy avocado takes the place of cheese. Dates are of course the centerpiece of both recipes–the original and this reinvented one–and in both cases, they are predictably divine.
Before I get to the recipe itself, a few short words on how to prepare the dates. First, I recommend using pitted medjool dates; the smaller neglet dates just aren't the same.
Second, to get started, take a small piece of avocado (maybe an inch long and thin), and stuff it into the center of each pitted date.
Next, take a long, thin strip of eggplant bacon and wrap it around the date:
And finally, secure each date with a toothpick:
So easy. Once you have the eggplant bacon prepared, everything else is just assembly. Here's the complete recipe.
Eggplant Bacon Wrapped, Avocado Stuffed Dates
Author -
1

batch eggplant bacon

cut into thin strips (about 1-inch thick)

20

pitted medjool dates

1

Haas avocado

pitted and cut into about 20 small pieces
1. Prepare the eggplant bacon according to original instructions (

here

). If you don't have a dehydrator, there's a baking option for the eggplant in the original recipe. Watch it closely; it'll burn quickly!

2. Place a small piece of avocado in the center of each pitted date.

3. Wrap a strip of eggplant bacon around each date, and roll it up. Secure ends with a toothpick, and serve.
Aside from being cute, these appetizers have saltiness, sweetness, and a little bit of fat. All of the essentials. And they're awfully cute.
While I can't claim that this dish can really approximate the original–bacon, after all, is just one of those foods it's hard to replicate–I can promise you a lot of flavor. Enjoy the recipe, and sleep tight.
xo