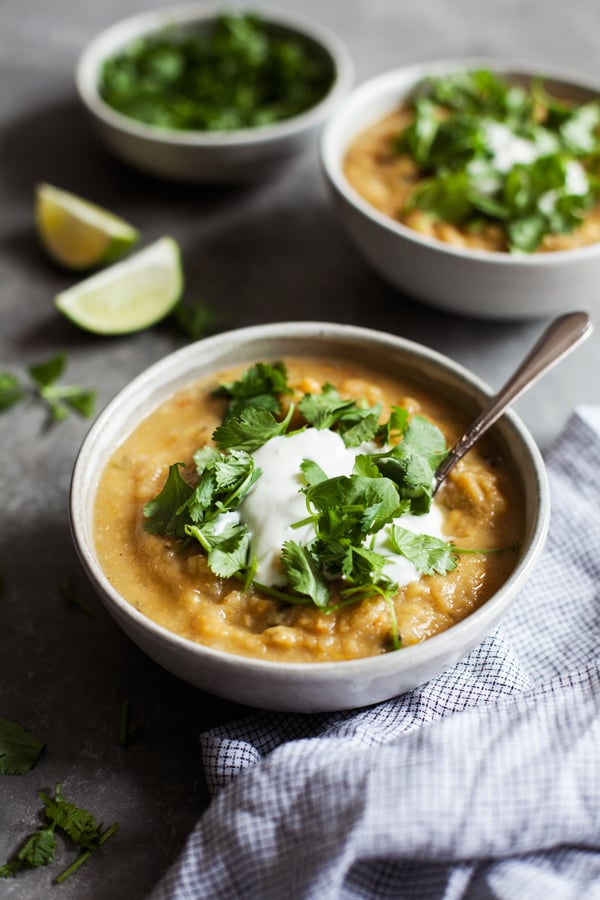 It's not exactly soup season in the food world, but I hope you won't mind my sharing this richly spiced Egyptian red lentil soup today, anyway. In spite of the fact that NYC hit temperatures in the 80s (!) this week, I've started my summer class (Medical Nutrition Therapy), and our classroom is freezing cold. It's a long class, so in addition to needing a lunch that's easy to transport, I also need something that can warm me up.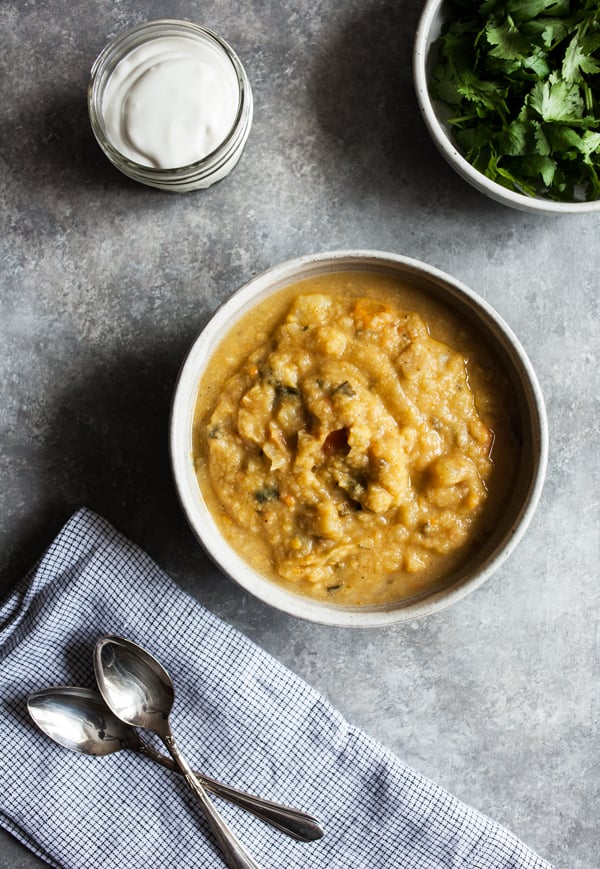 This hearty and nutritious soup fits the bill. I've been packing it up in my handy soup canister all week (I use this one, which is the most leak-resistant I've found, plus it keeps food nice and hot), along with some toast and snacks. It has been excellent company throughout my MNT lecture: warming, flavorful, and filling.
The soup is flavored by three spices that are commonplace in Egyptian cooking: cumin, coriander, and cinnamon. Together, they make the soup incredibly fragrant as it cooks, and the flavors deepen as the leftovers sit in the fridge. Plenty of garlic and a finishing touch of fresh cilantro complete the dish.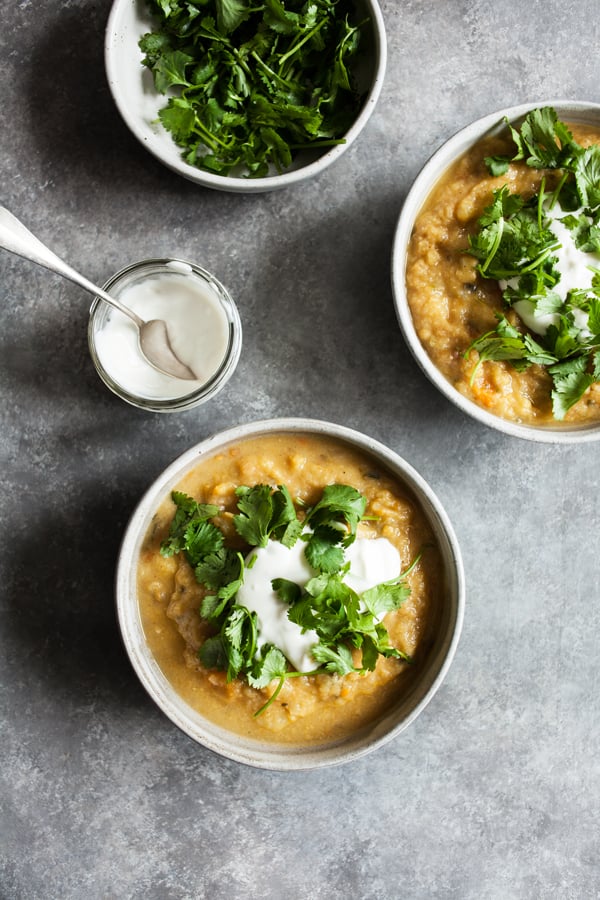 The soup is really just a variation on the red lentil stew I make at home all the time: a base of onion and carrot, mixed with lentils, broth, and whatever spices I'm in the mood for. I've used smoked paprika, rosemary, thyme, and even za'atar spice. The soup is an easy "base" to work with, and it has become a go-to because of the quick cooking time (red lentils take only about 15 minutes of simmering, which makes them a no-brainer for busy weeks).
This flavor combination (which was inspired by an old Moosewood recipe) may be my favorite yet. If you try it, I'd love to know what you think! I typically stir in some greens at the end of cooking, just to pack a little extra calcium, phytonutrients, and fiber into the meal (I find that they make the soup more satiating, too). The greens are totally optional, but they're a nice touch. In this batch, I used a mixture finely chopped kale and mustard greens.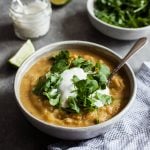 Egyptian Spiced Red Lentil Soup
Author -
1

tablespoon

olive oil

1 1/2

cups

chopped white or yellow onion

about 1 large onion

2

carrots

peeled and chopped

4

cloves

garlic

minced

1

cup

peeled and cubed russet or yukon gold potato

about 1 medium sized potato; you can also use sweet potato if you prefer

1

teaspoon

ground cumin

1

teaspoon

ground coriander

1/2

teaspoon

cinnamon

3/4

teaspoon

salt

1/4

teaspoon

freshly ground black pepper

1 1/2

cups

dry red lentils

4

cups

vegetable broth

2

cups

water

1

tablespoon

freshly squeezed lemon juice

Optional: 4 cups washed and chopped greens of choice

kale, mustard greens, chard, spinach, etc.

Optional: Chopped cilantro or parsley leaves and cashew cream or vegan yogurt

for serving
Heat the olive oil in a large soup pot or Dutch oven over medium heat. Add the onion and carrot. Cook for 5-7 minutes, or until the onion is soft and clear. Add the garlic and cook for another 1-2 minutes, or until the garlic is fragrant, adding a splash of water if needed to prevent sticking.

Add the potato, cumin, coriander, cinnamon, salt, pepper, red lentils, broth, and water to the pot. Bring the mixture to a boil and reduce to a simmer. Simmer, covered, for 15 minutes.

Taste the soup and adjust spices/seasonings as needed. Stir in the lemon juice and the greens, if you're adding them. Continue simmering the soup for another 3-5 minutes, or until the greens have wilted down. Serve, topped with cilantro and

cashew cream

or vegan yogurt, if desired.
Leftover soup will keep for up to 6 days in an airtight container in the fridge and can be frozen for up to 1 month.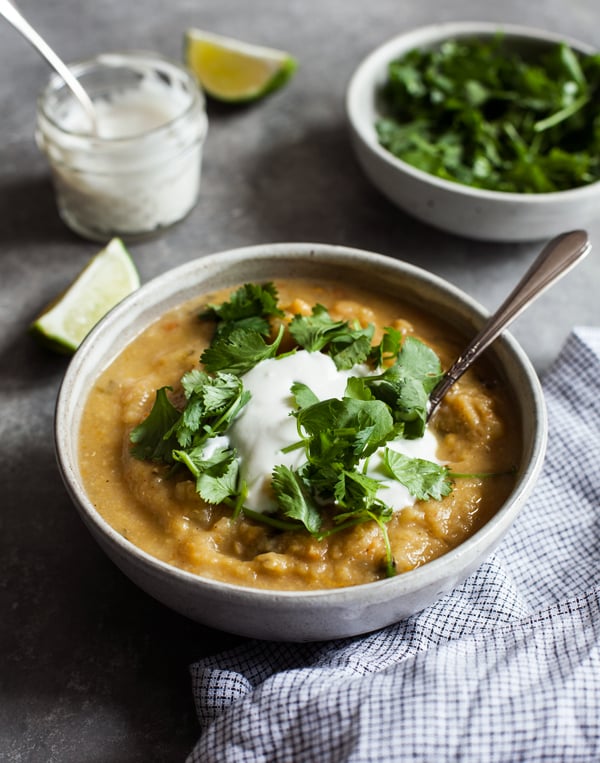 And there it is. Simple comfort food—and perfect for air conditioned summer offices and classrooms! (I often find that my summertime packed lunches have to be more warming than my winter ones, thanks to AC on campus.) As you can see, I offer my handy, all purpose cashew cream as a topping suggestion. Non-dairy yogurt is also a nice (and tangy) addition.
I'm about to head out of town for a wedding this coming weekend, but I'll be checking in, as usual, with a weekend reading post on Sunday. In the meantime, I wish you all a fabulous long weekend, and I hope you love the soup.
xo