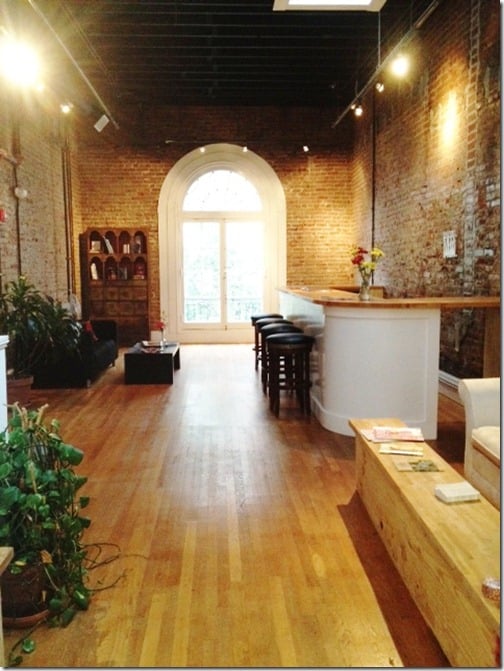 Earlier this summer, a post-bacc friend and I got to talking about yoga (hot yoga in particular), and she mentioned that she'd found a new studio here in D.C.. It's called Epic Yoga, and it is conveniently located right off of Dupont Circle. The studio boasts a wide variety of classes, from beginner to traditional hot yoga (power vinyasa flow style) to barre classes. I was definitely intrigued; I love Down Dog (as we all know), but there's been a lot of teacher turnaround at the studio lately, and on top of that, I'm always looking for new styles and studios to experience.
A few weeks ago, I finally had a chance to do an intro week ($20 for unlimited classes) at Epic, and I'm so very glad I did. I've gotten to know a group of outstanding teachers and enjoyed the variety and range of Epic's offerings. As I've mentioned before, there's a downside to letting one's yoga practice become overly repetitive. I love my steady practice of Baptiste power yoga in a heated room, and in some ways, it's my idea of yoga "home." But I have found that a year of practicing in only this fashion has made me a little sloppy with form, a little weak when it comes to long holds, and a little out-of-practice with some of the poses (like arm balances and inversions) that aren't a regular part of my power yoga practice. One of the things I love most about yoga is that it gives me the capacity to cope with change, and so I think it's important for my practice to have some range.
As it turns out, range is what Epic is all about. In my week of class at Epic, I experienced a standard heated power yoga hour; a more classic vinyasa flow class with emphasis on transitions and inversions; a Buddakan inspired yoga fusion class; a "detox" class that can best be described as a "slow flow," and a hot class that was non-stop, but heavily focused on alignment and form. The only class I have yet to try (and really want to try) is the studio's signature yoga barre class. I really enjoyed my first experience with a barre workout, but as a yoga fanatic, I spent the whole time thinking "I wish I could just get into down dog once or twice." I can't wait to see like a yoga/barre hybrid class is like.
A few pieces of basic info: Epic is located on the second floor of historic building on Connecticut Ave. It features hard wood floors, exposed brick, skylights, a lounge/boutique with wi-fi, beverages, and snacks. There are three yoga studios: one hot, one regular, and one a barre studio. There is also a women's locker room with showers and fresh towels, a bathroom with enough stalls not to be crowded all the time. The facilities are gorgeous; seriously. It's worth checking out the Epic website to see what I'm talking about, because my pictures really don't do it all justice! The first time I entered the studio, I was so grateful to have space, pristine facilities, a friendly staff, and a lot of seating reserved for quiet contemplation and/or rest before/after class.
As I mentioned above, I took a week of class at Epic, and no two classes were the same. My personal highlights were the Red Sun Yoga class, Rob Hess's Saturday power hour, and Abby Dobb's hot class. I'll offer a short description of each; scroll through if you're bored! If you're like me, you can geek out over yoga details forever, and like a thorough description before you take a class.
Red Sun Yoga: Of all the classes I've taken at Epic, this one put me most out of my element. Yoga is the only sort of group fitness I have ever really enjoyed, and because this isn't "traditional" yoga, I initially found it hard to adjust to the strength-oriented movements. Once I did, I got so much out of it. It was incredibly challenging for me, but deceptively so, forcing me into positions that felt doable at first, and then grew in intensity. It's a Buddakan inspired class, so it involves some blocking positions and martial arts moves. I was good and sore the next day, not to mention astounded by the energy, strength, and flexibility of Epic's director (and the class's teacher), Emma Saal. She obviously loves teaching the class, and it shines through.
Power Yoga with Rob Hess: Be still my beating heart!! I'd never taken one of Rob's classes, but he comes highly recommended, and I'm now a little bit obsessed with him (Rob, if you ever read this, I mean "obsessed" in a good way). He's hilarious, lyrical, compassionate, and sweet. He leads a brisk, heart-pumping class, but never pushes you into poses you don't want to do (ahem, inversions), and he also adjusts without forcing students to spend too much time on alignment. I love being pushed to correct my form, but I really don't like being forced to break out blocks, hit the wall, or otherwise spend 20 minutes working on one pose. This class feels like dance—it's flow in the truest sense of the word—and of all the classes I took, it reminded me most of yoga at Laughing Lotus.
Hot Yoga with Abby Dobbs: Speaking of alignment, this class does encourage proper form, but not at the expense of a really intense flow. Abby is cool yet compassionate, and though she did offer up a lot of challenge poses (especially arm balances), she also offered "levels" (I love levels) and encouraged us to work at our own pace. It's a really hard, but really approachable, class.
Special mention should also go to Arielle's detox class, which is gentle, yet deep, and Joan Wadopian's yoga class, which was very graceful, and in which I was actually persuaded to do some handstand prep (and believe me, I take persuading on that one).
In all, I experienced a huge variety of movement in the week, and felt stronger afterward. I'll certainly be taking classes at Epic regularly, enjoying the studio's variety and quality of instructions. And I really encourage you to check Epic out! There are many great deals right now, including an unlimited month for $50, the $20 intro week (you can do both), and a deeply discounted unlimited year special. You can call the studio and ask for details, or simply stop by. If you do, have a chat with Epic's lovely and passionate director, Emma Saal, who has been so generous to me since I started going. Note, too, that Epic has both a student discount and community classes.
For more info on Epic Yoga, visit IRL or online:
EPIC YOGA
1323 Connecticut Ave. Washington D.C. 20036
202.833.5914
http://www.epicyogadc.com
[email protected]
Hope the review is helpful. I'm tempted to start a new tab entitled "yoga". Hmmm…
Before I go, I'm really honored to report that I'm nominated for a 2012 Vegnews Magazine Veggie Award! Not only for my blog, but for my column in the magazine ("Raw Done Right"). As usual, CR readers, I would never ask you to place a vote that's not sincere, but if you do think I deserve either the "favorite blog" or "favorite column," I'd love it if you placed a vote here. You can scroll through categories you aren't interested in voting for to get to those you are. And it's worth doing the whole survey, anyway, to learn all about the wonderful stars of the vegan community!
Till tmw,
xo