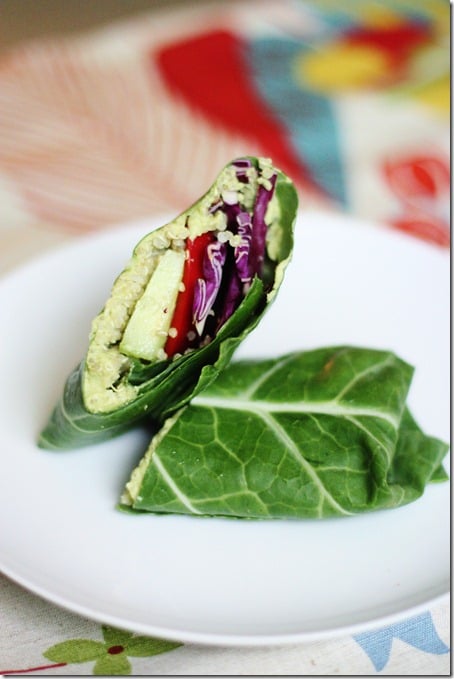 As you know, it's exam time for me (an Orgo exam tomorrow, and all of my finals finals about a week and a half later). This means speedy eats for me, and therefore speedy eats for all of you. In fact, "hurry up vegan" meals and snacks have been our theme as of late, and it seems to be working out nicely; rather than disappointing you guys with a lack of artistry, I seem to be pleasing you with the accessibility and speed of these meals. Win!
Last week, I showed you all a recipe for a spring tartine with sweet pea hummus. It went over well; in fact, a reader commented last night with the following:
These were amazing! I brought them to a family party and they were the only thing that there were no leftovers for. It was requested that I bring them to the next party too. Excellent recipe and I especially love that I have some leftover hummus to eat tomorrow! As always, thanks for another delicious recipe!
Hooray! I love when meals turn out like this. I like the hummus, too: so much that I ate up my leftovers quickly and am now on another batch. Yesterday, I also had some quinoa left over from my grape and avocado salad with baby kale and quinoa, so I decided to throw everything together in a collard wrap.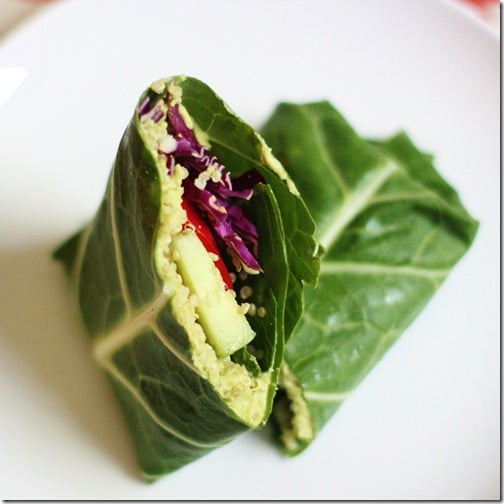 Quick, easy, and very delicious. One rarely thinks to put whole grains in a raw wrap—usually we put raw veggies in a grain wrap—but you know me. I like to keep things interesting.
So how do you do it? Easy!
1 large collard leave, stem carefully sliced down (follow tutorial here)
3 tbsp of my sweet pea hummus
1/4 cup cooked quinoa
scant 1/2 cup raw vegetables of choice: I used cucumber, red pepper, and some arugula
Follow my collard leaf wrapping tutorial to put the wrap together.
Delicious!
I'd serve 2 wraps with a nutrient dense salad: maybe one with 1/2 cup lentils or beans, assorted veggies, and a protein rich dressing if you're seeking extra nutrient density (like my red pepper and hemp sauce). You could also serve the wraps with a small baked sweet potato, roasted vegetables of choice, or raw crackers. On its own, one of these wraps makes a great snack, and indeed I have taken a few to the library in the last few days for that very purpose!
Enjoy these; I certainly have.
Before I go, I wanted to mention a topic that Heather brought up in a recent blog post: the expression "strong is the new skinny."
I asked you guys what you thought on my facebook page yesterday, and got a mixed response. I'm mixed, too. On first inspection, I love that the message presents strength as a goal to strive for, rather than weight loss or thinness. Hooray!
But in the context of the healthy living blog world, I wonder if sometimes rock hard abs and flexed biceps aren't becoming yet another another unattainable ideal that is presented to us for consumption. I love exercise, of course, but I find the presentation of any one body type as a categorical ideal/goal—whether it is a thin body, or a body that is "fit" without explicit emphasis on thinness—to be troubling, especially since exercise itself can become compulsive, just the way dieting can.
Anyway, I don't want to over-analyze the meme, which is likely just intended to excite people about exercise in a positive way. Exercise is healthful and important. But in the context of the blog community, and the many vulnerable readers who visit it, I do think it's worth remembering that one can be toned without being healthy, and vice versa, and that no particular "trend" should drive the way we feel about our shape. Finally, I'd say that there is no single body shape that we should embrace as an ideal, except that of a healthy body that is treated with respect by its owner.
Happy Sunday,
xo