Hi all! I hope you enjoyed lovely weekends. On Friday, I ventured to Baltimore for the day for Natural Product Expo East. Natural Product Expo is a twice yearly event showcasing natural, organic, and healthy products. While the west coast event is bigger, Expo East features more than 1,600 exhibits and–at least from my point of view–it's totally overwhelming! The last time I attended expo was two years ago, and I barely knew which booth to visit first.
This year, I got an early start and fueled myself for the fun with a brazil nut, banana, and berry smoothie topped with my kale-nola:
And some java to go, of course!
As soon as I arrived, I visited the 22 Days Nutrition booth. You guys probably remember my review of the 22 Days bars and protein powder. I'm a big, big fan of this brand: the pineapple chocolate chip is delicious, and the PB + chocolate chip nirvana bar is definitely my favorite vegan protein bar on the market. It packs 20 grams of protein without any chalky or artificial taste, and the ingredient panel is full of good stuff, including rice protein, sesame seeds, sprouted flax, and dates.
Marco Borges is the founder of 22 Days. He's also an exercise physiologist and personal trainer. I've had a chance to get to know Marco through writing about his brand, and I've been so impressed with his integrity, as well as the depth and sincerity of his interest in health.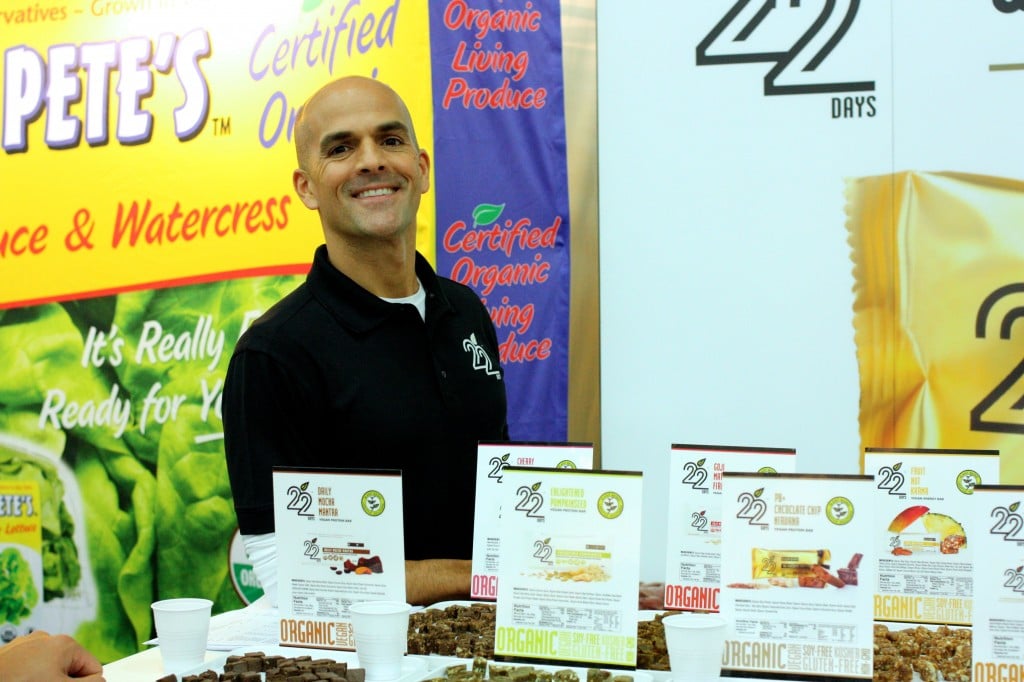 As I caught up with Marco, I also got to chat with the energetic 22 Days team. It was fun to join them as an ambassador for the morning!
Some snack bar goodness:
After the 22 Days sojourn, I began wandering the room. It's really, really hard to sum up Expo in a single pose, so I'm going to share my personal highlights, in clusters of five.

1. Coconut in anything and everything. Coconut oil, coconut flavored foods, coconut milk and ice cream…coconut was all over the place at Expo this year.
2. Gluten free. Gluten free products aren't really a new market trend, but this year I saw not only a lot of gluten free baking mixes, snacks, and meals, but also a lot of gluten free makeup and skincare.
3. Whole foods, shorter ingredient lists. Many of the products I've seen at Expo in the past have emphasized the use of whole ingredients in their marketing, but this year I seemed to see even more of the whole foods ethos on display. I was excited to find Neat, a meat replacement that uses pecans, beans, and gluten free cornmeal. It comes as a mix, and can be shaped into taco meat, hamburgers, and meatballs. I tried the Mexican flavor, which was bold, spicy, and really good.
4. Tea. Not only were there a lot of loose teas and tea by the bag, but there were also a lot of unusual tea drinks and ready made iced teas. I even saw one tea infusion intended for cocktails!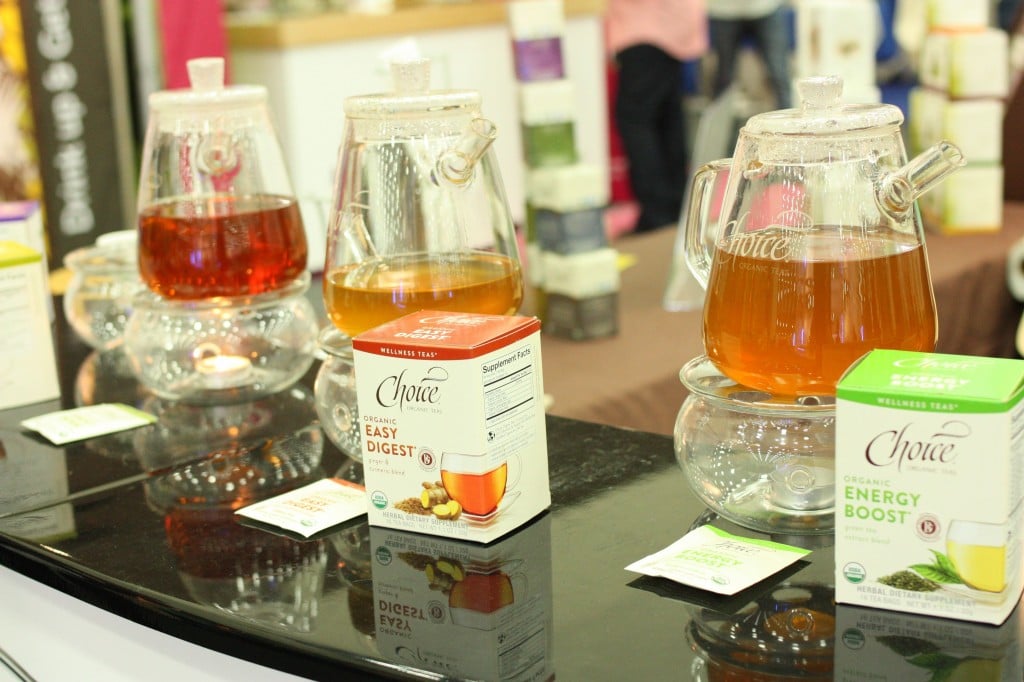 5. More raw foods. There are always a lot of raw bars and kale chips and the like at expo, but I seemed to see even more brands this year. I also saw a wider array of raw snacks–for example, parsnip and brussels sprout chips, as well as kale chips.

1. Hilary's Eat Well. I was really excited about the super healthy veggie burgers from this company. I tried the hemp and greens burger and the adzuki bean burger, and they were both delicious (the adzuki bean was my personal favorite).
2. Neat. A healthy, versatile meat replacement. Bold flavors and great use of spices.
3. Scotch. Nail polishes that are vegan, cruelty-free, gluten-free, fragrance free, toxin free, paraben free, hypoallergenic, and biodegradable. The fall colors are incredible.
4. One Degree Organic. This company makes incredible cereals and breads that are not only organic, sustainable, but also "veganic"–grown without the use of manure, blood, or bone. The farmers who produce grains for One Degree are featured prominently on the website, and each ingredient is presented with a link containing more information. I was totally blown away by the sprouted brown rice cacao crisps. They're delicious, sweet, and have hints of both cacao and caramel (thanks to the use of palm sugar). I asked for, and was very kindly given a box of the cereal to take home with me, along with a loaf of sprouted sunflower and sunflower bread.
One Degree sprouted breads, for the record, have five our six grams of protein per slice. Not bad.
5. Live Soda Kombucha. Kombucha that tastes exactly like soda flavors, including Coke, root beer, and Dr. Pepper. 99% raw, all organic, all non-GMO. Yum.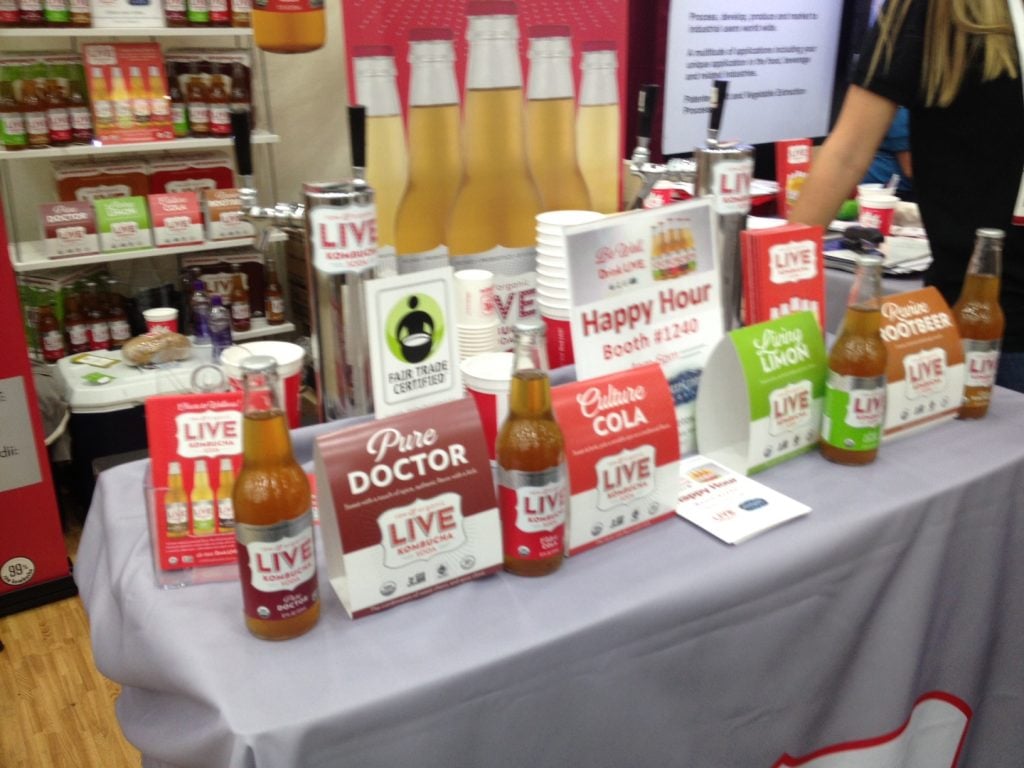 1. Gnosis. I've been a Gnosis fan for ages now, but it was wonderful to reconnect with Vanessa Barg and her line of fabulous raw chocolate at Expo. They were showcasing a bunch of flavors that are new to me, including coco almond and fleur de sel.
2. Go Hunza. A maker of raw snacks, nuts, seeds, trail mix, bars and chocolates for years now, Go Hunza is a fixture on the raw food scene. I've always enjoyed their mulberries, coconut, and "go take a hike" mix. This year, I tasted their (brand new) cheesy almonds and chocolate covered coconut. I was a big fan of both…and I think that raw, cheesy almonds will soon grace the shelves of my dehydrator!
3. Good Groceries. This company makes Suzie's rice, spelt, and kamut cakes (which I've been buying for years), among many other products. This year, I got to taste their new quinoa milk, which was one of the highlights of my expo experience.
4. Food For Life. Ezekiel sprouted grain bread has been my go-to since I first got into vegan and raw food. I love the stuff, and each year I love to check out the Food For Life company's new products.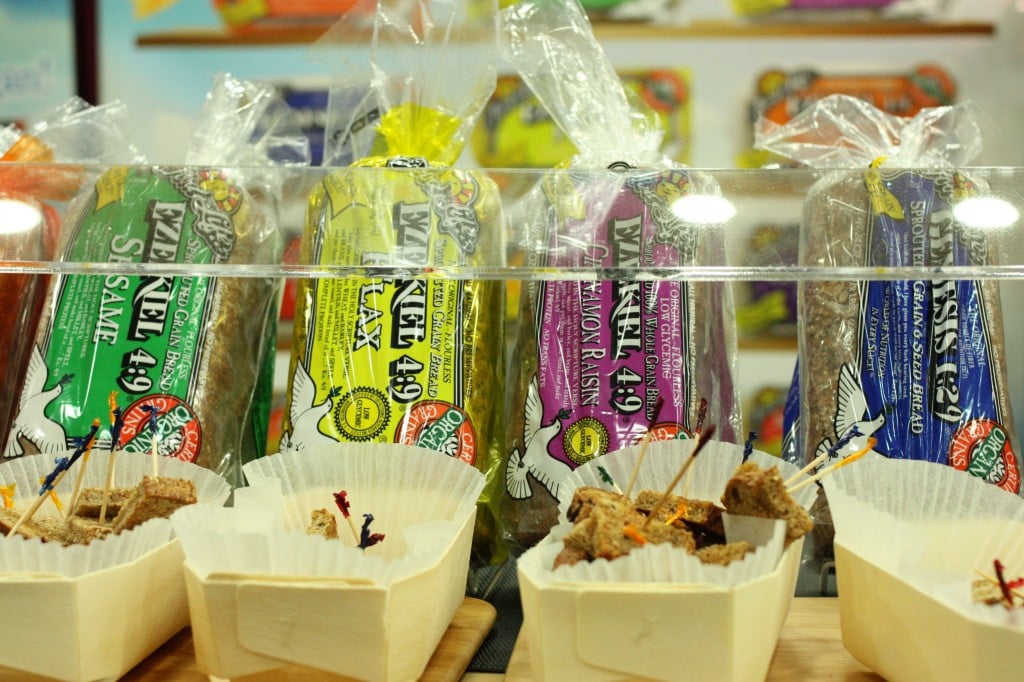 I've never been a big fan of the company's gluten free products (the brown rice tortillas are too crumbly for me, and the millet bread is a little too pasty), but I really, really liked the black rice bread, which I tried for the first time. It's soft, yet dense, and quite flavorful.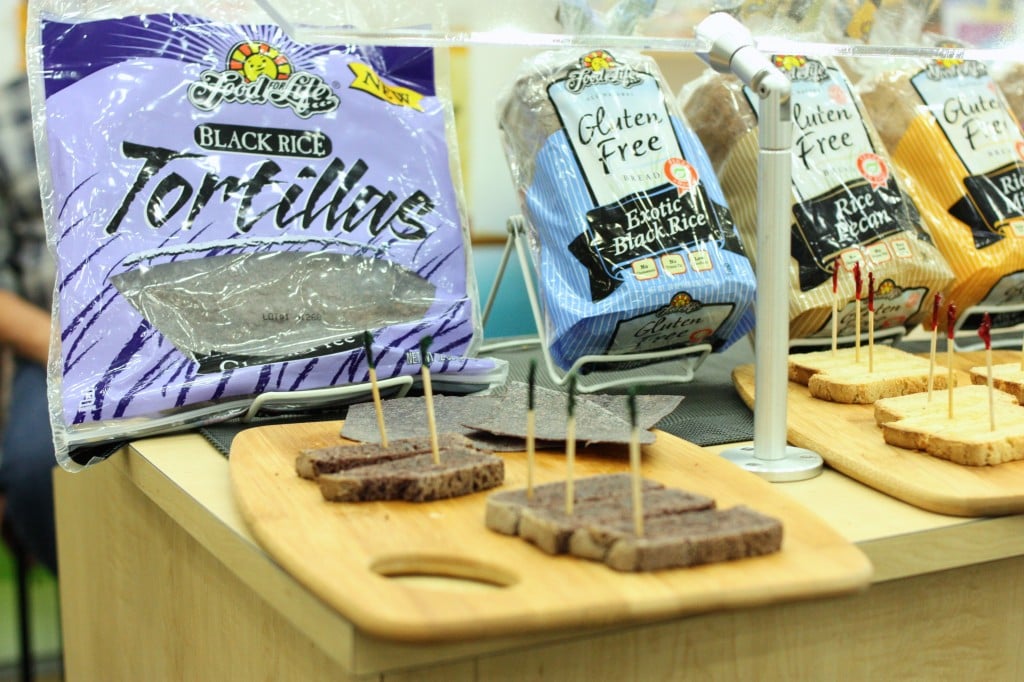 5. Luna and Larry's. Because the world's most incredible commercial vegan ice cream just keeps getting better. New (to me) flavors included salted caramel & chocolate, and ginger cookie caramel. Mind blowing.

1. Madecasse chocolate. Madecasse chocolate is both grown and made in Madagascar, Africa without herbicides or pesticides. With the exception of one flavor, it's all vegan. I tasted the sea salt & nibs flavor for the first time, and it was fantastic.
2. Snips chips from Wonderfully Raw. The Wonderfully Raw company is best known for making coco-roons–a raw treat that you may have seen in health food stores. I love the coco-roons, but this year I got to taste the new "snips chips"–raw, vegan chips made with brussels sprouts and parsnips. They were absolutely delicious. I take home a bag (each) of the cheesy herb truffle, chipotle lime cilantro, and dill pickle flavored chips. Super salty and savory, these chips have most definitely inspired me to make new sorts of veggie chips at home!
3. Suzie's quinoa milk. A new product from the Good Groceries company, quinoa milk was one of my favorite Expo discoveries. I wasn't expecting to like it–I don't love oat milk, and I assumed they'd be similar–but I loved it! It's creamy and sweet and tastes a little bit nutty (just like quinoa).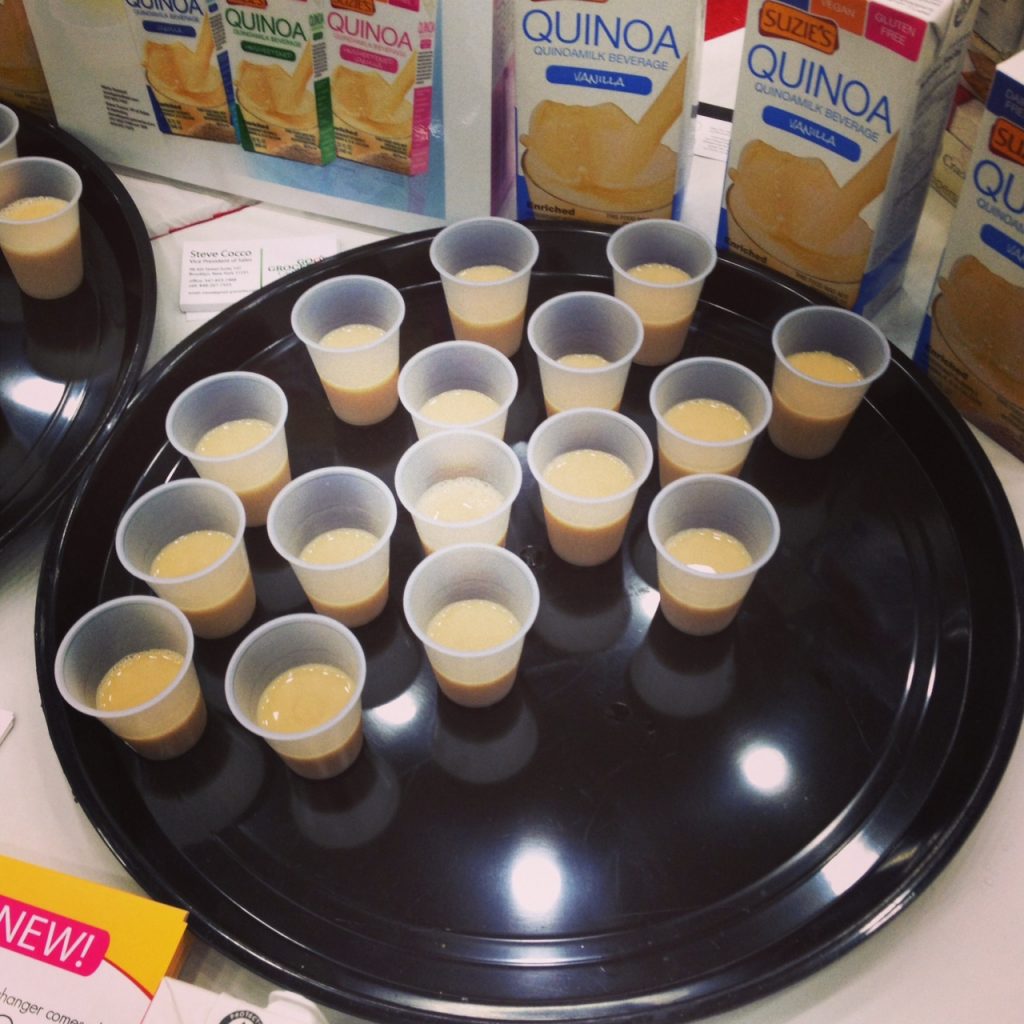 4. Gnosis coco almond chocolate. My favorite new Gnosis flavor.
5. One Degree Organics brown rice cacao crispies. With some sliced banana and almond (or quinoa!) milk, this cereal will be a new favorite breakfast.
6. Dr. In the Kitchen Seedsters. The Dr. In the Kitchen company was co-founded by Allison Levitt, MD, an integrative doc with a passion for healthy food. I've been a fan of the company's flackers for a long time, and this year, I got to taste "seedsters," clusters of flax, sunflower seeds, and spices. These guys taste both salty and sweet, which is my favorite combo.
7. Hilarys Eat Well aduki bean burgers. I can't wait to find these near me! Relay Foods already carries the best ever veggie burger and the hemp & greens burger.

8. Charm school chocolates vanilla rice crisp bar. I have absolutely no words for this bar. It was my first time tasting vegan white chocolate, and it was one heck of a first time. This bar is sweet, decadent, and crispy. It's a delight in every way. Everyone who tried it was swooning over it!
9. TeeChia Super Seeds Cereal. TeeChia breakfast cereal is made by the same folks who make Teeccino coffee replacement. While I've never been able to embrace coffee substitutes (I love the real thing waaaay too much), I do love the taste of Teeccino in its own right. And now, I love the TeeChia breakfast cereal! It's made with organic chia, flax, quinoa, amaranth, ramon and pumpkin seeds, and organic, gluten free oats. You can mix it with either cool or warm almond milk or water. It's thick, low in sugar, and very tasty. I took a bag home and enjoyed it the morning after Expo.
For the record, I will say that the single serving size of this cereal was not enough for me as a breakfast. I doubled the portion squarely (2 packets), and it was perfect.
10. Ocean's Halo seaweed chips. Tasty, salty chips made from brown rice flour and seaweed. I love the flavor varieties, which include chili lime, Korean barbecue, sea salt, and sweet onion.

1. Body butters (and pretty much anything) from the Orange Owl.
I first discovered Orange Owl products at The Seed this past spring. Akshata, the founder of the company, is a nutritionist with a tremendous passion for healthy living, and she runs a wellness center in Burlington, VT (along with her husband, a chiropractor). Her skincare line is 100% vegan, eco-conscious, free of parabens, dyes, silicones, phthalates, sulfates, and synthetic fragrances.
All of the Orange Owl products smell incredible, but so far the ones I've sampled at events and loved the most are the body butters. They are so rich and creamy! Orange joy is my favorite scent. Everything is available online.
My favorite vegan deodorant is definitely LaVanilla, but I'm always on the lookout for new options. The Primal Pit company was started by a mom who's also a Crossfit trainer. She was looking for a product that she'd feel comfortable letting her children use. Primal Pit deodorants contain only coconut oil, shea butter, non-aluminum baking soda, arrowroot powder, and essential oils. I picked up the orange creamsicle scent, and while I'm not 100% sure it would stand up to, say, hot yoga, I've worn it for two days, and it seems to be pretty effective so far!
At home, I clean my yoga mat with a homemade mixture of tea tree oil, peppermint oil, water, and witch hazel. This incredible mist isn't so much cleaner as it is an all purpose yoga product: you can clean with it, use it to keep a room sweetly scented, or spritz it on after a particularly sweaty class. I loved the "motivating" scent, which had sweet orange and peppermint.
4. Scotch Naturals Nail Polish
See the above. Such a great find!
5. Mineral Fusion "Imagine" Eyeshadow Trio
I don't wear a lot of makeup, but I do love playing with it once in a while. The Mineral Fusion line is never tested on animals, and the ingredients are usually 100% vegan (check labels). The "imagine" trio had matte green, matte cream & shimmering beige colors that I thought were lovely.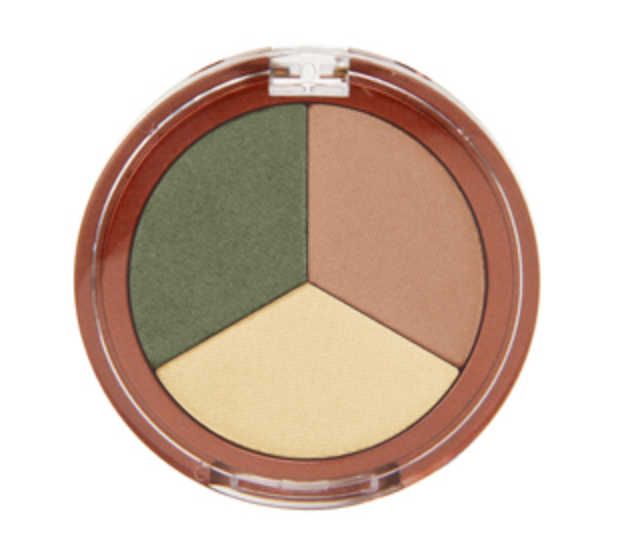 Honorable mentions go to vegan AND gluten-free pizza from Bold Organics:
Whole food crackers from Jovans:
And the new "Peace" cereals from Attune Foods:
I also love the tasty new "Chia Pod" brand, but I have to confess that, since I made chia pudding so often at home, the price tag would be a deterrent for me: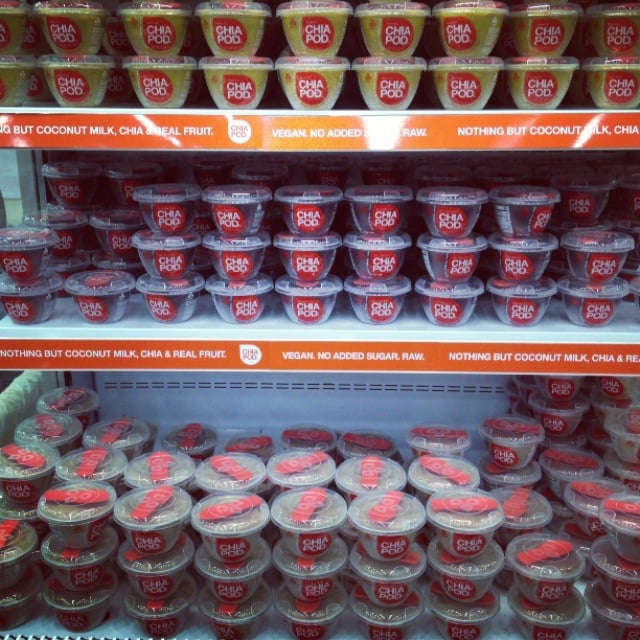 Of course, no recap post would be complete without mentioning the friendly and generous friends with whom I spent my day! After connecting with Marco and the 22 Days folks, I also had a chance to steal a little bit of time with my buddy Brendan. On my way to the Vega booth to meet him, I ran into Jill and Stephanie from Vegan Cuts! I hadn't seen these lovely ladies since Vida Vegan, and was so glad that we bumped into each other in the crowd.
A little while later, I learned that the lovely Whitney Lauritsen was also at Expo. Whitney is the creator of Eco-Vegan Gal, an incredible resource for articles, recipes, and tips on accessible, earth-friendly, animal-friendly living. Whitney used to work full time in the film industry, and she uses her combination of journalism and film editing skills to create quick, inspiring videos and interviews. I especially touched by her recent post on her 10 year vegetarian anniversary–she always makes veganism look to be within everybody's reach.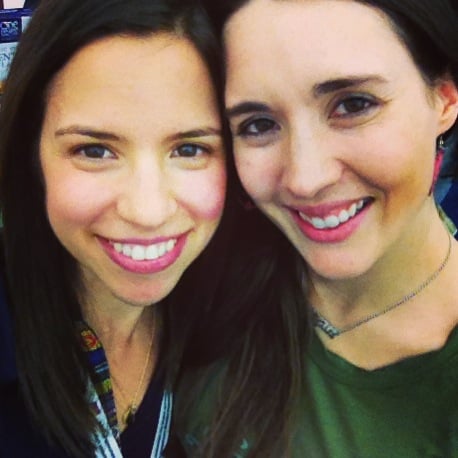 As Whitney and I caught up, I realized that she was there with the equally inspiring Jason Wrobel! Jason and I met over two years ago at the Take Back Your Health Conference in DC. I was so impressed by his energy and talent that day, so I wasn't at all surprised to hear that he was at the helm of the first ever raw, vegan cooking show last year. Jason is a delight: warm, funny, and super supportive of others in the community. He laughed when I told him I'd only just finished up premed: "Weren't you chipping away at that when we first met?" he asked.
As Whitney, Jason and I made big plans for a culinary tour of LA later this spring, we also began roaming the aisles of Expo together. We were joined by two other vegan voyagers: Chris and Jon of The Vegan Zombie. I've watched the vegan zombie show a few times and thought it was hilarious, so I wasn't at all surprised to learn that Chris and Jon were funny, down to earth, and incredibly entertaining in person. What a fun group to be hanging with!
Whitney and Jon, going ga-ga over Charm School Chocolates!
I didn't have to hop on the MARC train until 9:30, which meant that I was lucky enough to stay in Baltimore for dinner with Jason, Whitney, Colleen Holland of VegNews magazine, Jill and Stephanie, Chris and Jon. Our destination? Sticky Rice!
Before I even moved to DC, a couple of my readers recommended I check out Sticky Rice. Kind of funny that I finally made it, but it took traveling to Baltimore for me to get there! Now that I've experienced the tasty vegan sushi, I'll have to go back to the DC location very soon (and write a proper blog review!).
With my belly full of vegan sushi and a giant (seriously giant–I was actually little embarrassed) bag of goodies from expo, I climbed onto the train and made my way back to DC.
When I arrived, I had only a few hours before DC VegFest on Saturday. But since this little Expo recap has already taken up quite a bit of blog space, I'm gonna save VegFest for a recap later this week.
For now, I'm curious to hear what products you're excited about! I know this wasn't a comprehensive review by any means, but I was thinking about you all as I walked through the crowd and I hope I hit on some of the items you'd all be most interested in. What trends are you excited about in the natural foods world?
Happy Monday, folks.
xo