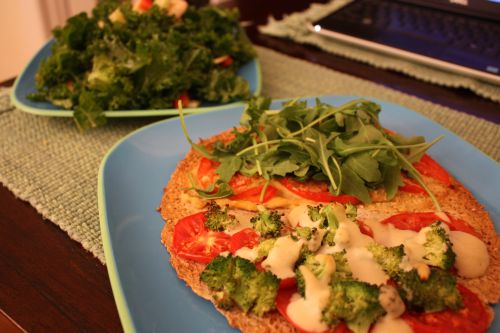 Great responses to my autumn soup, guys! Now you have been itching to get back into the kitchen and try my hand at more varieties. Stay tuned.
A few days ago, I got the following reader question via email from reader Amy:
Gena, one of the things I like the most about your blog is that you constantly remind us that you're a working person without too much time to prepare food. As a mother of three, I can relate! But the meals you show us seem so perfect, and I often wonder how you have time to make them when you're working late. Do you only post your weekend dinners? What do you do during the week? I want to make healthy meals for myself, but I have to admit that, once I'm done feeding my kids, it's hard not to just pull something out of a box. What's your secret?
Great question! I'm passionate about showing my readers that eating wholesome food is not a luxury of time. But you're right to point out, Amy, that I can't and don't show you all of my weeknight meals. If I did, you'd be staring at a lot of salad photos, and it would get boring pretty quickly! I make up recipes on weekends and weeknights when I get home before 8 pm–it keeps me motivated to use free time to my culinary advantage, and it helps me to celebrate an end to the work day with good food.
There are plenty of nights, however, when I get home later than that, and/or I have editing to do until I fall asleep. On those nights, I make the quickest, least stressful meal I can. Most of the time, it's a nutrient-dense salad with whatever toppings I have. Sometimes it's a raw flatbread with hummus or nut pate. Sometimes it's a blended salad, which I'll always serve with fresh vegetables and some other side dish–maybe rice, maybe beans, maybe a hunk of sprouted bread. Sometimes I have leftovers at the ready, which makes life easy. It really depends on what's in my fridge and what I'm craving.
On Tuesday night, I got home at 8:43 pm. Not the wee hours, exactly, but too late for me to bother much with a recipe. A quick survey of my fridge revealed a couple of things:
hummus, leftover from Friday's dinner
tomatoes that are about to expire
lots of salad greens
cashew alfredo, which has kept beautifully since last week's zucchini pasta dinner
broccoli
I also have a boatload of raw breads and crackers, thanks to my recent dehydration kick, but I actually wasn't craving them that night; instead, I wanted good, old fashioned whole grains. So whole grains is what I had, in the form of a sprouted Ezekiel tortilla. Rather than having a regular wrap, I decided to do a cheater's "pizza," and warm it up in my oven. This was the lovely result: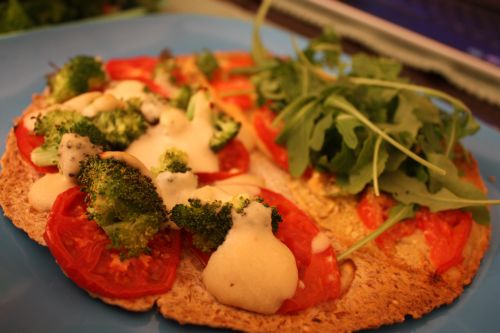 I topped half of that tortilla with hummus, tomatoes, and nutritional yeast, and the other half with tomatoes, broccoli, and my cashew cheese. Into a hot oven (400 degrees) it went for about fifteen minutes–or however long it took for me to wash, spin, and massage my raw kale: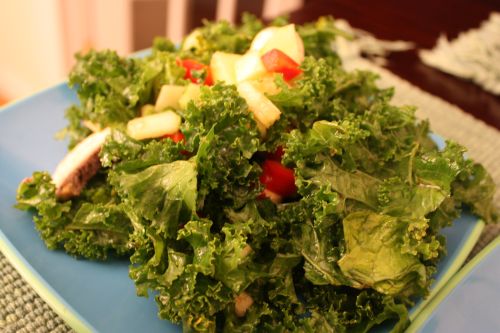 As soon as it came out of the oven, I topped the hummus half of my pizza with fresh arugula (Anne, I'm obsessed, too!):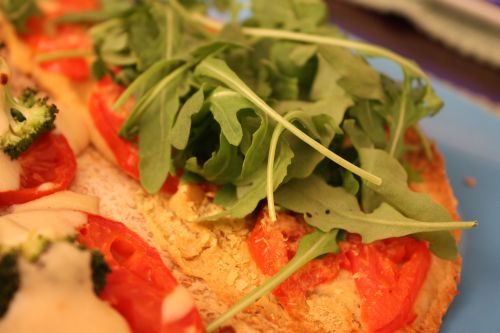 I must confess that the rawbie in me was horrified to see slightly burnt cashew cheese…
…but it tasted terrific.
This meal didn't win any points for innovation, but it was fast, convenient, a good use of leftovers, semi raw, all vegan, and totally delicious: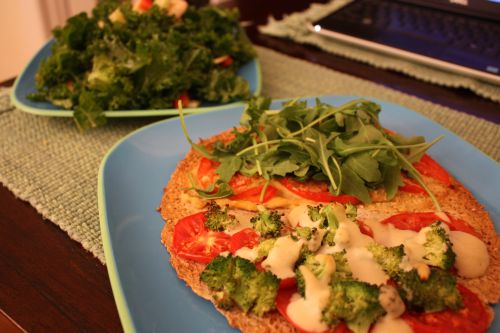 Never be deceived into thinking that a healthy meal must involve hours of dehydrating, sprouting, boiling, or baking. It simply doesn't work that way. With even the slightest bit of culinary creativity, you can assemble something quickly that's as satisfying as it is healthful. You'll avoid eating frozen food for dinner, or the NYC-dweller's trap of spending upwards of $15.00 on takeout! This is my kind of fast food.
Before I bid you adieu, check out my latest blog post for Whole Living Daily, on plant based diets and osteoporosis prevention.
I'm often asked about calcium on a vegan diet: how do I get it, what's a good source, and how much do we need? On the whole, I recommend that women get at least 1,000 mg of calcium+vitamin D3 daily, and men about 1,200 mg daily. Given how hard it is for most of us–vegans  and omnis both–to meet these needs, this is one time when I do suggest a supplement (I like this one right now).
Naturally, taking a supplement doesn't mean ignoring food sources–supplements go by the name they do for a reason! Food should always be your first source of nourishment, and the best vegan sources for calcium include:
chia seeds
tofu and tempeh
blackstrap molasses
sesame seeds and tahini
kale, collards, turnip greens, bok choy, broccoli
fortified rice or soymilk
almonds and almond butter
Still, in our mission to get more calcium, most of us tend to forget that our nationwide osteoperosis rates are not only due to what our diets lack, but also what they have in excess. Excessive protein consumption and processed food consumption has been linked definitively to bone loss. In the article, I explain why, and I say a few words about how you might prevent this. Enjoy it!
Have a great night.
xo