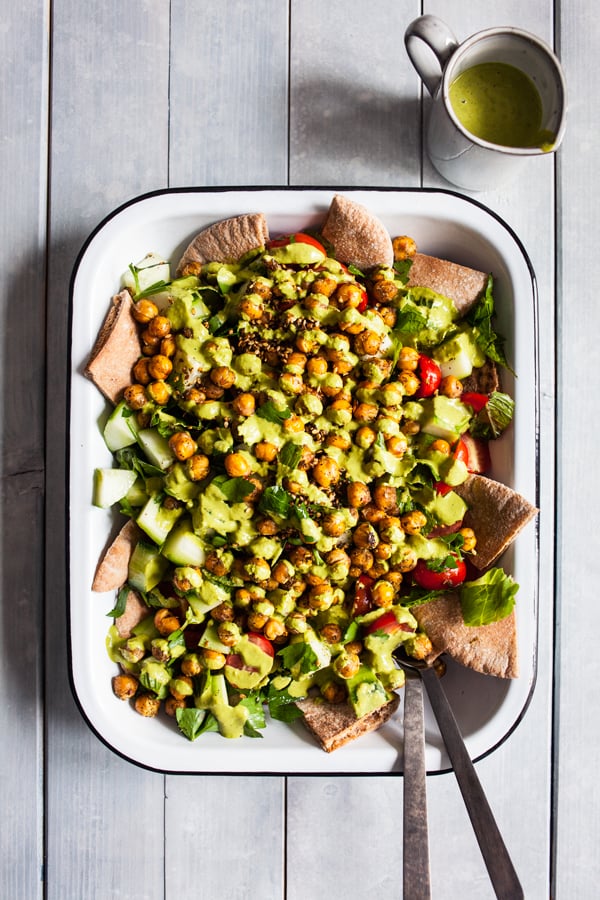 A couple days ago, I mentioned that I've been making an effort to share my food lately, to welcome friends into my home. This has me thinking about dishes that lend themselves to gatherings, including appetizers and finger food. My go-to has always been a solid, reliable hummus plate: a creamy batch of homemade hummus (sweet potato is my favorite lately), pita wedges, and plenty of raw veggies. But it's fun to branch out. These fattoush nachos with crispy za'atar roasted chickpeas feature some of the same ingredients and flavors as my standard hummus platters, but they're bustling with texture and packed with nutritious fixings.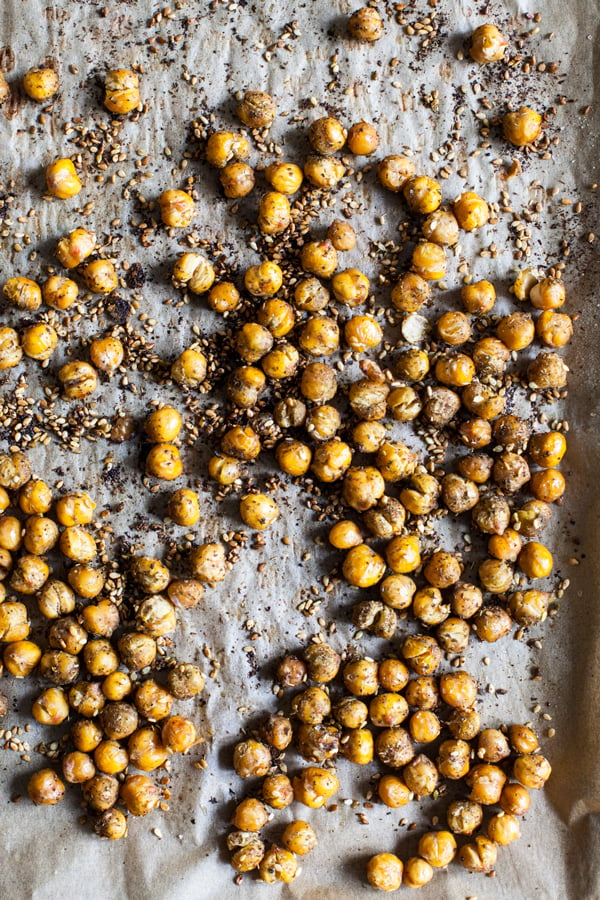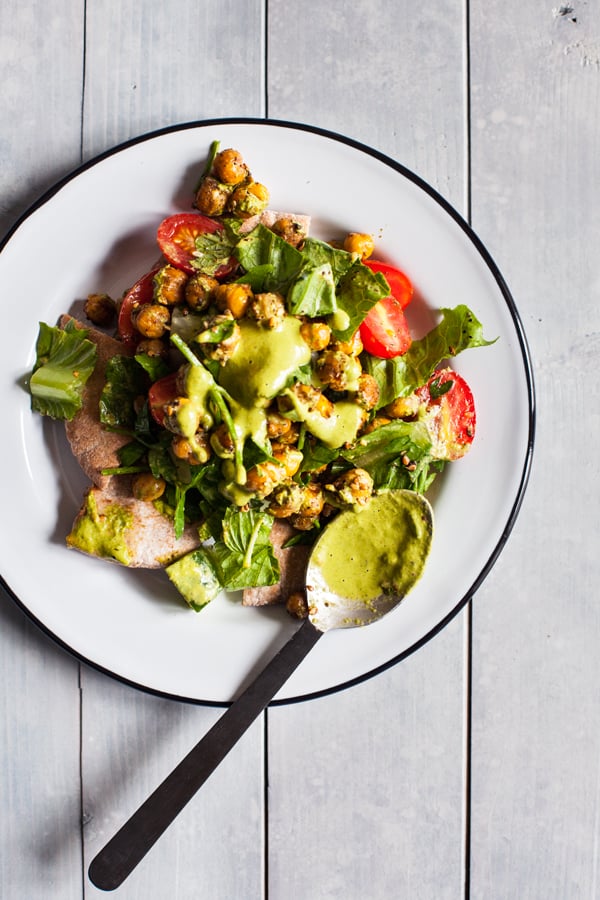 Two things make this recipe what it is: the crispy roasted chickpeas, which are seasoned with za'atar spice and cumin, and the addition of a great, herbaceous sauce. I used my tahini goddess dressing, but my tahini mint dressing would be equally great (and would nicely compliment the mint in the recipe).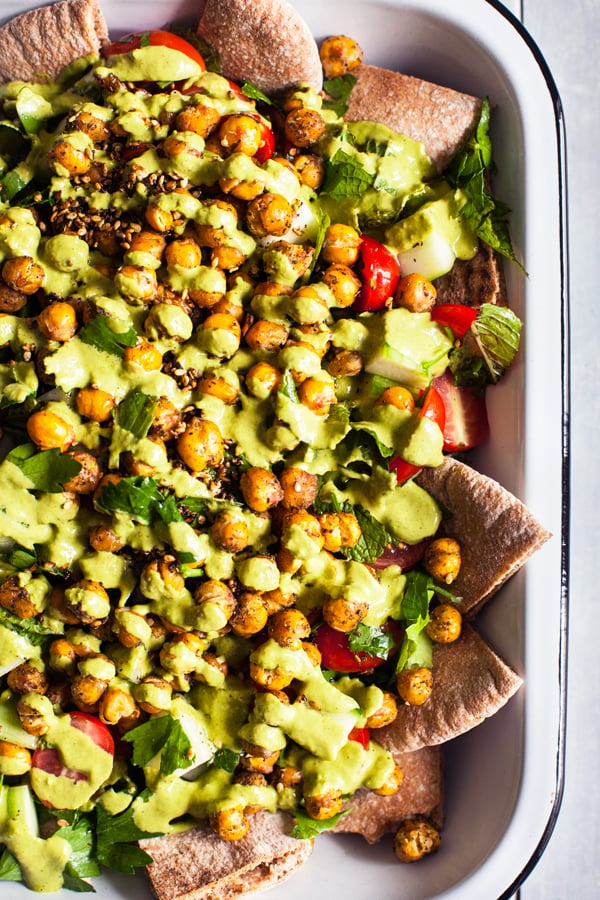 I cut whole wheat pita (with pockets or without) into wedges and toast it in the oven for this recipe: it only takes a couple minutes, and you can take care of it while you also roast the chickpeas. The result is pita chips that are super crispy at the edges and nicely tender at the center, which I love. To save time, though–and for lots of extra crunch–it would be just fine to use your favorite brand of pita chips. Lots of pita chip recipes call for oil and spices, but I actually like the simplicity of letting them get crispy without adding anything first; the tahini sauce and other toppings give the chips plenty of flavor when the whole recipe is plated.
Once your chips are ready, you pile them high with a fresh salad of chopped cucumbers, tomatoes, and herbs, the crispy chickpeas, and then drizzle the whole plate generously with your sauce. Serve these nachos with plenty of napkins, since they're messy in the best possible way!
Fattoush Nachos with Crispy Za'atar Roasted Chickpeas
Author -
2

large or 4 mini whole wheat pitas

about 4 ounces total, cut into wedges, or 2-3 cups pita chips of choice

1 1/2

cups

cooked chickpeas

1 can, drained and rinsed

2

tablespoons

olive oil

divided

1

tablespoon

za'atar spice

1/2

teaspoon

ground cumin

Coarse salt + freshly ground black pepper

2

cups

peeled and chopped cucumber

1 1/2

cups

halved cherry tomatoes

1 1/2

cups

chopped romaine lettuce

1/2

cup

chopped parsley

1/4

cup

chopped mint leaves

1

tablespoon

red wine vinegar
Preheat your oven to 400F. Place the pita chips on one lined baking sheet. Toss the chickpeas with 1 tablespoon olive oil, the za'atar spice, and the cumin. Place the chickpeas on another lined baking sheet and sprinkle them with coarse salt and freshly ground pepper. Transfer both sheets to the oven. Bake the pita chips for 5-7 minutes, or until they're crispy at the edges (check them at 5 minutes to be sure they don't burn). Bake the chickpeas for 30-35 minutes, or until they're crispy and golden.

While the chickpeas and pita are baking, toss the cucumbers, tomato, lettuce, parsley, and mint together with the remaining tablespoon olive oil, the red wine vinegar, and salt and pepper to taste.

To serve, layer the pita chips in a large tray. Layer the cucumber and tomato salad on top, followed by the roasted chickpeas. Drizzle the whole tray generously with your dressing of choice. Serve.
The crispy chickpeas can be made one day in advance and stored in an airtight container in the fridge. The dressing can be made up to four days in advance and stored in an airtight container in the fridge.
I guess this recipe is a no brainer for me: tahini, mint, Middle Eastern spices, bready things…so many of my favorites in one place. The dish has plenty of appetizer/snacking potential, but it's also hearty and varied enough to make a good meal, or part of a meal, if you give yourself a generous portion. I think it would be a great lunch summer lunch, maybe with a cup of lentil soup. And if you're so inclined, it's totally worth making a double batch of the chickpeas. They make for awesome snacking, salad topping, bowls, and so on…if you don't accidentally eat most of them while they're still on the baking sheet 🙂
I'll be circling back later this week with a sweet treat that's packed with nostalgia and local NYC pride. Can't wait to share! For now, be well.
xo