Hey all!
Happy Sunday. Hope my fellow NYCers are enjoying this exquisite fall weather. I'm about to load up on farmer's market apples for juice!
On Friday night, M and I hit up Blossom restaurant in Chelsea. It's sister restaurant of Cafe Blossom, which I've reviewed before. Nestled cozily on 9th Avenue, Blossom downtown is a little fancier–and I daresay a lot cozier–than Blossom uptown, which is sleek and modern. For this reason, I prefer the downtown location, with its crackling fireplaces and exposed brick stairways, at least aesthetically.
I've been to Blossom a few times before, and I've always been impressed. The food is elegant, tasty, and the portion sizes are spot on. It's totally suitable for omnis, and it offers a nice balance of faux meat (for vegan newcomers) and totally meatless fare. Friday's meal, alas, was not the best of my Blossom dining experiences, for reasons I'll get to in a second, but it hasn't ruined my appreciation of the restaurant on the whole.
I started my dinner with an arugula salad with grilled pears, candied walnuts, and tofu "croutons," (these were really just smoked tofu, sparsely tossed into the salad). The dressing must have been made with sherry and agave, and it was incredible. M and I dug in with abandon:
(Sidenote: how's that for restaurant lighting? Apparently the light on an iPhone is very useful for illuminating photos. That innovative idea was courtesy of M, whose initial may as well stand for "MacGyver.")
M got the seitan empanadas, which were also really good, though possibly not the best Blossom appetizer of all time (that award goes to their black eyed pea cakes, which are to die for):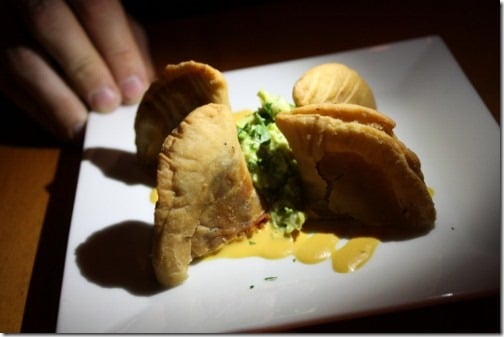 Impressive pastry dough, though. Nice and crumbly, which is not a simple feat without regular butter.
For my main course, I got the vegetable mezze plate, which was a perfect mix of spiced quinoa, grilled fennel, sauteed kale, roast brussels sprouts, and mashed sweet potatoes. In other words, a vegetable symphony. I loved it, and polished off every last bite:
M got the lentil roulade, which was a lentil and root veggie mix wrapped in phyllo dough. This sounded like a dream entree to me—lentils and root veggies, what's not to like? The problem was, when M bit into the phyllo cigar, his face immediately went red, and his hand flew to his mouth. As it turns out, the exterior of the roll was normal temperature, but the inside was burning hot (literally). We took a moment to consider how this could have been, and the best theory we construed was that the rolls had been microwaved before service. As it turns out, that can't have been true, because Blossom hasn't got a microwave on premises. It must have simply been that heat got trapped in the cigar filling.
Here's the pretty, but dangerous, dish: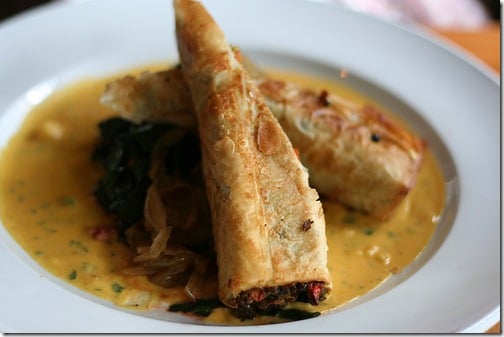 (Photo courtesy of the lovely Nicole. Mine was blurry!)
It's too bad that such a theoretically tasty meal nearly burned off the roof of my boyfriend's mouth. After the initial shock, however, we agreed that the flavors were solid. I'm even thinking about re-creating the dish somehow at home.
So on the whole, this meal was about a 6. My half of food was stellar, and we were both really impressed with the menu, but the scorched earth lentil roulade experience was slightly traumatizing.
Tonight, we've got dinner plans at Josie's—another NYC favorite that I've yet to review here on the blog—and I hope that meal will feature even temperatures. In the meantime, we look forward to giving Blossom another shot.
Did your weekends feature any good dining out—or dining in? Would love to hear about it. I'll be back tomorrow with some serious vegan comfort food!
xo