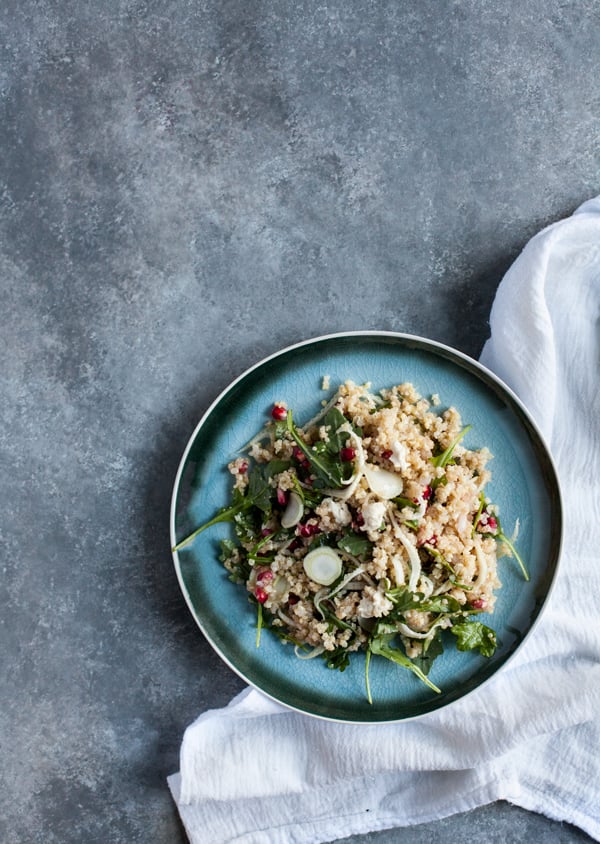 As much as I enjoy food writing, it's always a joy when a recipe tasty and colorful enough to speak for itself without a lot of my accompanying verbiage.
This is one of those recipes, a bright and flavorful mixture of spicy arugula, sweet, thinly shaved fennel, chewy ancient grains, crunchy pomegranate seeds, and–delicious but not mandatory–creamy cashew cheese. It hits a lot of textures and a lot of tastes at the same time, and it's beautiful to look at.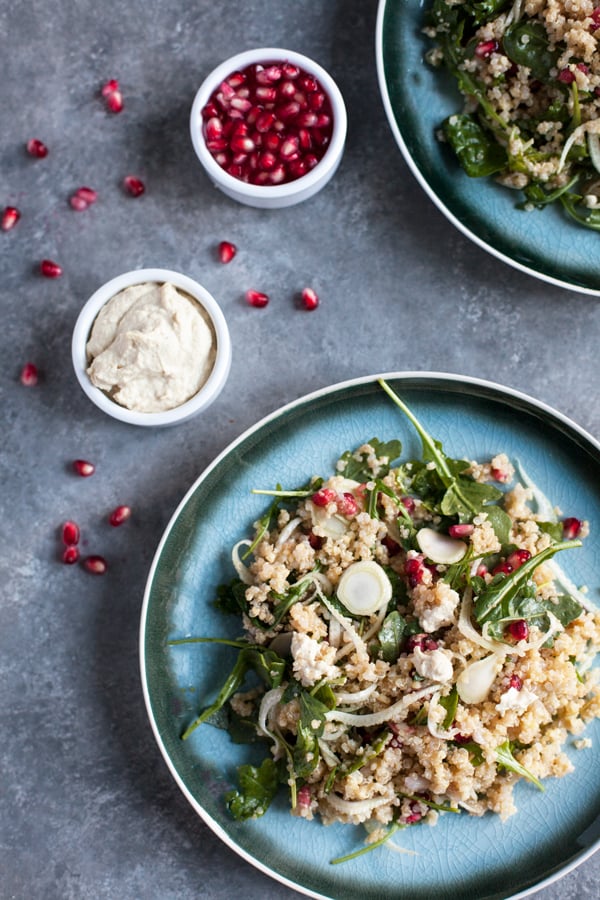 The ancient grain mixture you'll see in this salad is one that I've been using a lot lately, for breakfasts and for lunch bowls. Amaranth isn't my favorite grain on its own; I have to mix it with fluffier and plumper grains to really enjoy it. But, when it's combined in that way, I actually appreciate how the superfine texture helps it to bind other grains together.
Besides, it's always healthy to mix one's whole grains up, as they all have different micronutrients to offer us. Variety is one of the most important features of a healthful diet. Amaranth happens to be rich in protein, calcium, and iron, and it's also the only grain that contains Vitamin C. Some studies suggest that it may have anti-inflammatory effects as well. (1)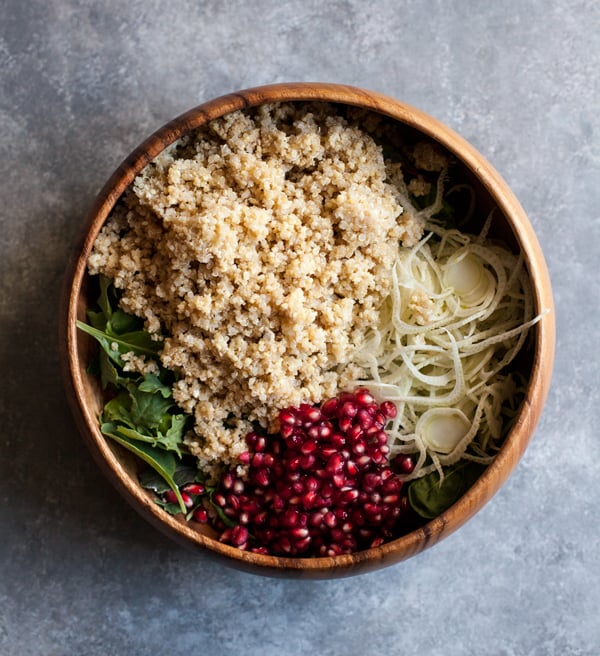 This salad will be perfect to serve through the fall and well into the holiday season–the pomegranate seeds help to make it look festive and taste delightfully, surprisingly sweet. To make the prep process easy, you can cook the grain mix a day in advance, and/or prepare the cashew cheese in advance.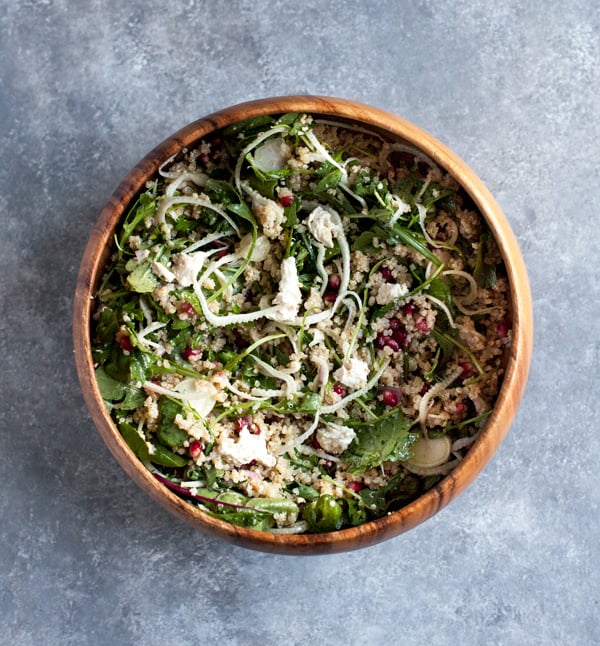 If you'd rather not use the cashew cheese, no problem. Simply swap it for some chopped avocado, a heaping handful of shelled hemp seeds, or toasted pumpkin seeds. They'll all add extra texture and taste to the salad.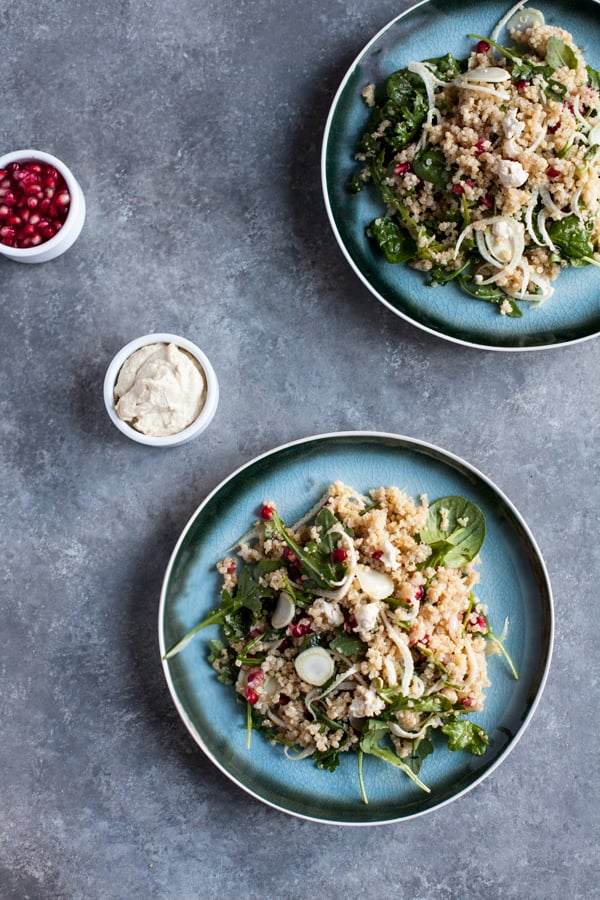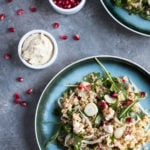 Fennel Salad with Ancient Grains and Pomegranate Seeds
Author -
For the salad:
1/3

cup

dry quinoa

1/3

cup

dry amaranth

1/3

cup

millet

1

medium bulb fennel

thinly sliced (about 1 1/2 -2 cups)

2

cups

loosely packed arugula

1

cup

loosely packed baby spinach or kale

1/2

cup

pomegranate arils

3

tablespoons

olive oil

2

tablespoons

lemon juice

1

heaping tablespoon minced shallot

1/2

teaspoon

salt

Black pepper to taste
For the cashew cheese:
1

cup

raw cashews

soaked overnight, rinsed, and drained

2

teaspoons

white miso

3

tablespoons

lemon juice

3/4

teaspoon

salt

1

clove

garlic

minced, or 1/2 teaspoon garlic powder

1/4

cup

water
To prepare the cashew cheese, place the cashews, miso, lemon, salt, garlic, and water into a food processor fitted with the S blade or a high speed blender. Process for 2-3 whole minutes, stopping a few times to scrape the bowl down. You want to process until the cashews have been whipped into a light and smooth texture, so don't be afraid to leave them in the processor for an extra minute if needed. Transfer the cheese to the fridge and allow it to chill for at least two hours.

Place the quinoa, amaranth, and millet in a fine sieve and rinse for about thirty seconds under running water. Transfer the grains to a medium pot and add 2 1/4 cups water. Bring to a boil and reduce to a simmer. Cover the pot and simmer for 13-15 minutes, or until the grains have absorbed all of the liquid. Fluff the grains with a fork, re-cover them, and let them cool to room temperature.

Whisk together the oil, lemon juice, shallot, salt, and pepper.

Combine the cooked grains, fennel, greens, and pomegranate arils in a large mixing bowl. Add the dressing and toss to combine. Check for seasoning and add salt and pepper as needed. Divide the salad onto serving plates and dot each with about 2 tablespoons of cashew cheese (or, if you're not using cashew cheese, a tablespoon of shelled hemp seeds or toasted pumpkin seeds!). Serve.
Salad leftovers will keep well in an airtight container in the fridge overnight. Leftover cashew cheese will keep for 5-6 days.
If you do use the cashew cheese, you'll have some leftover. This is the perfect time of year to spread it on toast and top it with some sliced figs or grapes. It's also a perfect accompaniment to grain bowls and pastas. It's one of my favorite, all purpose toppings, and I'm always happy to have some at home.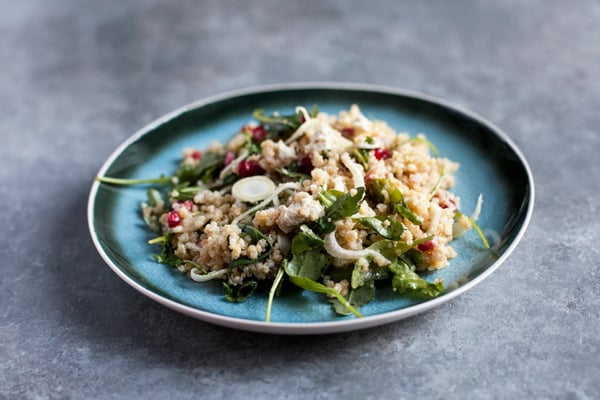 I hope you'll love the salad!
While today's post may be a little brief, I have some exciting blog changes to write about later this week, so stay tuned, and enjoy your Tuesday.
xo
1. Silva-Sánchez C1, de la Rosa AP, León-Galván MF, de Lumen BO, de León-Rodríguez A, de Mejía EG. Amaranth may have cancer-preventing, anti-inflammatory properties. Journal of Agricultural and Food Chemistry, February 27, 2008; 56(4): 1233-40.