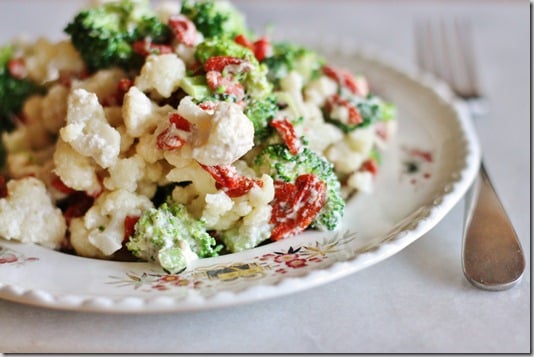 I guess the thing to do as a food blogger is to approach December 25th with a slew of festive recipes. I'm sure that every post is supposed to feature photographs of perfect sugar cookies and sumptuous entrees, laid out against a backdrop of charming holiday decorations.
But the truth of the matter is that, since finals, I haven't wanted to cook a thing. It has been wonderful to eat out, to spend my days far away from the kitchen, and to take a break from business as usual in the recipe realm. So I'm sorry to say—and please, friends, I hope you'll forgive me—that I won't have some sort of grand, picture-packed Christmas round up this year. What I will have to offer you, as usual, are my real life eats, humble though they may be. Today's offering is a salad of broccoli, cauliflower, and goji berries. 25 days of cookies and pies and casseroles it is not, but hey, at least it's red, white, and green. And more importantly, it is nutrient-packed and tasty.
This salad can be made either totally raw or lightly steamed. I tend to digest raw crucifers very well, but if you struggle with raw broccoli or cauliflower, or you are particularly mindful of goitrogens in your diet, or you just prefer the taste, you can definitely steam or boil the for a minute or two, then submerge in cold water to stop the cooking. Dry the vegetables well before using them in the salad.
Between the broccoli, the cauliflower, and the goji berries, this salad is absolutely bursting with phytochemicals, which may be helpful allies in cancer prevention. It's also packed with fiber, protein, and Vitamin C. What a delicious and healthy recipe!
Festive Broccoli, Cauliflower, and Goji Berry Salad (vegan, can be raw, gluten free, soy free)
Serves 4
3 cups broccoli, cut into small florets
3 cups cauliflower, cut into small florets
1/3 cup goji berries, soaked overnight
1 cup cashews, soaked overnight and soak water drained
2 tbsp lemon juice
1 tsp agave
3/4 tsp sea salt
Black pepper to taste
3/4 cup water
1. If steaming, bring a pot of water to boil. Either steam or boil the broccoli and cauliflower till crisp yet tender–just a minute or two will do it. Submerge the veggies in cold water to stop cooking, and dry them.
2. Place cashews, lemon, agave, salt and pepper in a food processor. Process till the mixture is starting to resemble a nut pate. Add the water in a thin stream with the motor of the machine running, and then allow the processor to do its work for two minutes, stopping to scrape the bowl periodically. You want the dressing to be as smooth as possible, so keep processing if necessary.
3. Place the broccoli, cauliflower, goji berries, and 1/3 cup of the dressing in a large mixing bowl and mix well. Add more dressing to taste. Serve.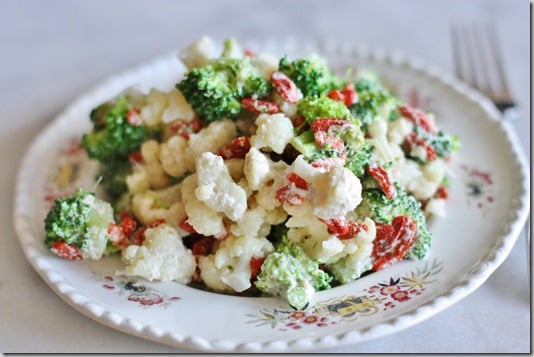 I love everything about this salad—the colors, the textures, and the creamy dressing on top. It's amazing how many uses I can find for cashew cream!
This would make a wonderful raw/vegan side dish for holiday gatherings, as well as an easy lunch component on Christmas eve, day, or any day thereafter, really. I hope you enjoy it! And I look forward to sharing another NYC dining recap—and possibly another recipe as well—tomorrow. See you then!
xo