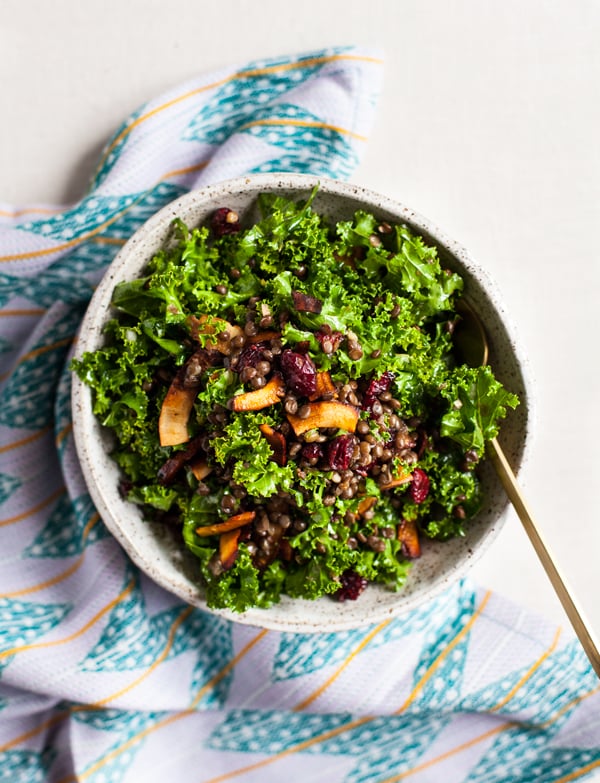 During the holiday season, I tend to stretch myself thin with baking experiments and recipes for entertaining. This is a festive time of year, and I love it when the celebratory quality of the season seeps into cooking. Still, it's nice to get back to basics, even as we're all making merry. This festive kale salad with cranberries, lentil, and coconut bacon is in many ways the best of both worlds: colorful and undoubtedly festive, yet simple and unfussy. You can bring it to a holiday potluck, or you can can curl up with a bowl of it for lunch. Either way, it's all good.
This is the first kale salad I've made with cranberries, which is kind of amazing, given how many kale salads I've posted since I started this blog! I love the sweetness they bring to the dish, and I love how they contrast with the smoky, salty coconut bacon. Throwing coconut bacon in here was a sort of last moment decision–I'd made a batch to put on lentil soup, and I figured why not?–but I love how it enhances the flavor of the salad. After many years of seeing kale salad recipes online that featured bacon, and wondering if they'd be equally tasty if I modified them to omit it, I've found a solution.
Quick tip on this salad: when I make kale salads that have a lot of additional ingredients, I tend to dress and massage the greens first, then add my additional ingredients. The "massaging" process can get sort of messy if you're trying to do it with dried fruit and legumes already mixed into your greens, and the greens tend to get more thoroughly coated and softened if you dress them first. Once they're ready, toss in the additional ingredients, and you're good to go.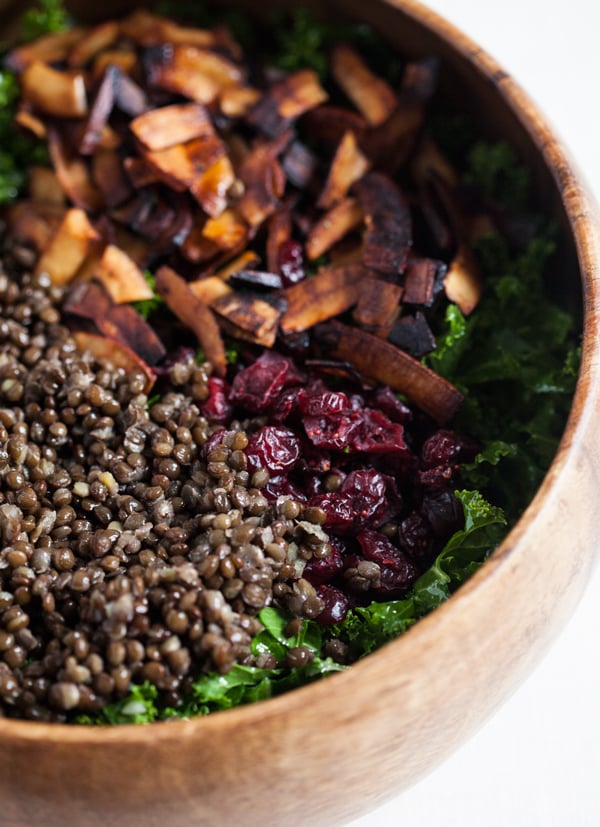 I love all of the texture here: chewy cranberries, soft lentils, crispy greens, crunchy coconut bacon. When you first dress the greens, you may feel as though the dressing is on the light side. Don't worry: the coconut bacon and cranberries will add all of the additional flavor that the salad needs, and the apple cider vinegar in the dressing gives it a nice kick as well.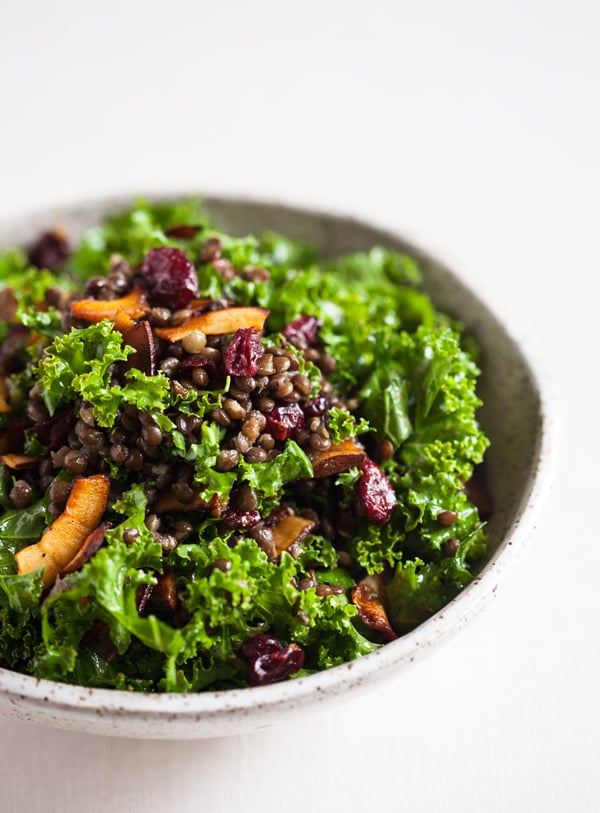 Festive Kale Salad with Cranberries, Lentils, and Coconut Bacon
Author -
Yields:
6
small or 4 large servings
1

medium head curly kale

stems removed, washed, dried, and chopped (about 7-8 ounces after preparation)

1/2

cup

dried cranberries

1 1/2

cups

cooked lentils

or 1 can cooked lentils, rinsed and drained

1

cup

coconut bacon

2 1/2

tablespoons

olive oil

1 1/2

tablespoons

apple cider vinegar

1

teaspoon

maple syrup

1/2

teaspoon

salt

Black pepper to taste

2

tablespoons

chopped shallots
Whisk together the olive oil, maple syrup, salt, pepper, and shallots. Set them aside.

Place the kale in a large mixing bowl. Toss the dressing over it and massage thoroughly with your hands, until all of the leaves are coated with the dressing. Add the cranberries, lentils, and coconut bacon, and toss everything to combine. Pile the salad into serving bowls, and serve.
Leftover salad will keep in an airtight container in the fridge for up to two days.
Yum. This salad feeds a crowd nicely. Try pairing it with a wintery soup–like my roasted rutabaga and parsnip soup with kale, or my African spiced yellow split pea and sweet potato soup–or simply enjoy a big plate of it for an easy midday meal.
Don't feel like making the coconut bacon? No problem. You could add roasted, salted nuts or seeds instead for some crunch. Or, if you want the bacon-y flavor but you're not a coconut fan, my eggplant bacon is a great substitute, as would be my mushroom jerky (which I recently shared on Food52!).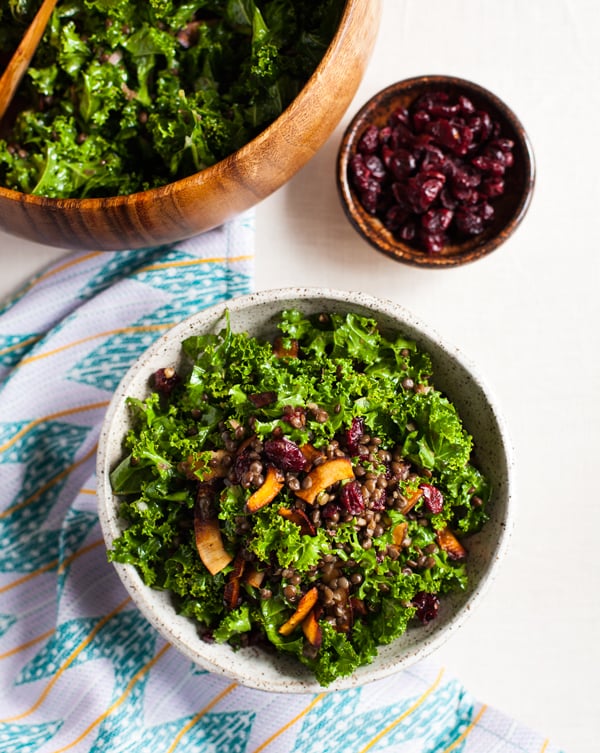 I hope you love the salad. And don't forget to tune in tomorrow, because I'm offering a giveaway of a chic, environmentally-friendly, and beautiful vegan clutch/handbag–a perfect holiday gift (or gift to yourself). Can't wait to share!
xo