Earlier this week, I shared a refreshing green juice—cucumber, pear, mint, spinach—that had refreshed my spirits as I was finishing up my final exams. Today, I'm sharing yet another juice concoction, also a reward I gave myself after the last test was done, which I think is particularly fitting for the holiday season. It's a sweet potato, red pepper, celery, and carrot juice with a touch of ginger, and I'm already a huge fan.
The idea for this juice comes from my friends at sweetgreen and sweetpress in D.C.. As you may remember, I helped to develop the sweetpress juice line earlier this year. I've been so proud and so happy to watch the juices sell so nicely; they're now appearing at most of the DC area sweetgreen locations!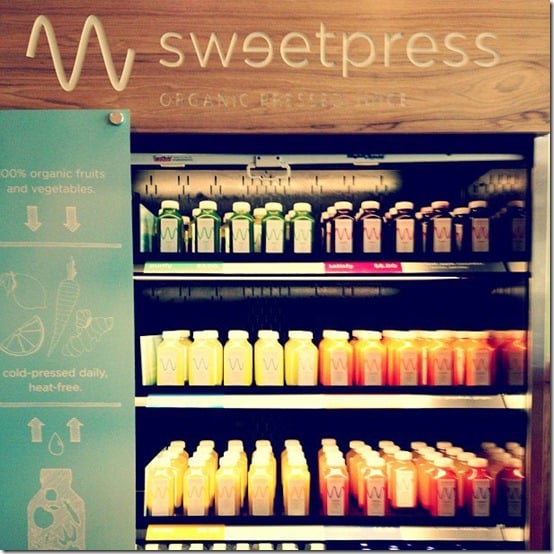 The newest sweetpress flavor is a sweet potato, apple, pear, cinnamon, ginger, and lemon. It's very good—very sweet, but very good—and it inspired me to make a sweet potato juice of my own. Sweet potatoes juice up really nicely, which is interesting, given that I find the taste of raw potatoes (sweet or not) to be incredibly starchy and unpleasant. I suppose that juicing just extracts the sweetness and the micronutrients without the starch. Or something.
The ginger in this juice makes it warming, and the color is so festive for the holiday season. I encourage you to try it! Sweet potatoes are great source of beta carotene and Vitamin C, and the red pepper is very high in Vitamin C. Consider skipping the packet of powdered, flavored Vitamin C and sipping on something truly delicious.
Festive Sweet Potato Vegetable Juice
Serves 1-2
1 small or medium sweet potato, cut into quarters if necessary for it to fit through the juicer
2 carrots
1 large (or two small) red bell pepper
2 large stalks celery
1 1/2 inch knob of ginger
Run all ingredients through your juicer, and serve.
Speaking of juice, I am a terrible blogger!!!! I was suppose to announce the Cooler Cleanse giveaway winner on Tuesday, and, um, it's Friday. I am so sorry. My ineptitude at giveaway handling never ceases to amaze me. The winner was #718, Ms. Sara of Sara Smiles! Enjoy the juices, Sara.
And I hope I can make the delay up to you guys by offering another, properly organized (swear) giveaway tomorrow. Stay tuned.
xo