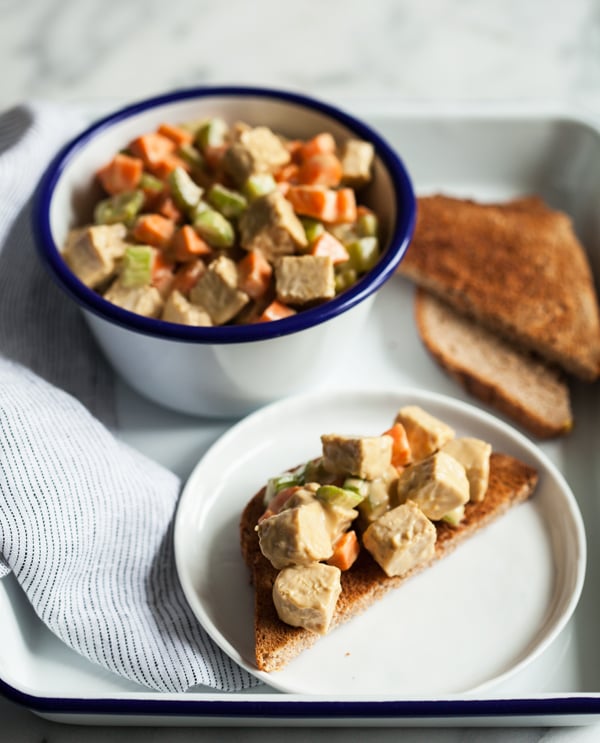 I was recently asked whether or not I ever run out of recipe ideas for the blog and books. My immediate answer was no. Of all the things that can be challenging about blogging–food photography, staying on top of the latest and greatest social media trends, sticking to a regular publishing schedule–recipe ideas are the easy part. They come to me at unexpected moments: while I'm commuting to meet a client, say, or while my attention wanders in class, or even as I'm dozing off to sleep.
What can I say? I love food, and I don't seem to exhaust my own excitement about finding new ways to experience it. The effort it takes to make that food, though–to execute a recipe idea once it has come to me–well, that's a different story.
The last few weeks have not been red letter weeks as far as my culinary life goes. The semester caught up to me, and it caught up hard, and with the pressures of work and finals, I just haven't had much energy to give to cooking. This isn't helped by the fact that I've been fighting off what seems like yet another in an interminable string of colds that I've gotten since the start of the year–probably a sign that I should slow down a little.
So, we've been eating a lot of frozen stuff (thank god for Sunshine Burgers), a lot of dinner salads, a lot of soup, and more takeout than I'd like to admit. Last week I ate some form of toast for lunch four days in a row. I probably drink more coffee than I do water at the moment. It isn't pretty, and it isn't the stuff that beautiful Instagram tapestries are made of. But it's real life, and this blog is about sharing that–not just the recipe ideas that come to successful fruition.
What often comes to mind when we hear the words "comfort food" is the sort of dish we'd make on a Sunday, a casserole or a pasta bake or something else that involves breadcrumbs and creaminess. I love that sort of comfort food, but to me, comfort has a wider and slightly more capacious meaning. Oftentimes the things I find most comforting are simple and evocative of memory. They include toast, baked sweet potatoes, split pea soup, oatmeal, and massaged kale.
They also include a lot of the dishes I ate early in my transition to veganism, dishes that are now marked with a special kind of nostalgia, because I relied on them so heavily back then: hummus and avocado sandwiches. Tofu scramble. Sunshine burgers with baked sweet potato fries. Tofutti cream cheese and cucumber toast. Smashed chickpeas. The list goes on.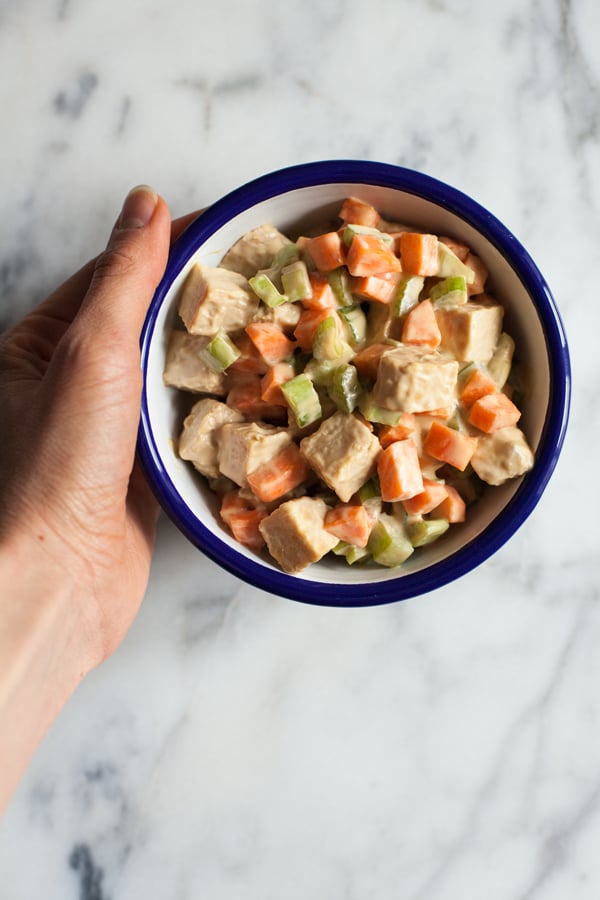 One of the first vegan lunches I made at home was a tempeh version of conventional chicken salad, a simple mixture of steamed tempeh cubes, a mustardy dressing, carrots, and celery. In retrospect it was so simple that I'm sort of hesitant to call it a recipe, but let's remember that I could barely boil pasta when I first went vegan, so anything that came together without a hitch and tasted pretty good was a win. I used to scoop the tempeh onto lunch salads, eat it with toast, stuff it into wraps, or even have it plain, with a baked sweet potato or a bunch of cooked rice. It was tasty, nutritious, and easy, which at the time was what I cared about most. And I guess it's still what I care about most.
This past weekend, yearning for a little comfort food, I made the salad again. It's as simple as it ever was, and I'm not sure how blog-worthy it really is. But right now, it's what I've got, and it's not bad company to keep.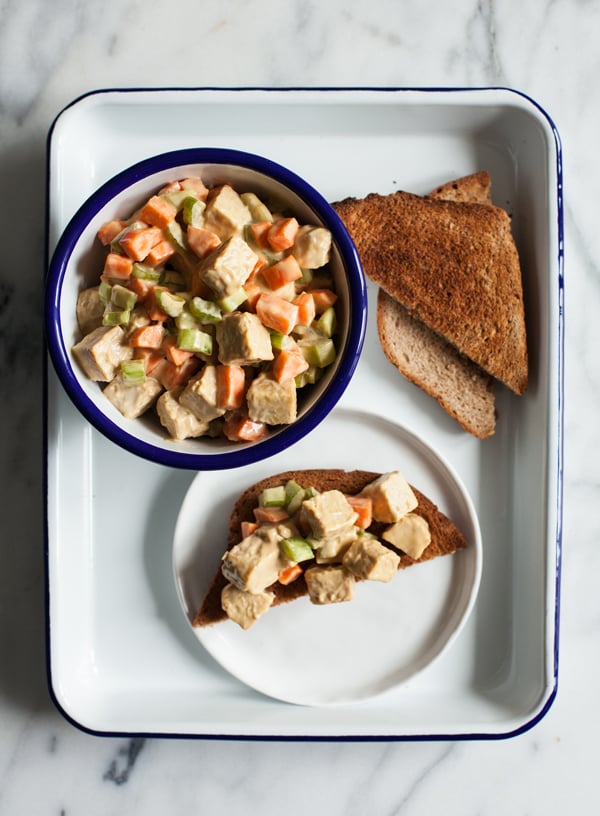 Fifteen Minute Tempeh Lunch Salad
Author -
8

ounces

soy tempeh

1/2

cup

chopped celery

1/2

cup

peeled and chopped carrot

1/4

cup

chopped green onion

optional

2 1/2

tablespoons

vegan mayonnaise

I like Vegenaise or Just Mayo or tahini

2

teaspoons

Dijon mustard

1

tablespoon

tamari

1

tablespoon

apple cider vinegar

Optional: 1/2 teaspoon curry powder
Bring a pot of water to boil. Use a steamer attachment to steam the tempeh for 5 minutes, or until it has gotten a little plumper. Mix the tempeh with the carrot, celery and green onions (if using) in a medium sized mixing bowl.

Whisk together the mayonnaise or tahini, mustard, tamari, vinegar, and curry if desired. Pour over the tempeh and veggies. Mix well. Serve over toast, salad, grains, in a pita, or in a wrap. Leftover tempeh salad will keep for up to three days in an airtight container in the fridge.
After 7pm tonight, this very long semester of grad school will officially be over. My finals will be done, and though I have a summer class ahead of me, I'll also have two weeks off from school this month. I plan to focus on my business, on this blog, on tidying my currently disastrously messy apartment (who knows, maybe I'll even get ambitious and do some spring cleaning), and, oh yeah–being a person again. A person who loves to cook. I'm so ready to get back in the kitchen and whip up some new dishes, to feel the joy and the fun of cooking again.
For today, this tempeh salad is getting packed up in a sandwich as a portable, pre-exam lunch. I know it'll give me the energy I need, and that it will taste very comforting indeed. Hope it gives you an easy nutrition boost sometime soon, too.
xo