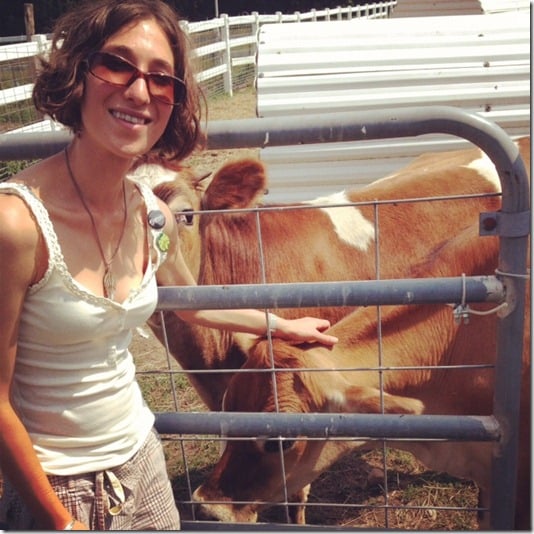 Happy weekend, friends! I'm here tonight with a new Green Recovery story. This one is from Marissa, who writes the blog Righteous Chickpea. You may have "met" Marissa when she wrote a guest post on Stop Chasing Skinny. If you haven't met her yet, I hope you'll enjoy her inspiring recovery story.
As you all know, veganism played a profound role in my own ED recovery; though one can never predict how life would be different under totally different circumstances, I can say with confidence that I am not certain I would have recovered had I not become vegan. I say this because I was very prone to relapses throughout my ED, and because conventional thinking about recovery never seemed to do me much good. Nor, for that matter, did conventional food. Veganism showed me food that was quite unlike the "healthy" fare I was used to, or the caloric, highly refined food I'd sometimes eaten to put on weight. It showed me aesthetically beautiful, nourishing, and wholesome dishes, created from colorful, varied plants. It allowed me to fall in love with food for the first time in my life.
Of course that might have happened if I had simply discovered a largely unprocessed, mostly plant-based diet, too. But veganism contributed to my recovery in ways that went beyond presenting me with delicious and healthy cuisine. It also instilled in me a sense of responsibility to the creatures I share the planet with; it helped me to connect with stores of compassion I didn't actually know I had. It gave me a sense of purpose, and inspired me to help others—both animals who suffer for human consumption, and human beings who suffer from illness or disordered eating. In short, it pulled me out of the isolation of my ED, and taught me to direct my energy toward others, rather than constantly using it to fuel my obsession with thinness and fitness.
I think you'll see many parallels between my experience with vegan activism/ED recovery and Marissa's, below. I want to thank her for sharing her story so candidly, and at the end, I'd of course love to hear your impressions/thoughts.
---
Like many pre-teens, I went through an awkward transition from middle to high school. I had few close friends at the time, and struggled to fit in with my peers. I did not know where I belonged in my new community, so I shifted my focused inward, becoming increasingly depressed and anxious. I started to starve myself in the hopes that a slimmed-down appearance would help me feel better about myself and would enable me to find a place in the new crowd, but these behaviors only brought me deeper into my depression. I became obsessed with calories, exercise, and strict food schedules, and I realized soon after that my eating disorder was defining me and my life.
It has been thirteen years since I was first diagnosed with Anorexia Nervosa, and while that first episode was certainly the scariest and put me at the most medical risk, I have cycled in and out of disordered periods ever since. I have tried multiple forms of therapy, nutritional plans, in-patient and out-patient treatment modes, etc., but nothing has ever really 'stuck'. I always thought I was doomed to suffer for life, but I have begun to feel a new hope for myself and my future.
Although it would seem likely that I'd discover vegetarianism and than veganism because of the restrictions they place on diets, it was not so for me: I had always been drawn to other creatures, and feel kinship with any non-human animal I encounter. Even when compulsively exercising, I'd take time out to stop and pet a new dog or stoop down to get kisses from a cuddly pup. I've always had companion animals, and I've always donated to causes supporting the rescue and rehabilitation of other beings. I decided in college to go vegetarian, and felt a weight (no pun intended) lifting from my shoulders. I was not eating animals, fear, or death, and it felt wonderful. My health stayed stable, and I provided my family with plenty of research regarding my decision and the nutritional aspects of this choice. When I later learned the truths about dairy and eggs, I immediately went vegan, and have now been so for about three years. I still see my treatment providers and a vegan-friendly nutritionist, and am feeling stronger all the time.
It was this final transition to veganism that gave me the most internal peace. There was nothing in my body that contributed to the suffering of any animal, and I could feel good about nurturing myself with these foods. My husband, who was vegetarian at the time, made the switch as well, and we were officially a vegan household (with the exception of our two rescue dogs). We also became more engaged in the activist scene in our community, and I felt like I had even more reasons to keep working towards full recovery. Protesting outside fast-food restaurants, visiting sanctuaries, leafletting and attending vegan potlucks aren't options for someone too obsessed with their own diet and exercise routine, but these are what give me hope and fire to keep working. I also simply lack the strength when engaged with my eating disorder to be a good advocate for the animals, and because that was my ultimate reason for going vegan, I continuously remind myself of this mission when I feel tempted or triggered by the disorder. I want to represent strength, respect and hope for the animals, and I know i can only do that if I maintain personal wellness and reach a place of peace in my body and my mind. I do not have to forget my past, but it can inform the work I do for animals and drive me forward on this journey.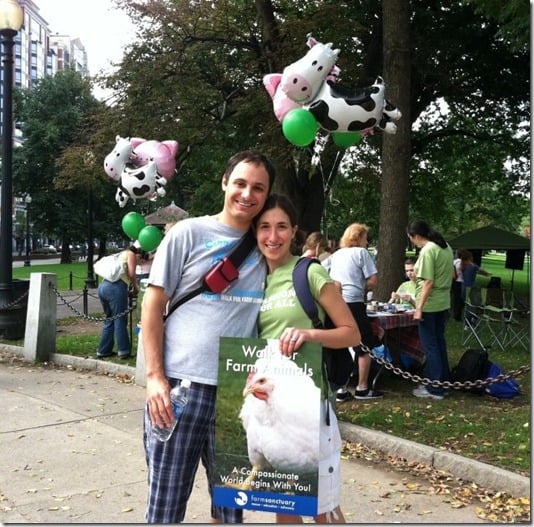 Follow Marissa on Twitter @vegarissa